Abaco Beach Resort
and Boat Harbour Marina
The Abaco Beach Resort-Marina Bahamas provides a relaxing island getaway. It offers incredible fishing, snorkeling, and an array of water sports activities. The resort has 89 oceanfront rooms, suites, cottages, and private residences along with a 198 slip marina.
Exceeding Expectations
This Bahamian resort boasts the best award-winning cuisine in the Bahamas Islands. It has high standards of meticulously serving and exceeding all guest expectations. This picturesque tropical resort is the perfect place to stop over on your next Bahamas yacht charter vacation.
As a truly unique and authentically Bahamian destination, this luxury beach resort blends classic Bahamian warm style and pristine surroundings. The Abaco Beach Resort remains faithful to its commitment by exceeding every expectation to ensure all experiences are memorable.
Location
Marsh Harbour, Abaco Bahamas. 165 miles off the coast from West Palm Beach Florida situated on 40 tropical acres along the magnificent shores in the Sea of Abaco.
Guest Rooms
These oceanfront rooms are nestled in a beautiful tropical setting. They feature a private balcony or veranda with spectacular views of the private beach and the Sea of Abaco beyond. Amenities include a desk and seating area and have either one king or two double beds. Air conditioning is individually controlled. In the rooms, there is a bathtub with shower, satellite television, hairdryer, and wet bar area with mini refrigerator. The coffee maker comes with complimentary coffee, and there are guest telephones, irons, and ironing boards and in-room safe. In-room Wi-Fi access is complimentary.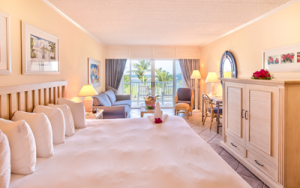 Marina
Pleasure boats, sport fishing boats, and superyachts rest side-by-side in the marina. Vessels up to 200 feet in length are ready to carry passengers to Out Island adventure and beyond. Our world-class marina is a comfortable and spacious home, with over 198 slips in a year-round destination port. The largest of all Bahamas marinas is simply called "Boat Harbour." It has long served as the islands' most popular stage from which to launch fishing and pleasure boating excursions. Services include 24-hour security, internet, TV, full detailing and cleaning, electricity and fueling services. These operate seven days a week, 365 days a year. On-site Customs and Immigration Clearance are also provided for those arriving by sea.
Out-Island Adventures
South Sea Adventure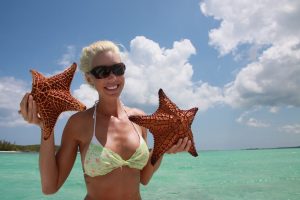 During your island hopping adventure, you'll stop by Sandy Cay National Park (part of the Pelican Cay's) to enjoy a one tank dive or snorkel. Next on to Pete's Pub in Little Harbour for lunch. It is one of the coolest and most eclectic beach bars in all the Bahamas. Visit the Art gallery and the world famous Brass Foundry which still practices the 1000's year old "lost wax" process. Go on a nature walk or just relax and have a good time until we go on the next adventure Tilloo Bank. It is the place to snorkel for sea biscuits, sand dollars huge starfish, stingrays and loggerhead turtles. This is a trip is a must for anyone who loves nature. All Day Snorkeling and Island Tour – $100 per person. Includes lunch.
North Sea Adventure
You'll head north to Fowl Cay National Park to dive and snorkel. There are so many places to go here you can go every day of the week and still miss a lot of reefs. After the dive, we'll go to Great Guana Cay to have lunch at the infamous Nipper's Bar and Grill. It is situated atop a beautiful bluff along a magnificent seven-mile beach, scenery you will never forget! Next island is Man-O-War Cay, a quaint little island that goes back to Loyalist days.
This place was the boat building capital of the Bahamas in the 1800's. You'll visit the Albury Sail Shop where handbags of every shape, size, and color are handmade. And we'll visit with Mr. Joe Albury, an eighth generation wooden boat builder. He will take us through his shop to see how he makes his boats starting with selecting the wood. Mr. Albury will demonstrate carving and placing the intricate pieces on the finished product! All Day Snorkeling and Island Tour – $100 per person. Includes lunch.
Explore Hope Town and Elbow Cay Adventure
You'll explore "The Nantucket of the Bahamas" by boat and golf cart. Climb the famous candy cane striped lighthouse built in 1863 (all 101 steps!) to see the most beautiful view in all the Abaco's. We'll then jump on golf carts to explore the rest of the island and its many beaches; Town beach, Garbanzo Beach, and Tahiti Beach. Along the way, we'll stop in and patronize some of the most beautiful and friendly beach bars on the planet. Then off to lunch at Cracker P's on the wonderful island of Lubbers Quarters. All Day Island Tour – $120 per person. Lunch and drinks not included.
Sports Fishing Adventure
Abaco Beach Resort and Boat Harbour Marina is at the center of some of the best deep sea fishing grounds in the world. In fact, Marlin Magazine rated our waters one of the top 5 fishing spots for billfish in the world. The waters surrounding the resort offer a diversity of highly coveted game fish; blue and white marlin, sailfish and Spearfish. You'll also have the chance to wrestle with tuna, wahoo, and dolphin.
Choose from a wide range of professional fishing charters, helmed by expert skippers who know just where to find the fish or head out and explore the limitless possibilities with your own crew. Abaco Beach Resort is situated right in the center of some incredible fishing action, making it easy for anglers to experience a variety of fishing excursions. Half-Day Offshore Sports Fishing: $550 Full Day: $880
Fly Fishing/Flats Fishing Adventure
Guided bonefishing charters in the Bahamas have long been a popular and legendary pursuit. Bonefishing, and in particular fly fishing in Abaco has been one of those closely guarded secrets passed on quietly from one fly enthusiast to another, hoping they wouldn't tell too many of their friends. Each day, with each new group of anglers, we learn more about why no one wanted to talk about the huge bonefish, the incredible numbers of permit and the legitimate shots at tarpon that are possible in Abaco. Half Day: $450 for 2 anglers Full Day: $550 for two anglers
Golf Adventure
Golf course architects Donald Steel and Tom McKenzie have created a very beautiful platform for the great game of golf in a pristine and uniquely beautiful tropical island location. Narrow fairways, spectacular greens, and stunning oceans capes are the just a few of the attributes of this little-known venue. The course plays along 7,183 yards off the back tees for a tough par of 72. And, very much in the style of its Scottish peers, it is, at times, a remote and windswept corner of the Bahamas. Golf – $200 per person. Includes transportation.
Important Information
Ground Transportation / Transfers
The New Marsh Harbour International Airport Terminal is just 5 miles from the resort and is serviced by convenient and efficient taxi service.
Cost is $15 one way for 2 people and $3 per person for additional passengers. 20 passenger bus service is also available for airport transfers and group excursions. Depending on time and distance costs range from $12 to $50 per person.
Air Transportation
Non-stop, direct flights are available from Jacksonville, Orlando, West Palm, Ft. Lauderdale, Miami and Nassau, Bahamas right into Marsh Harbour International Airport. Carriers include United Airlines, American Airlines, Sky Bahamas, and Bahamas Air. There are Regional and Charter airlines that service the destination as well.
Combine your Luxury Yacht Charter with a stay at the Abacos Beach Resort for a truly special vacation in the Bahamas!
Written exclusively for CKIM Group Inc by The Abaco Beach Resort and Boat Harbour Marina.
Abacos Islands | Berry Islands | Exuma Islands | General Information
CONTACT US today at (321) 777-1707 to learn more
We make the arrangements. You make the memories.