Virgin Islands Catamaran Charter SPECIAL
XENIA 74
Virgin Islands Catamaran Charter SPECIAL Xenia 74 offering $500 off per person!
Xenia 74 Special Offer ONLY on charters taken before the end of April 2018
Relief is here! Xenia 74 offers $500 off per person to offset the current high cost of flights.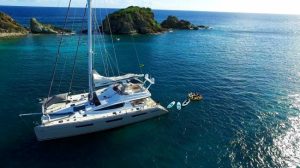 The holiday madness is over and the temperatures are falling. XENIA 74 offers the perfect getaway. 1 master suite and 3 luxurious cabins accommodating up to 8 guests. There are loads of outdoor spaces from the cockpit, aft deck, foredeck, and the popular flybridge to soak up the warm Caribbean sunshine.
The yacht is equipped with a variety of watersports and a dynamic crew of 4, including an award-winning chef.
Chef Angie was the overall winner of the Culinary Contest and Winner of Best Dessert at the Annual BVI Charter Yacht Show this past November. This fabulous crew of 4 is ready to take you away to a place where Relief and Relaxation are the focus of your day.
CONTACT US at (321) 777-1707 for more info on Virgin Islands catamaran charter SPECIAL Xenia 74