Croatia Gulets
What is a Gulet?
At first I didn't know what to expect with Gulet yachts. I had done some research before arriving in Croatia. I knew that they were motor sailers. Primarily because it is easier to cruise along the Dalmatian coast under motor due to the high winds that often whip threw the area.
They vary in length and generally carry between 8 and 20 guests. Some of them are modern, built with steel and fiberglass, others are wooden, filled with beautifully varnished interiors. Then there are also those that are a mix of modern and traditional.
Upon arriving at the dock in Split, Croatia, we were greeted by a fleet of four Croatian Gulets: Navilux, Tajna Mora, Libra, and Lotus. Each yacht was different, both in size and design. We were about to spend a week traveling the beautiful Dalmatian coast onboard these yachts. This meant a week of experiencing the food, hospitality, and general feel of what a charter is like onboard these Croatian Gulets.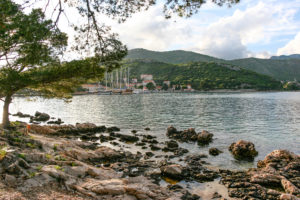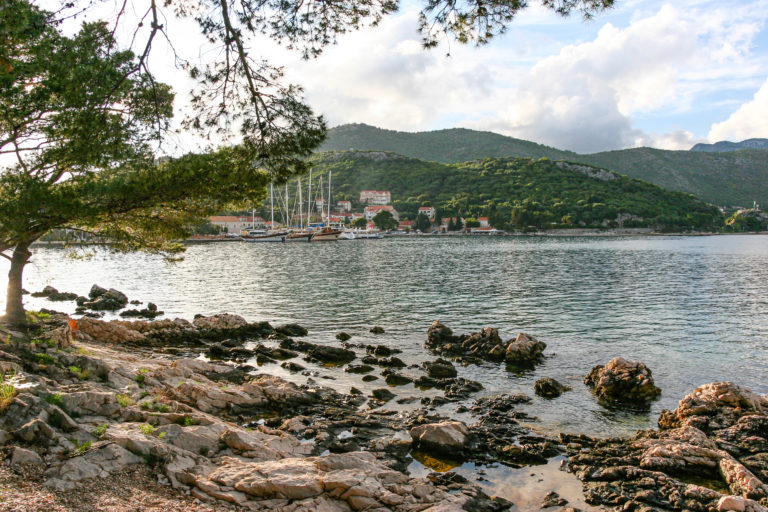 I soon learned that the majority of these charter boats are owner-operated. As the week progressed, I realized that this made the experience that much more unique. It wasn't just a captain working for a paycheck from a wealthy boat owner: this was their life and blood. The captains who were owners were so attentive to our needs and open to any feedback on making the charter experience better.
And it was certainly palpable the sense of pride the owner-operators had when it came to their boats.
Navilux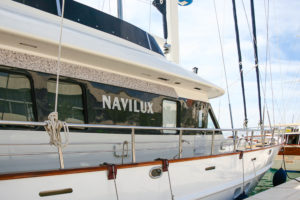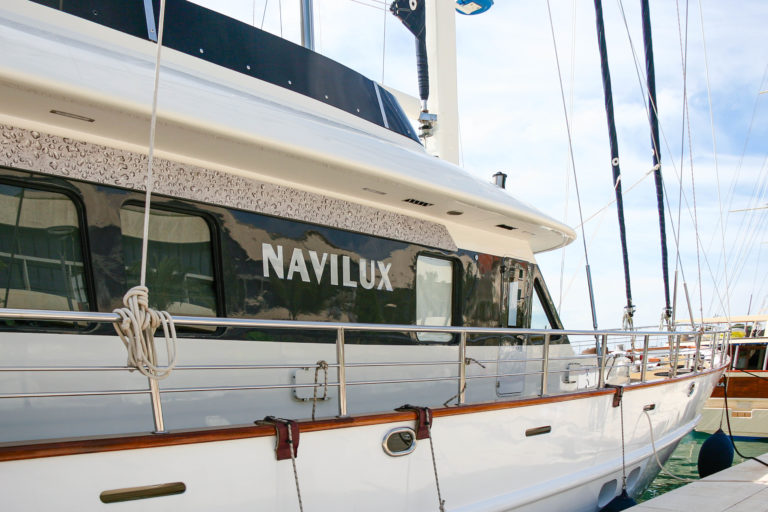 Navilux was the largest of the four Croatian gulets, coming in at 37.3 metres (just over 122 feet). She is a truly modern Croatian Gulet with all the amenities a charter guest could expect during a luxury charter experience.
Her interior is ultra modern with clean lines. All the bedrooms have funky art deco above the beds. There are six berths, so she comfortably sleeps 12, five double beds and one twin (all en-suite). There are TVs in every room and individual AC/HVAC controls so each guest can adjust the temperature to their liking.
The main salon table seats 14 guests and as with most Gulets, sits on the deck so there are great views from the interior looking over the water.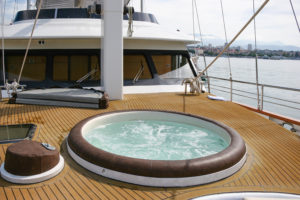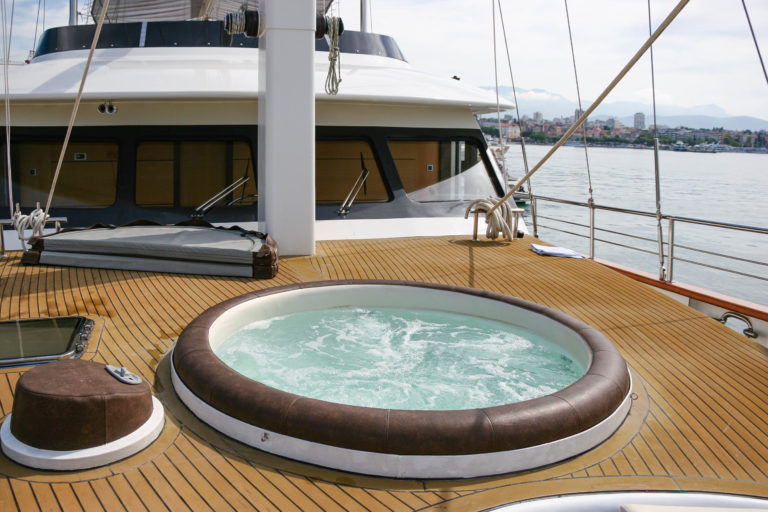 The deck is definitely the shining glory of Navilux. Here back deck offers protected seating, both for dining and lounging, while the fore-deck is great for taking in the sights during a cruise down the coast. Her jacuzzi on the front deck isn't bad either.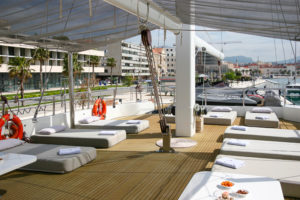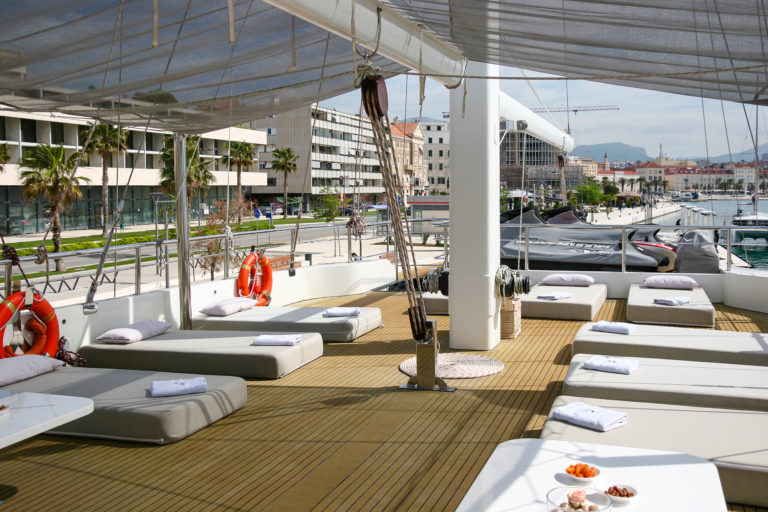 The flybridge is the place to be with nine sunbeds and side seating. It even has a little fridge so you don't have to walk far to grab a drink. The views from this top deck are incredible, especially when you are out on anchor, surrounded by vivid blue and green water.
From wakeboards to kayaks, Navilux has a wide array of water sport accessories and toys to play on.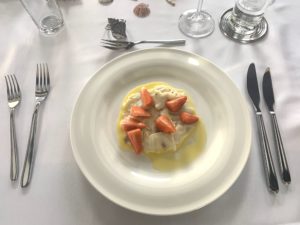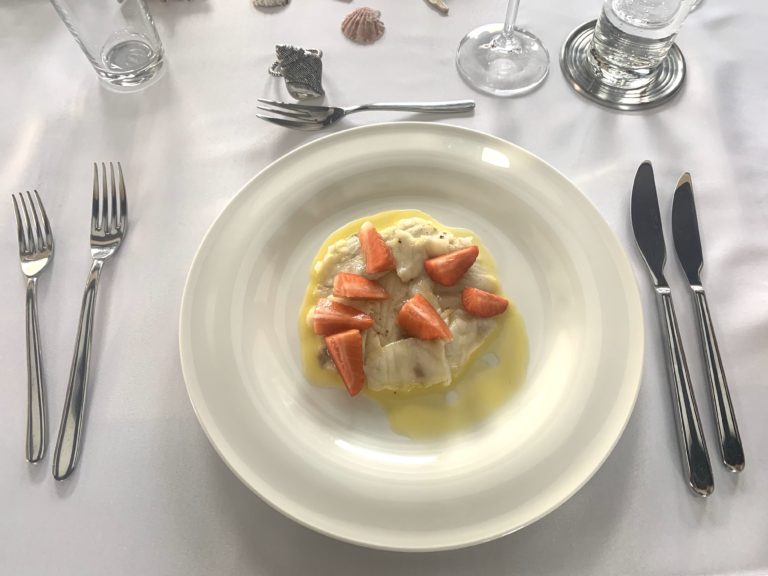 Chef, Dragan Grbic makes incredible dishes, mixing traditional ingredients with modernized cuisine preparation. The entrée of Crudo sea bass with strawberries was a mix I would have never thought to try. It was incredible.
As was the dessert of white chocolate, berry ice cream and yogurt bits. It instantaneously became the best dessert that I've ever tasted.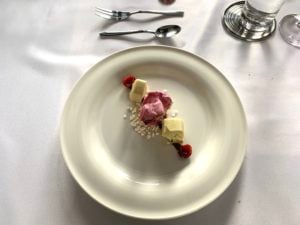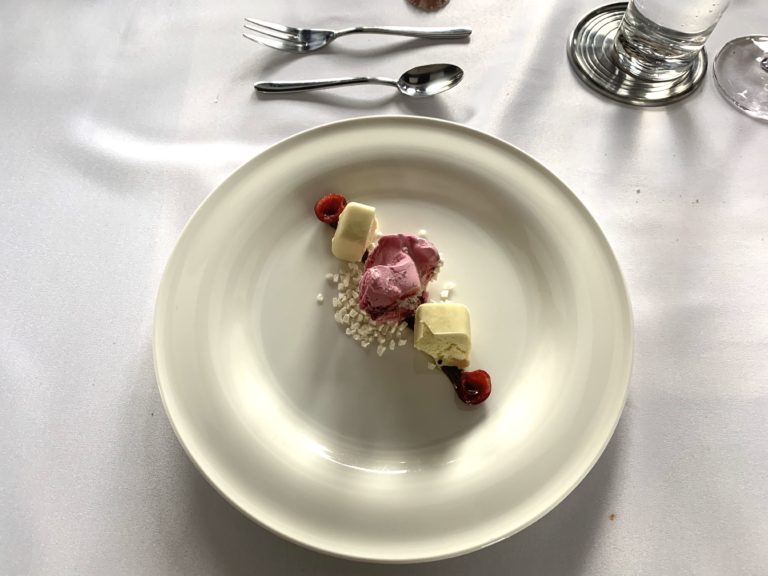 There is a crew of eight onboard Navilux at all times. She also has two kayaks, seabobs, paddleboards and jet skis onboard.
Tajna Mora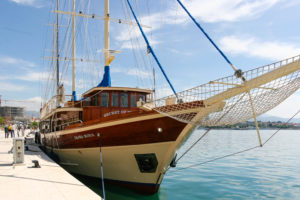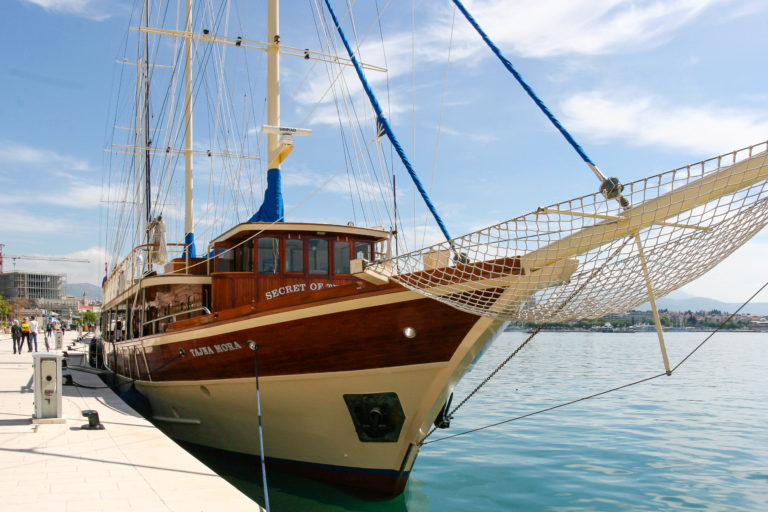 Tajna Mora means "Secret of the Sea" in Croatian. She is 31-metres long (101 feet) and has nine cabins in total: four double beds and five with twin beds. The cabins are simple in design with dark wood interior. Eight out of the nine have en-suite bathrooms.
Tajna Mora is perfect for group holidays or larger family groups.  Tajna Mora generally carries five crew on board and all the members of the crew that I met were all knowledgeable and friendly.
Her upper deck has ten sunbeds, ideal for hanging out on during a warm, sunny day.
Tajna Mora has a wave runner, canoes and water ski equipment. The waver runner is at an additional cost.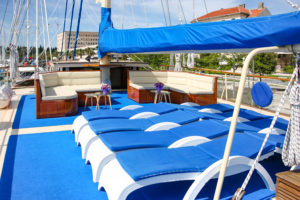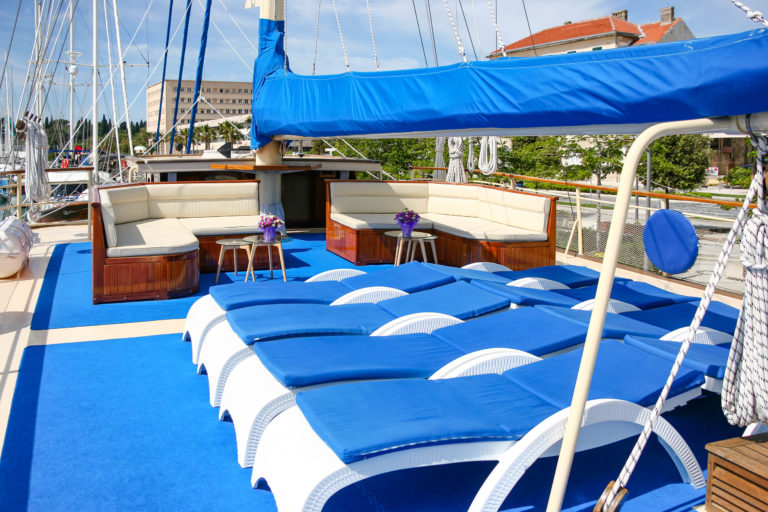 The food onboard Croatian gulet Tajna Mora is also incredible. One night we had a Croatian steamed fish meal wrapped in olive leaves and  cooked to perfection. Another night we had a truffle risotto served in a Parmesan bowl. It is truly one of the best meals that I have ever eaten. Although I must admit, I am partial to any meal with cheese and truffles in it. But who wouldn't be right?
Ivan Yojick helps serve up these delicious dishes, while pairing them perfectly with Croatian wines. I found many of the whites to be particularly enjoyable. Not too sweet and reminiscent of the sea.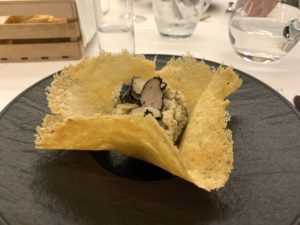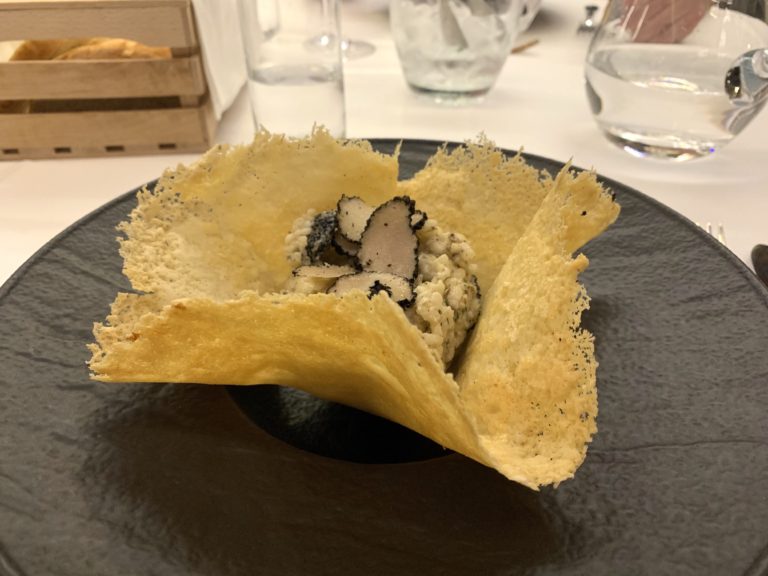 Lotus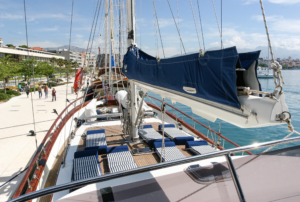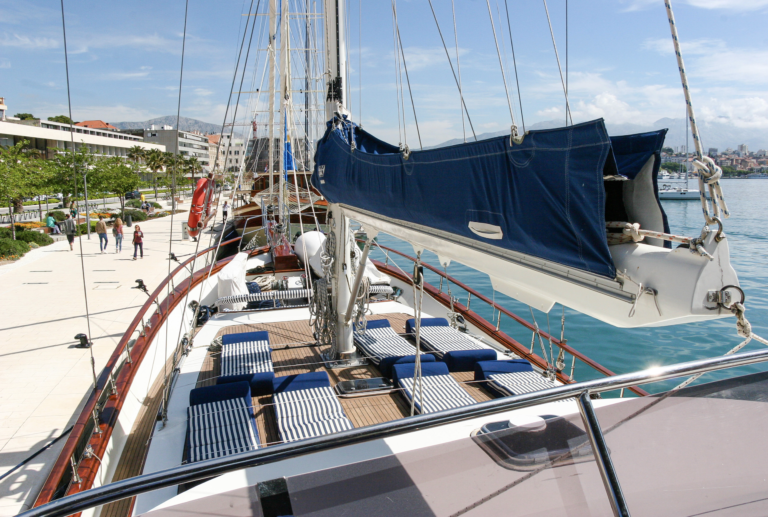 Out of the four boats departing Split, Lotus was definitely the most perfectly balanced between modern and traditional design. She was built in Turkey in 2006 and both the interior and exterior woodwork on her is impeccable.
At 86 meters (85 feet), she offers a more private experience than the other boats. Lotus has four cabins and can carry eight guests. Each room has a separate ac/heat unit. The master aft cabin is incredibly luxurious with an island bed and a walk-in closet.
There is also one double bed and one twin bed. The VIP room is located at the front and offers a minibar and TV.
The main salon is comfortable and inviting. The intricate and ornate glass fixture on the ceiling perfectly complements the very Turkish styling of this boat.
The captain can navigate the vessel from inside the main salon as well as from the flybridge. Guests can also chill out and take in their surroundings from this vantage point. The ever-present sunbeds on the deck are also a perfect chill-out spot.
The little platform on the bow is also a great lookout for guests to sit and watch as the bow pierces the waves. Lotus cruises at around 9-10 knots. She also has side thrusters which makes coming into port quick and easy.
She has satellite TV too, although not in the twin or double bedroom.
There are the typical water sport toys like sea scooter, SUP board, and snorkeling as well.
Libra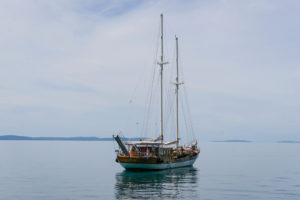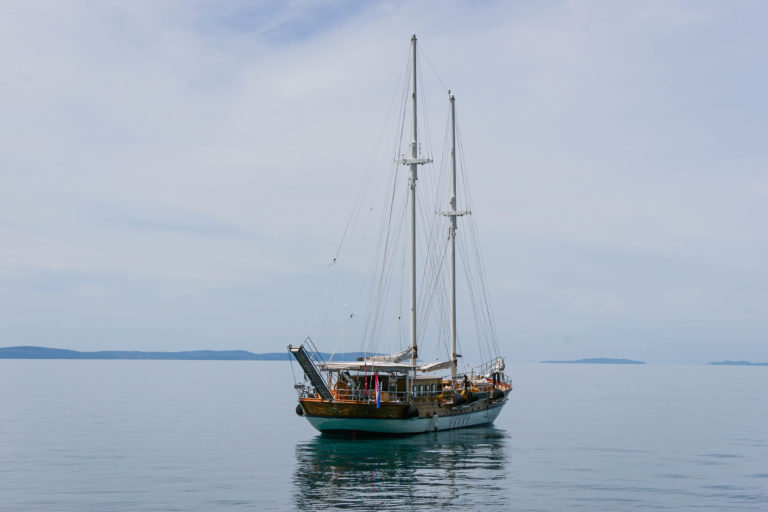 Libra is a true gem. Not only is she a beautiful boat, her crew are some of the best that I have ever had the pleasure of being around. Marko Mrcic and his brother Niko own this 34 metre (111 feet) yacht and have kept her in impeccable condition.
It is very hard not to fall in love with Marko and his enthusiasm and love for his boat and country. Antonia, the chief stew onboard is incredibly attentive and there is not a moment where she does not have an eye on the guests to ensure that their every desire is taken care of.
Antonijo (pronounced Antonio) is an accomplished chef despite being just 22 years old. It is truly incredible what he can cook up in comparison to the size of his kitchen space. From beef dishes to incredible seafood ones, the variety and complexity of his dishes keep you guessing what meal he will serve up next.
There is generally four crew onboard during charters, and Marko runs his crew and boat seamlessly.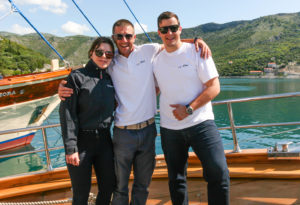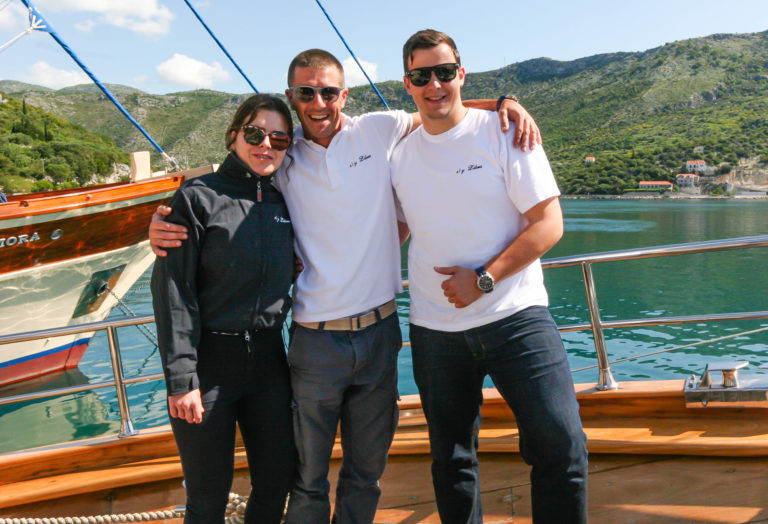 There are six cabins on board with the four double cabins accessed through the main salon and the two other cabin
Four cabins are entered through the main salon and are quite airy and nicely lit. The other two are at the bow and accessed through a separate, bow entrance.
The main salon offers plenty of space for lounging and socializing, as does the aft deck, which has a large table that is protected from the elements with zip-down canvas and Plexiglas when needed.
The foredeck has furniture and sunbeds making it a perfect place to relax.
Libra is the most traditional in the design of these four Croatian Gulets. For guests who want a boat with a more modern design and amenities, then she is probably not the boat for you. However, when it comes to excellent service and a truly authentic Croatian experience, in my opinion, she is a perfect choice.
Are you convinced yet that you need to go?
Croatia is an amazing country. A definite must-see. It is beautiful and the people are welcoming and sincere. For a country that was still reeling from the war in the mid-90s, it has come a long way. To see it by Gulet makes the experience all that more special as you gain access to areas that would be hard to see if traveling just by land or air. And you also get the expertise to the crew who know the area and want you to have the best experience possible.
Definitely a journey to put on the bucket list.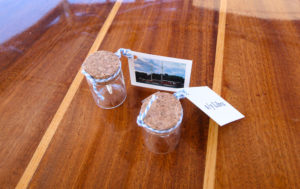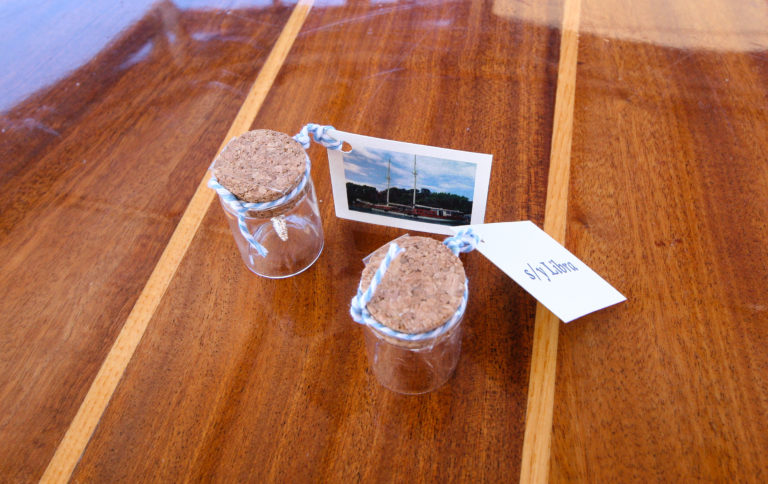 For more on Croatian Gulets
Contact Luxury Yacht Charters a division of CKIM Group at 321-777-1707