The sport of kiteboarding, as it's referred to in the United States, is better known as kitesurfing in Europe. Born in the early 1980s, in France and Hawaii, it is one of the youngest board-sports in the world. Kiteboarding requires consistent onshore-winds and a good launch area, so it is location-specific. Here we look at the top venues for Croatia kiteboarding.
Neretva Delta, near Ploče, South Dalmatia
The Neretva River runs from Mostar, in Bosnia Herzegovina, down to the Croatian coast at Ploče. Its delta is a prime location for kiteboarding in Croatia. Here, Neretva Kiteboarding offers tuition and equipment hire, from a beach looking towards Pelješac peninsular. So what makes it so special? "Warm shallow water, a constant northwest wind, and a sandy beach", says Ivica Odak, adding "Our season runs from May till mid-September". The Neretva Delta is an extraordinary destination in its own right, much loved by birdwatchers for its herons and cranes. It's backed by flat fertile orchards, crisscrossed by water channels, and noted for delicious mandarins. Other seasonal fruits grown here include peaches, apricots, and melons, which you can buy from roadside stalls.
Nin, near Zadar, North Dalmatia
For many people, Nin, with its tiny compact old town, is best known for the diminutive Church of the Holy Cross, built in the ninth century. But for water sports enthusiasts, Nin is above all home to Ždrijac beach, one of the best places to try kiteboarding in Croatia. "Ždrijac beach is a good destination for beginners, because it sits in a small shallow bay, protected from the waves", says Daniel Malusa of Kiteboarding Croatia. "Also it has low wind conditions during summer, and a sandy beach which helps rookies to master their skills".
Viganj, on Pelješac peninsular, South Dalmatia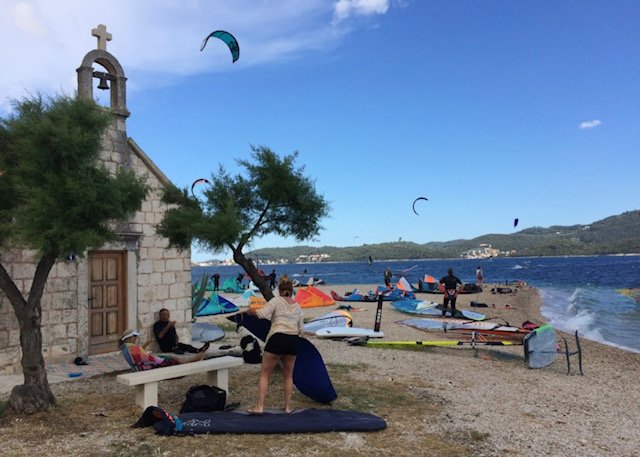 Viganj, near Orebić, is well-known for windsurfing. Likewise, it's one of the most popular spots for kiteboarding in Croatia. "The best wind conditions are from June to late-August, when the maestral blows from the northwest", explains Renata Jurišić Komočar of Water Donkey. "It usually starts around noon then blows through until evening, with an average wind force reaching 4-5 Beaufort (15-20 knots)". In the morning, you can expect a lighter wind, which is perfect for beginners. Besides its reliable thermal winds and crystal clear sea, Viganj is a quaint seaside village with secluded pebble coves, offering dreamy views across the water to the island of Korčula.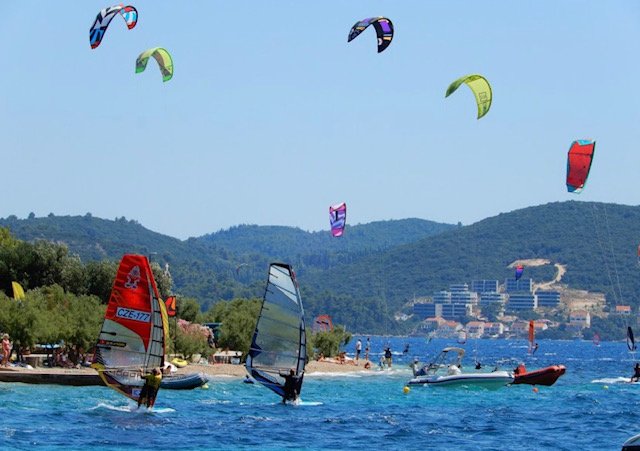 Bol, on the island of Brač, Central Dalmatia
Another top destination for both windsurfing and kiteboarding in Croatia is the sunny south coast village of Bol on Brač. "The wind in Bol is perfect for kiteboarding and windsurfing", says Vlado Anić of Active Bol. "What makes the wind special here is that it's very stable and constant. In the afternoon, almost every day from May to October, the maestral blows at 4-5 Beaufort (15-20 knots)". Bol is a popular seaside destination, much loved by families for its spectacular Zlatni Rat beach and excellent watersports facilities. Active Bol is located at Kamp Aloa, in the village of Murvica, 2km west of Bol, far from the crowds.
Please call us today at 1 (321) 777-1707 or describe Your Vacation Vision to help you plan your fully-crewed private luxury yachting vacation! Inquire as soon as possible about your custom, crewed yacht charter.
You make the memories. We make the arrangements.