LOLALITA
$24,000 - $28,000 / WEEK
BUILT/REFIT
YEAR
Recently Refitted, September 2014
---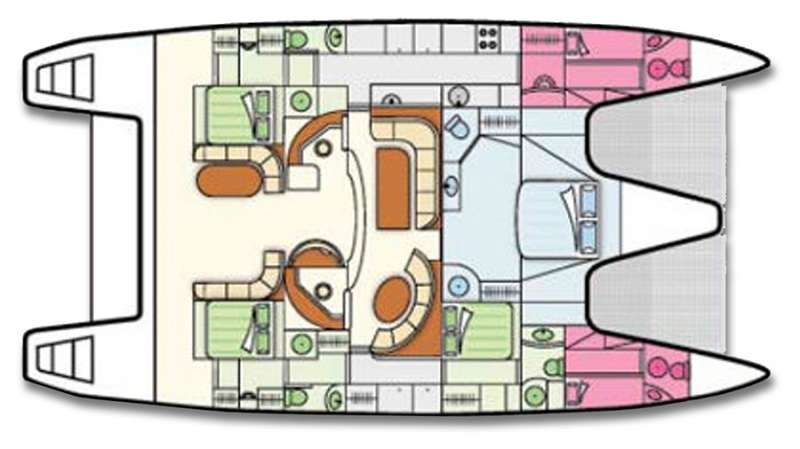 Boat Details
| | |
| --- | --- |
| Cabins: | 4 |
| Queen: | 3 |
| Single Cabins: | 1 |
| Showers: | 4 |
| Wash Basins: | 4 |
| Heads: | 4 |
| Electric Heads: | 4 |
Pick Up Locations
| | |
| --- | --- |
| Pref. Pick-up: | Village Cay, BVI |
| Other Pick-up: | Yacht Haven |
---
Details
| | |
| --- | --- |
| Refit: | Recently Refitted, September 2014 |
| Helipad: | No |
| Jacuzzi: | No |
| A/C: | Full |
Engine Details
Main Engines: 2x 2013 Yanmar 4LHA-HTP 165 hp Generators: 1x 2014 Northern Lights 20kw, 1x 2010 Kohler Onan 21.5kw
Fuel Consumption:
4.3
Cruising Speed:
7-9
Max Speed:
11US Gall/Hr
Locations
| | |
| --- | --- |
| Winter Area: | Caribbean Virgin Islands |
| Summer Area: | Caribbean Virgin Islands, Bahamas, Caribbean Leewards, Central America |
---
Amenities
Salon Tv/VCR:
Yes
Salon Stereo:
Yes
Sat TV:
Cell Phone
Wi-Fi Internet, only in BVI territory, please limit its use to emails and minor surfing, no videos or streaming
# of Videos:
-
# DVDs/Movies:
1,000+
# CD's:
-
Camcorder:
Yes
Books:
100+
Board Games:
Yes
Sun Awning:
Yes
Deck Shower:
Yes
Bimini:
Yes
Water Maker:
-
| | |
| --- | --- |
| Special Diets: | Yes |
| Kosher: | Inq |
| BBQ: | Yes |
| # Dine In: | Yes |
| Minimum Age: | None! |
| Generator: | 2 |
| Inverter: | Yes |
| Voltages: | 110V |
| Water Maker: | - |
| Water Cap: | - |
| Ice Maker: | Yes |
| Sailing Instructions: | - |
| Internet Access: | Onboard WIFI |
| | |
| --- | --- |
| Gay Charters: | Yes |
| Nude: | Yes |
| Hairdryers: | Yes |
| # Port Hatches: | 25 |
| Guests Smokes: | Yes, on sugarscoops |
| Crew Smokes: | No |
| Pets Aboard: | No |
| Pet Type: | - |
| Guest Pets: | Yes |
| Children Ok: | Yes |
| Hammock: | Yes |
| Windscoops: | No |
---
Water Sports
| | |
| --- | --- |
| Dinghy size: | 2012 A/B 17' |
| Dinghy hp: | 40 |
| Dinghy # pax: | 8 |
| Water Skis Adult: | Yes |
| Water Skis Kids: | Yes |
| Jet Skis: | No |
| Wave Runners: | No |
| Kneeboard: | Yes |
| Windsurfer: | No |
| Snorkel Gear: | 10 |
| Tube: | Yes |
| | |
| --- | --- |
| Scurfer: | No |
| Wake Board: | Yes |
| Kayaks 1 Pax: | 2 |
| Kayaks (2 Pax): | - |
| Floating Mats: | Yes |
| Swim Platform: | Yes |
| Boarding Ladder (Loc/Type): | Yes |
| Sailing Dinghy: | - |
| Beach Games: | Yes |
| Fishing Gear: | Yes |
| Gear Type: | Trolling, Bottom |
| Rods: | 5 |
Giovanni

Gio is a knowledgeable, friendly Captain who finds his fulfilment by connecting people to the sea and enjoying their experiences vicariously through them. Born and raised in London, UK, his career began as a dinghy sailing and windsurfing instructor in the UK, Greece, Bahrain. Next, he moved to Australia to gain a degree in marine biology, conduct underwater acoustic research and guide marine wildlife tours. He then took a job in the offshore oil and gas industry as a marine wildlife observer & spent two years on seismic survey ships all around the world. Eventually he bought his own 50ft sailboat in Florida and used it to lead documentary filmmaking expeditions thousands of miles around the Caribbean, resulting in work published by National Geographic. He is also a surfer, an expert freediver, and a PADI Divemaster. Gio takes great pride in ensuring his guests feel comfortable and safe while guiding them on the adventure of a lifetime.

Gio is be joined by Chef/Mate Sarah. Sarah started yachting 9 years ago for her love of the ocean and travel. She soon discovered her passion for culinary arts and her desire to focus on being in the galley. Working her way up, Sarah was soon cooking for charter guests and on private yachts.
She enjoys creating dishes inspired by international cuisine. In particular, Thai, Indian, Indonesian, French, Italian, Mediterranean, Mexican, Middle Eastern, and Fusion. She has travelled to many of these countries and taken classes first hand from the locals.
Additionally, Sarah has a passion for health and nutrition. She educated her self on cooking for different dietary needs such as gluten free, vegan, vegetarian, pescatarian, dairy free, and paleo/high protein.
Sarah has a degree in visual arts which she loves bringing into her work. Beautiful presentation is very important as she learned very early in her career that the first bite is with your eyes. Additionally, she considers cooking something like painting with flavours.
In her past time Sarah enjoys diving, hiking, traveling, photography, and learning new languages. She is also a 500 hour Yoga Alliance trained instructor and loves sharing this with anyone she meets.

(15 December -30 April)
Caribbean Virgin Islands
(1 May - 14 December)
Caribbean Virgin Islands, Bahamas, Caribbean Leewards, Central America
| | | | | | | | | | | | | | | | | | | | | | | | | | | | | | | | |
| --- | --- | --- | --- | --- | --- | --- | --- | --- | --- | --- | --- | --- | --- | --- | --- | --- | --- | --- | --- | --- | --- | --- | --- | --- | --- | --- | --- | --- | --- | --- | --- |
| Nov 2018 | 1 | 2 | 3 | 4 | 5 | 6 | 7 | 8 | 9 | 10 | 11 | 12 | 13 | 14 | 15 | 16 | 17 | 18 | 19 | 20 | 21 | 22 | 23 | 24 | 25 | 26 | 27 | 28 | 29 | 30 | |
| Dec 2018 | 1 | 2 | 3 | 4 | 5 | 6 | 7 | 8 | 9 | 10 | 11 | 12 | 13 | 14 | 15 | 16 | 17 | 18 | 19 | 20 | 21 | 22 | 23 | 24 | 25 | 26 | 27 | 28 | 29 | 30 | 31 |
| Jan 2019 | 1 | 2 | 3 | 4 | 5 | 6 | 7 | 8 | 9 | 10 | 11 | 12 | 13 | 14 | 15 | 16 | 17 | 18 | 19 | 20 | 21 | 22 | 23 | 24 | 25 | 26 | 27 | 28 | 29 | 30 | 31 |
| Feb 2019 | 1 | 2 | 3 | 4 | 5 | 6 | 7 | 8 | 9 | 10 | 11 | 12 | 13 | 14 | 15 | 16 | 17 | 18 | 19 | 20 | 21 | 22 | 23 | 24 | 25 | 26 | 27 | 28 | | | |
| Mar 2019 | 1 | 2 | 3 | 4 | 5 | 6 | 7 | 8 | 9 | 10 | 11 | 12 | 13 | 14 | 15 | 16 | 17 | 18 | 19 | 20 | 21 | 22 | 23 | 24 | 25 | 26 | 27 | 28 | 29 | 30 | 31 |
| Apr 2019 | 1 | 2 | 3 | 4 | 5 | 6 | 7 | 8 | 9 | 10 | 11 | 12 | 13 | 14 | 15 | 16 | 17 | 18 | 19 | 20 | 21 | 22 | 23 | 24 | 25 | 26 | 27 | 28 | 29 | 30 | |
| May 2019 | 1 | 2 | 3 | 4 | 5 | 6 | 7 | 8 | 9 | 10 | 11 | 12 | 13 | 14 | 15 | 16 | 17 | 18 | 19 | 20 | 21 | 22 | 23 | 24 | 25 | 26 | 27 | 28 | 29 | 30 | 31 |
| Jun 2019 | 1 | 2 | 3 | 4 | 5 | 6 | 7 | 8 | 9 | 10 | 11 | 12 | 13 | 14 | 15 | 16 | 17 | 18 | 19 | 20 | 21 | 22 | 23 | 24 | 25 | 26 | 27 | 28 | 29 | 30 | |
| Jul 2019 | 1 | 2 | 3 | 4 | 5 | 6 | 7 | 8 | 9 | 10 | 11 | 12 | 13 | 14 | 15 | 16 | 17 | 18 | 19 | 20 | 21 | 22 | 23 | 24 | 25 | 26 | 27 | 28 | 29 | 30 | 31 |
| Aug 2019 | 1 | 2 | 3 | 4 | 5 | 6 | 7 | 8 | 9 | 10 | 11 | 12 | 13 | 14 | 15 | 16 | 17 | 18 | 19 | 20 | 21 | 22 | 23 | 24 | 25 | 26 | 27 | 28 | 29 | 30 | 31 |
| Sep 2019 | 1 | 2 | 3 | 4 | 5 | 6 | 7 | 8 | 9 | 10 | 11 | 12 | 13 | 14 | 15 | 16 | 17 | 18 | 19 | 20 | 21 | 22 | 23 | 24 | 25 | 26 | 27 | 28 | 29 | 30 | |
| Oct 2019 | 1 | 2 | 3 | 4 | 5 | 6 | 7 | 8 | 9 | 10 | 11 | 12 | 13 | 14 | 15 | 16 | 17 | 18 | 19 | 20 | 21 | 22 | 23 | 24 | 25 | 26 | 27 | 28 | 29 | 30 | 31 |
---