CHARGES
FROM
$18,200
All Inclusive
---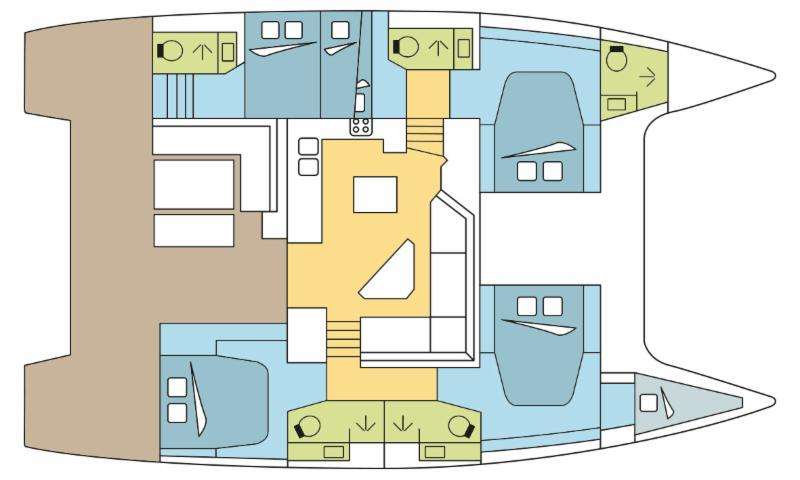 Boat Details
| | |
| --- | --- |
| Cabins: | 4 |
| King: | - |
| Queen: | 4 |
| Single Cabins: | - |
| Showers: | 4 |
| Wash Basins: | 4 |
| Heads: | 4 |
| Electric Heads: | - |
Sample Menu
MORNING SELECTIONS

Omelette

Omelette fried with mushrooms, fresh tomatoes, fresh herbs, garlic, onion and zucchini

Scrambled egg wrap

Wrap filled with scrambled eggs, avocado, beans, spinach and a homemade sauce

Pancakes

Homemade fluffy pancakes (gluten free on demand) with topping of your choice

Smoothie bowl

Your choice of mixed fresh fruits, milk and topping with nuts, seeds and fruits

French toast

Homemade bread soaked in milk and sugar, fried in a pan, topped with fresh fruits and vibrant coulis

Breakfast sliders

Personal sandwiches with homemade bread, eggs, cheese, avocado and garlic aioli

Oatmeal

Fresh oatmeal served with fresh fruits, nuts, chia seeds and dry fruits

AFTERNOON SELECTIONS

Mexican mix

Guacamole, cashew sour cream, mashed beans, grilled vegetables and chicken served with tortillas

Captain's Gourmet Hamburger

Homemade bread, grilled burger, freshly homemade sauces, caramalized onions, avocado

Caribbean style dal

Lentils drowned in curry, turmeric, spices, served with vegetables and rice

Buddha bowl

Quinoa, avocado, sweet potato, spinach, fresh tomatoes, beans, fruit and chicken

Mushroom Risotto

Traditional Italian risotto with mushrooms, white wine and parmesan

Spanish salad

Rice salad with fresh vegetables, olives, shrimps and chorizo

HAPPY HOUR SELECTIONS

Deviled eggs

Boiled eggs, stuffed with mayonnaise, garlic and mustard

Babaganoush and Hummus

Traditional dishes from north Africa, grilled eggplants or mashed chick peas mixed with olive oil, spices, tahini and yogurt, served with fresh veggies

Fritters

Deep fried onions or other vegetables, served with a selection of sauces (homemade aioli, pomodoro, tartar etc...)

Mediterranean Mix

Tapenades (olive pastes), sun dried tomato paste, tzatziki, served with homemade foccacia

Vol-au-vent

Pastries filled with creamy mushrooms and fresh herbs

Financiers

Little salty cakes topped with sun dried tomatoes, parmesan and zucchini

Verrines

Small glasses filled with flavorful layers of complimentary tastes and colors

EVENING SELECTIONS

Scallop Raviolis

Raviolis filled with grilled scallops and basil in it's own jus, served with a spinach salad and homemade garlic bread

Chicken Curry

Grilled chicken served in an opulent curry sauce, vegetables and rice

Pan Fried Fish Of The Day

Pan fried fish caught today with Meuniere sauce, vegetables and rice

Pad Thai

Traditional Thai dish with rice noodles, vegetables, chicken and scramble egg

Salmon en Papillotte

Salmon oven steamed in parchment with spices and fresh vegetables, served with garlic mashed potatoes

Chicken with Mustard

Grilled chicken served with a smoked mustard sauce, vegetables and roasted potatoes

Grilled Fish

Whole fish grilled in the oven with crust and spices, served with roasted vegetables and couscous

Herissons Chinois

Steamed meat and rice balls, served with shoyu and vegetables

DESSERTS

Chocolate Mousse

Light chocolate mousse with dark chocolate and aquafaba

Cheesecake

Cashew nut cheesecake, with Graham, fresh berry coulis/caramel/chocolate topping

Tiramisu

Traditional Italian tiramisu with sponge biscuit, mascarpone creme and coffee

Berries Tarte

Traditional French pie crust with vanilla cream, fresh berries and whipped cream

Chocolate Soufflé

Baked chocolate mousse

Key Lime Pie

Pie crust with lime cream and coconut whipped cream

Apple Crumble

Apples baked in the oven with sugar and cinnamon, topped with pie crumble, served with vanilla ice cream

COCKTAILS

Mojitos

Mint, lime jus, sugar cane, rum, sparkling water/soda

Margarita

Tequila, Cointreau, lime jus

Tutti Frutti

Mix of berries, vodka, lime jus and sugar

Pina Colada

Coconut milk, rum, pineapple jus, banana jus, vanilla, cinnamon, nutmeg

Apple Martini

Vodka, Green apple schnapps, lime jus

Caipirinha

Lime, cachaça, sugar, soda/sparkling water (can be added fresh mixed fruits)

Any additional cokctails available on request

STANDARD SHIPS BAR

Soft drinks, sodas, water, beers and well drinks, cocktails are available for your enjoyment.

Spirits

Vodka brands: Tito's, Stoli, Smirnoff

Whiskey brands: Johnny Walker, Dewars, Jack Daniels

Tequila brands: Souza, Milagro

Rum brand: Cruzan

Gin brands: Gordans, Tanqueray

Assortment of liqueurs.

Red and White Wines

Pino Grigio, Sauvignon Blanc, Chardonnay, Cabernet Sauvignon, Red Blend, Pinot Noir, Proseco

Beer

Bud, Coors, Corona, Miller, Caribe, Presidente

Please let your broker know your preferred brand.

If you require premium wines or spirits of your choice, please notify your broker and we will be happy to source it for you and have them onboard when you arrive.

These would be at an additional cost to you.
Pick Up Locations
| | |
| --- | --- |
| Pref. Pick-up: | St. Thomas, USVI |
| Other Pick-up: | Red Hook or BVI |
---
Details
| | |
| --- | --- |
| Refit: | - |
| Helipad: | No |
| Jacuzzi: | No |
| A/C: | Full |
Engine Details
-
Fuel Consumption:
n/a
Cruising Speed:
n/a
Max Speed:
n/aUS Gall/Hr
Locations
| | |
| --- | --- |
| Winter Area: | Caribbean Virgin Islands |
| Summer Area: | Caribbean Virgin Islands |
---
Amenities
| | |
| --- | --- |
| Salon Tv/VCR: | Yes |
| Salon Stereo: | Yes |
| Sat TV: | - |
| # of Videos: | - |
| # DVDs/Movies: | No |
| # CD's: | No |
| Camcorder: | No |
| Books: | No |
| Board Games: | Yes |
| Sun Awning: | No |
| Deck Shower: | Yes |
| Bimini: | Yes |
| Water Maker: | Yes |
| | |
| --- | --- |
| Special Diets: | Yes |
| Kosher: | Inq |
| BBQ: | Yes |
| # Dine In: | 8 |
| Minimum Age: | Water safe |
| Generator: | Yes |
| Inverter: | Yes |
| Voltages: | 110 V |
| Water Maker: | Yes |
| Water Cap: | - |
| Ice Maker: | No |
| Sailing Instructions: | No |
| Internet Access: | Onboard WIFI |
| | |
| --- | --- |
| Gay Charters: | Yes |
| Nude: | Inq |
| Hairdryers: | No |
| # Port Hatches: | Yes |
| Guests Smokes: | Yes, only on sugar scoops |
| Crew Smokes: | No |
| Pets Aboard: | No |
| Pet Type: | - |
| Guest Pets: | No |
| Children Ok: | Yes |
| Hammock: | Yes |
| Windscoops: | No |
---
Water Sports
| | |
| --- | --- |
| Dinghy size: | 12.6' Center Console |
| Dinghy hp: | 30hp |
| Dinghy # pax: | 10 |
| Water Skis Adult: | No |
| Water Skis Kids: | No |
| Jet Skis: | No |
| Wave Runners: | No |
| Kneeboard: | No |
| Windsurfer: | No |
| Snorkel Gear: | Yes |
| Tube: | Yes |
| | |
| --- | --- |
| Scurfer: | No |
| Wake Board: | No |
| Kayaks 1 Pax: | No |
| Kayaks (2 Pax): | No |
| Floating Mats: | Yes |
| Swim Platform: | Yes |
| Boarding Ladder (Loc/Type): | Yes |
| Sailing Dinghy: | No |
| Beach Games: | Yes |
| Fishing Gear: | No |
| Gear Type: | Trolling |
| Rods: | 2 |
MEET THE CREW - 2019/20 SEASON
Captain - Brian Christiansen
Chef - Elena Gandillon

Share in the unique experiences of the Virgin Islands that Elena and Brian craft for you sailing aboard the spacious, wind-powered vessel, Black Tortuga.

With close to a decade of experience taking people "into the wild", Brian shares his sense of adventure with guests. Raised in Utah and frequently found at sea, Brian is confronted with questions as to how he became an ocean-going captain. Most people forget there is a small ocean, the Great Salt Lake, in his desert home. His father taught him a love for all activities in and around water. Reading sea-faring novels from the golden-age of discovery inspired him to lust for the horizon and he eventually made his way aboard expedition ships plying all the planet's waters. Alongside working for National Geographic Expeditions, he operated specialty charters through the Lesser Antilles on his own sailing vessel. As a USCG 100ton rated captain, his attention to detail and professionalism are integral to safe operation of the vessel. As a fellow human with passions in outdoor pursuits, he is a perfect companion for fun activities if you want to try your hand at at anything from surfing and kiteboarding to freediving and kayaking. Holding a degree in film-making, working as a videographer and being a reward winning photographer; he can create, upon prior request, a media package of the events that make your trip remarkable.

Elena's spirit awakens in the open. After traveling to over thirty countries, her instinct draws her to beautiful and isolated places. Her love for nature led her from jagged mountain peaks of Switzerland into the deep blue of the Indo-Pacific. She became a PADI certified scuba instructor in Komodo so she can share her love of undersea life with others. Join her for some scuba diving or become certified while onboard and see what the hype is all about! Growing up in an international household, her culinary influences are mainly French and Swiss with added spice from her travels, specializing in creating heart-warming dishes from the simplest of ingredients. She aspires to cater her dishes toward individual diets and has perfected eco-friendly, plant-based menu selections. Placing great importance on the dining experience, speaking three languages, and versed in the art of conversation makes spending time with her a joy, no matter where you are from.

Elena and Brian met in Raja Ampat diving and sailing and are fully committed to spending every moment in each other's company with their first love, the water. Blending luxurious yacht life and connecting with nature in easy grace, they ignite voyagers' passion for Caribbean beauty. Sailing in consistent winds on the azure waters of the Virgin Islands while visiting white sandy beaches with quaint hideaways is a perfect way to charter.
Come join them aboard Black Tortuga for the wind-powered charter of a lifetime. You will go home with more than memories - you will have inspiring stories of rewarding experiences.

With Elena and Brian, you are guaranteed an unforgettable week. As a team, they are perfectly matched to make your tropical getaway magical.


_____________________________________________

"Take home memories of your charter. Your captain, Brian, is an award winning photographer ready to capture all of the moments you want to remember forever. He is especially proficient at imaging underwater. Also being a videographer, those fast moving moments won't be lost. All images taken during your voyage can be made available to you digitally with no copyright so you can do whatever you want with them, print the images huge for your living room or just post on social media. Whatever you decide to do with your imagery, you will never forget the Virgin Islands."

Topside Digital Package (All images, photo or video, created during the charter above water): $750
Undersea Digital Package (All images, photo or video, created during the charter below water): $950
Complete Digital Package (everything): $1250
Individual Digital Topside Images: $75
Individual Digital Undersea Images: $95

"Please arrange beforehand if you are interested in any of these packages. Your final decision can wait until you see what your package looks like."

*****CREW HAVE HAD 1ST COVID-19 SHOT, SECOND SHOOT SOON COME****




(15 December -30 April)
Caribbean Virgin Islands
(1 May - 14 December)
Caribbean Virgin Islands
| | | | | | | | | | | | | | | | | | | | | | | | | | | | | | | | |
| --- | --- | --- | --- | --- | --- | --- | --- | --- | --- | --- | --- | --- | --- | --- | --- | --- | --- | --- | --- | --- | --- | --- | --- | --- | --- | --- | --- | --- | --- | --- | --- |
| Jun 2021 | 1 | 2 | 3 | 4 | 5 | 6 | 7 | 8 | 9 | 10 | 11 | 12 | 13 | 14 | 15 | 16 | 17 | 18 | 19 | 20 | 21 | 22 | 23 | 24 | 25 | 26 | 27 | 28 | 29 | 30 | |
| Jul 2021 | 1 | 2 | 3 | 4 | 5 | 6 | 7 | 8 | 9 | 10 | 11 | 12 | 13 | 14 | 15 | 16 | 17 | 18 | 19 | 20 | 21 | 22 | 23 | 24 | 25 | 26 | 27 | 28 | 29 | 30 | 31 |
| Aug 2021 | 1 | 2 | 3 | 4 | 5 | 6 | 7 | 8 | 9 | 10 | 11 | 12 | 13 | 14 | 15 | 16 | 17 | 18 | 19 | 20 | 21 | 22 | 23 | 24 | 25 | 26 | 27 | 28 | 29 | 30 | 31 |
| Sep 2021 | 1 | 2 | 3 | 4 | 5 | 6 | 7 | 8 | 9 | 10 | 11 | 12 | 13 | 14 | 15 | 16 | 17 | 18 | 19 | 20 | 21 | 22 | 23 | 24 | 25 | 26 | 27 | 28 | 29 | 30 | |
| Oct 2021 | 1 | 2 | 3 | 4 | 5 | 6 | 7 | 8 | 9 | 10 | 11 | 12 | 13 | 14 | 15 | 16 | 17 | 18 | 19 | 20 | 21 | 22 | 23 | 24 | 25 | 26 | 27 | 28 | 29 | 30 | 31 |
| Nov 2021 | 1 | 2 | 3 | 4 | 5 | 6 | 7 | 8 | 9 | 10 | 11 | 12 | 13 | 14 | 15 | 16 | 17 | 18 | 19 | 20 | 21 | 22 | 23 | 24 | 25 | 26 | 27 | 28 | 29 | 30 | |
| Dec 2021 | 1 | 2 | 3 | 4 | 5 | 6 | 7 | 8 | 9 | 10 | 11 | 12 | 13 | 14 | 15 | 16 | 17 | 18 | 19 | 20 | 21 | 22 | 23 | 24 | 25 | 26 | 27 | 28 | 29 | 30 | 31 |
| Jan 2022 | 1 | 2 | 3 | 4 | 5 | 6 | 7 | 8 | 9 | 10 | 11 | 12 | 13 | 14 | 15 | 16 | 17 | 18 | 19 | 20 | 21 | 22 | 23 | 24 | 25 | 26 | 27 | 28 | 29 | 30 | 31 |
| Feb 2022 | 1 | 2 | 3 | 4 | 5 | 6 | 7 | 8 | 9 | 10 | 11 | 12 | 13 | 14 | 15 | 16 | 17 | 18 | 19 | 20 | 21 | 22 | 23 | 24 | 25 | 26 | 27 | 28 | | | |
| Mar 2022 | 1 | 2 | 3 | 4 | 5 | 6 | 7 | 8 | 9 | 10 | 11 | 12 | 13 | 14 | 15 | 16 | 17 | 18 | 19 | 20 | 21 | 22 | 23 | 24 | 25 | 26 | 27 | 28 | 29 | 30 | 31 |
| Apr 2022 | 1 | 2 | 3 | 4 | 5 | 6 | 7 | 8 | 9 | 10 | 11 | 12 | 13 | 14 | 15 | 16 | 17 | 18 | 19 | 20 | 21 | 22 | 23 | 24 | 25 | 26 | 27 | 28 | 29 | 30 | |
| May 2022 | 1 | 2 | 3 | 4 | 5 | 6 | 7 | 8 | 9 | 10 | 11 | 12 | 13 | 14 | 15 | 16 | 17 | 18 | 19 | 20 | 21 | 22 | 23 | 24 | 25 | 26 | 27 | 28 | 29 | 30 | 31 |
---