CHARGES
FROM
$60,000
Plus Expenses
---
Boat Details
| | |
| --- | --- |
| Cabins: | 4 |
| King: | 1 |
| Queen: | 2 |
| Single Cabins: | - |
| Showers: | 4 |
| Wash Basins: | 6 |
| Heads: | 5 |
| Electric Heads: | 5 |
Pick Up Locations
| | |
| --- | --- |
| Pref. Pick-up: | Bahamas |
| Other Pick-up: | - |
---
Details
| | |
| --- | --- |
| Refit: | 2019 |
| Helipad: | Yes |
| Jacuzzi: | Yes |
| A/C: | Full |
Engine Details
2 x 800hp MAN R6 (approx 105 liters per hour /30 gal per hour including generators @ 12 kts) 32kW Kohler Gen
Fuel Consumption:
30
Cruising Speed:
12
Max Speed:
22US Gall/Hr
Locations
| | |
| --- | --- |
| Winter Area: | Bahamas |
| Summer Area: | Bahamas |
---
Amenities
| | |
| --- | --- |
| Salon Tv/VCR: | Yes |
| Salon Stereo: | Yes |
| Sat TV: | Pepwave centralized WiFi (when available) |
| # of Videos: | - |
| # DVDs/Movies: | Yes |
| # CD's: | - |
| Camcorder: | - |
| Books: | - |
| Board Games: | - |
| Sun Awning: | Yes |
| Deck Shower: | Yes |
| Bimini: | - |
| Water Maker: | 2 watermak |
| | |
| --- | --- |
| Special Diets: | Inq |
| Kosher: | Inq |
| BBQ: | Yes |
| # Dine In: | Yes |
| Minimum Age: | - |
| Generator: | Kohler 32KW |
| Inverter: | - |
| Voltages: | - |
| Water Maker: | 2 watermak |
| Water Cap: | - |
| Ice Maker: | Yes |
| Sailing Instructions: | - |
| Internet Access: | Onboard WIFI |
| | |
| --- | --- |
| Gay Charters: | Inq |
| Nude: | Inq |
| Hairdryers: | Yes |
| # Port Hatches: | Yes |
| Guests Smokes: | Designated Areas Only |
| Crew Smokes: | Inq |
| Pets Aboard: | No |
| Pet Type: | - |
| Guest Pets: | No |
| Children Ok: | Yes |
| Hammock: | - |
| Windscoops: | - |
---
Water Sports
| | |
| --- | --- |
| Dinghy size: | 25' Sea Hunt 2019 model |
| Dinghy hp: | 300HP |
| Dinghy # pax: | 10 |
| Water Skis Adult: | Yes |
| Water Skis Kids: | - |
| Jet Skis: | - |
| Wave Runners: | 2 |
| Kneeboard: | - |
| Windsurfer: | - |
| Snorkel Gear: | Yes |
| Tube: | Yes |
| | |
| --- | --- |
| Scurfer: | - |
| Wake Board: | Yes |
| Kayaks 1 Pax: | - |
| Kayaks (2 Pax): | 2 |
| Floating Mats: | Yes |
| Swim Platform: | Yes |
| Boarding Ladder (Loc/Type): | 2 port and starboard |
| Sailing Dinghy: | - |
| Beach Games: | Yes |
| Fishing Gear: | Yes |
| Gear Type: | - |
| Rods: | - |
Sean Staine – Captain
Sean grew up in the town of Hermanus, South Africa. Hermanus is a coastal town popular for its Southern Wright Whale watching.
Growing up along the rugged coast cultured Sean an affinity for all water sports, especially kite-surfing, fishing and SCUBA; more specifically wreck diving. Sean spent many weekends fishing at a provincial level. With his hard training Sean was then recruited to be a part of a sponsored professional fishing team of South Africa. Each member of a fishing team brings their special skill sets. His specialization was shark (catch and release) and also edibles.
For 3.5 years Sean worked as a rescue swimmer and a training coxswain for the South African Coast Guard. Being a rescue swimmer Sean used to jump out of helicopters to swim to peoples' aid. He was involved in over 50 rescues.
Sean started his Yachting career 8 years ago sailing on a 44ft catamaran from South Africa to Fort Lauderdale taking 2 months.
After 8 years in the industry Sean has a vast knowledge and a great passion to share with his guests and can't wait to welcome you aboard Samara.


Sarah Bambrick – Stewardess
Sarah grew up in a small country town in South Australia. Growing up Sarah always had a love for sport and the outdoors.

Sarah started her hospitality career in Australia and South East Asia for an international resort company for 6 years. The resort has a strong training motto allowing selected staff to train across all departments. Sarah was selected for one of these training positions and gained valuable experience in the hospitality industry

Sarah also has a love for aerial acrobatics and performing. Whilst working for the resort she was also offered a position to train with the circus team. Sarah would teach guests flying trapeze lessons as well as performing in nightly Flying Trapeze and aerial circus shows.

Wanting to see more of the world Sarah discovered yachting. She has been working on several yachts cruising throughout the Mediterranean, Bahamas, Caribbean and New York.

Through her many years of hospitality experience Sarah is here to make your vacation a memorable one.


Deckhand- Christian Frederic
Christian was born in the small town of Knysna, Western Cape, South Africa, located on the beautiful Garden Route of the South African coast line.

Christian grew up in Port Elizabeth, South Africa where he pursued his passion for sports, namely Athletics & Rugby where he would go on to represent his province on various occasions. Christian was a successful junior-professional rugby player and was the first 18-year-old in the Eastern Cape to be selected for the U/21 Eastern Cape Currie Cup team.

Aside from the sporting field, he has a passion for the outdoors, animals and fitness. At 19 years Christian started working as a Certified Sports Massage Therapist, whilst he was busy studying his Bachelor's of Human Movement Science degree.

As he had grown up near the water, he had discovered his love for the underwater world whilst completing his Master SCUBA diving certificate. Christian decided to ditch his current ventures and shift his focus towards the yachting industry in which he had found his dream job.

After completing a successful Mediterranean season, Christian is motivated to chase his dreams of becoming a Captain. Christian's enthusiastic, positive and bubbly presence can't wait to welcome you aboard Motor Yacht Samara.


Nadine Imfeld - CHEF (Freelance)
Nadine has been a favorite freelance chef aboard Samara in Summer 2020 with hopes to regularly return for charters. Her profile is coming soon but in the meantime her creations can be found on her Instagram account @littlechefnadine.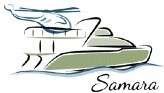 (15 December -30 April)
Bahamas
(1 May - 14 December)
Bahamas
| | | | | | | | | | | | | | | | | | | | | | | | | | | | | | | | |
| --- | --- | --- | --- | --- | --- | --- | --- | --- | --- | --- | --- | --- | --- | --- | --- | --- | --- | --- | --- | --- | --- | --- | --- | --- | --- | --- | --- | --- | --- | --- | --- |
| Jul 2021 | 1 | 2 | 3 | 4 | 5 | 6 | 7 | 8 | 9 | 10 | 11 | 12 | 13 | 14 | 15 | 16 | 17 | 18 | 19 | 20 | 21 | 22 | 23 | 24 | 25 | 26 | 27 | 28 | 29 | 30 | 31 |
| Aug 2021 | 1 | 2 | 3 | 4 | 5 | 6 | 7 | 8 | 9 | 10 | 11 | 12 | 13 | 14 | 15 | 16 | 17 | 18 | 19 | 20 | 21 | 22 | 23 | 24 | 25 | 26 | 27 | 28 | 29 | 30 | 31 |
| Sep 2021 | 1 | 2 | 3 | 4 | 5 | 6 | 7 | 8 | 9 | 10 | 11 | 12 | 13 | 14 | 15 | 16 | 17 | 18 | 19 | 20 | 21 | 22 | 23 | 24 | 25 | 26 | 27 | 28 | 29 | 30 | |
| Oct 2021 | 1 | 2 | 3 | 4 | 5 | 6 | 7 | 8 | 9 | 10 | 11 | 12 | 13 | 14 | 15 | 16 | 17 | 18 | 19 | 20 | 21 | 22 | 23 | 24 | 25 | 26 | 27 | 28 | 29 | 30 | 31 |
| Nov 2021 | 1 | 2 | 3 | 4 | 5 | 6 | 7 | 8 | 9 | 10 | 11 | 12 | 13 | 14 | 15 | 16 | 17 | 18 | 19 | 20 | 21 | 22 | 23 | 24 | 25 | 26 | 27 | 28 | 29 | 30 | |
| Dec 2021 | 1 | 2 | 3 | 4 | 5 | 6 | 7 | 8 | 9 | 10 | 11 | 12 | 13 | 14 | 15 | 16 | 17 | 18 | 19 | 20 | 21 | 22 | 23 | 24 | 25 | 26 | 27 | 28 | 29 | 30 | 31 |
| Jan 2022 | 1 | 2 | 3 | 4 | 5 | 6 | 7 | 8 | 9 | 10 | 11 | 12 | 13 | 14 | 15 | 16 | 17 | 18 | 19 | 20 | 21 | 22 | 23 | 24 | 25 | 26 | 27 | 28 | 29 | 30 | 31 |
| Feb 2022 | 1 | 2 | 3 | 4 | 5 | 6 | 7 | 8 | 9 | 10 | 11 | 12 | 13 | 14 | 15 | 16 | 17 | 18 | 19 | 20 | 21 | 22 | 23 | 24 | 25 | 26 | 27 | 28 | | | |
| Mar 2022 | 1 | 2 | 3 | 4 | 5 | 6 | 7 | 8 | 9 | 10 | 11 | 12 | 13 | 14 | 15 | 16 | 17 | 18 | 19 | 20 | 21 | 22 | 23 | 24 | 25 | 26 | 27 | 28 | 29 | 30 | 31 |
| Apr 2022 | 1 | 2 | 3 | 4 | 5 | 6 | 7 | 8 | 9 | 10 | 11 | 12 | 13 | 14 | 15 | 16 | 17 | 18 | 19 | 20 | 21 | 22 | 23 | 24 | 25 | 26 | 27 | 28 | 29 | 30 | |
| May 2022 | 1 | 2 | 3 | 4 | 5 | 6 | 7 | 8 | 9 | 10 | 11 | 12 | 13 | 14 | 15 | 16 | 17 | 18 | 19 | 20 | 21 | 22 | 23 | 24 | 25 | 26 | 27 | 28 | 29 | 30 | 31 |
| Jun 2022 | 1 | 2 | 3 | 4 | 5 | 6 | 7 | 8 | 9 | 10 | 11 | 12 | 13 | 14 | 15 | 16 | 17 | 18 | 19 | 20 | 21 | 22 | 23 | 24 | 25 | 26 | 27 | 28 | 29 | 30 | |
---