CHARGES
FROM
$31,700
All Inclusive
---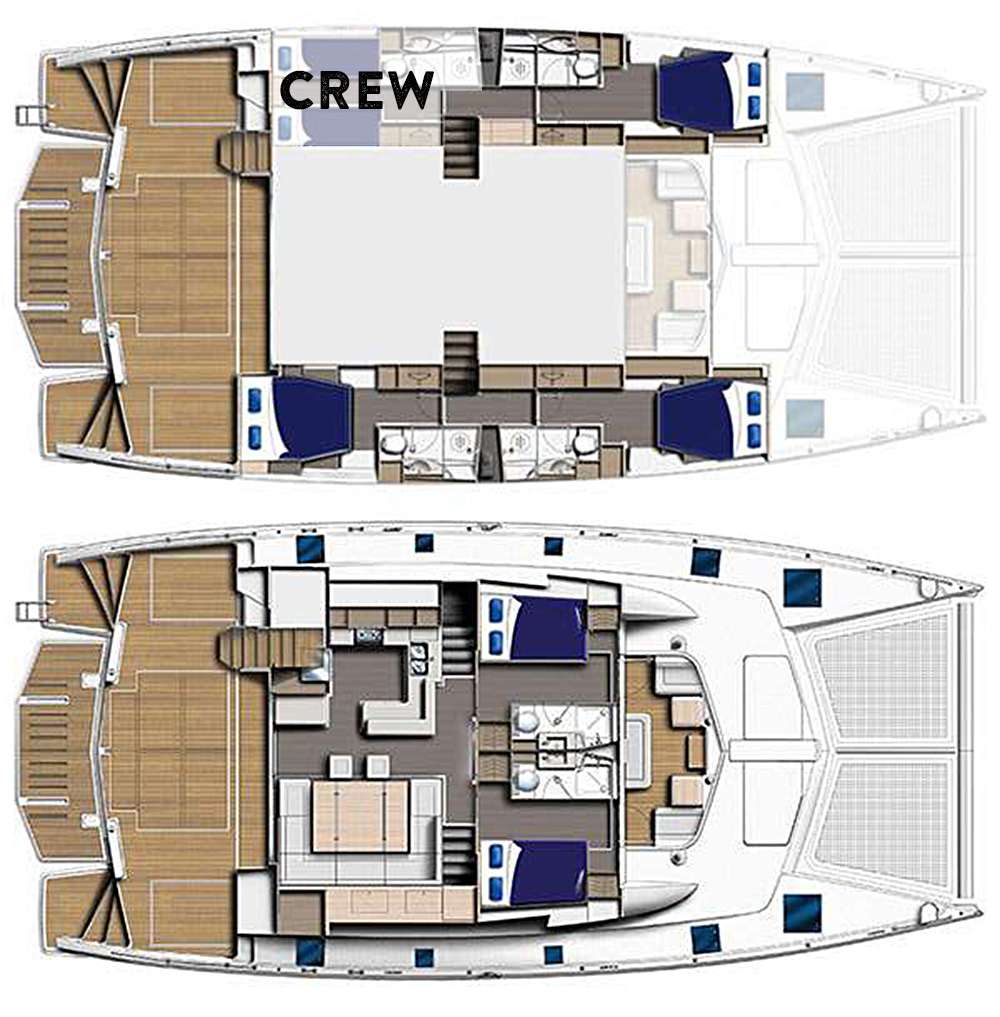 Boat Details
| | |
| --- | --- |
| Cabins: | 5 |
| King: | - |
| Queen: | 5 |
| Single Cabins: | - |
| Showers: | 5 |
| Wash Basins: | 5 |
| Heads: | 5 |
| Electric Heads: | 5 |
Sample Menu
DAY BREAK

*Fresh Fruit served each day

Ricotta Strawberry French Toast topped with honey and mint

Build your own omelette served with crispy potatoes and warm baked croissants

Spinach and Cheese Quiche with sausage patties and roasted seasoned potatoes

Fresh Blueberry Pancakes with a warm maple butter syrup served with an egg scramble and thick cut bacon

Salmon Lox with red onion and capers with choice of bagels and assorted cream cheese.

Avocado Brioche Toast topped with fresh mozzarella, tomato and arugula

Vegetarian Menu Options

Tomato Avocado Toast with fresh mozzarella and basil

Veggie Breakfast Tacos

Pineapple Upside Down Pancakes

Mushroom Frittata

MIDDAY

Blackened Shrimp Caesar Salad with parmesan crisps

Homemade Crab Cakes topped with an aioli sauce served with classic Cole slaw

Mahi Mahi Fish Tacos, pineapple and mango salsa and a spicy sriracha mayo

Sausage, Broccoli Rabe, and Mozzarella Flatbread

Turkey Burger sliders with warm homemade potato salad

Jerk Chicken Wrap with salsa, homemake guacamole and crispy corn tortillas

Vegetarian Menu Options

Mediterranean Couscous Salad

Spicy Kale and Coconut Fried Rice

Tangy Veggie Wraps with crispy corn tortilla chips and salsa

Portabella Mushroom Burgers served with warm homemade potato salad

HORS D'OEUVRES

Charcuterie board with assorted cheese, meats, nuts and dried fruits

Baked Brie with apricot jam served with assorted artisan crackers

Lemony Mushroom Crostini with shallot and chive Boursin

Pancetta Crisps with goat cheese and pear

Fresh baked bread with olive oil, pesto, and hummus

MAIN

Classic Chicken Marsala with sautéd mushrooms in Madeira sauce, roasted broccolini and rosemary mashed potatoes

Grilled Tuna Steaks served with mango salsa and coconut rice

Pan Seared Filet Mignon, green beans with caramelized shallots and roasted red potatoes

Balsamic glazed Salmon with asparagus and honey brown sugar sweet potatoes

Asian Orange Chicken served with sugar snap peas and jasmine rice

Pork Tenderloin over mushroom risotto

Vegetarian Menu Options

Roasted Sweet Potato and Onion Tart with goat cheese served with fresh greens

Ricotta Gnocchi in Lemon butter sauce

Roasted Mushroom Risotto

Cheese Tortellini with roasted tomato vodka sauce

DESSERT

Lemon Squares topped with powdered sugar and fresh mint

Warm Apple Crisp a la mode with a caramel drizzle

Champagne cake with fresh strawberries

Chocolate Brownie squares with vanilla bean ice cream

Fruit Sorbet with fresh seasonal berries

Peanut Butter Pie

SHIP'S BAR

Vodka: Tito's

Rum: Cruzan (3-4 Flavors, a Dark, and a Light)

Bourbon: Bulleit

Gin: Bombay Sapphire

Tequila: Milagro

Champagne: La Marca Prosecco

Red/White Wine

($12-$15 bottles typically): Josh, 19 Crimes, Apothic, Matua, Dark Horse, Oyster Bay

Cordials: Grand Marnier, Espresso Vodka, Amaretto. Frangelica

Beers: ST. John Brewer's, Leatherback Brewery, Corona
Pick Up Locations
| | |
| --- | --- |
| Pref. Pick-up: | YHG |
| Other Pick-up: | RH, BVI, limit 7 |
---
Details
| | |
| --- | --- |
| Refit: | - |
| Helipad: | No |
| Jacuzzi: | No |
| A/C: | Full |
Engine Details
-
Fuel Consumption:
-
Cruising Speed:
-
Max Speed:
-
Locations
| | |
| --- | --- |
| Winter Area: | Caribbean Virgin Islands |
| Summer Area: | Caribbean Virgin Islands |
---
Amenities
| | |
| --- | --- |
| Salon Tv/VCR: | Yes |
| Salon Stereo: | Yes |
| Sat TV: | - |
| # of Videos: | - |
| # DVDs/Movies: | Yes |
| # CD's: | Yes |
| Camcorder: | No |
| Books: | Yes |
| Board Games: | Yes |
| Sun Awning: | Yes |
| Deck Shower: | Yes |
| Bimini: | Yes |
| Water Maker: | Yes |
| | |
| --- | --- |
| Special Diets: | Yes |
| Kosher: | No |
| BBQ: | Yes |
| # Dine In: | 10 |
| Minimum Age: | Water safe |
| Generator: | Yes |
| Inverter: | Yes |
| Voltages: | 110V |
| Water Maker: | Yes |
| Water Cap: | - |
| Ice Maker: | Yes |
| Sailing Instructions: | - |
| Internet Access: | Onboard WIFI |
| | |
| --- | --- |
| Gay Charters: | Yes |
| Nude: | Yes |
| Hairdryers: | Yes |
| # Port Hatches: | - |
| Guests Smokes: | Smoking allowed on sugar scoop |
| Crew Smokes: | No |
| Pets Aboard: | No |
| Pet Type: | - |
| Guest Pets: | No |
| Children Ok: | Yes |
| Hammock: | No |
| Windscoops: | No |
---
Water Sports
| | |
| --- | --- |
| Dinghy size: | 15' Highfield Rib center console |
| Dinghy hp: | 50HP Honda |
| Dinghy # pax: | 6 |
| Water Skis Adult: | Yes |
| Water Skis Kids: | Yes |
| Jet Skis: | No |
| Wave Runners: | No |
| Kneeboard: | - |
| Windsurfer: | - |
| Snorkel Gear: | Yes |
| Tube: | Yes |
| | |
| --- | --- |
| Scurfer: | - |
| Wake Board: | Yes |
| Kayaks 1 Pax: | - |
| Kayaks (2 Pax): | 1 |
| Floating Mats: | - |
| Swim Platform: | Yes |
| Boarding Ladder (Loc/Type): | Aft |
| Sailing Dinghy: | - |
| Beach Games: | Yes |
| Fishing Gear: | Yes |
| Gear Type: | Trolling and spining |
| Rods: | - |
Capt. Richard Darling
Captain Richard hails from a small town in upstate New York near the Lake Ontario shoreline where he learned absolutely nothing about sailing! That is until he spent some college years in Daytona, then went back to NY and was fortunate enough to enter the racing scene where he purchased his own sailboat and hasn't stopped sailing since. In 2003, Richard moved to the Virgin Islands and acquired his USCG Master's License. Since then, he has worked in the charter industry as Captain or Engineer on various sailing and motor yachts up to 160 feet.

Calling St. Thomas home for more than 15 years. Richard has sailed thousands of miles through the islands and beyond, and he loves sharing some of the best kept secret anchorages and dive locations along the way along with his knowledge of the stars under the beautiful Caribbean night skies.

Chef Suzanne Carter
Chef Suzanne hails from Philadelphia, PA where she studied under some of the best Italian cooks on the east side. She learned at an early age that perfectly blended herbs and spices will bring your dish to the next level. Her family moved to St. Petersburg, FL where her eyes were immediately drawn to the sea. Through the years her need to be in the islands never waned nor did her desire to create mouth watering meals. Her dishes are best described as elegantly simplistic. A wide range of culinary styles beautifully blended with fresh local ingredients, a superb mixture of herbs and spices, and sprinkled with a pinch of Mama's love will have you begging for seconds. But trust me, you are going to want to save room for dessert!
(15 December -30 April)
Caribbean Virgin Islands
(1 May - 14 December)
Caribbean Virgin Islands
| | | | | | | | | | | | | | | | | | | | | | | | | | | | | | | | |
| --- | --- | --- | --- | --- | --- | --- | --- | --- | --- | --- | --- | --- | --- | --- | --- | --- | --- | --- | --- | --- | --- | --- | --- | --- | --- | --- | --- | --- | --- | --- | --- |
| Aug 2021 | 1 | 2 | 3 | 4 | 5 | 6 | 7 | 8 | 9 | 10 | 11 | 12 | 13 | 14 | 15 | 16 | 17 | 18 | 19 | 20 | 21 | 22 | 23 | 24 | 25 | 26 | 27 | 28 | 29 | 30 | 31 |
| Sep 2021 | 1 | 2 | 3 | 4 | 5 | 6 | 7 | 8 | 9 | 10 | 11 | 12 | 13 | 14 | 15 | 16 | 17 | 18 | 19 | 20 | 21 | 22 | 23 | 24 | 25 | 26 | 27 | 28 | 29 | 30 | |
| Oct 2021 | 1 | 2 | 3 | 4 | 5 | 6 | 7 | 8 | 9 | 10 | 11 | 12 | 13 | 14 | 15 | 16 | 17 | 18 | 19 | 20 | 21 | 22 | 23 | 24 | 25 | 26 | 27 | 28 | 29 | 30 | 31 |
| Nov 2021 | 1 | 2 | 3 | 4 | 5 | 6 | 7 | 8 | 9 | 10 | 11 | 12 | 13 | 14 | 15 | 16 | 17 | 18 | 19 | 20 | 21 | 22 | 23 | 24 | 25 | 26 | 27 | 28 | 29 | 30 | |
| Dec 2021 | 1 | 2 | 3 | 4 | 5 | 6 | 7 | 8 | 9 | 10 | 11 | 12 | 13 | 14 | 15 | 16 | 17 | 18 | 19 | 20 | 21 | 22 | 23 | 24 | 25 | 26 | 27 | 28 | 29 | 30 | 31 |
| Jan 2022 | 1 | 2 | 3 | 4 | 5 | 6 | 7 | 8 | 9 | 10 | 11 | 12 | 13 | 14 | 15 | 16 | 17 | 18 | 19 | 20 | 21 | 22 | 23 | 24 | 25 | 26 | 27 | 28 | 29 | 30 | 31 |
| Feb 2022 | 1 | 2 | 3 | 4 | 5 | 6 | 7 | 8 | 9 | 10 | 11 | 12 | 13 | 14 | 15 | 16 | 17 | 18 | 19 | 20 | 21 | 22 | 23 | 24 | 25 | 26 | 27 | 28 | | | |
| Mar 2022 | 1 | 2 | 3 | 4 | 5 | 6 | 7 | 8 | 9 | 10 | 11 | 12 | 13 | 14 | 15 | 16 | 17 | 18 | 19 | 20 | 21 | 22 | 23 | 24 | 25 | 26 | 27 | 28 | 29 | 30 | 31 |
| Apr 2022 | 1 | 2 | 3 | 4 | 5 | 6 | 7 | 8 | 9 | 10 | 11 | 12 | 13 | 14 | 15 | 16 | 17 | 18 | 19 | 20 | 21 | 22 | 23 | 24 | 25 | 26 | 27 | 28 | 29 | 30 | |
| May 2022 | 1 | 2 | 3 | 4 | 5 | 6 | 7 | 8 | 9 | 10 | 11 | 12 | 13 | 14 | 15 | 16 | 17 | 18 | 19 | 20 | 21 | 22 | 23 | 24 | 25 | 26 | 27 | 28 | 29 | 30 | 31 |
| Jun 2022 | 1 | 2 | 3 | 4 | 5 | 6 | 7 | 8 | 9 | 10 | 11 | 12 | 13 | 14 | 15 | 16 | 17 | 18 | 19 | 20 | 21 | 22 | 23 | 24 | 25 | 26 | 27 | 28 | 29 | 30 | |
| Jul 2022 | 1 | 2 | 3 | 4 | 5 | 6 | 7 | 8 | 9 | 10 | 11 | 12 | 13 | 14 | 15 | 16 | 17 | 18 | 19 | 20 | 21 | 22 | 23 | 24 | 25 | 26 | 27 | 28 | 29 | 30 | 31 |
---