CHARGES
FROM
$50,000
Plus Expenses
---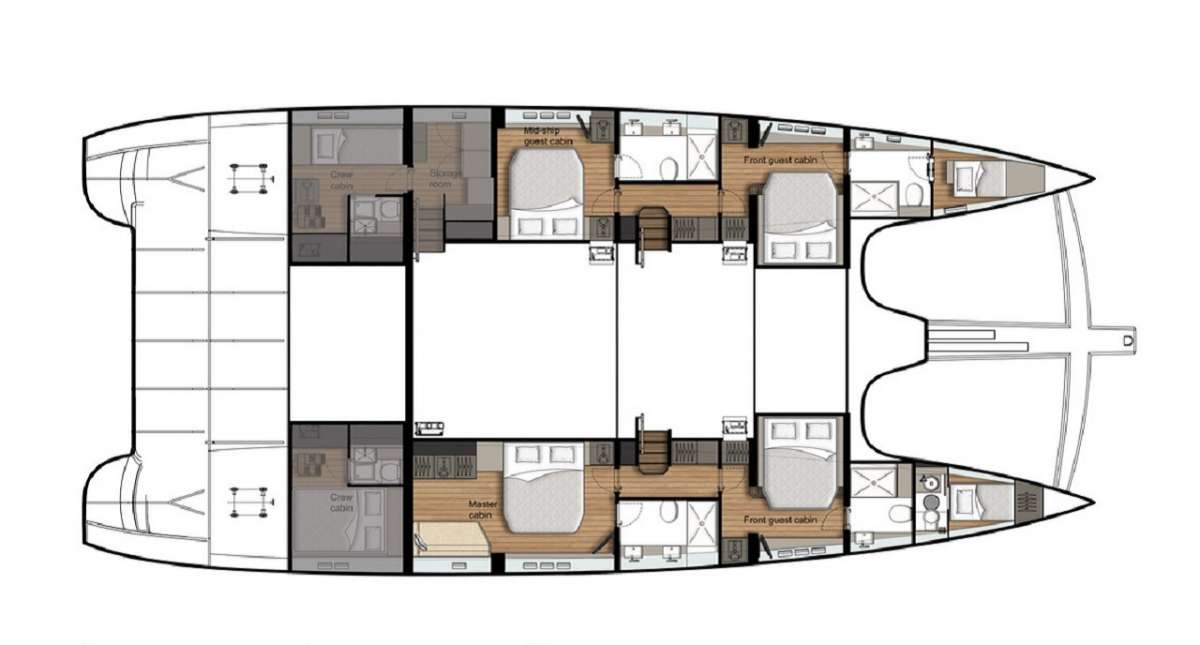 Boat Details
| | |
| --- | --- |
| Cabins: | 4 |
| King: | 1 |
| Queen: | 3 |
| Single Cabins: | - |
| Showers: | - |
| Wash Basins: | - |
| Heads: | - |
| Electric Heads: | 4 |
Sample Menu
ORION SAMPLE MENU
by Lola VUILLERMENOT

BREAKFAST
-Mixed plates of fruits
- Pancakes or French toast
-Scramble egg and bacon
-Yogurt and fruits sauce
-Juices or smoothies
-Ham and cheese plate



APPETIZERS
-Tuna samossa , sweet and sour sauce
- Citrus marlin fish gravlax
-Brushetta guacamole prawns
-Tuna avocado and mango maki
-Mixed plate umus, tzatziki, crunchy vegetables and blinis
-Fish rillettes with fresh bread

STARTERS
-Pumpkin soup with coconut milk, crispy bacon
-Ravioli with goat cheese and spinach, fresh herb soup
-Vanilla foie gras, mango shutney
-Sashimi, cabbage salad and ginger sauce
-Spring rolls with prawns, peanuts sauce
-Zucchini terrine with parmesan, tomato coulis

MAIN DISHES
-Pavé of Mahi Mahi fish, rice pilaf with vegetables, vanilla sauce
-Duck breast with honey, sweet potato mash and red onions pickles
-Grilled filet de boeuf, gratins Dauphinois and Bearnaise sauce
-Roasted lobsters, lemon butter, fresh tagliatelles with cherry tomatoes and basil
-Pavé of red tuna, vegetable tagliatelles, coconuts and ginger sauce
-Cote de boeuf, mashed potatoes with truffle oil, meat sauce

SALADS
-Avocado and mango salad, half cooked tuna with mild spices
-Tabbouleh of quinoa, feta cheese and fresh mint, pineapple chicken
-Salad of lobsters, grapefruit and mayonnaise sauce
-Tomato, basil and mozzarella salad, beef carpaccio
-Salad of green papaya, cabbage and carrots, grilled sesame chicken,passion fruit vinaigrette

DESSERTS
-Chocolat lava cake, vanilla ice cream and fresh fruits
-Crème brulée
-Exotic panna cotta, mango sauce
-Banana and caramel pie
-Apple and mango crumble, vanilla fresh cream
-Vanilla pudding, pineapple salad
Pick Up Locations
| | |
| --- | --- |
| Pref. Pick-up: | - |
| Other Pick-up: | - |
---
Details
| | |
| --- | --- |
| Refit: | - |
| Helipad: | No |
| Jacuzzi: | Yes |
| A/C: | Full |
Engine Details
-
Fuel Consumption:
40
Cruising Speed:
9
Max Speed:
-
Locations
| | |
| --- | --- |
| Winter Area: | French Polynesia |
| Summer Area: | French Polynesia |
---
Amenities
| | |
| --- | --- |
| Salon Tv/VCR: | Yes |
| Salon Stereo: | Yes |
| Sat TV: | WIFI is available for $50/30GB able to recharge during the charter |
| # of Videos: | - |
| # DVDs/Movies: | - |
| # CD's: | - |
| Camcorder: | - |
| Books: | - |
| Board Games: | - |
| Sun Awning: | Yes |
| Deck Shower: | Yes |
| Bimini: | Yes |
| Water Maker: | - |
| | |
| --- | --- |
| Special Diets: | Inq |
| Kosher: | Inq |
| BBQ: | Yes |
| # Dine In: | - |
| Minimum Age: | - |
| Generator: | 2 x 19KVA |
| Inverter: | - |
| Voltages: | 220 V & 110 V |
| Water Maker: | - |
| Water Cap: | - |
| Ice Maker: | Yes |
| Sailing Instructions: | - |
| Internet Access: | - |
| | |
| --- | --- |
| Gay Charters: | Inq |
| Nude: | Inq |
| Hairdryers: | Yes |
| # Port Hatches: | - |
| Guests Smokes: | - |
| Crew Smokes: | Inq |
| Pets Aboard: | No |
| Pet Type: | - |
| Guest Pets: | No |
| Children Ok: | Yes |
| Hammock: | - |
| Windscoops: | - |
---
Water Sports
| | |
| --- | --- |
| Dinghy size: | AB Nautilus 17 |
| Dinghy hp: | 115 HP |
| Dinghy # pax: | - |
| Water Skis Adult: | Yes |
| Water Skis Kids: | Yes |
| Jet Skis: | No |
| Wave Runners: | - |
| Kneeboard: | Yes |
| Windsurfer: | - |
| Snorkel Gear: | Yes |
| Tube: | - |
| | |
| --- | --- |
| Scurfer: | - |
| Wake Board: | Yes |
| Kayaks 1 Pax: | - |
| Kayaks (2 Pax): | Yes |
| Floating Mats: | - |
| Swim Platform: | YES |
| Boarding Ladder (Loc/Type): | - |
| Sailing Dinghy: | - |
| Beach Games: | - |
| Fishing Gear: | Yes |
| Gear Type: | Trolling-Casting |
| Rods: | YES |
CAPTAIN - Pawel JASICA
Polish
STCW 95
Languages: Polish, English, basic French
Since the age of 12, Pawel had cherished the time he spent sailing with his father and taking holidays in the beautiful lake region of Masuria, Poland. Over the years his passion for the sea grew strong and his mind was set on the yachting lifestyle, seizing the opportunity to cross the Atlantic at the age of 20 and then purchasing his own yacht just one year later.
Soon after, Captain Pawel's love for sailing developed into a career which has taken him on travels throughout the Caribbean, Mediterranean and French Polynesia logging over 80,000nm onboard catamarans and monohulls since 2008.
He also is a passionate kitesurfer and freediver. Highly experienced, confident, and enthusiastic, Pawel looks forward to treating guests staying onboard Orion for the holiday of a lifetime!


CHEF – Lola VUILLEMENOT
French
STCW 95
Languages: French, English
Lola is passionnate about food and travel. She's curious to try news flavors and share them with you.
Lola fisrt worked in various restaurant and luxury hôtels in France and French Polynesia.
The yacht industry was obvious to Lola because she naturally has the pleasure of welcoming and her background prepares her to meet your expectations.
She is specialise in French and exotic cuisine, enjoy cooking fresh, local products, she has an eye for details and likes to make beautiful plating.


DECKHAND - Heimoana CORSO
French
STCW 95
Languages: French, English
Born between the land and the ocean, Heimoana grew up in the sister island of Tahiti, Moorea.
Passionate about his culture and particularly the Polynesian navigation, it will be a pleasure for him to share stories and experiences.Naturally welcoming, he loves to make people happy, confortable and safe.As an ambassador of his country, it will be an honour for him to show you how beautifull is French Polynesia.
Since 2012 he worked aboard many Motor yachts as Plan B (50m), Keri Lee III (53m) as a deckhand, Suri (52m) in the engine room. Also abard Tivoli (25m) 1 month charter in the Tuamotu Island as a steward/deck/second cook


STEWARDESS - Melanie FAVERJON
French
STCW 95
Languages: French, English, basic Spanish
Melanie is an ocean lover, she loves her job on board at sea.
She worked on the M/Y LATITUDE in Tahiti.
She also used to work as an Aupair (Nanny) for a family of 4 kids in the US for about a year and half.
A hospitable, caring and smiling person she loves making guests feel welcome and happy to be here by responding to their needs and providing a relaxing and carefree onboard.
(15 December -30 April)
French Polynesia
(1 May - 14 December)
French Polynesia
| | | | | | | | | | | | | | | | | | | | | | | | | | | | | | | | |
| --- | --- | --- | --- | --- | --- | --- | --- | --- | --- | --- | --- | --- | --- | --- | --- | --- | --- | --- | --- | --- | --- | --- | --- | --- | --- | --- | --- | --- | --- | --- | --- |
| Jun 2021 | 1 | 2 | 3 | 4 | 5 | 6 | 7 | 8 | 9 | 10 | 11 | 12 | 13 | 14 | 15 | 16 | 17 | 18 | 19 | 20 | 21 | 22 | 23 | 24 | 25 | 26 | 27 | 28 | 29 | 30 | |
| Jul 2021 | 1 | 2 | 3 | 4 | 5 | 6 | 7 | 8 | 9 | 10 | 11 | 12 | 13 | 14 | 15 | 16 | 17 | 18 | 19 | 20 | 21 | 22 | 23 | 24 | 25 | 26 | 27 | 28 | 29 | 30 | 31 |
| Aug 2021 | 1 | 2 | 3 | 4 | 5 | 6 | 7 | 8 | 9 | 10 | 11 | 12 | 13 | 14 | 15 | 16 | 17 | 18 | 19 | 20 | 21 | 22 | 23 | 24 | 25 | 26 | 27 | 28 | 29 | 30 | 31 |
| Sep 2021 | 1 | 2 | 3 | 4 | 5 | 6 | 7 | 8 | 9 | 10 | 11 | 12 | 13 | 14 | 15 | 16 | 17 | 18 | 19 | 20 | 21 | 22 | 23 | 24 | 25 | 26 | 27 | 28 | 29 | 30 | |
| Oct 2021 | 1 | 2 | 3 | 4 | 5 | 6 | 7 | 8 | 9 | 10 | 11 | 12 | 13 | 14 | 15 | 16 | 17 | 18 | 19 | 20 | 21 | 22 | 23 | 24 | 25 | 26 | 27 | 28 | 29 | 30 | 31 |
| Nov 2021 | 1 | 2 | 3 | 4 | 5 | 6 | 7 | 8 | 9 | 10 | 11 | 12 | 13 | 14 | 15 | 16 | 17 | 18 | 19 | 20 | 21 | 22 | 23 | 24 | 25 | 26 | 27 | 28 | 29 | 30 | |
| Dec 2021 | 1 | 2 | 3 | 4 | 5 | 6 | 7 | 8 | 9 | 10 | 11 | 12 | 13 | 14 | 15 | 16 | 17 | 18 | 19 | 20 | 21 | 22 | 23 | 24 | 25 | 26 | 27 | 28 | 29 | 30 | 31 |
| Jan 2022 | 1 | 2 | 3 | 4 | 5 | 6 | 7 | 8 | 9 | 10 | 11 | 12 | 13 | 14 | 15 | 16 | 17 | 18 | 19 | 20 | 21 | 22 | 23 | 24 | 25 | 26 | 27 | 28 | 29 | 30 | 31 |
| Feb 2022 | 1 | 2 | 3 | 4 | 5 | 6 | 7 | 8 | 9 | 10 | 11 | 12 | 13 | 14 | 15 | 16 | 17 | 18 | 19 | 20 | 21 | 22 | 23 | 24 | 25 | 26 | 27 | 28 | | | |
| Mar 2022 | 1 | 2 | 3 | 4 | 5 | 6 | 7 | 8 | 9 | 10 | 11 | 12 | 13 | 14 | 15 | 16 | 17 | 18 | 19 | 20 | 21 | 22 | 23 | 24 | 25 | 26 | 27 | 28 | 29 | 30 | 31 |
| Apr 2022 | 1 | 2 | 3 | 4 | 5 | 6 | 7 | 8 | 9 | 10 | 11 | 12 | 13 | 14 | 15 | 16 | 17 | 18 | 19 | 20 | 21 | 22 | 23 | 24 | 25 | 26 | 27 | 28 | 29 | 30 | |
| May 2022 | 1 | 2 | 3 | 4 | 5 | 6 | 7 | 8 | 9 | 10 | 11 | 12 | 13 | 14 | 15 | 16 | 17 | 18 | 19 | 20 | 21 | 22 | 23 | 24 | 25 | 26 | 27 | 28 | 29 | 30 | 31 |
---