Enjoy sailing the Greek islands on a private luxury crewed sailing catamaran with your chef and captain. Greece catamaran charters 2022 are one of the best ways to see Greece and the islands.
This destination may well be one of the most beautiful sailing areas in the world. With exquisite natural beauty, deep blue water, and rich history, you will want to explore these ancient shores and see the area up close in 2022.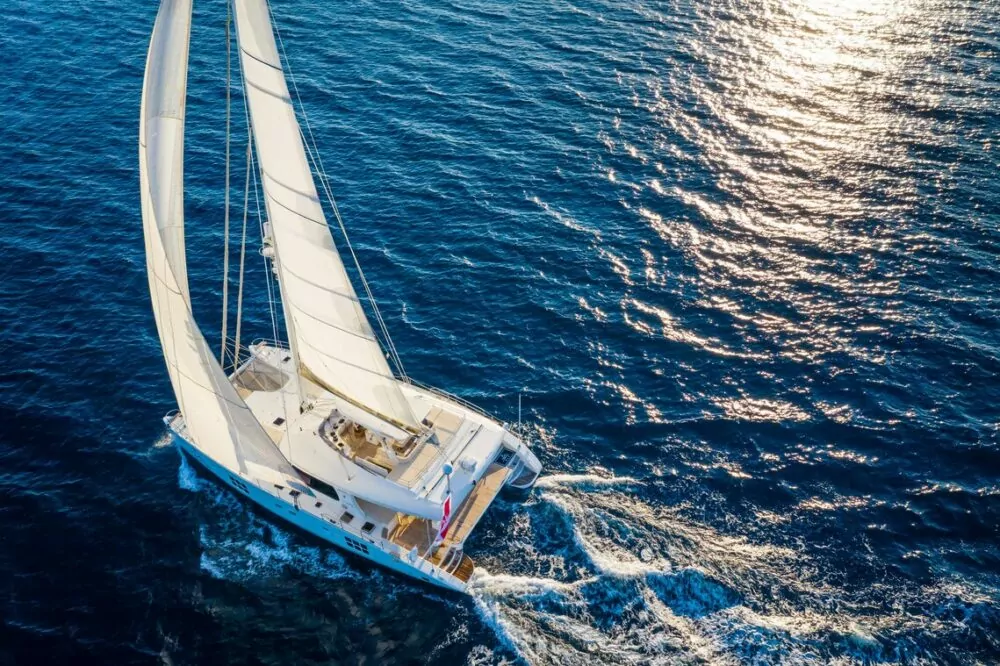 See ancient ruins such as the Acropolis and Poseidon's Temple, smell the salt air, feel the warm sun and breeze on your skin, and taste delicious Mediterranean cuisine. A catamaran charter in Greece will undoubtedly touch all of your senses.
Why Charter a Catamaran in Greece?
There's certainly something magical about the Greek Islands. Each island has its personality, and they are all authentic and lovely. Sail the Sporades Islands, Dodecanese Islands, Cyclades Islands, Ionian Islands, or the Saronic Islands.
Chartering a catamaran lets you sail across the incredibly blue Aegean water and travel to places only on a boat. You can island-hop, swim in exceptionally clear waters, relax on pristine beaches, and unpack only once!
Greece Catamaran Charters in 2022 | A Few Options
68-foot OMBRE BLU3 accommodates eight guests in 4 cabins.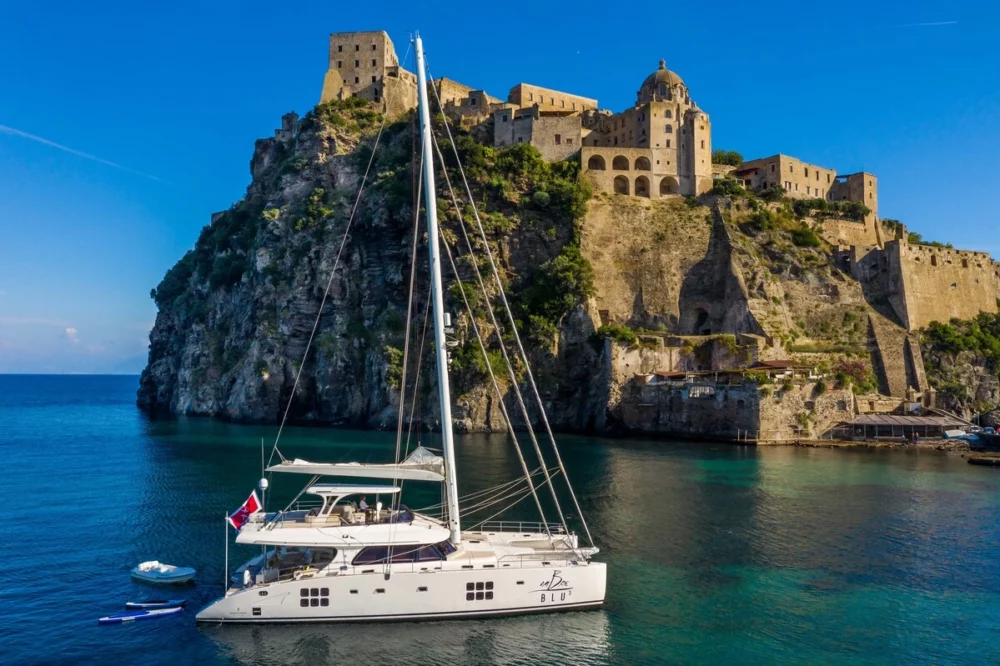 67-foot AETHER accommodates eight guests in 4 cabins.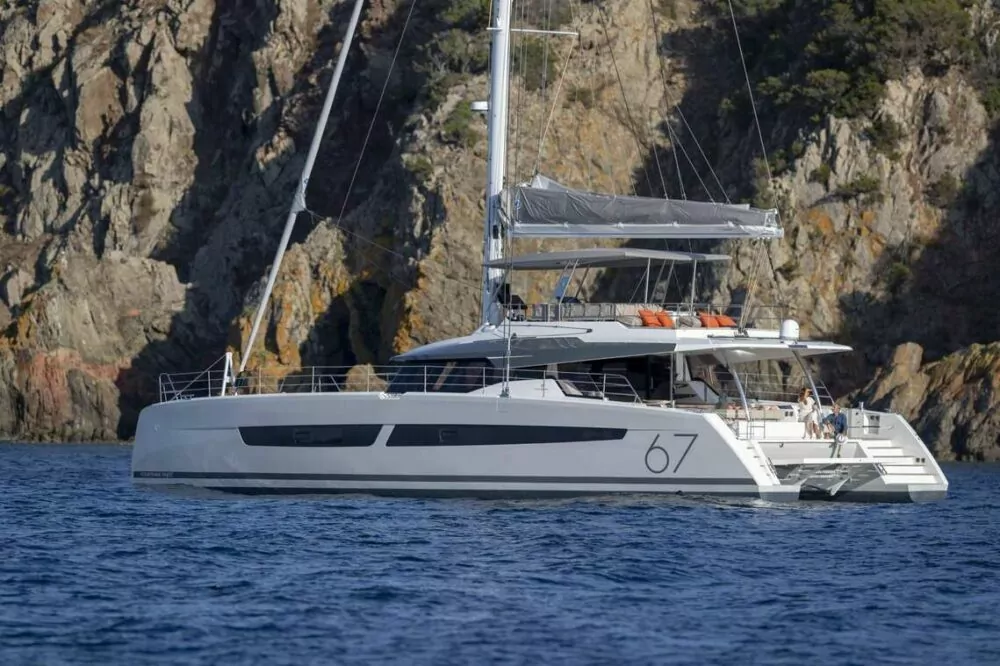 65-foot WORLD'S END accommodates ten guests in 5 cabins.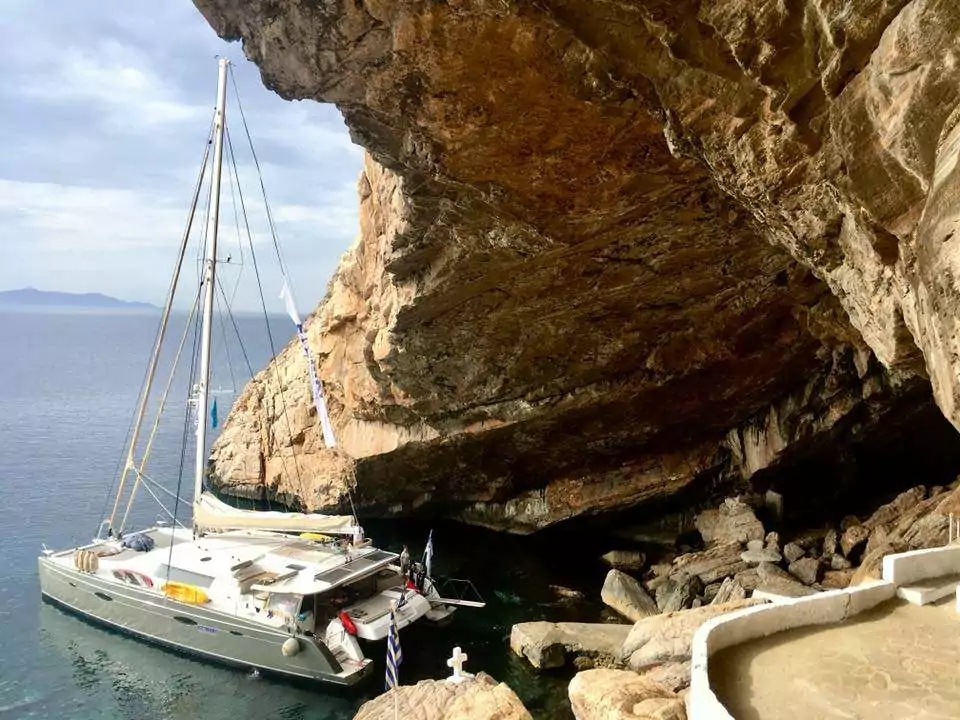 62-foot VALIUM 62 accommodates ten guests in 5 cabins.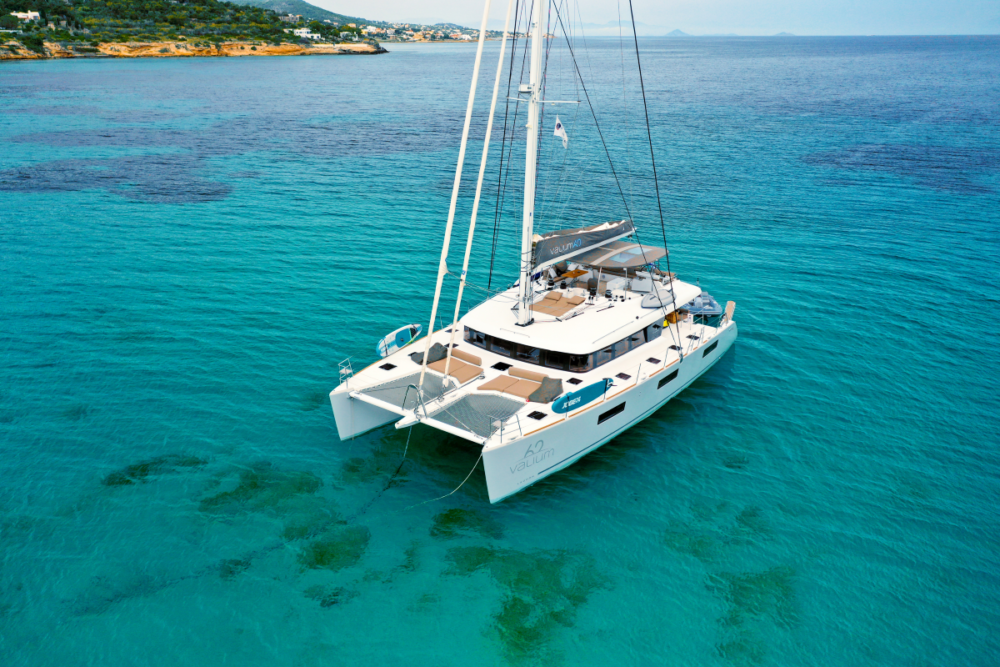 58-foot HIGHJINKS accommodates eight guests in 4 cabins. Charter in Greece.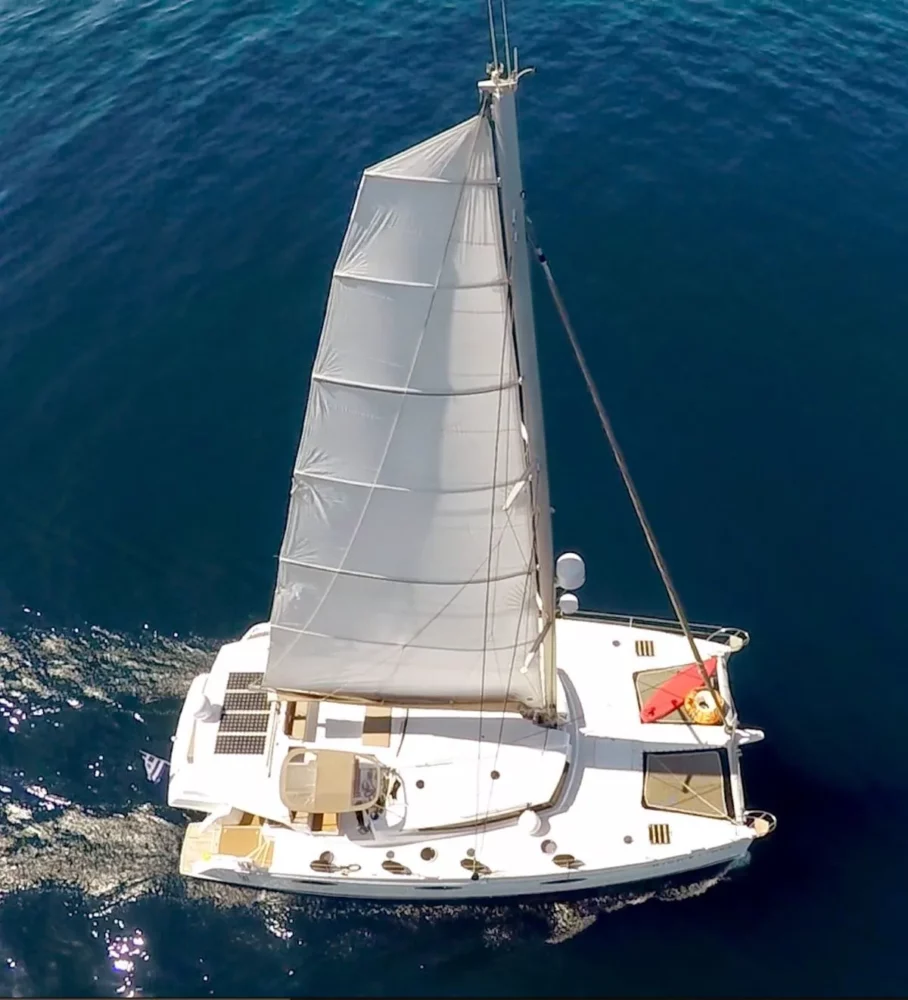 58-foot MOYA accommodates ten guests in 5 cabins.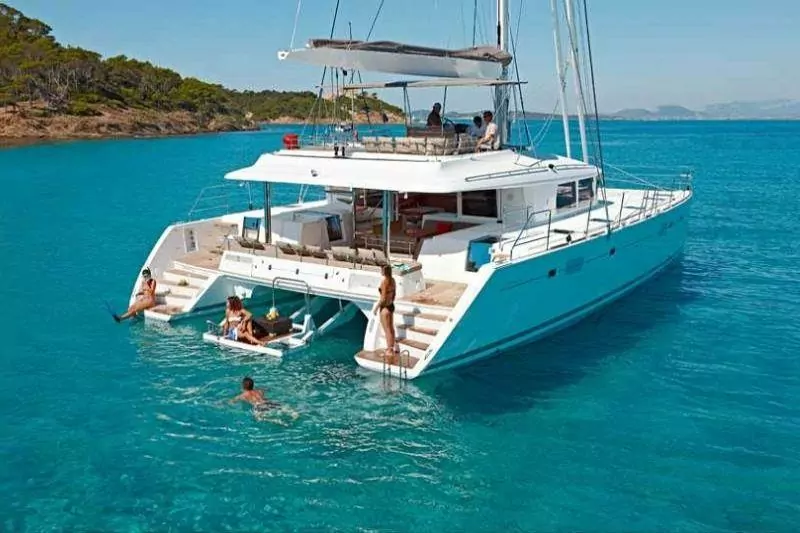 What is There to Do when Chartering in Greece?
There are so many activities to do on your luxury yacht charter. Discover culinary delights, savor local wines, and wander through ancient streets. Photograph the colorful landscapes, snorkel clear water, or scuba dive to find historic shipwrecks. Visit a spa and pamper yourself with a massage that uses locally sourced projects.
Since there's so much to see and do, you may want to stay for longer than a week. For sample itineraries, please view our Greece charter itineraries.
Go to a Beach
You're in for an incredible experience when chartering a yacht in Greece. Visiting stunning beaches is just one of the activities to enjoy on your holiday. There's a beach for every mood, from hidden coves to lively shores.
Myrtos Beach in Kefalonia
Golden Sands and Beyond: Sink your toes into the velvety sands of Myrtos Beach in Kefalonia. As the sun bathes the shoreline in a golden glow, you can unwind on your towel or rent a sunbed for ultimate comfort. Here, you're not just a spectator but a part of the idyllic landscape.
Navagio Beach on Zakynthos
Underwater Exploration: Venture beyond the surface at Navagio Beach, known as the Shipwreck Beach, on Zakynthos. The rusting hulk of a shipwreck adds an air of mystery, beckoning scuba divers and snorkelers to explore the vibrant marine life that thrives in crystal-clear waters.
Psarou Beach on Mykonos
Adventures Await: Picture yourself on Mykonos' Psarou Beach, where vibrant energy and water sports merge. From paddleboarding along the coast to jet skiing, the waves become your playground, offering moments of exhilaration against the backdrop of a bustling beach scene.
Porto Katsiki in Lefkada
Secluded Escapes: Escape to Porto Katsiki in Lefkada, a beach that feels like a well-kept secret. Nestled between towering cliffs, this beach is accessible via a winding path that rewards you with dramatic views and a secluded cove.
Plaka Beach on Naxos
Lively Shores: Stroll along Plaka Beach on Naxos and absorb the lively ambiance. Beach bars, beach volleyball, and sunbathers create a festive atmosphere. As the sun dips below the horizon, beach bonfires light up, transforming the coastline into a magical evening retreat.
Sarakiniko Beach in Milos
Nature's Masterpiece: Behold the otherworldly beauty of Sarakiniko Beach in Milos. Smooth, white volcanic rocks shaped by the sea and wind create a lunar-like landscape. Here, you can explore unique formations and witness the power of nature's artistry.
Dine | A Gastronomic Odyssey through Greece
Greece isn't just a feast for the eyes; it's also a paradise for your taste buds. The country's rich culinary heritage reflects its history, culture, and the bounties of the Mediterranean. Every dish tells a story, and every meal is an exploration of flavors that have stood the test of time.
Fresh Seafood Symphony
Embark on a seafood journey along the shores of Greece, where you'll savor the day's catch transformed into culinary art. In the charming fishing village of Naoussa on Paros, indulge in octopus grilled to tender perfection, or sample grilled fish on the quaint island of Symi.
Olive Oil Elegance
At the heart of Greek cuisine is the revered olive oil, often referred to as "liquid gold." Drench your salads with its richness, dip fresh bread into its flavors, and savor dishes like the iconic Greek salad. It stars plump tomatoes, crisp cucumbers, and briny olives.
Feta's Time to Shine
Explore the crumbly goodness of feta cheese, a culinary gem that graces everything from salads to pastries. Head to Athens' bustling markets, like Varvakios Agora, to sample a variety of artisanal cheeses.
Iconic Dishes
As you navigate the culinary landscape, don't miss the chance to savor beloved classics. In tavernas across the islands, relish the layers of flavor in moussaka, a hearty dish featuring eggplant, minced meat, and creamy béchamel. On the streets of Athens, grab a souvlaki – skewered meat wrapped in a warm pita.
Wine and Dine
Pair your meals with local wines that have been cultivated for centuries. Amid the terraced vineyards of Santorini, sample the unique Assyrtiko grape, producing crisp whites against a backdrop of breathtaking caldera views.
Scenic Feasts
Greece's culinary experiences are heightened by the breathtaking settings that surround you. Dine by the sea in a rustic taverna in Amoudi Bay, Santorini, as waves gently lap at the shore. Settle into a hillside café in Lindos, Rhodes, where ancient acropolis views accompany your meal.
Farm-to-Table Magic
Venture beyond the touristic hubs to embrace authentic farm-to-table experiences. Explore traditional villages where you can partake in cooking classes, pick fresh ingredients, and learn the art of creating dishes that speak to generations.
Sweet Farewells
A charter vacation in Greece would not be complete without a sweet note. Greece's desserts are unforgettable, from honey-soaked baklava to loukoumades (honey-drizzled doughnuts).
Greece Catamaran Charters 2022
Call today and reserve your crewed luxury catamaran charter in Greece.
Please call us today at 1 (321) 777-1707 or describe Your Vacation Vision to help you plan your fully-crewed private luxury yachting vacation! Inquire as soon as possible about your custom, crewed yacht charter.
You make the memories. We make the arrangements.