Sailing Vacation in Sardinia Italy
with Catamaran yacht charter SandiSeas
Sailing Vacation in Sardinia Italy with SandiSeas. This luxury catamaran is available August 2019 on the Costa Smeralda of Sardinia
On your sailing vacation in Sardinia you will:
Snorkel the azure blue waters for which the Mediterranean is famed.
Sail through unrivaled scenic beauty – the Maddalena Islands are a national park.
Or even touch base with the glitterati – the rich & famous – in exclusive destinations such as Porto Cervo and Cala di Volpe.
Sample Italian, Sardinian, French and Corsican cuisine and culture in one charter sailing holiday.
Fly into Olbia and charter the shores of Sardinia, the Maddalena Islands & Corsica.
SANDISEAS  is a Lagoon 620 catamaran offering bespoke charters for up to 6 guests in August 2019.
US$32,000 plus running expenses and VAT.
If you really want to experience the best that Italy can offer, then you should consider a Tyrrhenian Sea yacht charter vacation.
The Tyrrhenian Sea is a favorite destination for sailors and yacht charter aficionados.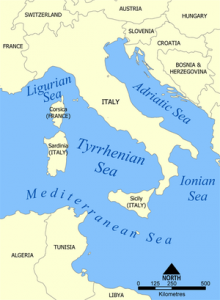 Sardinia in the Tyrrhenian Sea
The Tyrrhenian Sea is a magnificent yachting destination in Italy. This yacht charter region is home to some famous islands of the western Mediterranean – incl. Stromboli, Capri, and Elba. The mainland's coastline also draws a huge number of superyachts and yacht charters each year. What's the attraction? Breathtaking cliffs and dramatic rock formations along the coast and interesting history and culture. It has perfect sailing weather, along with a diverse and attractive marine environment.
The Tyrrhenian Sea a popular holiday destination in the Mediterranean, is located off the west coast of Italy, east of Corsica, Sardinia, and north of Sicily. The southwestern end is largely delineated by the Island of Elba. However, it is debatable as to the exact points that delineate the southwestern end. READ MORE
Sailing Vacation in Sardinia Italy SandiSeas,
Contact Luxury Yacht Charters a division of CKIM Group at 321-777-1707