Greek Odyssey | Athens to Saronic to Cyclades Itinerary
This Athens to Saronic to Cyclades Itinerary highlights some amazingly scenic Greek Islands. Please note that this itinerary is only a sample. Your Captain will connect with you to create a personalized itinerary based on your preferences and desires.
Day 1 | Athens – Poros (overnight)
Just a few hundred meters separates Poros from the mainland of the Peloponnese. Poros Town is the city's center.
Poros offers a delightful array of activities and sights. Visit the island's capital, Poros Town, and see the Poros Archaeological Museum. Or, take a stroll through the Poros Lemon Forest. The pleasant walk offers serene views of lush vegetation and the sea.
Poros also has a vibrant nightlife scene, with a variety of bars, tavernas, and clubs.
Day 2 | Poros – Spetses, Zogeria Bay | Spetses, Zogeria Bay – Spetses Port (overnight)
Even though Spetses is just a few kilometers from the Peloponnese mainland, it has maintained its secluded charm. By island standards, Spetses Town is a large, vibrant town. The island's nightlife centers around the Old Harbour, a famous harbor for yachts. There are plenty of shops, tavernas, and bars in the town.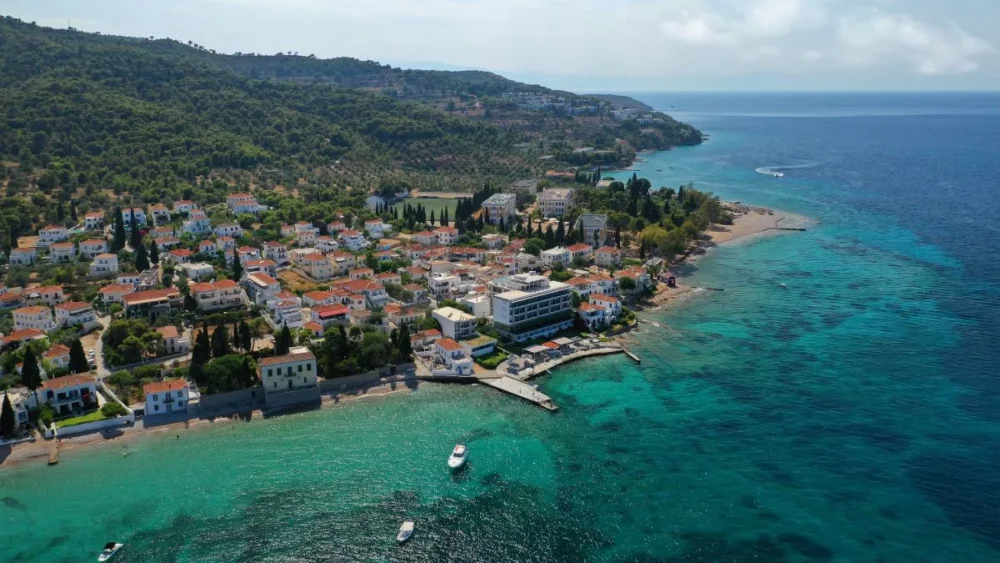 Day 3 | Spetses Port – Korakia Bay | Korakia Bay – Nafplion
Nafplio, an elegant coastal town, invites you to discover classical ruins and vibrant beach life. Steeped in history, Nafplio offers a blend of ancient wonders and modern pleasures.
Beyond its historical allure, Nafplio thrives as a lively hub of beachfront activity. Stroll along the scenic waterfront promenade and have a refreshing drink at one of the trendy cafes.
Head to the beach, bask in the Mediterranean sun and take a dip in the crystal-clear blue waters. Nearby beaches, such as Karathona Beach or Tolo Beach, offer a perfect blend of relaxation and seaside excitement.
Indulge in the local culinary scene, savoring fresh seafood and traditional Greek dishes at charming tavernas. As the sun sets, Nafplio's enchanting ambiance comes alive with vibrant nightlife.
Day 4 | Nafplion – Monemvasia | Monemvasia – Elafonisos, Simos Bay
The fortress town of Monemvasia is an extraordinary sight. It is perched atop a towering slab of rock and nearly encircled by the Aegean Sea. This unique setting is one of the region's most captivating highlights. Exploring its well-preserved medieval architecture and narrow cobbled streets offers a journey back in time.
Aside from the town's enchanting ambiance, delve into its rich history by visiting the Monemvasia Archaeological Museum. This museum houses a fascinating collection of artifacts that shed light on the area's past.
Another must-see is the Agia Sofia Church, a remarkable Byzantine gem showcasing stunning frescoes and a serene atmosphere. Wander through this living museum of history and find yourself transported to a different era.
Day 5 | Elafonisos, Simos Bay – Milos, Kleftiko Bay | Milos, Kleftiko Bay – Polyegos
On day five of your Athens to Saronic to Cyclades Itinerary, travel to Elafonisos. This island boasts pristine, powdery white sand beaches, particularly Simos Beach, where crystal-clear waters invite swimming.
Nature lovers can explore the nearby wetlands and birdwatch at the Fragos dunes, a protected area. Elafonisos is also home to charming coastal villages like Elafonisos Town. Immerse yourself in the laid-back island lifestyle and enjoy fresh seafood at local tavernas. The island's compact size makes it perfect for leisurely walks, bike rides, or simply unwinding by the sea.
Day 6 | Polyegos – Sifnos, Vathi Bay | Sifnos, Vathi Bay – Serifos, Koutalas Bay
Located in the Western Cyclades, Sifnos is a mountainous island rich with fertile valleys, beautiful beaches, and charming towns. Indeed, this island is a real feast for the senses. The scent of wild lavender and jasmine fills the air, church bells chime, and delicious food is waiting for you. Gaze in any direction and drink in the endless blue of the Aegean, sparkling in the sunlight.
Serifos shines with charming villages, quiet harbors, sandy beaches, and gorgeous landscapes. Serifos Town (also known as Chora) is a cluster of whitewashed houses overlooking the lively port of Livadi.
For beach lovers, there are over 70 beaches on the island. Moreover, scuba divers will enjoy exploring old mines and a shipwreck from World War II.
Day 7 | Serifos, Koutalas Bay – Kynthos, Kolona Bay | Kynthos, Kolona Bay – Athens
Kythnos is a charming island with abundant natural hot springs, earning it the fitting nickname "Thermia." Kythnos also has over 100 kilometers of picturesque coastline adorned with a bounty of more than 70 pristine beaches, each with its unique allure.
Among Kythnos' natural wonders, one standout is the breathtaking crescent-shaped isthmus known as Kolona. Here, nature's artistry is on full display as a fine strip of golden sand stretches gracefully between two glistening bodies of crystal-clear water.
Beyond its exquisite beaches, Kythnos invites you to explore its charming villages, where you can immerse yourself in the island's traditional way of life. Sample fresh seafood at local tavernas, wander through the cobblestone streets, and discover the rich cultural heritage that defines Kythnos.
The end of your Athens to Saronic to Cyclades Itinerary, until next time.
Please call us today at 1 (321) 777-1707 or describe Your Vacation Vision to help you plan your fully-crewed private luxury yachting vacation! Inquire as soon as possible about your custom, crewed yacht charter.
You make the memories. We make the arrangements.