Poros
Poros is a stone's throw away from Galatas, mainland Greece and about 1 – 2 ½ hours by ferry from Athens. It is a popular boating destination with a vast harbor that winds along with the town of Hora, the capital. Tavernas are along the waterfront with banks, supermarkets, shops, and the famous Clock Tower on the hill.
Two Saronic Islands make up Poros, Kalavria, and Sphairia, where the town is located.
During a Saronic Charter Itinerary, you can visit Spetses, Hydra, Aegina, and Agistri in addition to Poros.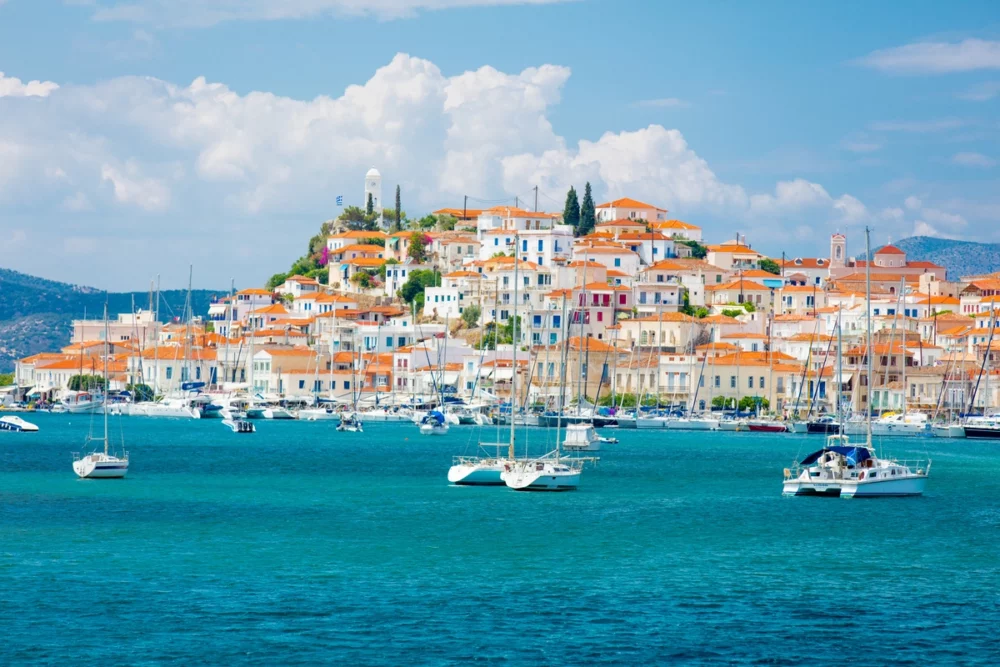 Climate
Poros's Mediterranean climate is warm and temperate. There is more rainfall in the winter than in the summer in Poros. The temperature averages 18.2 °C. The best time to visit is May and October, as these months have the best weather.
Places to see
Towns and villages.
The scenic waterfront.
The Archaeological Museum. The museum contains a notable collection of artifacts dug by the French Archaeological School in Troezen and displays dating from the Mycenaean era to Roman times.
The Russian Naval Dockyard Ruins.
The Temple of Poseidon.
Poros Clock Tower. This landmark clock tower, constructed in 1927, is imposing and has a bit of a hike to reach. However, the view is worth the effort once you've reached it.
The Holy Monastery of Zoodochou Pigi.
Lemon Forest. Lemon trees grow wild in Mediterranean climates. If you visit in May, experience the heavenly scent of lemon blossoms.
Things to do when visiting Poros
Go to the beach. There are quite a few beaches, such as Askeli Beach, Love Bay Beach, Megalo Neorio Beach, Mikro Neorio Beach, Monastiri Beach, Russian Bay Beach, Kanali Beach, and Panagitsa Beach.
Scuba dive. For equipment rental, classes, and organized dive trips, visit Poros Diving Center.
Learn to cook like a local. Take a piece of Greece home with you by learning traditional cooking techniques at a Cooking Workshop.
Try your hand at weaving. Ergani Weaving Workshop offers classes where you'll make a woven project to take home.
Gastronomy available on Poros
Like all Greek islands, the food on Poros will not disappoint. There's a vast array of dishes to enjoy. Try the souvlaki, small pieces of chicken or pork on a skewer, sometimes with tomato, onion, and peppers, and served in pita bread. Tiropita is a cheese pie made in a wood-fired oven. Greek salad made with tomatoes, cucumbers, onion, bell peppers, feta cheese, oregano, olive oil, and salt. Or try delicious spanakoita (spinach pie), pastichio (a type of layered pasta dish), and keftedes (meatballs).
Many restaurants, cafes, and bars on Poros serve delicious local cuisine and international fare. Oasis Tavern and Poseidon Restaurant are two places that offer outdoor seating and fresh seafood.
Marinas
Port of Poros. The port is in the midst of the town and offers numerous bars, cafes, and fantastic views across the bay. Sunsets from Poros Port are stunning.
Please call us today at 1 (321) 777-1707 or describe Your Vacation Vision to help you plan your fully-crewed private luxury yachting vacation! Inquire as soon as possible about your custom, crewed yacht charter.
You make the memories. We make the arrangements.