Are you searching for an exciting adventure amidst the mesmerizing landscapes of Alaska? Look no further than Motor Yacht SUMMERTIME II. This impressive vessel, a recently refitted 116-foot Hatteras, epitomizes an Alaska Summer Yacht Charter. With its breathtaking design, comfortable accommodations, amenities, and highly experienced crew, SUMMERTIME II promises an unparalleled journey through the awe-inspiring Alaskan wilderness.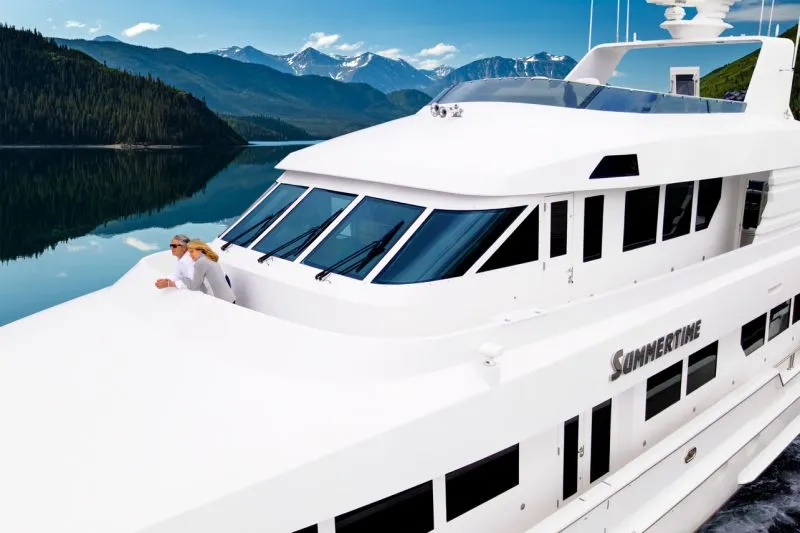 Accommodations and Amenities
M/Y SUMMERTIME II sleeps up to eight guests in its four large ensuite staterooms. Each stateroom is beautifully appointed, providing a serene retreat after a day of exploring. The full-beam owner's suite is a true masterpiece, boasting a generous en suite bath for your ultimate relaxation.
Each stateroom offers plentiful lighting, privacy, and a welcoming atmosphere. The primary cabin features a king-sized bed and luxurious his and hers facilities, including a jacuzzi tub. Two guest cabins have queen-sized beds, while the last one has side-by-side single beds.
The yacht's interior has a skylounge, providing a comfortable space to relax and socialize with your fellow guests. The modern design and elegant furnishings create a cozy atmosphere, allowing you to unwind while admiring the stunning views through large windows.
One of the highlights of SUMMERTIME II is its ample outdoor space, allowing you to fully immerse yourself in the natural wonders of Alaska. Whether you want to soak up the sun on the large swim platform or enjoy alfresco dining on the aft deck, the yacht offers the perfect setting for outdoor enjoyment. The outdoor fire pit adds a cozy touch, perfect for gathering and sharing stories under the starry night sky.
Water Toys and Exploration
Motor Yacht SUMMERTIME II has many water toys, providing endless entertainment during your charter. From kayaks and paddleboards to snorkeling gear and fishing equipment, you'll certainly have plenty of opportunities to dive into crystal-clear waters and discover Alaska's marine wonders. For the more adventurous souls, the yacht also offers a jet ski and a tender for exciting rides and exploring hidden coves.
Experienced Crew and Impeccable Service
The crew of Motor Yacht SUMMERTIME II plays a key role in ensuring that your charter experience is nothing short of exceptional. With their commitment to service, they go above and beyond to make your time on board unforgettable.
From the moment you step on the yacht, the crew warmly welcomes you, immediately creating a welcoming and friendly atmosphere. Their professionalism and expertise shine through as they handle every aspect of your journey. Whether assisting with your luggage, providing personalized itinerary recommendations, or tending to your specific requests, the crew's attention to detail and dedication to your comfort is evident.
The crew members are highly skilled professionals passionate about their work. Moreover, they have extensive knowledge of the Alaskan waters and will make your charter a truly educational experience. Their love for the region and its wildlife is contagious, as they point out notable landmarks, wildlife, and natural wonders.
Your Alaska summer yacht charter is bound to be the experience of a lifetime.
Sample 8-Day Itinerary | Alaska Summer Yacht Charter
Day 1 | Juneau
Embark on Motor Yacht SUMMERTIME II in Juneau, Alaska's capital city.
While in Juneau, you'll find a lot of activities and attractions to enjoy. Here are a few highlights:
Explore Mendenhall Glacier: Visit the magnificent Mendenhall Glacier just outside of Juneau. Enjoy hiking trails, visit the nature center, and encounter wildlife like eagles and bears.
Discover Alaska's State Capital: Explore downtown and browse local shops. Since Alaska is known for its salmon, try some at a waterfront restaurant.
Go Whale Watching.
Visit the Alaska State Museum: Explore exhibits showcasing indigenous cultures and wildlife displays.
Take a Helicopter Tour: Admire the pristine landscapes from above and enjoy a unique perspective on the Alaskan wilderness.
Day 2 | Tracy Arm Fjord
Cruise through the magnificent Tracy Arm Fjord, which stretches over 30 miles. See towering glaciers, cascading waterfalls, and awe-inspiring wildlife.
Day 3 | Glacier Bay National Park
Visit Glacier Bay National Park, a UNESCO World Heritage Site known for its stunning glaciers and abundant wildlife. Marvel at the dramatic landscapes while enjoying the serenity of this pristine wilderness. Take a hike or relax aboard the yacht.
Day 4 | Frederick Sound
Head to Frederick Sound, a renowned spot for whale watching. Watch for humpback whales breaching and playing in the pristine waters. Kayak or paddleboard.
Day 5 | Admiralty Island
Explore Admiralty Island, often called the "Fortress of the Bears." Observe the majestic grizzly bears in their natural habitat and savor the incredible beauty of this unspoiled wilderness. Admiralty Island also offers fantastic fishing opportunities. Cast your line into the island's rivers and streams and try your luck at catching salmon and trout,
Day 6 | Petersburg
Visit the charming town of Petersburg, known as "Little Norway," for its strong Norwegian heritage. While in town:
Explore Downtown: Stroll through Petersburg's downtown area to admire its unique architecture and charming shops. Explore local boutiques, art galleries, and specialty stores that offer authentic Alaskan crafts and souvenirs.
Visit the Clausen Memorial Museum: Learn about Petersburg's history and cultural heritage at the Clausen Memorial Museum. Discover exhibits on the town's Norwegian roots, fishing industry, Native Alaskan history, and artifacts from the region's past.
Hike. Lace up your hiking boots and explore the beautiful trails around Petersburg. One popular trail is the Petersburg Mountain Trail, which offers stunning views of the town, the water, as well as the surrounding landscapes. It's a great opportunity to connect with nature and enjoy the fresh air.
Day 7 | Endicott Arm
Navigate through the stunning Endicott Arm, renowned for its beautiful scenery and breathtaking fjords. Witness the towering Dawes Glacier as it releases massive chunks of ice into the turquoise waters. It is a fantastic spectacle you'll never forget.
Day 8 | Return to Juneau
As your Alaska summer yacht charter ends, cruise back to Juneau, cherishing the memories of your incredible Alaskan adventure. Spend your last day exploring the city's attractions or relax on board SUMMERTIME II, reminiscing about the breathtaking landscapes and unforgettable experiences.
Please call us today at 1 (321) 777-1707 or describe Your Vacation Vision to help you plan your fully-crewed private luxury yachting vacation! Inquire as soon as possible about your custom, crewed yacht charter.
You make the memories. We make the arrangements.