Explore Captivating Great Exuma, Bahamas
The largest of the Exuma Cays is Great Exuma, 37 miles long and joined to Little Exuma by a small bridge. The capital and largest town in the district is George Town. Great Exuma is one of the Bahama Islands still untouched by major tourism.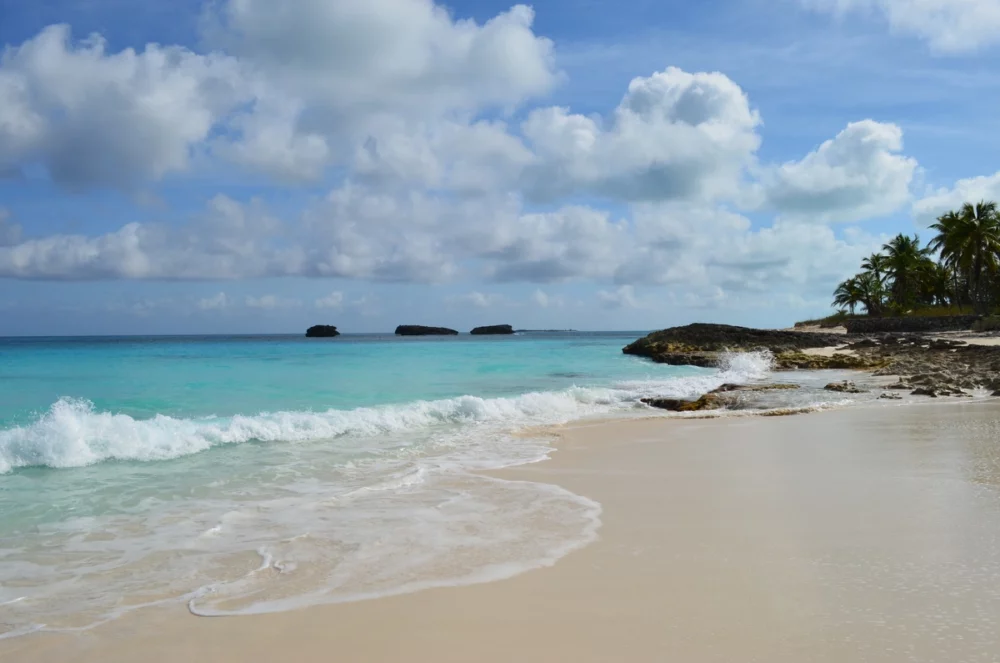 From its intriguing history to its remarkable attractions, Great Exuma offers many unforgettable experiences. Explore this stunning destination and why it deserves a spot on your luxury yacht charter itinerary.
A Brief History
Great Exuma has a long and interesting history. It goes back to the 17th century when the indigenous Lucayan people lived there. Later, pirates found shelter in the island's secret coves and safe places to anchor their ships.
In the 18th century, Great Exuma became a center for growing cotton on plantations. Nowadays, the island is famous for its resorts, private villas, and delightful towns that have a special Bahamian vibe.
Climate and Weather
Great Exuma enjoys a tropical climate, making it a year-round destination for luxury yacht charters. The island has warm temperatures and refreshing sea breezes. The average temperature ranges from 70°F in winter to 86°F in summer. The trade winds provide ideal sailing conditions, and the crystal-clear waters remain invitingly warm throughout the year.
Reasons to Visit
Pristine Beaches. Great Exuma is renowned for its pristine beaches, where powdery white sand meets turquoise waters. The famous Tropic of Cancer Beach on Little Exuma offers a secluded haven for relaxation and tranquility.
Exquisite Marine Life. Explore the extraordinary underwater world of the Exuma Cays Land and Sea Park. Snorkel, dive among vibrant coral reefs or swim with friendly nurse sharks at Compass Cay.
Unspoiled Nature. Immerse yourself in the untouched beauty of the Exuma Cays, an archipelago of over 365 cays and islets. Discover hidden coves, explore limestone caves, or hike through lush mangroves teeming with wildlife.
What to See and Do
Elizabeth Harbor. Anchor your luxury yacht in the sheltered waters of Elizabeth Harbor, the gateway to Great Exuma. Explore the charming settlement of George Town, indulge in local cuisine, and mingle with friendly locals.
Thunderball Grotto. Dive into the famous Thunderball Grotto, a stunning underwater cave system featured in James Bond movies. Snorkel through the labyrinth of colorful coral formations and see the abundant marine life.
Stocking Island. Take a short boat ride from George Town to Stocking Island, a tropical paradise known for its pristine beaches. Enjoy water sports, beachside picnics, or hike to Monument Hill's top for panoramic Exumas views.
Head to Chat 'n' Chill, a popular beach bar and restaurant on Stocking Island. Enjoy delicious Bahamian cuisine, sip on refreshing cocktails, and socialize with fellow travelers. The atmosphere is relaxed, and you can even hand-feed friendly stingrays that frequent the area.
Swimming Pigs. Cruise to Big Major Cay, or Pig Beach, to witness the extraordinary sight of swimming pigs. These friendly animals have become a beloved attraction, creating unforgettable memories for visitors.
Exuma Cays Land and Sea Park. Discover the beauty of the Exuma Cays Land and Sea Park. This protected park has over 176 square miles of marine and land ecosystems. Snorkel, scuba dive, or kayak through this untouched paradise.
Moriah Harbour Cay. Moriah Harbour Cay, a protected area between Great Exuma and Stocking Island, offers a scenic environment for hiking and exploration. With its diverse ecosystems of mangroves, beaches, and tidal flats, you can follow trails that wind through this nature reserve. Watch for various bird species, including herons and ospreys, as you navigate the trails.
Marinas
Great Exuma in the Bahamas is home to several marinas that cater to the needs of boaters and yacht enthusiasts. Here are some notable marinas in Great Exuma:
The Marina at Emerald Bay has 133 slips from 40 feet to 240 feet, sewage pump-outs at each slip, 30/50/100 amp 120/240 (3ph), water, high capacity fuel tanks with high volume pumps, floating docks, 24-hour security, immigration and customs on-site, concierge services, buoy marked channel, free Laundry – 4 Large capacity washer and dryers, ice, fitness center, liquor store, convenience store, six shower rooms with toiletries (2 are accessible for those with disabilities), cable TV, free Wi-Fi, playground.
Palm Bay Beach Club and Marina: Situated on the eastern side of Great Exuma, Palm Bay Beach Club and Marina is a popular destination for boaters. The marina provides berths for boats up to 180 feet and offers fuel, water, electricity, and waste disposal services. The Palm Bay Beach Club offers accommodations, dining options, and access to a beautiful beach.
Exuma Yacht Club: The Exuma Yacht Club is a well-established marina in Elizabeth Harbor near George Town with various services. It offers docks for boats up to 180 feet and provides amenities such as fuel, water, electricity, showers, laundry facilities, and a swimming pool. The marina is near the amenities and attractions of George Town.
February Point Marina: Situated on the southern coast of Great Exuma, February Point Marina is a private marina catering to yacht owners and visitors staying at the February Point Resort. The marina offers deep-water slips, fuel, water, electricity, and other essential amenities. The adjacent resort provides luxury accommodations, dining options, and access to a private beach.
8-Day Sample Itinerary in the Great Exuma Islands
Embark – George Town to Stocking Island (4 NM)
Depart George Town and sail to Stocking Island, just across Elizabeth Harbor.
Drop anchor at one of the secluded bays and enjoy the pristine beaches.
Explore the hiking trails on Stocking Island, including a hike up to Monument Hill for panoramic views.
Visit Chat 'n' Chill beach bar and interact with friendly stingrays.
Stocking Island to Staniel Cay (30 NM) – Day 2
Sail northeast to Staniel Cay in the central Exumas.
Anchor at Staniel Cay Yacht Club and Marina.
Take a guided tour of the famous Thunderball Grotto, where you can snorkel through an underwater cave system.
Swim with the friendly swimming pigs at nearby Big Major Cay.
Visit the Exuma Cays Land and Sea Park for excellent snorkeling and wildlife encounters.
Staniel Cay to Compass Cay (12 NM) – Day 3
Cruise south to Compass Cay.
Anchor in the protected harbor and enjoy the tranquil surroundings.
Take a swim with the nurse sharks in the marina, known for their docile nature.
Explore the beautiful beaches and go snorkeling to discover vibrant coral reefs.
Relax and unwind in the peaceful ambiance of Compass Cay.
Compass Cay to Highbourne Cay (15 NM) – Day 4
Sail northeast to Highbourne Cay.
Anchor at Highbourne Cay Marina and Resort.
Dive or snorkel in the nearby pristine reefs.
Enjoy water sports activities such as kayaking, paddleboarding, or jet skiing.
Take a hike on the island to see stunning panoramic views.
Highbourne Cay to Norman's Cay (10 NM) – Day 5
Cruise southwest to Norman's Cay.
Anchor in the protected bays and enjoy the calm waters.
Explore the submerged drug plane wreck, a popular snorkeling and diving spot.
Relax on the picturesque beaches and soak up the sun.
Visit the ruins of an old drug lord's mansion on the island.
Norman's Cay to Great Guana Cay (20 NM) – Day 6
Sail northwest to Great Guana Cay.
Anchor at one of the beautiful bays along the coast.
Visit Nipper's Beach Bar and Grill for a lively beachfront atmosphere and delicious food.
Explore the Great Guana Cay settlement and browse local shops and boutiques.
Enjoy beachcombing, swimming, and water sports activities.
Great Guana Cay to Shroud Cay (15 NM) – Day 7
Cruise southeast to Shroud Cay.
Anchor in the protected waters and enjoy the peaceful surroundings.
Explore the mangrove creeks by kayak or paddleboard.
On the island's eastern side, take a guided tour through the mangrove channels to the Exuma Sound.
Discover secluded beaches and picnic spots along the way.
Shroud Cay to George Town (25 NM) – Day 8
Sail back to George Town, where your yacht charter journey began.
Enjoy the vibrant atmosphere of George Town, visit local shops, and have a meal at one of the waterfront restaurants.
Swim in the crystal-clear waters near George Town or relax on the beach.
Reflect on the incredible experiences and memories of your Great Exuma yacht charter adventure.
Please call us today at 1 (321) 777-1707 or describe Your Vacation Vision to help you plan your fully-crewed private luxury yachting vacation! Inquire as soon as possible about your custom, crewed yacht charter.
You make the memories. We make the arrangements.