Bahamas Yacht Charters
Bahamas yacht charters will take you to one or more of the archipelago's seven hundred islands and two thousand cays. The Bahamas are in the Atlantic Ocean, southeast of Florida and the United States, north of Cuba, the island of Hispaniola and the Caribbean, and northwest of the Turks and Caicos Islands, a British overseas territory. Explore the Exumas and Abacos on your luxury yacht.
One of the World's Great Cruising Grounds
The nearest island to the United States is just 44 miles from Miami! Not only are the Bahamas one of the most popular destinations in the world, but they are also the most accessible.
Every Bahamas yacht charter arranged by Luxury Yacht Charters allows you to enjoy virtually virgin territory. We only represent the best yachts and crews cruising the Bahamian waters. Therefore, you can be confident that your yacht charter experience will be first-class. Head to our Bahamas catamaran charters for great sailing catamarans.
Whatever you decide to do- enjoying a gourmet meal with freshly-caught fish or taking a refreshing nap on the trade winds caressed sun deck- you won't forget your Bahamas yacht charter vacation. See below for more information on what to do and see on a yacht charter to the various islands that make up the Bahamas.
A few yachts | Please use the Yacht Search for more options
Bahamas Climate and Weather
The temperatures in most of the Bahamas linger between 70 and 80 degrees Fahrenheit, thanks to the constant gentle trade winds. Summers are hot, with temperatures from 80 to 90 degrees with higher humidity. And the rainy season runs from June to November.
Although some days are wet and grey in the rainy season, showers usually pass quickly. The island has over 300 days of sunshine each year. The Bahamas are a great all-year-round destination for luxury yacht charter vacations. In fact, the Bahamas are one of the best spring break destinations. The winter months provide abundant sunshine, cooler nights, and lower rain chances.
Bahamas Yacht Charters | Things to see and do
There's an endless variety of activities in the Bahamas. For instance, you may want to spend time exploring a quiet beach. Or, you may want to do something more active, like fishing, biking, golfing, snorkeling, or diving. Whatever you choose to do, you are guaranteed to enjoy gorgeous scenery at every turn.
Exuma Cays
The Exuma Cays Land & Sea Park is an archipelago located in central Exuma, Bahamas. These cays are one of two locations where swimming with dolphins is permitted in The Bahamas. The park also has a variety of other activities to enjoy including hiking, kayaking, and snorkeling. On an Exuma to Harbour Island Itinerary, you'll make a stop at this beautiful park.
Enjoy the stunning views of turquoise waters and white sand beaches as you sail the crystal clear waters on your private Bahamas yacht charter. Explore George Town, the capital city of the Bahamas, and its many attractions, including historic sites and tasty seafood restaurants. One of the most popular attractions in the Bahamas is swimming with the pigs at Big Major Cay. Visit the incredible marine life just below the surface of the water by snorkeling or scuba diving. The Exumas are a wonderful place to charter for those who enjoy water toys.
Staniel Cay
Check out Staniel Cay, a tiny island off Great Exuma Island that boasts shops, restaurants, and hotels. It's only accessible by boat or plane, so you'll need your yacht charter from Nassau if you want to visit.
New Providence Island
In addition, we recommend visiting New Providence Island. With its cosmopolitan vibe, it's one of our favorite places in The Bahamas! There's much to see and do, from browsing the local markets to exploring historical sites like Fort Charlotte. And, of course, you can't forget to taste the delicious local cuisine and rum while visiting!
Moreover, you can visit one of many nature preserves or learn about local history at a museum. Nassau is also home to Fort Fincastle, built by British soldiers in 1793. Birdwatchers will enjoy spotting the flamingos and other native species that call this park home.
Bahamas Yacht Charters | History
Christopher Columbus first made landfall in the Bahamas in 1492, when he encountered a subgroup of Arawakan-speaking Taino people. These native inhabitants were known as the Lucayans and are believed to be the first inhabitants of the Bahamas. After the Spanish conquest, the British began to settle the islands in 1647. The Bahamas gained independence from Britain in 1973, but the British government retained responsibility for defense and foreign affairs. Thus, many Bahamians have ties to Britain, and there are political parties supporting secession from the Commonwealth of Nations.
Ninety percent of its visitors come from the United States. About one-third of the population lives in Nassau or within 25 miles of Nassau. Manufacturing accounts for a significant part of the economy, producing clothing and other goods such as cigarettes, paintbrushes, plastics, furniture, aluminum foil, toys, shoes, and clothing.
Bahamas Yacht Charters | Marinas
There are marinas on nearly every significant island. Some marinas include Bay Street Marina, Albany Marina, Lyford Cay Club Marina, Palm Cay Marina in Nassau, Emerald Bay Marina in Great Exuma, Port Lucaya Marina in Freeport, and Highbourne Cay Marina in Highbourne Cay. The new Norman Cay Marina recently opened in the Exumas.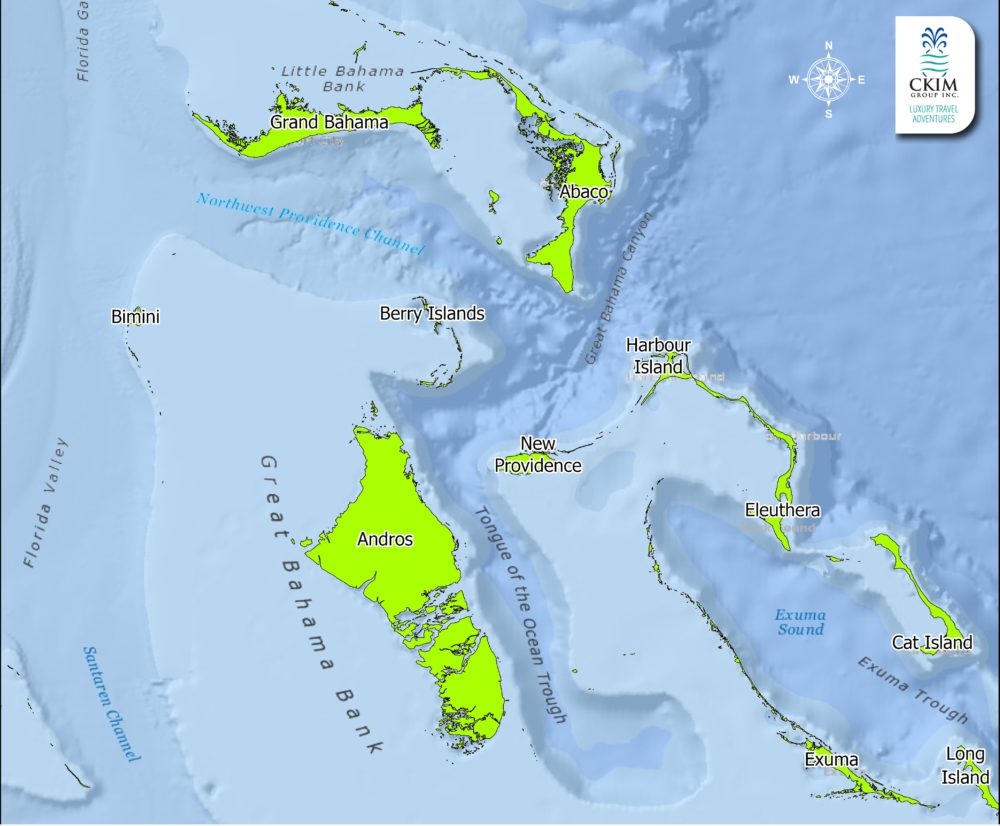 Check out Bahamas General Information for complete details you'll need for a Bahamas yacht charter.
Please call us today at 1 (321) 777-1707 or describe Your Vacation Vision to help you plan your fully-crewed private luxury yachting vacation! Inquire as soon as possible about your custom, crewed yacht charter.
You make the memories. We make the arrangements.