Culinary Delights: Best Restaurants and Food in the Bahamas
If you're looking for a delicious culinary experience, look no further than the Bahamas! The Bahamian islands have everything from classic dishes like conch fritters and conch salad to the freshest seafood. Whether you're looking for the best restaurants or food in the Bahamas, your taste buds won't be disappointed.
One of the best ways to explore Bahamian cuisine is on a private yacht charter. Embark on a culinary adventure in the Bahamas and taste some of the best and most unique food on and off your yacht.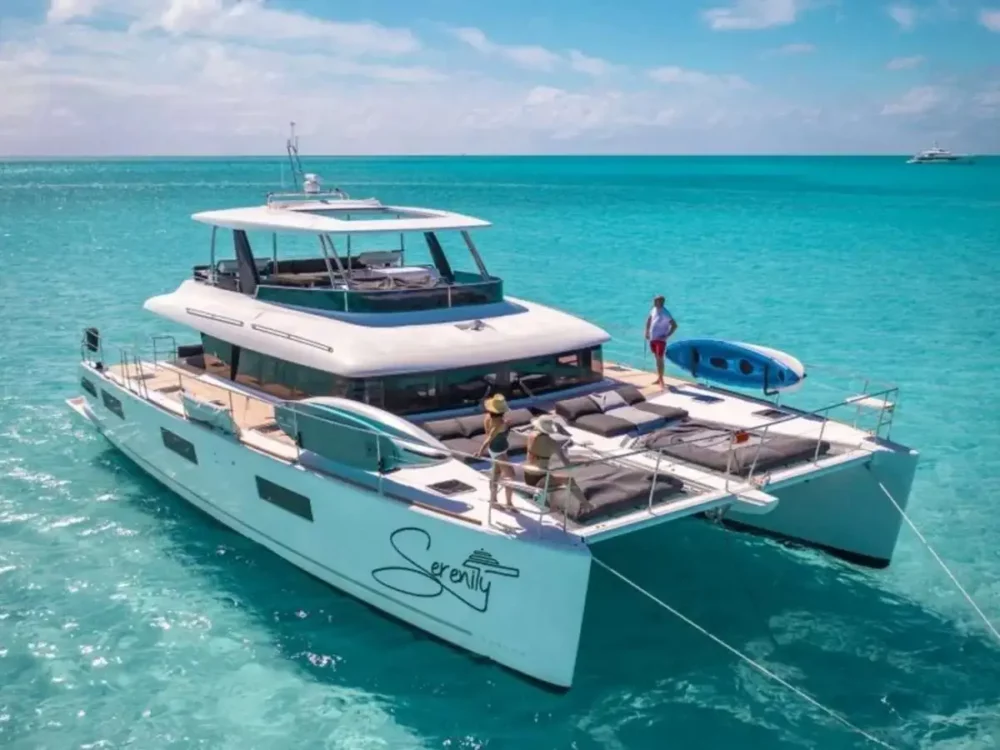 Best Restaurants in the Exumas
The Exumas offer some of the best restaurants and food in the Bahamas. From fresh seafood dishes to traditional Bahamian fare, there are plenty of restaurants in the area where you can sample the local flavors. Here are some of the best restaurants in the Exumas for delicious Bahamian cuisine.
For a truly unique experience, check out Big D's Conch Shack & Grill. This cozy beachside eatery is famous for its classic conch fritters, made with freshly caught conch and deep-fried to perfection. The grilled seafood is excellent here, with delicious options like red snapper and wahoo.
In addition, another great spot to sample authentic Bahamian fare is CocoPlum Restaurant & Bar. This waterfront restaurant in George Town serves delicious Caribbean-inspired dishes like conch chowder and grouper sandwiches. Order the signature CocoPlum Mojito for a delicious, refreshing cocktail.
If you want a more upscale dining experience, head to Chat 'N' Chill Bar & Grill. This beachfront bar and grill serve delicious dishes like cracked conch, fried snapper, and grilled shrimp. Here, the atmosphere is lively, and the view of Stocking Island is gorgeous, making it a perfect spot to enjoy an evening meal.
Top Restaurants in New Providence
New Providence is the most populous island of The Bahamas, offering visitors a wide range of exciting activities and places to explore. But many people don't know that it's also home to some of the best restaurants on the islands. New Providence has something for everyone, from fine dining establishments to family-owned eateries.
If you want an upscale experience, check out Cove at Atlantis. Here, you can enjoy a unique blend of modern and traditional Bahamian cuisine featuring locally sourced ingredients.
For more casual dining, the Fish Fry is a must-try. This popular spot serves fresh fish prepared with various local spices and sauces.
For something truly unique, be sure to try Twin Brothers Restaurant. This popular local eatery specializes in Bahamian seafood and conch dishes. If you're craving something sweet, you won't want to miss out on their signature dessert: the Bahamian sweet potato pie.
Must-Try Local Food in the Bahamas
Traditional Bahamian Breakfast
f you're looking for a truly unique and delicious breakfast experience, try traditional Bahamian cuisine. From the delicious conch fritters to the savory johnnycakes, the Bahamas has much to offer regarding breakfast. Here are some of the best spots to get a taste of true Bahamian breakfast:
The Fish Fry: Located in downtown Nassau, The Fish Fry is one of the most popular spots for traditional Bahamian cuisine, such as the freshest conch fritters, johnnycakes, and fish stew. You can also find jerk chicken and BBQ ribs.
O'Malley's Restaurant: Located in Freeport on Grand Bahama Island, O'Malley's Restaurant is the go-to spot for fresh seafood and traditional Bahamian cuisine. You can find everything here: conch salads, grilled lobster, johnnycakes, and conch fritters.
Uncle Bernie's Place: Located in Eleuthera, Uncle Bernie's Place serves up some of the best traditional Bahamian breakfast dishes around. From crispy johnnycakes to fried plantains and the ultimate fish stew, this is the place to go if you're craving classic Bahamas cuisine.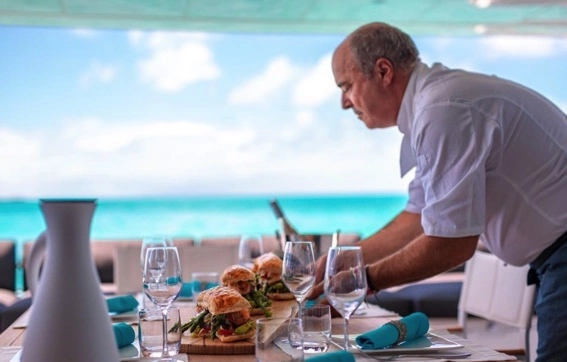 Lobster Tail | Best Restaurants and Food in the Bahamas
Lobster tail is a staple of Bahamian cuisine, and it's no surprise that it's a popular dish throughout the islands. Whether you're looking for a succulent dinner entree or a light lunch, there are plenty of places to find the best lobster tail in the Bahamas.
If you're in Nassau, the place to be is Graycliff Restaurant, a five-star eatery located in a historic mansion. Their lobster tail dinner is an exquisite combination of butter-poached lobster and garlic mashed potatoes. The restaurant also offers gourmet dishes, from steak to seafood and delicious desserts.
If in Freeport, head to Eight Mile Rock for the day's catch. This local seafood joint serves delicious fried lobster tails with sides of coleslaw, potatoes, and garlic bread. It's simple but delicious.
And for those in Grand Bahama Island, Port Lucaya Marketplace & Marina is your best bet. You can order lobster tail steamed or grilled from their raw bar with butter and drawn lemon wedges—the perfect place for a light lunch or dinner.
Conch Fritters
You've come to the right place if you're looking for the best conch fritters. Conch is an integral part of Bahamian cuisine and can be found everywhere on the island. Conch Fritters are a delicious deep-fried delight made from ground conch, flour, and spices. Every chef has their recipe, but they're usually served with a dipping sauce of your choice. Whether eating them for breakfast, lunch, or dinner, conch fritters will tantalize your taste buds.
Some of the best conch fritters await you at Twin Brothers in Nassau, which serves their fritters with a side of homemade tartar sauce that will have you coming back for more.
Johnnycakes
Johnnycakes, also known as journey cakes, are a traditional part of Bahamian cuisine and can be found in many restaurants and food stands throughout the Bahamas. These tasty treats are perfectly fried and contain flour, baking powder, salt, and butter. As such, they are most often served as breakfast food but can be enjoyed anytime.
Johnnycakes are the perfect option whether you're looking for a quick snack or a hearty meal. Several establishments offer some of the best Johnnycakes in the Bahamas.
One such restaurant is Hillside Restaurant in Nassau, where they have served delicious Johnnycakes for over forty years.
Another great place to find this Bahamian classic is The People's Bakery in Marsh Harbour. The People's Bakery has been making some of the best Johnnycakes in the Bahamas since the late 1970s and has become an institution for locals and tourists alike.
Fish Stew
Regarding the best restaurants and food in the Bahamas, one dish that stands out is the beloved fish stew. This popular dish consists of fresh fish cooked in a flavorful broth of tomato, onion, garlic, and spices. The combination of flavors creates a comforting and hearty meal that will surely please everyone.
If you are looking for the best fish stew in the Bahamas, you should head to The Flying Fish Fry on Andros Island. They serve an authentic Bahamian fish stew with white rice, plantains, and hot pepper sauce. They make the stew with tender grouper, snapper, and conch, creating a savory flavor like what you'd find in a family's home kitchen.
Baked Crab | Best Restaurants and Food in the Bahamas
Regarding the best-baked crab in the Bahamas, there's no better place to visit than Nassau. The capital of the Bahamas is famous for its seafood dishes, and the city is bursting with restaurants specializing in preparing baked crab. If you're looking for the best-baked crab in the Bahamas, here are some places you should check out:
1. The Poop Deck: Located in the heart of downtown Nassau, The Poop Deck offers some of the best-baked crab dishes in the area. Their crab cakes utilize fresh Bahamian-caught crab and come with a garlic butter sauce.
2. Café Matisse: This chic restaurant in downtown Nassau serves a delicious baked crab dish. These crab cakes boast jumbo lump crab and served with cilantro mayonnaise.
3. Twin Brothers: Twin Brothers is a popular spot in Cable Beach. They serve up some of the best-baked crab dishes in the area. Their signature dish is the Crab Stuffed Sweet Potatoes, a dish of jumbo lump crab and creamy garlic and parsley sauce.
4. Graycliff Restaurant: Located on West Hill Street in Nassau, Graycliff is one of the most popular restaurants in the city. They offer a variety of seafood dishes, including their signature Baked Crab dish, made with jumbo lump crab meat and spicy mango salsa.
In addition to the great food and dining options in the Bahamas, your private chef will awaze you with tailored gourmet meals to suit your taste! Spend your days beachcombing, scuba diving, or tasting through the best restaurants and food in the Bahamas!
Yachts
Please call us today at 1 (321) 777-1707 or describe Your Vacation Vision to help you plan your fully-crewed private luxury yachting vacation! Inquire as soon as possible about your custom, crewed yacht charter.
You make the memories. We make the arrangements.