Exciting Nightlife and Bars in the Bahamas
If you're looking for a night out in the Bahamas, you're in luck! The Bahamas offers some of the best nightlife and bars in the Caribbean. The Bahamas has something for everyone, from glamorous rooftop lounges to beachfront bars. Whether you're looking for a place to kick back and relax or somewhere to get your dance on, there's no shortage of incredible nightlife and bars in the Bahamas.
Below, we explore some of the best spots for dancing, music, and drinks in the Bahamas. Of course, a yacht charter is the best way to enjoy the Bahamas. Whether you choose a catamaran, or motor yacht, you'll have an incredible getaway.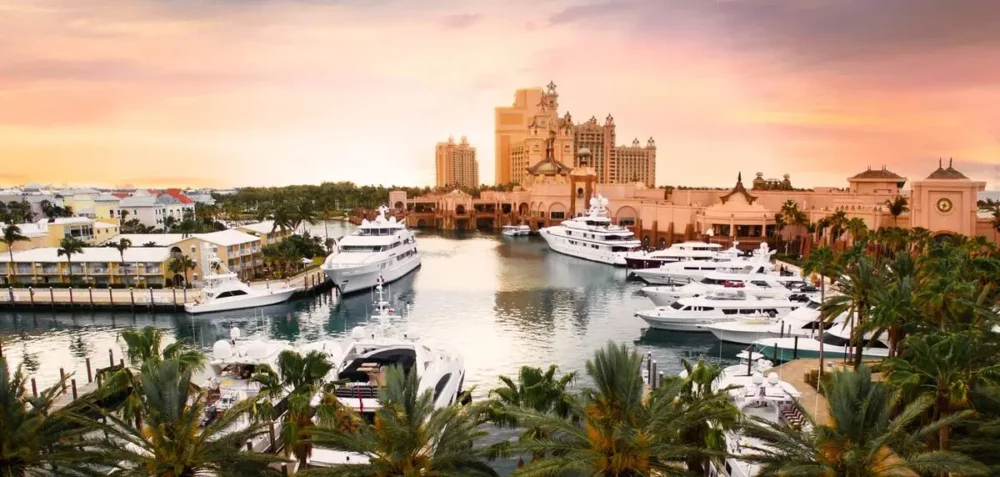 Top Bars and Lively Restaurants in the Bahamas
Daddy D's
Located on the charming island of Harbour Island, Daddy D's is a popular spot for tourists and locals alike. This lively nightclub is known for its energetic atmosphere, where the party never stops.
The nightclub is on a beautiful beach stretch, adding to its vibrant ambiance. Here, you can sip your favorite drinks while enjoying the cool sea breeze and stunning ocean views. Whether you prefer to dance the night away or simply lounge and unwind with a refreshing drink, Daddy D's has something for everyone.
In addition to its beautiful location, Daddy D's boasts an impressive lineup of local DJs who spin an eclectic mix of music, including reggae, soca, hip hop, and EDM. So, whether you're a fan of classic tunes or the latest beats, you'll indeed find something to dance to at this top-rated hotspot.
Daddy D's is open from Thursday to Saturday, making it the perfect place to kickstart your weekend. The nightclub usually gets crowded as the night goes on, so it's best to arrive early to secure a spot on the dance floor. Overall, Daddy D's is a must-visit spot if you're looking for an unforgettable night out on your Bahamas itinerary.
Rum Runners
If you're looking for a night filled with good drinks, good music, and even better company, then Rum Runners is the perfect spot. This bar is in the bustling city of Freeport and offers one of the best nightlife experiences ever.
Rum Runners has become a favorite among tourists and locals alike for its wide selection of drinks, including an extensive rum menu that will satisfy your cravings. But that's not all; the bar's lively atmosphere and great music make it one of the best clubs in the Bahamas.
The bar's interior has a nautical theme, and it's designed to create a fun, laid-back ambiance that'll make you feel like you're on vacation. There are indoor and outdoor seating options, so you can choose your preferred setting depending on your mood.
You'll also appreciate the fantastic service provided by the staff, who are knowledgeable, friendly, and always ready to whip up a tasty cocktail. Their signature drink is the Rum Runner, a delicious concoction of various rum types, banana liqueur, and pineapple juice.
So if you're looking for a place to enjoy a fun night out with friends or a significant other, visit Rum Runners, one of the best clubs in the Bahamas, and experience the incredible nightlife the Bahamas offer.
Pirate Republic | Nightlife and Bars in the Bahamas
Located in the heart of downtown Nassau, Pirate Republic is a lively and exciting bar that will transport you to a time when pirates ruled the seas. With a pirate theme that is evident in every detail, from the décor to the menu, this bar is a must-visit for anyone who loves adventure and good times.
At Pirate Republic, you'll find a great selection of rum-based cocktails, which are perfect for enjoying on their outdoor terrace overlooking the picturesque Nassau Harbour. Their signature cocktail, the Pirate's Punch, is a popular choice.
Aside from the drinks, Pirate Republic offers an excellent menu featuring classic Caribbean dishes such as conch fritters and jerk chicken. The atmosphere at this bar is relaxed and welcoming, making it the perfect place to kick back and unwind after a day of exploring Nassau.
One of the unique features of Pirate Republic is its daily live music performances, which create a lively and entertaining atmosphere. With bands and performers playing everything from reggae to rock and roll, you will surely find something you love.
Whether you're a history buff or just looking for a fun and lively spot to hang out with friends, Pirate Republic is the place to be. With its excellent drinks, tasty food, and live music, this bar is one of the best spots in Nassau for an unforgettable night out.
Oh Andros
If you're looking for a night out that's a little bit more laid back but still has amazing food and drinks, look no further than Oh Andros Restaurant. Located on West Bay Street, this restaurant serves traditional Bahamian cuisine with a twist.
The menu is full of fresh seafood, including conch, lobster, and shrimp, as well as grilled meats and vegetarian options. Their signature dish is the grilled octopus with garlic mashed potatoes – a must-try for seafood lovers. And of course, no meal at Oh Andros is complete without a tropical cocktail to accompany it.
The restaurant has a casual, welcoming atmosphere, perfect for a night out with friends or a low-key date. They often have live music on the weekends, adding to the fun and relaxed vibe.
Stop by the bar for a drink and snacks if you're not ready for a full meal. They have a great selection of local and international beers and a variety of wines and spirits.
Overall, Oh Andros is a great option for anyone looking for a night out slightly different from the typical club scene. The food is delicious, the drinks are refreshing, and the atmosphere is warm and inviting.
Best Dance Clubs in the Bahamas
If you're a fan of dancing the night away, you're in luck in the Bahamas. Here are a few of the best dance clubs to check out:
Aura Nightclub – Located in the Atlantis Resort, Aura is one of the most popular nightclubs in the Bahamas. It features a huge dance floor, VIP areas, and a roster of top DJs spinning the latest hits.
Bond Nightclub – This swanky club in Nassau is perfect if you're looking for a more upscale vibe. The music mixes Caribbean beats and popular tracks, and the drinks are top-notch.
Bonfire at Baha Mar – The Bonfire event at Baha Mar is a must-visit if you're in Nassau on a Thursday night. Held on the beach, it features live music, dancing, and a bonfire under the stars.
Club Luna – Another hotspot in Nassau, Club Luna is known for its lively dance floor and late-night parties. The club is located in the popular Caves Village shopping complex.
H2O Junkanoo Beach Club – If you're in Freeport, visit H2O Junkanoo Beach Club. It's a beachfront club with a tropical vibe, featuring live music and DJs spinning everything from reggae to EDM.
No matter which dance club you choose, dress to impress and have a great time!
Top Bars and Nightlife in Nassau, Bahamas
Nassau is the bustling capital of the Bahamas, famous for its crystal-clear beaches, amazing sunsets, and vibrant nightlife. Whether you're a fan of partying hard or prefer a more relaxed atmosphere, Nassau has something to offer everyone. Here are some of the best nightlife and bars in the Bahamas that you shouldn't miss:
Aura Nightclub. If you want the ultimate dance party, head to Aura Nightclub. This high-energy club in Atlantis Paradise Island has an impressive sound system and top-notch DJs spinning the latest hits.
Señor Frogs. A staple of Nassau's nightlife, Señor Frog's is a bar that promises a good time. With a fun atmosphere and endless drinks, Señor Frog's is the perfect place to party with your friends.
Bambu. If you're looking for a sophisticated night out, Bambu is the place to go. This upscale lounge boasts an extensive cocktail list, plush seating, and a sleek ambiance perfect for a mingling night.
Green Parrot. Located in downtown Nassau, Green Parrot is a beloved local bar that offers a laid-back vibe and great drinks. Grab a seat at the bar and chat with the friendly bartenders or head outside to the patio and enjoy live music.
Club Waterloo. For a taste of the Bahamas' nightlife scene, check out Club Waterloo. This nightclub has been around for over 40 years and is a popular spot for locals and tourists. You'll be dancing all night with live music and a fun atmosphere.
Nassau has it all, regardless of the nightlife experience you're looking for. So grab a drink and hit the dance floor – the night is just starting!
Exumas Beach Bars | Nightlife and Bars in the Bahamas
If you're planning a trip to the Exumas, you won't want to miss out on some of the best beach bars in the area. These bars are perfect for a laid-back day on the beach and are often located right on the sand with stunning ocean views. You can also learn to spend a week on an Exumas yacht charter.
First up on the list is the Chat 'N' Chill bar on Stocking Island. This beach bar is a popular spot for boaters to anchor up and enjoy a cold drink. The atmosphere is relaxed and fun, with live music on weekends and the opportunity to swim with friendly stingrays.
Next on the list is Santana's Beach Bar on Little Exuma. This bar is a favorite among locals and visitors, serving tasty cocktails and fresh seafood dishes on the beach. The vibe here is friendly and welcoming, with a true island feel.
If you're looking for a beach bar with a little more upscale feel, head over to the Lumina Point Resort & Spa. This bar offers stunning ocean views and a variety of cocktails, wine, and beer. Enjoy a cold drink and watch the sunset over the water – it's a truly breathtaking experience.
Last but not least, we have the Staniel Cay Yacht Club. This bar is located on the island of Staniel Cay and is a popular spot for boaters and travelers alike. The atmosphere is relaxed and laid-back, with delicious food and drinks to enjoy while you enjoy the stunning ocean views.
The Bahamas is a great place to relax and let loose. They have everything from tranquil beach bars to music-filled nightclubs. Remember, a private yacht charter is a perfect way to experience the nightlife and bars in the Bahamas.
Please call us today at 1 (321) 777-1707 or describe Your Vacation Vision to help you plan your fully-crewed private luxury yachting vacation! Inquire as soon as possible about your custom, crewed yacht charter.
You make the memories. We make the arrangements.