Staniel Cay
Crystal blue water and white sand beaches surround Staniel Cay, making it one of the most popular cays in the Exumas. It is about 75 miles south of Nassau and 250 miles southeast of Florida.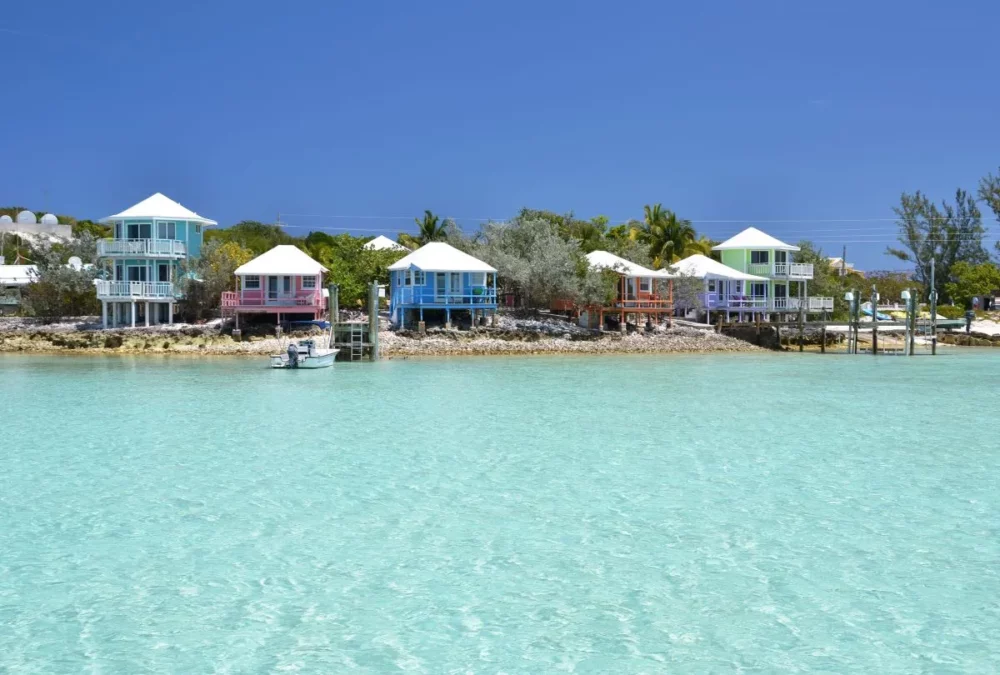 An Island Overview
Less than 120 people live on the island in a small village on the western shore. The village has residential housing, restaurants, bars, a church, a police station, a post office, a library, small retail stores, and marine supply shops.
Some Exuma Yacht Charters start from or end in Staniel Cay. Private charter and scheduled flights are available from the airport or via seaplane to and from Nassau. Generally, this allows for more time onboard in the cays.
Two cays separated by a mangrove creek make up Staniel Cay. At the north end, there is a salt pond.
Bahamas National Trust protects Staniel Cay. This organization is responsible for conserving and preserving places of historical interest and natural beauty in the Bahamas.
Although a small island, it has one of the few airports in the central Exuma Islands. Staniel Cay is a central hub and gateway to the Exumas, and its airport has two hangars and one runway. The airport makes it convenient to take a day trip to nearby cays.
A Brief History
Staniel Cay, located in the Exumas chain of islands in the Bahamas, has a rich history that spans centuries. The Lucayans originally inhabited the island.
In the late 15th century, the Spanish arrived in the Bahamas, and Staniel Cay became their strategic outpost. They used the island as a stopping point for ships traveling between Europe and the Americas. The Spanish influence in the Bahamas waned over time, and by the 17th century, the British had established control over the islands.
During the 18th and 19th centuries, Staniel Cay became a haven for pirates and privateers. The secluded coves, hidden channels, and proximity to major shipping routes made it an ideal base for these seafaring outlaws. Legends of hidden treasures buried on the island and its surrounding waters continue to captivate imaginations today.
Staniel Cay has become a premier luxury yacht charter destination today, known for its breathtaking beauty, exclusive resorts, and world-class amenities. It continues to attract travelers searching for an idyllic tropical paradise where they can immerse themselves in the wonders of the Caribbean Sea, explore stunning marine life, and create cherished memories that will last a lifetime.
Staniel Cay's rich history, from its indigenous roots to its pirate legends and transformation into a sought-after luxury destination, adds to its allure and makes it an extraordinary place for those seeking a unique and unforgettable experience in the Bahamas.
Staniel Cay | Weather
The weather is pleasant nearly year-round. Typical of the Bahamas, temperatures are hot to warm with occasional rain showers.
Staniel Cay | Things to See and Do
Water sports. Kayak or standup paddleboard and explore the waters.
Take a day trip to nearby cays such as Big Major Cay. There, you can see the famous swimming pigs.
Picnic on one of the island's five main beaches: Town Beach, Pirate Trap Beach, Ho Tai Cay Beach, South Beach, and Ocean Beach.
Snorkel at Thunderball Grotto, the site of a few movies; the most well-known is Thunderball.
Marinas | Staniel Cay
The newly renovated Staniel Cay Yacht Club Marina accommodates drafts up to 12 feet and yachts up to 210 feet. The marina offers fuel, electricity (single and three-phase), fresh R/O water, ice, bait, and more. Eighteen secure slips accommodate center consoles to mega yachts.
Here are a few of the yachts that are available for your Staniel Cay charter:
6 Cabins
Year/Rebuilt: 2011 Refit:
Built: 2011
$770,000 - $875,000 /wk
257.00 Ft Power
6 Cabins
Year/Rebuilt: 2021 Refit:
Built: 2021
$550,000 - $600,000 /wk
200.00 Ft Power
Sample Itinerary With Staniel Cay
Day 1: Nassau – Arrival and Departure
Arrive in Nassau, the capital of the Bahamas, and board your luxury yacht. Settle in and meet the crew as you embark on your unforgettable yachting adventure. Spend the day cruising along the pristine waters of the Exumas, enjoying the amenities on board and taking in the stunning views. As the sun sets, anchor at a secluded spot for a peaceful evening on the yacht.
Day 2: Allan's Cay – Iguana Encounter and Snorkeling
Wake up to the tranquil surroundings of Allan's Cay, known for its unique population of Bahamian Rock Iguanas. Disembark and stroll along the beach, observing these fascinating creatures up close. Afterward, dip in the crystal-clear waters for snorkeling and explore the vibrant marine life beneath the surface. Enjoy a relaxing evening on the yacht, surrounded by the beauty of the Exumas.
Day 3: Highbourne Cay – Beach Bliss and Water Sports
Arrive at Highbourne Cay, renowned for its pristine beaches and excellent water sports opportunities. Spend the day sunbathing on the white sandy shores or engaging in exciting activities like paddleboarding, kayaking, or jet skiing. In the evening, watch the sunset while savoring a delicious dinner on board your yacht.
Day 4: Warderick Wells Cay – Exumas Land and Sea Park
Cruise to Warderick Wells Cay, home to the Exumas Land and Sea Park, a protected marine reserve. Explore the park's trails, enjoy views from Boo Hill, and learn about the diverse plant and animal life. Snorkel or dive in the vibrant coral reefs teeming with colorful fish and marine creatures. Enjoy a peaceful night at anchor, surrounded by the untouched beauty of the park.
Day 5: Staniel Cay – Pig Beach and Thunderball Grotto
Arrive at Staniel Cay, the highlight of your itinerary. Visit the famous Pig Beach and swim with the friendly pigs, capturing unforgettable moments with these incredible creatures. Dive into the magical world of Thunderball Grotto, an underwater cave teeming with marine life and breathtaking rock formations. In the evening, dine at one of Staniel Cay's exquisite waterfront restaurants, indulging in local delicacies.
Day 6: Compass Cay – Shark Encounters and Serene Beaches
Cruise to Compass Cay, where you can swim with nurse sharks in their natural habitat. Enjoy an exhilarating experience as you get up close with these gentle creatures. Afterward, relax on the pristine beaches, basking in the sun or snorkeling in the turquoise waters. Unwind with a cocktail on your yacht's deck as you appreciate the beauty of the surroundings.
Day 7: Norman's Cay – History and Relaxation
Visit Norman's Cay, which played a significant role in the region's history as a former drug trafficking hub. Explore the ruins and learn about the island's intriguing past. Stroll along the beach or unwind with a book under the shade of a palm tree. Enjoy a delightful farewell dinner on board, reflecting on the incredible experiences of your journey.
Day 8: Nassau – Return
As your yachting adventure comes to an end, return to Nassau. Depart from the yacht, bidding farewell to the crew and the memories you've created. Take a moment to explore Nassau's vibrant culture and visit local attractions before concluding your journey.
Please call us today at 1 (321) 777-1707 or describe Your Vacation Vision to help you plan your fully-crewed private luxury yachting vacation! Inquire as soon as possible about your custom, crewed yacht charter.
You make the memories. We make the arrangements.