Exuma Islands Yacht Charters
Nature Lovers Paradise
The Exumas are an archipelago of 365 cays and islands, beginning 35 miles southeast of Nassau. This pristine area is a perfect destination for your Exuma Islands yacht charter. The islands are divided into three major areas—Great Exuma, Little Exuma, and The Exuma Cays. Each area is unique. Indeed this island chain is ideal for an Exuma, Bahamas charter.
The largest of the cays is Great Exuma, 37 miles long, and joined to another island, Little Exuma, by a small bridge.
The capital and largest town in the district is George Town. Near the town, but on Little Exuma, the Tropic of Cancer runs across Pelican Beach (also known as Tropic of Cancer Beach). The island chain is 130 miles long and 72 square miles in area. Great Exuma Island has an area of 61 square miles, while Little Exuma has an area of 11 square miles.
Weather
In George Town, the summers are hot, humid, and mostly cloudy; the winters are warm, dry, and mostly clear. It is windy year-round. During the year, the temperature typically varies from 70°F to 88°F and is rarely below 65°F or above 90°F.
Things to see and do in the Exuma Islands
Swim with the pigs. Big Major's Cay is home to these "domesticated" animals. Whenever a boat arrives, they swim out to be fed. Although the pigs are friendly, be aware that they are still wild!
Visit Moria Harbour Cay, National Park. Covering 13,440 acres, the park is a vital part of the ecosystem between Great and Little Exuma. It includes dunes, beaches, mangroves, and seagrass beds. Nesting seabirds call it home and serve as a nursery for marine life.
Experience local cuisine at Chat' N' Chill, a bar and grill that offers native dishes. Or dining at Sandals Emerald Bay, offering a cross-section of Asian, French, and Italian cuisine.
Relax on the Mile-long Sandbar just south of Big Farmer's Cay. This is a mile-long stretch of dazzling white sands that emerges from the blue-green water at low tide.
Day trip to Bitter Guana Cay, also known as Iguana Island, and make friends with some of the island's inhabitants, the Bahamian Rock Iguanas. You can even hand-feed these animals.
Visit The Exuma National Land and Sea Park, one of the most extensive underwater and land preserves.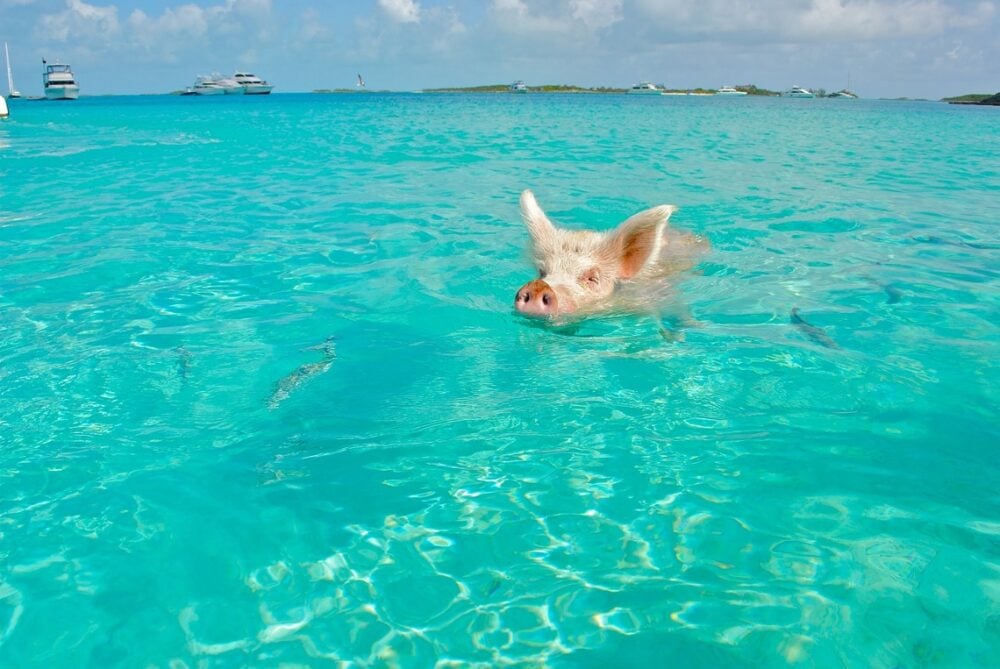 Marinas | Exuma Islands Yacht Charter
Staniel Cay Marina
Staniel Cay can accommodate drafts up to 12 feet and yachts up to 210 feet. The newly renovated marina offers fuel, electricity (single and three phases), fresh water, ice, and bait. Eighteen secure slips accommodate center consoles to mega yachts.
The Marina at Emerald Bay
Emerald Bay has 133 slips from 40 feet to 240 feet, sewage pump-outs at each slip, 30/50/100 amp 120/240 (3ph), water, high capacity fuel tanks with high volume pumps, floating docks, 24-hour security, immigration and customs on-site.
Concierge services, buoy marked channel, free Laundry - 4 Large capacity washers and dryers are available. Ice, a fitness center, a liquor store, a convenience store, six shower rooms with toiletries (2 are handicap-accessible), cable TV, free Wi-Fi, and a playground. It's an excellent option for a one-way Exuma Islands Yacht Charter from Nassau to Great Exuma.
Compass Cay Marina
Located in one of the rarely protected harbors in the Exumas, is accessible from the Exuma Banks and the Exuma Sound through channels marked with buoys and range markers. Thirty, fifty, and 100-amp electric, Reverse Osmosis water, Laundry, and shower facilities are available. In addition, the marina store has ice, beer, soda, bottled water, limited sundry and food items, clothing, and a friendly, relaxed atmosphere. Fuel is available about five miles away at Staniel Cay.
Enjoy cruising this beautiful area on an Exuma Islands Yacht Charter.
Please contact us at 1 (321) 777-1707 or complete our contact form to start planning your yacht charter vacation! It's never too early, or too late to inquire about your bespoke private yacht charter.
You make the memories. We make the arrangements.