Stocking Island Weekend Fun
Stocking Island is a small, long, narrow island off the port of George Town, Great Exuma Island, Bahamas. The Island has a population of only 10. It is merely one mile across the harbor from Government Dock in George Town.
This long narrow Island protects George Town from ocean waves, creating a natural harbor. One high hill, known locally as the Beacon, is capped with an old, unused gas beacon.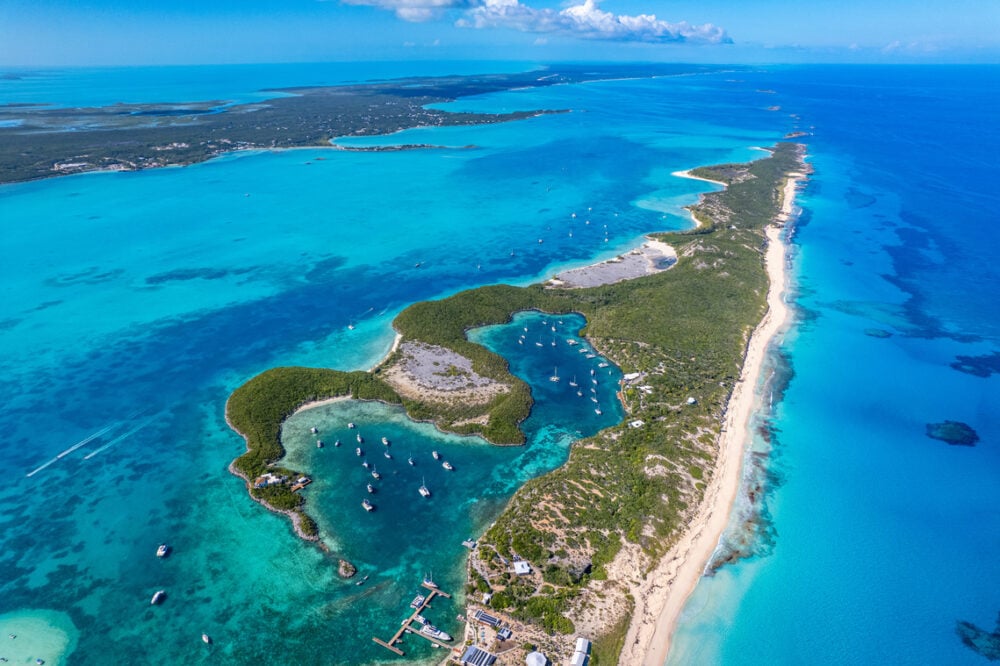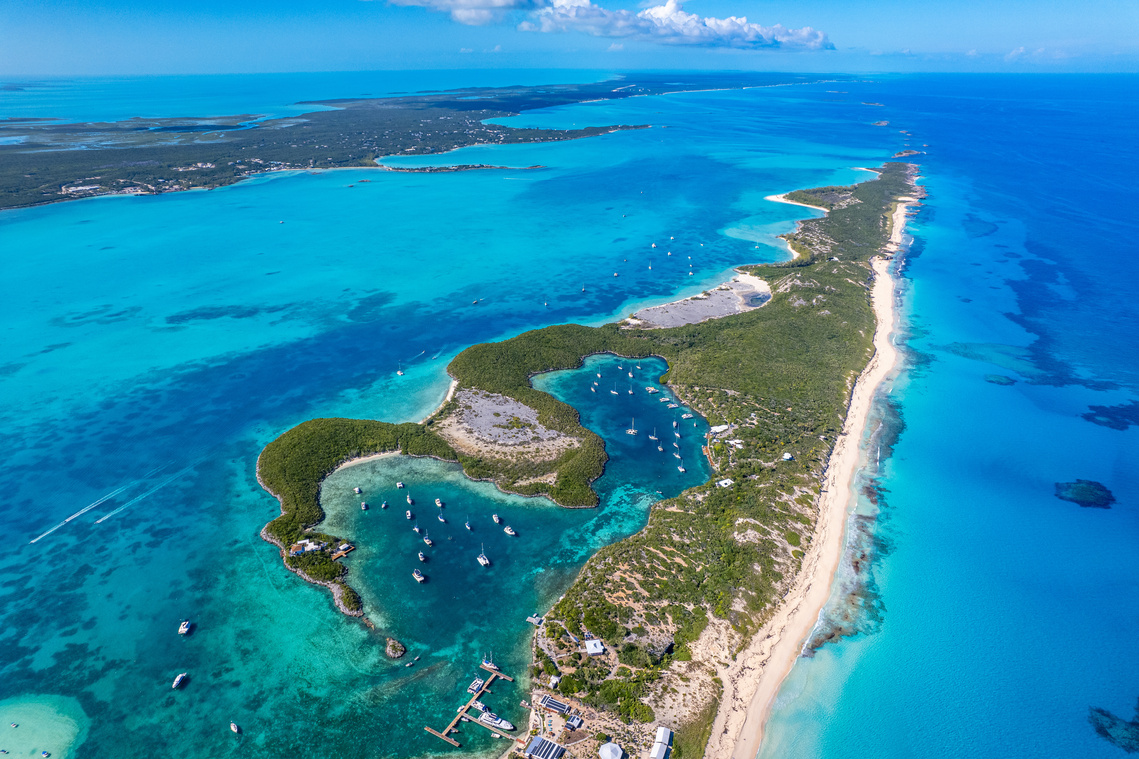 A Brief History of Stocking Island
Stocking Island has a rich history dating back to the colonial era. The island gets its name from the British Loyalist, Captain John Eliot Stocking, who settled there in the late 18th century. During the American Revolution, Stocking Island was a refuge for loyalists escaping the conflict.
Today, you can see old loyalist homes and artifacts and learn about the island's interesting history.
Weather
The summers are hot, humid, and mostly cloudy. The winters are comfortable, dry, and mostly clear. It is windy year-round. Over the year, the temperature typically varies from 70°F to 88°F and is rarely below 65°F or above 90°F.
Stocking Island | Things to See and Do
Loyalist Ruins: Immerse yourself in history as you wander through the remnants of the loyalist settlements. Explore the crumbling stone walls and imagine life during the colonial era.
Snorkel or dive into the Island's blue holes, coral gardens, and undersea caves. The Island is home to some of the oldest known macro-fossils on earth, stromatolites.
The Blue Hole: Embark on an adventure to discover the mystical Blue Hole, a natural wonder on the northern end of Stocking Island. Dive or snorkel in the crystal-clear waters and marvel at the vibrant marine life and coral formations.
Explore Hurricane Hole. This natural harbor is on the west side of Stocking Island. It provides a safe place for boats to anchor during hurricanes or bad weather. The harbor is surrounded by mangroves, which protect boats from strong winds and waves.
Visit Chat and Chill, a popular bar/restaurant accessible only by boat. Enjoy the restaurant's famous pig roast held every Sunday. Enjoy music, island drinks, and a deliciously seasoned and smoked pig served Bahamian style.
Take a walk on one of the scenic paths that crisscross the Island. Benches and markers identify local plant life. You can get a free Stocking Island Nature Trail Map at the Chat and Chill giftshop.
Have a tropical drink at the Snappy Turtle Bar and Grill.
Take a selfie at the Stocking Island Beacon, monument sailors once used for visual navigation.
Relax on the idyllic white beach.
Kayak or SUP around the Island. Discover hidden coves and secluded beaches as you glide through calm waters.
Explore nearby Moriah Harbour National Park on the southern tip of Stocking Island. You will find miles of well-maintained hiking trails and beaches.
Do some shopping at the straw market in nearby George Town.
Yachts
Marinas
This tiny Island has no marinas. However, you can easily reach it by boat from nearby Elizabeth Harbor.
Sample 8-Day Itinerary Including Stocking Island
Day 1: George Town to Staniel Cay
Set sail from George Town and travel to your first destination, Staniel Cay, approximately 35 nautical miles northwest. Staniel Cay is famous for its stunning beaches and the swimming pigs at Big Major Cay. Swim with these friendly creatures. You may also want to explore Thunderball Grotto (a popular snorkeling spot) and indulge in fresh seafood at local restaurants.
Day 2: Staniel Cay to Compass Cay
Journey northeast, approximately 20 nautical miles, and reach Compass Cay, a secluded paradise offering encounters with nurse sharks. Take a refreshing swim alongside these docile creatures at Rachel's Bubble Bath, a natural tidal pool. Snorkel, paddleboard, or unwind on untouched beaches.
Day 3: Compass Cay to Norman Cay
Travel northwest for about 15 nautical miles and arrive at Norman Cay. Explore the intriguing ruins of an old drug smuggling operation, and snorkel around the sunken airplane wreck. Relax on the tranquil beaches, or venture into the island's interior to discover hidden trails and breathtaking vistas.
Day 4: Norman's Cay to Shroud Cay
Sail northeast for approximately 25 nautical miles, and reach Shroud Cay, a haven of untouched natural beauty. Cruise through the mangrove-lined waterways on your yacht's tender, exploring hidden creeks and the famous "washing machine" tidal phenomenon. Enjoy picnicking on pristine sandbars and spotting native bird species along the way.
Day 5: Shroud Cay to Stocking Island
Head northeast for 25 nautical miles to Stocking Island, the much-anticipated destination. Discover the historic loyalist ruins, snorkel in the mesmerizing Blue Hole, and visit the lively Chat 'N' Chill beach bar. Relax on the breathtaking beaches, partake in water sports, or hike nature trails for panoramic island views.
Day 6: Stocking Island to Big Farmer's Cay
Sail south for about 30 nautical miles, and arrive at Big Farmer's Cay. Explore the stunning white sand beaches, snorkel, or dive along vibrant coral reefs. Visit the Exuma Cays Land and Sea Park to see protected marine life, including tropical fish and colorful coral.
Day 7: Big Farmer's Cay to Little Farmer's Cay
Continuing your southern journey for approximately 10 nautical miles, and reach Little Farmer's Cay, a charming and unspoiled island. Visit the friendly local community, sample Bahamian cuisine at local eateries, and swim in the turquoise waters. Enjoy fishing, snorkeling, or exploring the nearby natural cays.
Day 8: Little Farmer's Cay to George Town (Disembarkation)
Concluding your adventure, sail back to George Town, covering 35 nautical miles. Reflect on the incredible experiences and memories created during the charter as you bid farewell to the Bahamas' enchanting beauty.
Please call us today at 1 (321) 777-1707 or describe Your Vacation Vision to help you plan your fully-crewed private luxury yachting vacation! Inquire as soon as possible about your custom, crewed yacht charter.
You make the memories. We make the arrangements.