Water Sports Experiences
A luxury yacht charter is an excellent vacation for anyone interested in water sports experiences. For both novices and those who are elite. With so many beautiful islands surrounded by coral reefs and UNESCO-protected ecosystems, the access you'll have to snorkel and scuba diving sites is phenomenal. In addition, many yachts now offer new water toys including e-foils, seabobs, and more ways to get out on the water.
Whether you're a beginner or advanced-level diver, arrangements can be made to provide a personalized experience best suited for you and your group. Be sure to let our brokers know what you're interested in, and we will take care of the rest.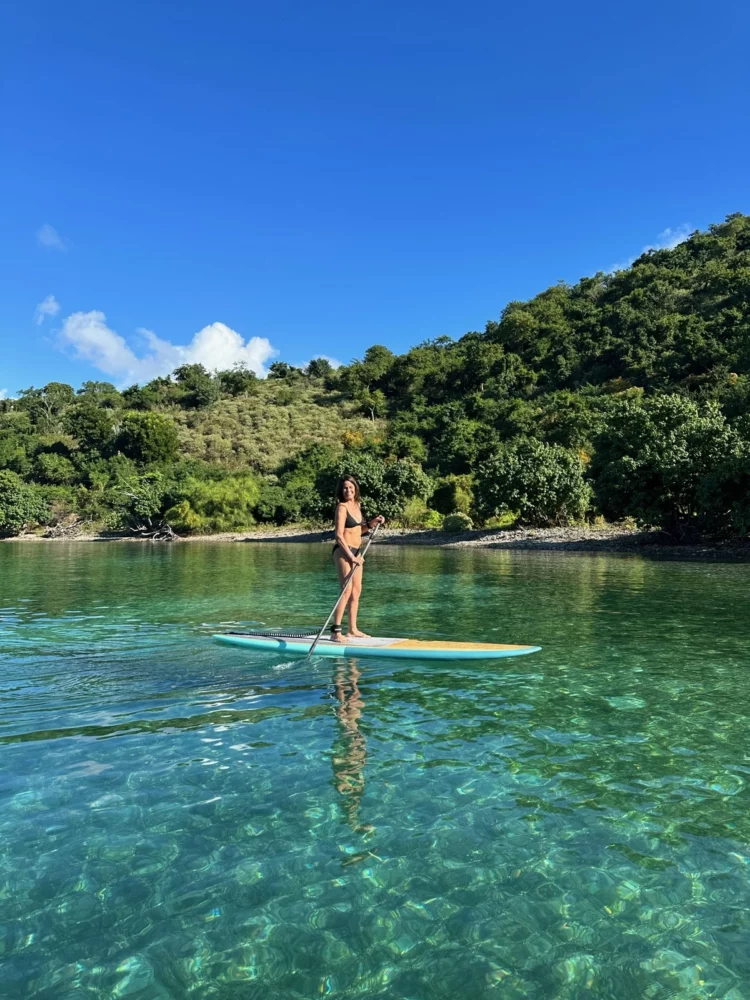 Private charters allow you to team up with local experts and certified teachers to give you the guidance you need. For those interested in board sports like stand-up paddle boarding, windsurfing, or kitesurfing, there are plenty of options for you. While water sports can be arranged in most warm-weather destinations, we've outlined a few of our top recommendations.
Destinations | Water Sports Experiences
Florida
In addition to the warm Florida weather, the water lends itself to water sports and exploring above and in the clear waters. Florida's waters provide plenty of activities to enjoy from your private yacht. Explore the vibrant coral reefs or just spend an afternoon fishing, the choice is yours. Some of the most popular places for these activities include Miami, the Florida Keys, and the Gulf Coast
Caribbean
Anguilla and the other Leeward Islands, including Antigua, are excellent choices for kitesurfing, jet skiing, and diving. The island of Antigua is surrounded by rich coral reefs and tropical fish, providing a great diving and snorkeling experience. For the more adventurous, Antigua also has many exciting water sports like kayaking, sailing, and kitesurfing.
Virgin Islands
The US Virgin Islands and the British Virgin Islands are also home to excellent snorkeling, kiteboarding, and kayaking. Some do, however, restrict jet skiing. You can explore the islands by sailing or taking a dive in their protected coral reefs. The Windward Islands have great sailing and fishing spots to uncover as well.
The Bahamas
The Bahamas are a top choice for anyone looking to swim, snorkel, and dive in brilliant blue waters. In addition, you can even swim with nurse sharks. Top locations include the Exuma Islands,
The Galapagos Islands
Further south, the Galapagos have spectacular diving and snorkeling sites while also home to spearfishing. This archipelago of 19 major islands is an ideal place to get out on the water and explore. Snorkeling and diving are popular activities here, but you can also kayak and paddleboard around the islands. There are plenty of coves and bays to explore, along with white sand beaches, mangroves, and stunning reefs.
Belize
Belize is notably famous for the Blue Cenote, an underwater cave off its coast, an epic experience for elite divers. Snorkeling and diving are some of the most popular yacht charter water activities in Belize. With its clear blue waters, numerous vibrant coral reefs, and exotic marine life, Belize offers a unique charter experience.
Belize is also home to numerous islands that are perfect for sailing and kayaking. From remote atolls and deserted beaches to larger islands with exciting activities, Belize is the ideal location for a day of sailing or paddling. For an added adventure, you can try kiteboarding in Belize. Its large open beaches provide plenty of space to launch a kite, while the warm temperatures and consistent wind make this a great place to learn.
Croatia
Of course, we can't forget the great water activities that await you in Europe. Croatia in particular has so much to offer active yacht charter guests. From kayaking to scuba diving, snorkeling, and more, you can explore the diverse marine life, discover hidden coves and secret beaches, and simply take in the beauty of Croatia from the comfort of your own luxury yacht.
Greece
The windy conditions amongst some of the groups of islands in Greece make for great windsurfing and kiting activities. One of the most popular yacht charter water activities in Greece is of course sailing, with its pristine waters allowing for some of the best sailing conditions in the world. Explore the Cyclades Islands and their breathtaking views, or sail around the Ionian Islands and experience their ancient ruins and clear blue waters. Along with sailing options, there are plenty of other water-based experiences to choose from including kayaking and scuba diving.
Please call us today at 1 (321) 777-1707 or describe Your Vacation Vision to help you plan your fully-crewed private luxury yachting vacation! Inquire as soon as possible about your custom, crewed yacht charter.
You make the memories. We make the arrangements.