Discover Belize: Luxury Yacht Charters
Belize is the only English-speaking country in Central America. Belize Luxury Yacht Charters offers a unique combination of richly rewarding experiences, unlike any other destination. In Belize, you can swim with fascinating sea life along the Western Hemisphere's largest barrier reef. Explore the fascinating mysteries of the Mayan culture, touring Mayan archaeological sites – the largest concentration throughout South and Central America. You have endless possibilities on one of the Belize luxury yacht charter vacations.
Balmy trade winds blow steadily and surely, promising exquisite sailing as you explore the less traveled cruising grounds behind Belize's barrier reef system. This country's diverse ecosystems contain an abundance of terrestrial and marine species. Dive into the pristine waters, sample fish and lobster caught fresh by local fishermen, and experience the protection of Belize's famous barrier reef. This is Caribbean sailing at its best!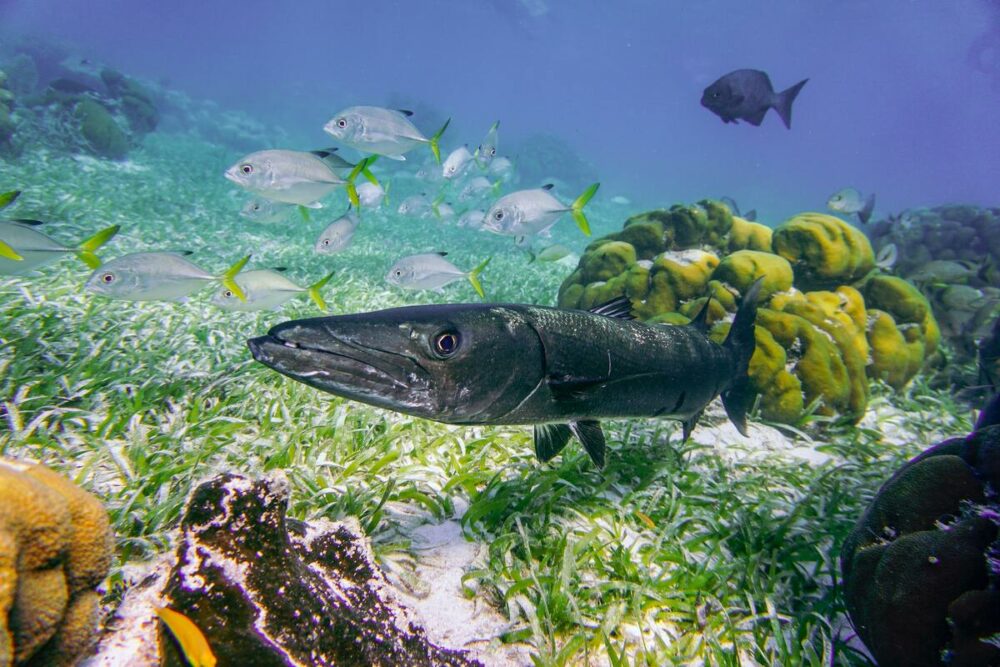 The Great Blue Hole | Belize Yacht Charters
Jacques Cousteau called the Great Blue Hole one of the top 10 diving sites in the world! This giant submarine sinkhole is 43 miles from the mainland, and the crystal-clear blue water allows you to see stalactites, stalagmites, and many sharks. The Blue Hole was originally a cave that formed about 10,000 years ago. It's visible from outer space and is home to some of the enormous midnight parrotfish in the world!
Also, the water is beautifully clear, and underwater visibility routinely extends hundreds of feet, allowing you to view activity easily under the surface. Moreover, the water temperature is similar to bathwater, providing blissful swimming. Amazing views and relaxing water temperatures are all here waiting for you!
Whale Shark Migration
The Whale Shark migration occurs annually on the Barrier Reef in Gladden Spit between April and June. Whale sharks are the world's largest fish growing to 50ft+ (bigger than a school bus). They are plankton eaters and therefore present no threat to humans. Since these naturally curious creatures are as gentle as a baby, it is easy for you to swim right up to and alongside them.
If you like fantastic snorkeling and diving in clear blue waters with unspoiled and un-crowded anchorages, then a Belize yacht charter is for YOU! Allow Luxury Yacht Charters to match you with the perfect professionally crewed luxury yacht, such as DREAMING ON.
Belize | Galapagos Islands | Mexico | Panama
MAP – Belize Luxury Yacht Charters

Please call us today at 1 (321) 777-1707 or describe Your Vacation Vision to help you plan your fully-crewed private luxury yachting vacation! Inquire as soon as possible about your custom, crewed yacht charter.
You make the memories. We make the arrangements.