I haven't ever given much thought to Belize, never mind chartering a boat there. However, after reading up on its history and seeing its beautiful coastline, it's a perfect destination for sailors and culturalists alike. Belize is the new hot spot for catamaran charters.
First off, where is Belize?
A question that even I had despite being from the Caribbean. Belize is located on the eastern coast of Central America. Mexico borders it to the North and Guatemala to the South. Mainland Belize is approximately 180 miles long and 68 miles wide. The Belize Barrier Reef is only trumped by Australia's Great Barrier Reef in length and offers hundreds of cayes, inlets, and estuaries. Perfect for exploring by catamaran.

Why Charter a Boat in Belize?
Christopher Patrick, CEO & owner of CKIM Group Inc., recently returned from a charter vacation with Belize Sailing Vacations (BSV). He said that the colors and clarity of the water off the coast were comparable to those experienced in French Polynesia. Besides paddleboarding, yoga, and eating freshly caught fish, one of the other highlights was stopping at Reef's End Lodge on Tobacco Caye. And watching the divers on the reef at night with their lights glowing under the water. "It was truly wonderful,' he said.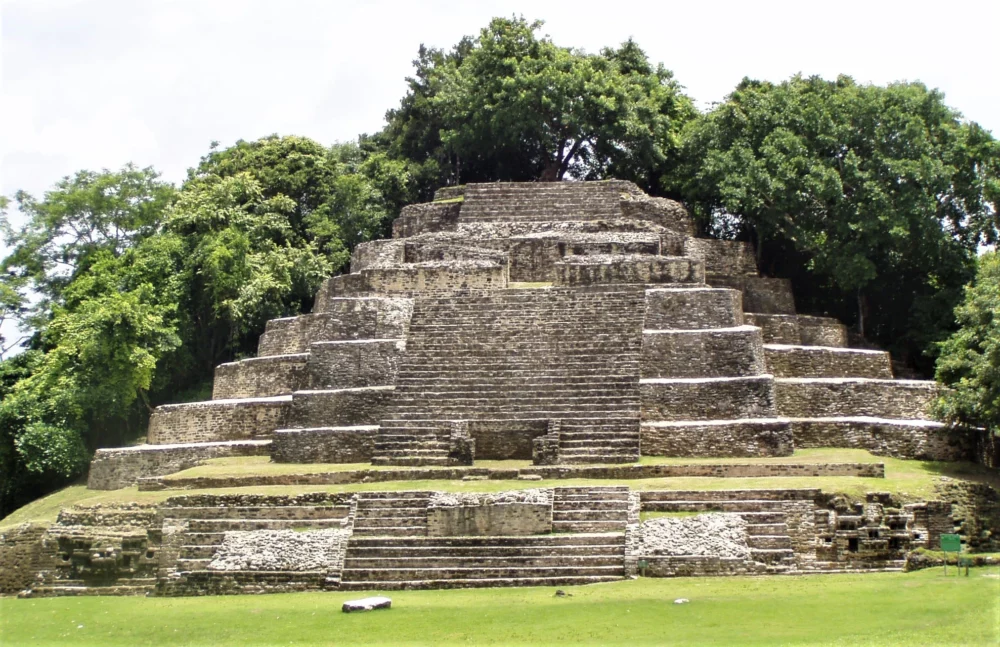 Belize Sailing Vacations
Belize Sailing Vacations offer all-inclusive trips tailored to your interests. Whether it be cruising along the barrier reef, paddleboarding in mangroves, or visiting ancient Mayan temples, they offer various experiences. They also recently introduced a yoga & wellness retreat program, which offers both onboard and onshore healthy meal plans and all-natural beauty treatments.
Wellness for All
"We feel like it's a good time to reintroduce the concept," said Patricia Johnson, director of sales and guest services at Belize Sailing Vacations. Johnson is also head of trip design for BSV's sister company, Absolute Belize, which handles more onshore scheduling.
Johnson said they introduced the wellness program previously, but it hadn't gotten much traction. The increased awareness of Belize as a travel destination made BSV think it was a good time to reintroduce the program. The Belize Tourism Board reported a 75% increase in overnight visitors arriving through international airports in 2018.
On a wellness charter, you will have a captain, first mate, and certified yoga instructor at your service. "By default, these charters are very healthy," said Rachael Wilson, owner of Absolute Belize and Belize Yacht Charters, along with her husband, Cliff. This makes sense, considering all the available activities, including spearfishing, paddleboarding, and snorkeling. Wilson said guests could very easily spend five hours in the water without even realizing it.
Wilson said, "We cater to all types of diets, including vegan and paleo diets". One of the 1st mates, Sabrina, even offers handmade spa treatments like avocado face masks and scrubs. Families are welcome. They have even had 7-month-old babies onboard in the past. Read more about what makes Belize the New Hot-Spot for catamaran charters.
Eco-friendly
Last summer, Belize Sailing Vacations became a corporate sponsor for Oceana. The largest international advocacy organization focused solely on ocean conservation. In addition, BSV decided to extend its sponsorship. So if you book six nights between April 28th and December 15th, you will get one night for $100. In addition, BSV donates $100.00 to Oceana's efforts to protect Belize's barrier reef.
In 1996 UNESCO designated The Belize Barrier Reef Reserve System as a World Heritage Site. It was later put on their "endangered" list. In addition, the country was told to improve its management and conservation of the reef. The reef is now off the list. And Oceana seems like one of the significant facilitators in promoting its health and conservation.
In December 2018, Belize banned all offshore oil drilling. All single-use plastic bags, Styrofoam, and plastic food utensils will be phased out by April this year. And Belize Sailing Vacations is on the green wave. "We are trying to be a lot more sustainable as a company," said Johnson.
According to Johnson, the company limits its plastic bottles and offers reef-safe sunscreen. "We are a paperless organization as well," she said.
Belize Sailing Vacations typically picks up and drops off guests from Old Belize Marina in Belize City. Pickups are available from other areas for a fee, including in Guatemala and Mexico.
Learn more about Belize, the New Hot-Spot for charter vacations. Contact Luxury Yacht Charters, a division of CKIM Group, at 321-777-1707
Please call us today at 1 (321) 777-1707 or describe Your Vacation Vision to help you plan your fully-crewed private luxury yachting vacation! Inquire as soon as possible about your custom, crewed yacht charter.
You make the memories. We make the arrangements.