Central America hides some of the most fascinating and off-the-beaten-track destinations. We've highlighted some of the best Central America yacht charters you can discover on your next luxury vacation.
Belize
With an exciting mix of Mayan archeological sites and incredible diving, Belize is perfect for curious yachters. Unbeknownst to many, Belize is home to the largest barrier reef in the western hemisphere, with 190 miles of the 560-mile-long reef system just off its shores.  This fact alone makes Belize one of the best Central America yacht charters to consider.
Great Blue Hole
Experienced divers can explore the Great Blue Hole, an ancient 407 ft deep sinkhole visible from space. Your whole group can also snorkel and swim amongst the whale sharks and exotic fish near Gladden Spit. While just inland from Belize City, you can't miss the astonishing Mayan temples, tombs, and murals with visits to Caracol or Altun Ha. 
Interested in seeing manatees and crocodiles? You can also head south to Placencia to witness incredible marine life from your yacht or up close while snorkeling. While there, try your hand at fishing, or visit gorgeous secluded spots like the Silk Caye National Park.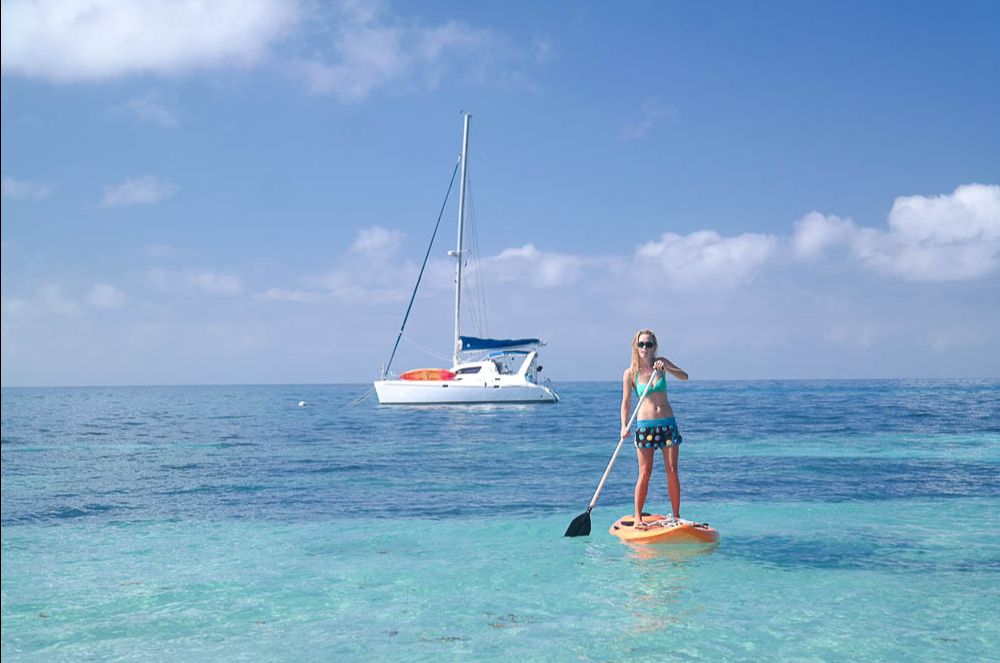 Costa Rica
Costa Rica's strategic position makes it one of the best Central America yacht charter destinations. With many activities on the coast and inland, you won't run out of things to do. From outstanding water sports, including surfing, kayaking, and snorkeling, to numerous national parks, the beautiful country of Costa Rica has something for everyone. Don't forget about the delicious local cuisine and the variety of culinary influences that coexist.
Isla Tortuga
You can visit gorgeous anchorages on your Central American yacht charter, including Isla Tortuga. Located just off the Nicoya Peninsula, you'll find excellent snorkeling and places to have a relaxing swim. You'll have a chance to see dolphins, manta rays, and even sharks. There are also shipwrecks waiting to be explored below the surface. Onshore, beautiful sandy beaches welcome sun worshipers, while nearby parks offer excellent hikes. Have you ever wanted to try zip lining across a leafy jungle? Isla Tortuga also boasts ziplining and other expeditions to see fascinating wildlife.
Islas Huevos
As you may know, Costa Rica is famous for its world-class surfing. Islas Huevos is one of the top spots to witness this and even try to catch your wave. Head to Witches Rock, where you can also scuba dive and admire the breathtaking scenery from your jet ski. Take a kayak to navigate the area's many waterways for a slower-paced adventure.
Drake Bay
Wildlife lovers will be amazed by the biodiversity of southern Costa Rica's Drake Bay. A remote area home to small villages and primarily accessed only by water, Drake Bay has some of the rarest animals who thrive in the incredible parks. Venture to Corcovado National Park to see native monkeys and, if you're lucky, the rare Baird's tapir. Nearby, you can head to Cano Island to snorkel the reefs or kayak around this fascinating archeological site. Formerly home to indigenous tribes, it was once used as a trading post and burial ground. Bursting with vibrant fish, Cano Island also provides the opportunity to spot whales and dolphins.
Call CKIM Group today for more inspiration and information on where to charter a yacht in Central America. (321) 777-1707.
Please call us today at 1 (321) 777-1707 or describe Your Vacation Vision to help you plan your fully-crewed private luxury yachting vacation! Inquire as soon as possible about your custom, crewed yacht charter.
You make the memories. We make the arrangements.