Central Dalmatia
A trip to Central Dalmatia will take you to many unique places. See historic port towns, pine-tree-covered islands, and lovely pebble beaches. In the region's central city, Split, see Diocletian's Palace, a UNESCO World Heritage Site. Nearby, check out the tiny medieval-walled town of Trogir, also UNESCO-listed.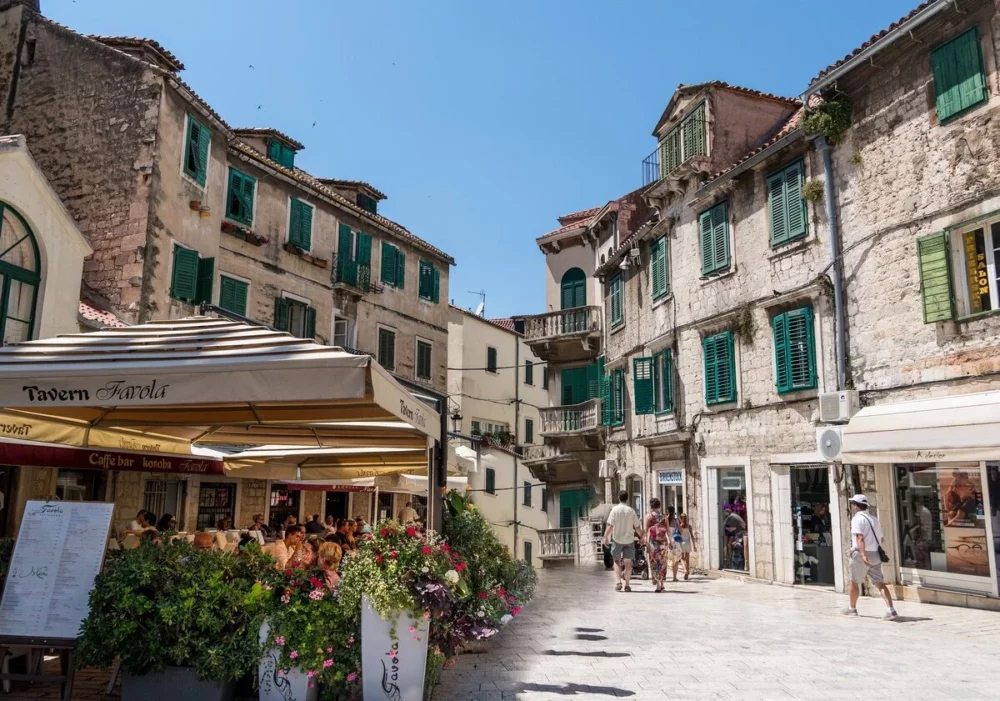 Central Dalmatia | Places to See
A Central Dalmatia Yacht Charter is the perfect way to experience the stunning beauty of Croatia. Plenty of must-see spots exist, from ancient cities to charming seaside villages.
Split
With its small-town atmosphere, noisy streets, and easy-going residents, Split embodies the essence of the Mediterranean. Split is also the main departure port for yacht charters to the islands of Central Dalmatia.
Korcula
Korčula was first inhabited by Greeks in the 4th century BC and later by the Romans. Today, Korčula is home to many historic sites and charming coastal towns.
Please take advantage of its unspoiled beaches, crystal-clear waters, and scenic landscape. Popular activities on the island include swimming, diving, kayaking, hiking, and fishing. In addition to its many outdoor activities, Korčula also has several cultural attractions. Highlights include the Cathedral of St. Mark, the Town Walls, and the Medieval Fortress of Korcula.
Hvar
Nestled in the Adriatic Sea, Hvar is known for its stunning beaches and incredible Mediterranean climate. It's also been home to numerous civilizations, including the Greeks, Romans, Venetians, and Austro-Hungarians.
When visiting Hvar, explore vibrant cultural sites like the Franciscan Monastery and Renaissance Cathedral. Also, check out one of the many wineries in the area and sample some of their local wines. Don't miss Hvar's glamorous nightlife. Party at beach clubs, cocktail bars, and dance clubs until the wee hours.
Vis
Vis is one of the most beautiful and secluded spots in Central Dalmatia, with its dramatic mountains and crystal-clear waters.
Take a trip to Stiniva Beach. Its sandy coves and hidden caves are perfect for swimming. Check out the Blue Cave, an incredible natural rock formation near Komiza that's only accessible by boat.
Solta
Solta is known for its stunning natural beauty, quiet beaches, and vineyards. The island is famous for producing olive oil and wine, with some of the oldest olive groves estimated to be over 2,000 years old!

Besides its beaches, the island is home to Kozjak Nature Park. Explore the park, where you can observe local wildlife, swim in the Adriatic Sea's turquoise waters, or hike along one of the many trails. In the afternoon, relax on one of the quiet beaches or visit the picturesque town of Grohote.
Brac
One of the main attractions on Brac is its famous beach, Zlatni Rat. This sandy strip extends from the island into the Adriatic Sea, creating an inviting area for swimming, snorkeling, windsurfing, and more. Other beaches like Lucica and Bol offer plenty of relaxation and water sports opportunities.
Brac is also a great place to experience local culture and cuisine. There are several traditional restaurants where you can sample authentic Dalmatian dishes, including peka (a type of stew), pašticada (a beef dish), and even donkey steak! Brac also has plenty of wineries and olive oil producers that offer tastings, making it easy to taste the island's unique flavors.
Brac is most famous for its brilliant white stone. From ancient times, this stone has been used in famous buildings worldwide, such as the White House in Washington, DC, the Catholic cathedral in Liverpool, and Berlin's Reichstag.
Trogir
Located on an island just off the coast, Trogir has been a significant trading and cultural hub since the 12th century. Its mix of Venetian, Roman, and Renaissance architecture makes it a truly unique place to explore. Stroll along the waterfront, admiring the colorful fishing boats lining the harbor.
For history buffs, Trogir is home to several historic sites, including the Kamerlengo Fortress and St. Lawrence Cathedral. Visitors can also check out the many museums, galleries, and other cultural attractions around town.
Central Dalmatia | Things to Do
Scuba dive
Windsurf
Kayak
Bie
Hike
Dine
Shop
Central Dalmatia | Gastronomy
In Central Dalmatia cuisine, fish plays a significant role in the diet, along with fresh vegetables, olive oil, and seasonings like garlic, rosemary, and parsley. Time-honored cooking methods include Buzara, Gradele, and Peka.
The Buzara method involves preparing seafood in olive oil, wine, garlic, and fresh herbs resulting in a unique, flavorful sauce.
The Peka method involves putting all ingredients (such as lamb or octopus, served with seasoned potatoes) in a bell-shaped pot under a heavy iron lid. Afterward, the ingredients slowly simmer in their juices.
No matter the dish you would like to try, your chef will undoubtedly be able to create it.
Central Dalmatia | Marinas and Anchorages
ACI Marina Split. Accommodates boats and yachts up to 90 meters long. Amenities include currency exchange, Cash machine (ATM), Wi-Fi, Laundry, Restaurant and cafe, and Grocery store.
ACI Marina Milna. Accommodates boats and yachts up to 25 meters long. Amenities include currency exchange, Cash machine (ATM), Wi-Fi, Laundry, restaurant, cafe, and grocery store.
ACI Marina Palmižana. Open from April to the end of October. Accommodates boats and yachts up to 30 meters long. Amenities include Wi-Fi, a restaurant, electricity, water, a bar, a market, and an ATM.
Please call us today at 1 (321) 777-1707 or describe Your Vacation Vision to help you plan your fully-crewed private luxury yachting vacation! Inquire as soon as possible about your custom, crewed yacht charter.
You make the memories. We make the arrangements.