Mediterranean Yacht Charter Vacation Destinations
The Mediterranean has been the sailing center of the world for millennia. As a result, it has continued to attract more yacht charter vacations than any other sea on the planet. The bright, blue waters of the Mediterranean boast culture, history, and sophistication, all of which can be enjoyed on a Mediterranean yacht charter vacation.
There's no better way to access this region's splendor and hidden secrets than by private yacht. You'll cruise in total comfort as you explore the Mediterranean's idyllic islands and coastlines on your bespoke luxury yacht vacation.
Mediterranean Yacht Charter Vacation | Yachts
"The Med," as it is called, is divided into two culturally unique regions — the Western Mediterranean and the Eastern Mediterranean. Although the regions are culturally unique, they both have gorgeous beaches, quiet coves, upscale marinas, and some of the most impressive luxury yachts. There are incredible things to do and see throughout the Mediterranean, so please get in touch with us to discuss your luxury yacht charter dream. We will help you select the best destination and yacht for you and your group.
Motor Yachts
The Mediterranean is home to some of the world's best motor yachts, many of which call the port of Athens home. These range from midsize yachts to superyachts and megayachts over 150 feet in length. Amenities on these yachts include sprawling sundecks, beach clubs, spas, gyms, and even elevators.
Entertaining spaces on nearly all motor yachts are ideally suited for gatherings inside and out, night or day. Dining choices are also varied, but of course, most guests opt to dine outdoors. Due to the larger storage spaces inside and on the deck, motor yachts can accommodate many water toys and sometimes even two tenders. These agile tenders not only shuttle guests to shore and hard-to-reach places, but they also can tow water skis, wakeboards, and more.
Gulets or Motor-Sailors | Mediterranean Yacht Charter
Traditional gulets, or motor sailors, can be found in Croatia, Greece, and Turkey. These large, unique vessels are perfect for bigger groups and those looking to experience a truly authentic east Mediterranean experience. While they have sails, they primarily utilize motor power to navigate the Mediterranean.
Catamarans
Anyone looking for more action and adventure can find it by chartering a catamaran or sailboat. Both sailing catamarans and power catamarans get you closer to the water, with easy access to enjoying snorkeling, sea-bobs, paddle boarding, and more. Spacious layouts for families make these boats even more attractive. What's more, sailing catamarans amount to considerable savings in fuel costs.
Sailboats
Additionally, sailboats offer an array of comforts and amenities and the ability to participate in the journey. Sailing yachts like PANORAMA or AURELIUS are a great way to enjoy the Mediterranean. Take a sailing lesson from the Captain and crew and make lasting family memories.
Places to Visit on a Mediterranean Yacht Charter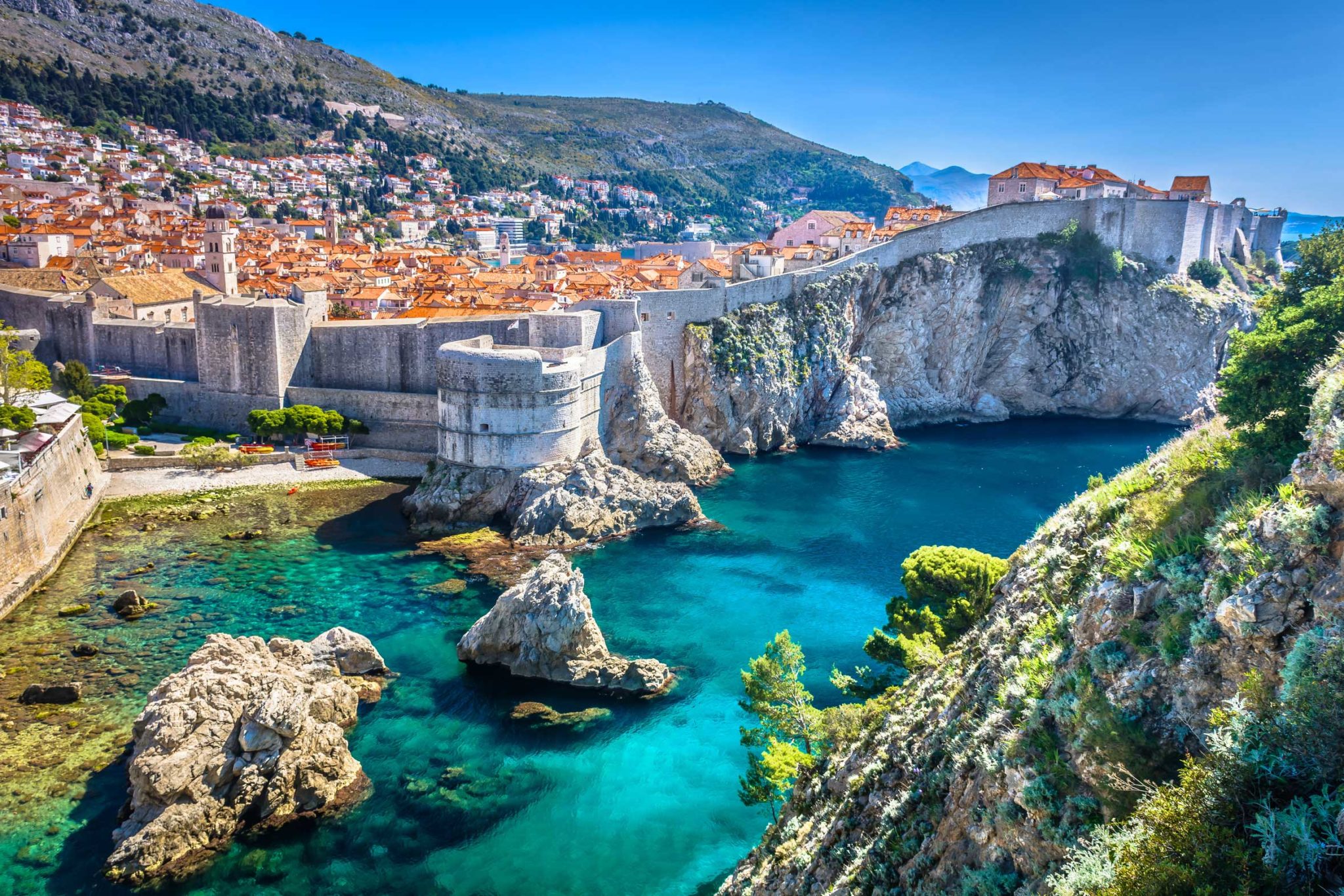 Things to do on a Mediterranean Yacht Charter Vacation
Hit the beach
Stunning beaches are a highlight of the Mediterranean. From picturesque Positano to magical Mykonos, you have many breathtaking beaches to choose from. In addition, your private yacht charter gives you access to hidden beaches most people will never have the chance to experience.
Enjoy Watersports
Not only can you relax on the beach, but also windsurf, kitesurf, jet ski, kayak, and more. Scuba diving and snorkeling are also great ways to explore sea life and shipwrecks below the surface.
Explore Historic Sites on your Mediterranean Yacht Charter Vacation
UNESCO World Heritage Sites include Cinque Terre (Italy), Amalfi Coast, Naples, and Pompeii. In addition, many sites are found in Athens and the Greek Islands, the Dalmatian Coast, and Plitvice Lakes (Croatia).
Shop
Take-home gifts from the Mediterranean, including olive oil, wine, blown glass, leather, and textiles. Don't worry; many places will ship items directly back to your home for you as well.
Wine and Dine
The Mediterranean is a foodie's paradise. Besides upscale restaurants, there are delicious street foods in nearly every town. In addition, you're never far from a fantastic vineyard producing excellent local wines.
Soak in a Hot Spring
You'll find thermal springs throughout the Mediterranean in locations such as Santorini, Greece; Ischia, Italy; and Barcelona, Spain. The healing powers of these natural baths will relax and rejuvenate your mind and body.
The Climate in the Mediterranean
A Mediterranean climate is characterized by dry summers and mild, wet winters. Interestingly, the climate gets its name from the Mediterranean Basin, where this climate type is most common. While summer is the busiest season, late spring and early fall make for excellent Mediterranean yacht charter vacations.
You can enjoy fewer crowds and typically lower rates as well. In addition, the fall provides some respite from Greece's Meltemi winds that blow in July and August.
Mediterranean Yacht Charter Vacation | Cuisine
The main ingredients of renowned Mediterranean Cuisine include olive oil, fresh fruits and vegetables, fish, and whole grains. White and red meat are also part of the diet, just to a lesser extent. Enjoy delicious pasta in Italy, kebabs in Turkey, and spinach pie in Greece.
Eastern Mediterranean Cuisine
You can expect baklava, hummus, baba ghanoush with tahini sauce, yogurt, cucumber dips, and fried vegetables in Greece and Turkey. Of course, grilled fish and seafood, vegetable stews, chicken with olives, and lamb kebabs are everyday main dishes as well.
Western Mediterranean Cuisine
Regarding Mediterranean Cuisine, few places can compare to Italy and France. With a long tradition of producing the best wine and olive oil in the world, these two countries know what they're doing regarding food.
Your private yacht chef will use the freshest local ingredients to create gourmet meals catered to your tastes. Of course, you can also enjoy a meal or aperitif onshore.
Mediterranean Destinations
Croatia | Greece | France | Italy | Spain | Turkey
Please call us today at 1 (321) 777-1707 or describe Your Vacation Vision to help you plan your fully-crewed private luxury yachting vacation! Inquire as soon as possible about your custom, crewed yacht charter.
You make the memories. We make the arrangements.