Italy Charter Itineraries for Your Next Adventure
Italy Charter Itineraries offer a range of captivating sailing routes. Explore the Italian Riviera's enchanting beauty and the Tuscany region's fascinating wonders. Alternatively, venture southward to uncover the treasures of Rome, Sardinia, and southern Italy.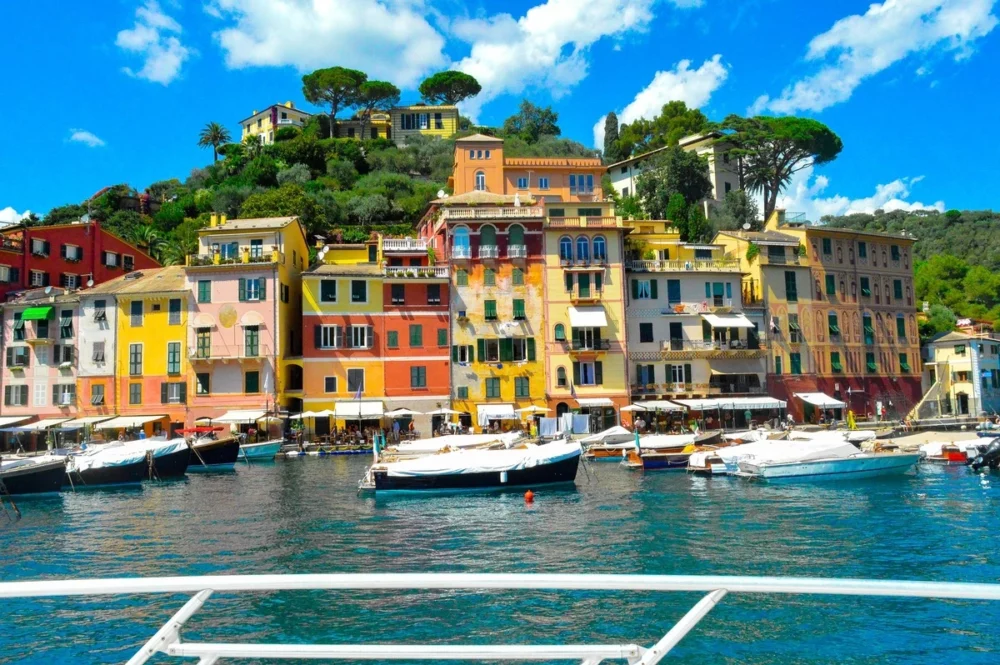 Places to See on an Italy Charter Itinerary
The Italian Riviera. This area stretches from San Remo to La Spezia, and Portofino and Cinqueterre are the main attractions.
The Tuscan Archipelago. Visit Montecristo, Giglio, Capraia, Pianosa, Gorgona, and Ginnutri. These islands belong to the Arcipelago Toscano National Park.
The islands of Ponza, Palmarola, Zannone, and Ventotene.
Naples, the Amalfi Coast, and Capri. These vibrant areas are waiting for your once-in-a-lifetime visit.
Sicily and the Aeolian Islands offer Italy's best food and wine.
Things to Do
Since seeing so many beautiful places takes time, we recommend chartering for at least 10 to 14 days. Indeed, it is necessary to visit several times to cover a larger area. Like visiting Greece, there is so much to see and do that it takes multiple trips.
Here are 10 things to do on Italy yacht charter itineraries:
1. Explore the Cinque Terre
Cinque Terre, a picturesque coastal region in Italy, offers a treasure trove of sights and activities for travelers to immerse themselves in its beauty.
The five charming villages of Monterosso al Mare, Vernazza, Corniglia, Manarola, and Riomaggiore are connected by scenic hiking trails that wind through vineyards and olive groves, providing breathtaking views of the Mediterranean Sea.
Explore the colorful houses that cling to cliffsides and the charming harbors dotted with fishing boats. Indulge in delectable local cuisine, savoring freshly caught seafood and regional delicacies.
Venture into the lush national park, where diverse flora and fauna await discovery. For an authentic experience, visit the vineyards and sample the renowned Cinque Terre wines.
2. Visit Portofino
Italy charter itineraries can take you to charming Portofino. Nestled on the Italian Riviera, this village offers a wealth of captivating sights and activities. As you stroll along the picturesque harbor, you'll see luxurious yachts docked alongside charming pastel-colored buildings.
Explore the historic Castello Brown, a fortress with panoramic views of the village and the shimmering sea.
Hike the scenic trails of Parco Naturale Regionale di Portofino.
Embrace the laid-back atmosphere on the Piazzetta, a vibrant square lined with trendy boutiques and cozy cafes.
Bask in the sun on one of the pristine beaches or take a boat tour to discover hidden coves and sea caves.
3. Discover the Tuscan Archipelago
Sail to the Tuscan Archipelago and explore the captivating islands of Montecristo, Giglio, Capraia, Pianosa, Gorgona, and Ginnutri. Enjoy hiking trails, secluded beaches, and crystal-clear waters, perfect for snorkeling and diving.
4. Experience the Amalfi Coast
Cruise along the Amalfi Coast, a UNESCO World Heritage site renowned for its dramatic cliffs, pastel-colored villages, and enchanting beauty. Stop in Positano, Amalfi, and Ravello to soak up the breathtaking scenery and visit historic landmarks.
5. Visit Capri
Anchor near the island of Capri and explore its glamorous allure. Cruise around the island, visit the famous Blue Grotto, wander through the elegant streets of Capri town, and enjoy panoramic views from the Gardens of Augustus.
6. Explore Naples, one of the destinations on Italy Charter Itineraries
Dock your yacht in Naples and immerse yourself in the vibrant atmosphere of this historic city. While in Naples, you can:
Discover the rich cultural heritage.
Visit the Naples National Archaeological Museum.
See the Royal Palace of Naples.
Indulge in traditional Neapolitan pizza.
7. Venture to Sicily
Sail to the island of Sicily and explore its diverse landscapes and cultural treasures. Visit the ancient ruins of Agrigento's Valley of the Temples, explore the vibrant markets of Palermo, and indulge in delicious Sicilian cuisine.
8. Discover the Aeolian Islands on Italy Charter Itineraries
Cruise to the Aeolian Islands, a volcanic archipelago off the northern coast of Sicily. Explore the unique landscapes of Stromboli and Vulcano, relax on the stunning beaches of Lipari and Salina, and enjoy the thermal baths of Panarea.
9. Taste Italian Wine
Explore Italy's renowned wine regions, such as Tuscany, Piedmont, and Sicily. Visit vineyards and indulge in wine tastings. Savor the diverse flavors of Italian wines, from robust Chiantis to elegant Barolos and aromatic Marsalas.
10. Enjoy Water Sports
Enjoy crystal-clear waters and indulge in water sports activities. Snorkel in secluded coves, paddleboard, or kayak, or enjoy thrilling adventures like jet skiing or wakeboarding.
Climate during Italy Charter Itineraries
Italy's climate is Mediterranean, characterized by hot, dry summers and cool, wet winters. July is the hottest month, with temperatures reaching 30°C (86°F), while January is the coldest. Although summer is the prime season for sailing in this region, it is also the busiest time, with marinas and anchorages bustling with yachts. Embrace the vibrant atmosphere and revel in the joys of summer sailing along the Italian coastline.
Italy Charter Itineraries | Gastronomy
Italian cuisine varies between regions. However, overall the cuisine is straightforward with fresh ingredients. Typical dishes include risotto, polenta, lasagna, ravioli, and osso buco.
In Northern Italy, fish, potatoes, rice, sausages, pork, and cheese are the most common ingredients. Pasta dishes with tomatoes are popular. In the South, tomatoes dominate dishes, which are either served fresh or cooked into sauce.
Italy is the world's largest wine producer. In addition, it is home to some of the oldest wine-producing regions in the world.
Please call us today at 1 (321) 777-1707 or describe Your Vacation Vision to help you plan your fully-crewed private luxury yachting vacation! Inquire as soon as possible about your custom, crewed yacht charter.
You make the memories. We make the arrangements.