Aeolian Islands, Sicily
Experience a volcanic island retreat on an Aeolian Islands yacht charter vacation in Italy! Immerse yourself in Lipari and Panarea's lush, volcanic paradise in the Aeolian Islands. Explore this great part of Sicily with an Italy yacht charter vacation personalized to suit your group's needs. You can start and end in Sicily or journey from Naples or the Amalfi Coast.
An Aeolian Islands charter is an excellent way to cruise the region and see the beauty of southern Italy. The area consistently attracts thousands of tourists annually. Situated off the northeastern coast of Sicily, the islands have a Mediterranean climate and can be reached from mainland Italy reasonably easily. The summers are warm, and the winters are mild. In addition, the spring and fall season weather can also be perfect for an Italy yacht charter vacation.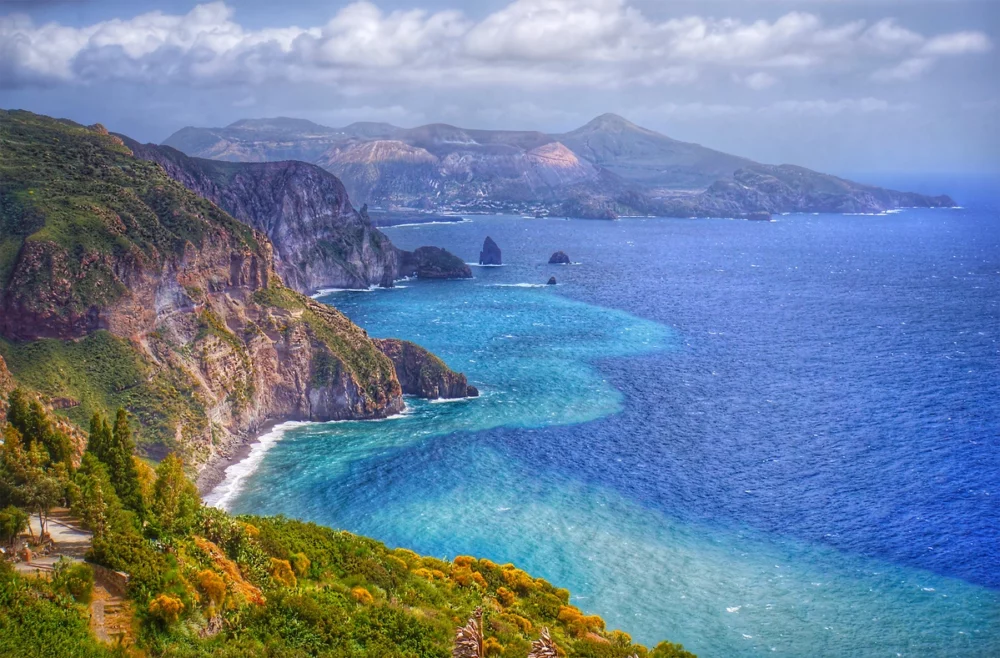 Yacht Charter Boats In Sicily
Where To Go in the Aeolian Islands Archipelago
Lipari
Visit the gorgeous and most significant island of the Aeolians to taste local cuisine and culture. Visit one of many churches, like Saint Bartholomew's Cathedral, or explore the old town's baroque architecture. Don't miss a stop in Marina Corta for great shopping and cafe culture. While there, treat yourself to a local cannolo, a traditional pastry.
Of course, you must visit the impressive Lipari Castle. For an authentic spa experience, take a dip in the natural thermal pools of Piscina di Venere. If you need more inspiration on chartering a yacht in the Aeolian islands, head to our Amalfi to Aeolian Islands itinerary.
Stromboli
Visit Stromboli, an active volcano that has been erupting for over 2,000 years. The island is pretty small, but its landscape is made up of black lava rocks, ash, and cinder cones, making it appear larger. Exploring the island of Stromboli is an adventure you won't forget. You can take a guided hike up the volcano, where you may witness a small eruption. You can also explore the nearby beaches, caves, and craters for an unforgettable experience.
Vulcano | Aeolian Islands
The volcanic island of Vulcano is one of the most spectacular and enchanting places in the Mediterranean. It's most famous for its steaming hot springs and mud baths, which are said to have healing properties. The landscape on Vulcano is breathtaking; its black beaches, with their reddish-black sand, starkly contrast with the crystal clear waters. You can find plenty of secluded bays and coves perfect for swimming and snorkeling here. You can also explore the active volcano, climb up the old volcano crater and take in the stunning views from the top.
Panarea
The island of Panarea is renowned for its stunning coastline, crystal-clear water, and vibrant nightlife. Comprised of several small villages, you can explore and see each one's unique character. Head into San Pietro, where you'll find charming cafes, bars, and clubs that come alive after dark.
If you're looking for a romantic escape, Cala Junco is the perfect spot for an idyllic beach picnic. The crystal-clear waters make it ideal for snorkeling and swimming, and the white-sand beaches will have you wishing you could stay forever.
Please call us today at 1 (321) 777-1707 or describe Your Vacation Vision to help you plan your fully-crewed private luxury yachting vacation! Inquire as soon as possible about your custom, crewed yacht charter.
You make the memories. We make the arrangements.