Sample Sicily Yacht Charter Itineraries
Sicily is the Mediterranean's largest island and one of the most culturally diverse. Greek, Roman, Spanish, and Arab-Norman influence can be seen throughout. The most ancient relics are along the coast of Sicily. Explore our Sicily Yacht Charter Itineraries below.
These are just some of the Italy Charter Itineraries we offer.
Eastern Sicily | Sicily Yacht Charter
Taormina
Sicily's east coast is rich with ancient ruins and port cities. Begin your voyage in the hilltop city of Taormina, just 30 miles north of Catania. Tour the Antico Greek Amphitheater on land, and walk the many gardens. Also, leave time to enjoy gourmet seafood overlooking the Ionian Sea. On the water, don't miss the Blue Grotto and Isola Bella nature preserve.
Nearby, you can even hike or take an off-road vehicle to Mt. Etna National Park. Are you looking for something more relaxing? Instead, go wine tasting on Etna. Try the local Etna Rosso and Bianco wines at one of the volcano's extraordinary vineyards.
Aeolian Islands | Sicily Yacht Charter Itineraries
Sail north past Messina's impressive Montorsoli Lighthouse on your way to the Aeolian Islands Archipelago. The seven islands are north of Milazzo, including two active volcanoes and black beaches. In addition, you'll find shallow inlets perfect for snorkeling and swimming.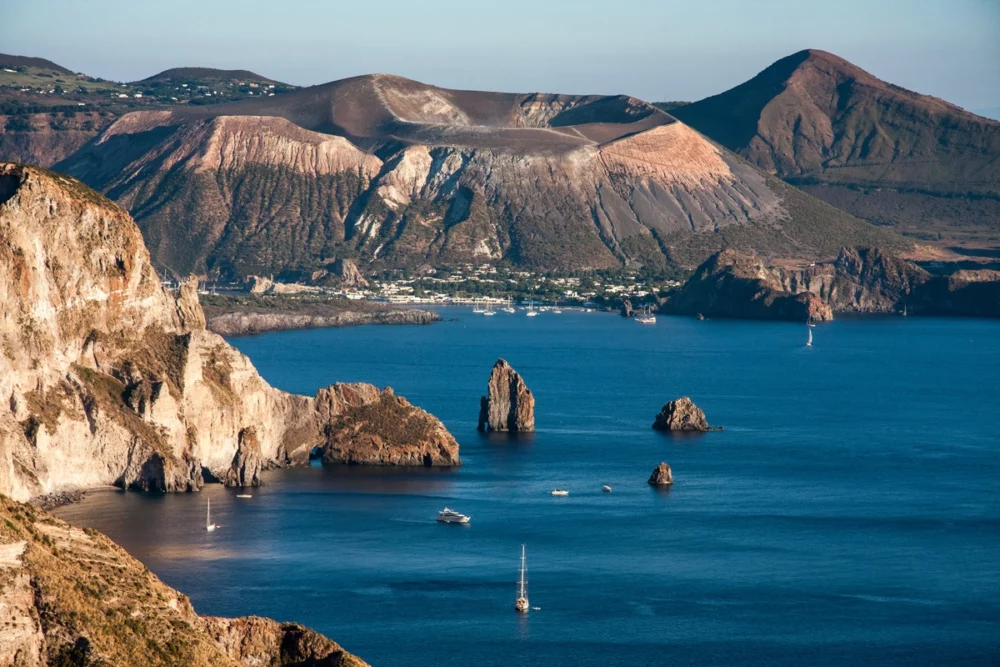 For unforgettable memories, you can even visit Vulcano island's Crater. On the water, sail around the islands' ancient harbors and seaside villages like Pollara and Ginostra. Lastly, don't miss the tiny Panarelli islands off the coast of Panarea.
Syracuse
Sicily's southeastern coast is also overflowing with intriguing yacht charter destinations. If you sail south from Catania, you'll reach the Greek city of Syracuse. Best known for its amphitheater and ancient ruins, there's so much to discover. Tour the Neapolis Archaeological Park and save time for the Ear of Dionysius and the Temple of Apollo.
The city's ruins are magnificent. However, the star of Syracuse is the island of Ortigia. Onshore, you can walk the breathtaking perimeter and visit restored churches and majestic fountains.
Of course, indulging in delicious fresh seafood from the fish market is also mandatory. Back on the water, take a sunset sail around Maniace Castle and Ortigia's fortification walls.
Noto
Sicily is also home to some of the most stunning Baroque architecture. Stop in Noto to see the many UNESCO-protected churches and palaces. Combine Noto with stops in Ragusa and Modica to witness magnificent artistry.
From the sea, coast by the area's tiny marinas and fishing villages. Next, visit the Vendicari Reserve to witness serene marine life and unspoiled nature.
Western Sicily | Sicily Yacht Charter Itineraries
Palermo
Traverse Sicily's western regions on a yacht charter from the capital city of Palermo. Onshore, visit the city's diverse ethnic churches, museums, and theaters. Then satisfy your hunger pains with arancini, fried rice balls stuffed with various fillings. Also, for a sweet treat, try a cannolo ricotta pastry.
Back on the water, you can sail east to shop and dine in Cefalu. Instead, head west to explore the Capo Gallo nature reserve. From here, voyage around the beaches of the Cape of San Vito before reaching Trapani.
Trapani and Marsala
The ports of Trapani and Marsala are famous for their salt production. They also provide excellent access points for visiting the Aegadian islands of Levanzo and Favignana. Moreover, venture west through the turquoise waters to see the Punta Troia Castle on the island of Marettimo.
In Marsala, journey around the Isola Grand to reach the Lugana Marsala Nature Reserve and Salinella Park. While in the city, tour the churches of the old town and stop for a glass of local Marsala wine. Before leaving, pick up high-quality olive oil from nearby Castelveltrano.
Agrigento
Continue south on your Sicily yacht charter, passing the charming village of Sciacca to find the Scala dei Turchi. The Scala (or staircase) is a magnificent white cliff rising above two beautiful beaches. Also, nearby, you can tour the ancient hilltop city of Agrigento. This historic settlement is home to The Valley of The Temples, the most significant archaeological site in the world.
For another uniquely Sicilian experience, take a day trip to the volcanic island of Pantelleria. Italian with an Arabic soul, it's lush with olives, capers, and vines. Alternatively, sail to Lampedusa to relax on the tranquil beaches and bathe in gorgeous waters. From your yacht, you can also watch dolphins and marine life all around you.
As you can tell, Sicily is bursting with fascinating seaside destinations that warrant a yacht charter trip. Indeed, see our sample Sicily Yacht Charter Itineraries and plan your dream vacation.
Please call us today at 1 (321) 777-1707 or describe Your Vacation Vision to help you plan your fully-crewed private luxury yachting vacation! Inquire as soon as possible about your custom, crewed yacht charter.
You make the memories. We make the arrangements.