Sardinia Itinerary for Your Italy Yacht Charter
With its lush, wild landscapes, beautiful beaches, and crystal-clear waters, Sardinia is the perfect destination for an unforgettable yacht charter vacation. A Sardinia yacht charter has something to delight nearly every guest, whether you seek days of sun-soaked relaxation, historical site exploration, or thrilling scuba diving adventures. This sample Sardinia itinerary will give you an idea of what to see and do in this destination.
You can explore Sardinia's small towns and experience its stunning views on a week-long Sardinia itinerary. In addition, you can easily combine a Sardinia yacht charter with stops in nearby Corsica. Visit Sardinia and Corsica itinerary for more.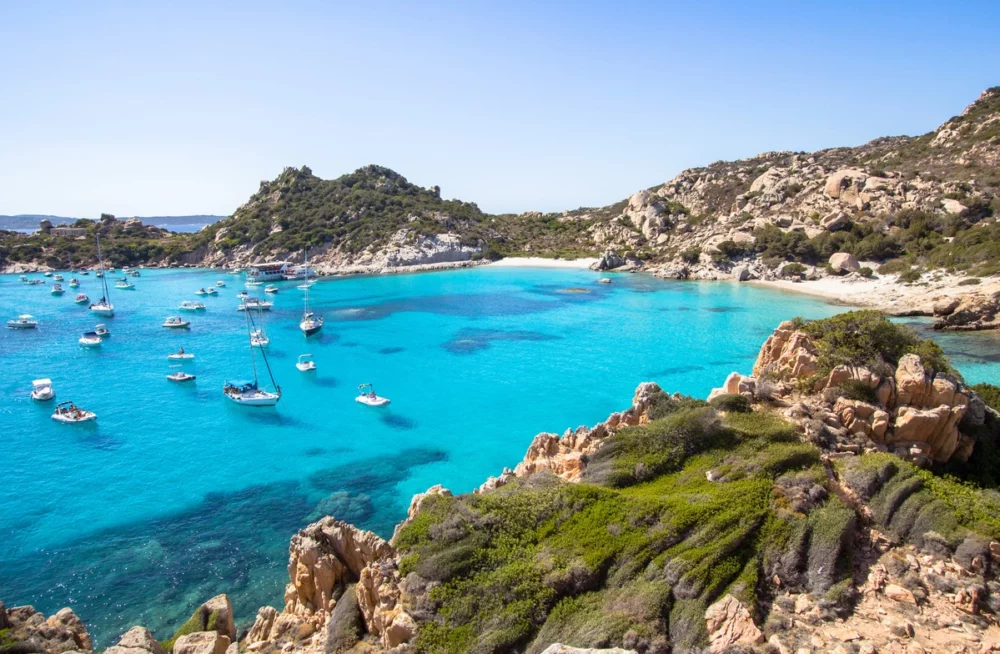 Day 1 Cagliari & Villasimius
38 nautical miles
Begin your charter in southern Sardinia, where pink flamingos will greet you in the colorful capital of Cagliari. After your city fix, go east to explore the marine reserve of Capo Carbonara. While offshore, watch dolphins from the nearby islands of Cavoli and Serpentara.
Stop at Villasimius's famed Punta Molentis Beach or explore the old town on the mainland. Before leaving the southern coast, visit the archaeological site of Nora in Pula. Su Giudu Beach in beautiful Chia is also an excellent option for watching the sunset.
Days 2 – 3 Sant'Antioco and San Pietro Islands
50 nautical miles
Next, head to the southwest islands of Sant'Antioco and San Pietro. Here, spend the night in the charming fishing village of Carloforte. By day, retrace the past at Sant'Antioco's many museums and the ancient town of Ipogeo. Adventure seekers can also experience the islands on horseback.
Day 4 Oristano
80 nautical miles
On the water, sail up the west coast to the Sinis Peninsula and visit San Giovanni di Sinis Beach. While on the peninsula, don't miss the Phoenician town of Tharros and the city of Oristano.
Visit the historic Torre Grande, a 16th-century watchtower that overlooks the city. You can also take a guided tour of Palazzo Campagna and learn about its rich history. There are also several archaeological sites to explore, including the Nuraghe Losa.
Day 5 Alghero | Sardinia Itinerary
60 nautical miles
Head due north to Alghero, a beautiful coastal town in the northwest corner of Sardinia. It's famous for its architecture and unique Catalan culture. The city is famous for its excellent seafood. It also has an impressive selection of shops and nightlife, making it a great place to explore during your stay.
The shallow, sandy beach at Lido di Alghero is a good spot to sunbathe or swim in the crystal-clear Mediterranean Sea. Another popular spot is Spiaggia di Maria Pia, a long beach with palm trees and picturesque views.
For adventure, head out to nearby Isola della Disciola. Explore the ruins of a Roman villa there, go diving, or enjoy the panoramic views. Alternatively, the coastal caves and coves along the Riviera del Corallo are perfect for kayaking and boat trips.
Day 6 Castelsardo
70 nautical miles
Castelsardo is a charming fishing village on the island's northern coast, nestled between two limestone headlands. Take in the spectacular views of the Mediterranean Sea while exploring the narrow cobblestone streets lined with colorful homes and shops.
Take time to appreciate the historical sites, such as the old Genoese castle, built in the 11th century. Enjoy the local culture and cuisine and the beautiful sandy beaches nearby. Castelsardo is an ideal spot for snorkeling or scuba diving on your Sardinia itinerary. There are over 100 fish species in its waters.
Day 7 The Maddalena Islands | Sardinia Itinerary
50 nautical miles
The La Maddalena Archipelago in Sardinia is a collection of islands and rocky outcrops known for beautiful beaches, crystal-clear waters, and scenic mountain views. The archipelago is just off the coast of northern Sardinia.
A must-see island is La Maddalena itself. Explore the tiny, cobbled streets and quaint pastel-colored houses. Or, relax on one of the many stunning sandy beaches. The island also has a variety of restaurants serving delicious local cuisine, as well as some excellent shopping opportunities.
If time allows, sail to Caprera, home to the Garibaldi Memorial Park. This park houses the residence of Giuseppe Garibaldi, Italy's beloved general. There is plenty to explore here, including many historic buildings, memorials, and museums. You can also explore smaller islands like Budelli, Spargi, and Santo Stefano nearby.
Please call us today at 1 (321) 777-1707 or describe Your Vacation Vision to help you plan your fully-crewed private luxury yachting vacation! Inquire as soon as possible about your custom, crewed yacht charter.
You make the memories. We make the arrangements.