Sardinia
A luxury yacht charter to Italy's wild and rugged island of Sardinia will be sure to please all types of guests. Moreover, you can also easily combine your Italy yacht charter with stops in France's Corsica. For sample itineraries, please visit our Sardinia and Corsica charter itineraries.
For those looking for a genuinely luxurious Sardinia vacation, there is no better way to explore this beautiful destination than aboard a private yacht charter. Its stunning bays, picturesque ports, islands, and clear waters make it the perfect place to enjoy a relaxing and memorable sailing experience.
Why visit Sardinia?
Sardinia is the second largest island in the Mediterranean and is part of Italy's 20 regions today. With a turbulent and intriguing past, it is also a popular destination for tourists looking to experience its unique culture. The area was first inhabited by the Nuragic tribes, whose culture left behind many monuments that still stand today.
Then came the Phoenicians, Greeks, and Romans, who all played a role in shaping the island's culture. By the 5th century, Sardinia had become part of the Byzantine Empire, and during the Middle Ages, it was ruled by several different powers.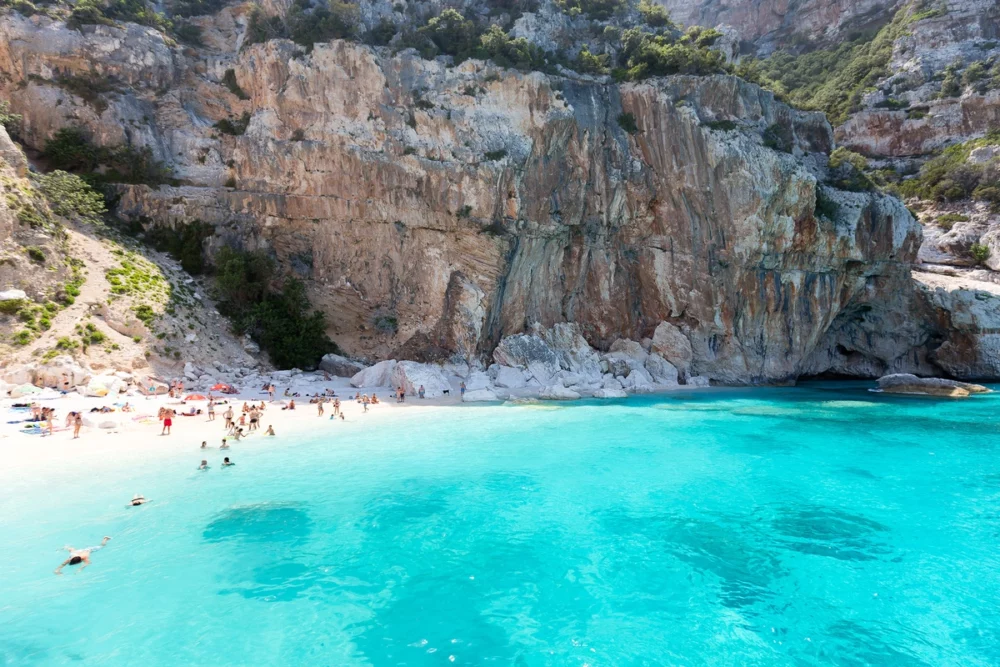 Northern Sardinia
Alghero
In Sardinia's northwest corner, you will find Alghero, an ancient city known for its Catalan Gothic architecture. One of the main attractions in Alghero is the old town walls. Built by the Aragonese during the 15th century, these walls give visitors a unique glimpse into the city's history. Visitors can walk around the old walls and see the stunning views of the Mediterranean.
The beaches in Alghero are some of the most beautiful in the Mediterranean. There is something for everyone, from calm, tranquil waters to rough surf. Whether you're looking for a beach-side resort or an intimate hideaway, you'll find plenty of options here.
Explore nearby caves and bays for some secluded spots to relax and enjoy your Sardinia luxury vacation. You can traverse Neptune's Grotto up the coast in Porto Conte's natural park. Cruise on your private yacht around this incredible park and visit beautiful beaches like Torre di Porticicclo.
Stintino / Asinara National Park
Anchor in charming Stintino, where you can golf, cycle, and dive. Situated at the northwest tip of the island, Stintino offers pristine beaches, crystal-clear waters, and plenty of opportunities for relaxation and adventure. The iconic Pelosa beach is a must-visit while in Stintino. This stunning stretch of white sand beach overlooks the turquoise waters of the Mediterranean and has become an Instagram favorite.
Across the water, visit the island of Piana before sailing to Asinara, a protected nature reserve and home to many donkeys. Take a break from lounging in the sun and visit the nearby Isola dell'Asinara, an uninhabited island of white sand beaches and nature reserves. Here, you can go on a wildlife tour and spot some of the area's most precious endangered species.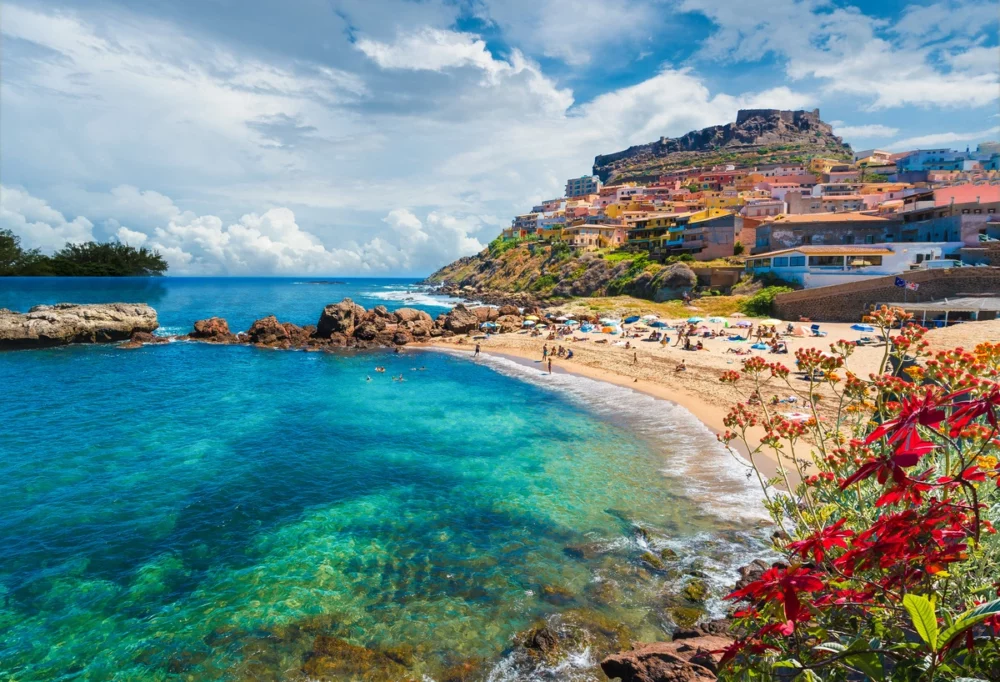 Oristano
Stop in Oristano to indulge in a spa day, spend the afternoon shopping in designer stores, or take in the stunning views while sailing along the coast. Oristano also boasts plenty of adventure. Windsurfing and kiteboarding are popular pastimes on its stunning shores, while sailing and diving trips can be easily arranged.
If you're looking for something a bit more laid-back, Oristano is also home to several golf courses and nature trails for an enjoyable day outdoors.
Offshore, you can sail around the Sinis Peninsula and visit San Giovanni di Sinis Beach. While on the peninsula, don't miss the Phoenician town of Tharros. Nearby, you can also enjoy fresh seafood after a fishing expedition in the area's coves.
Costa Esmerelda & The Maddalena Islands
Immerse yourself in the enchanting sights of Sardinia's northeast region, the Costa Smeralda, or Emerald Coast. Glistening emerald waters draw yachts to the harbor city of Porto Cervo. Along the coast, explore many beaches, go hiking or golfing, or sample the local Vermentino white wine on a visit to a nearby vineyard.
Spend a night out in Baja Sardinia and its vast selection of restaurants and entertainment. Lastly, the Maddalena Archipelago is a national park of seven islands with dreamy pink beaches and shallow bays ideal for swimming and snorkeling. Tour the main island, La Maddalena, to experience its historic charm and gastronomy.
Olbia
When chartering a yacht, Olbia is one of Sardinia's main hubs. There are several marinas in the area. Olbia is also home to some of the best beaches in Sardinia. The sand is soft and white, and the crystal-clear waters offer spectacular views of the mountains and islands. If you're looking for an adventure, you can go scuba diving, snorkeling, or windsurfing in the area.
The city also has many cafes, shopping areas, and an archaeological museum. Moreover, above the city, you'll find Nuraghe Riu Mulinu, a complex of Nuraghe ruins. Nearby, you can visit one of many great vineyards to taste the region's local wines. If you want to learn more, head to our post on Sardinia's best wines.
Southern Sardinia Yacht Charter
Cagliari
Venture to the southern part of Sardinia and witness a grand greeting from pink flamingos in the vibrant capital of Cagliari. Go east to explore Capo Carbonara's marine reserve, where you can spot dolphins from the nearby islands of Cavoli and Serpentara.
Enjoy a stop at Villasimius's famous Punta Molentis Beach, or explore the old town on the mainland. Don't miss visiting Nora in Pula and marveling at the beauty of Chia's Su Giudu Beach.
Sant'Antioco and San Pietro Islands | Sardinia
Journey to the southwest islands of Sant'Antioco and San Pietro and rest for the night in the charming fishing village of Carloforte. During the day, trace back through time at the various museums of Sant'Antioco and the ancient town of Ipogeo. If you're feeling adventurous, why not traverse the islands on horseback?
Take a look at some of the yachts that sail in Sardinia.
Please call us today at 1 (321) 777-1707 or describe Your Vacation Vision to help you plan your fully-crewed private luxury yachting vacation! Inquire as soon as possible about your custom, crewed yacht charter.
You make the memories. We make the arrangements.