According to recent findings, Sardinia is the oldest wine producer in the Western Mediterranean. In 2016, analyses confirmed the 1993 findings at Monte Zara, a Nuragic ruins site from 900 BC. Archaeologists discovered grape residue in the village winepress, bringing to light more details of prehistoric Sardinia. Still a secret to many wine lovers, Sardinia hides some of Italy's best wines and viticulture regions.
Many top vineyards are near the iconic Smeralda Coast. So, a Sardinia and Corsica Yacht Charter is a great way to experience Sardinia's wine and culture in style.
Viticulture in Sardinia
Throughout history, favorable soils and weather have enabled viticulture to remain the island's most important economic activity. Grapes grow more abundantly along the perimeter and lesser so in the wooded, mountainous interior. Sardinia has a wide variety of grapes grown across 20 DOCs and 1 DOCG, or premier appellation.
However, in the early 20th century, quantity prevailed over quality. Like much of southern Italy, Sardinia's wines added alcohol and body to weaker wines of northern Italy and Europe.
Most producers did not even bottle their wines on the island. Until recently, Sardinia's native grapes and wine industry were not given the respect they deserve. Thankfully today, many winemakers have returned to past traditions and re-elevated Sardinian wine.
Vermentino di Gallura – DOCG
Sardinia's top appellation and only DOCG is in the northeast corner, encompassing the city of Olbia. As its name suggests, Vermentino is the star grape, which does well in granite soils and windy microclimates.
To get the DOCG designation, the wines must be at least 95% Vermentino grape. On the other hand, DOC wines must only contain 85% Vermentino grapes.
Overall, Vermentino is a seafood-friendly wine. It ranges from light and floral to more medium-bodied with citrus and pear fruit.
Widely planted in Sardinia, Gallura, and the northwestern area around Alghero suit Vermentino the best. Interested in trying high-quality Vermentino? Look for Cantina Depperu's wines just an hour from Porto Cervo in Gallura.
Moscato, another white grape, also grows in the Gallura area. Winemakers often make Moscato, a sweet sparkling wine known as Spumante Dolce. Look for bottles from the Moscato di Tempio area for the best expressions. Like Vermentino, Moscato grows throughout the island, where it's almost always a sweet or sparkling wine.
Interestingly, Nebbiolo, the pride of Piedmont, also grows in small quantities. A red grape with complexity and elegance, Nebbiolo di Luras is definitely worth trying.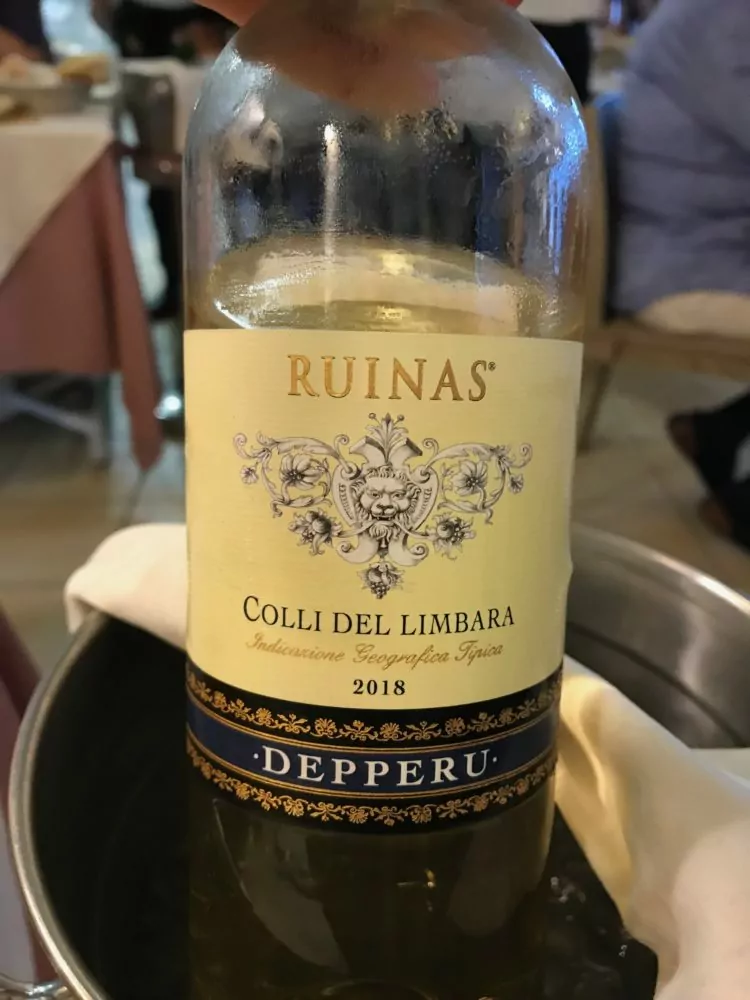 Alghero DOC | Sardinia's Best Wine Regions
Sardinia's northwest region is one of the premier areas for quality white wines. In the area around Alghero, you can find great Vermentino as well as Torbato-based wines. Torbato, also of Spanish origin, does very well in calcareous (chalky) soils with marine sediment.
Made into sparkling or still wines, Torbato is herbaceous with floral aromatics and white peach notes. In some cases, it can even be smoky with a flint quality.
Have a taste of sparkling or still Torbato from the famous producer Sella & Mosca. For Vermentino and an array of organic white and red wines, look to Tenute Dettori.
Cannonau di Sardegna DOC
Thought to be an ancient red grape from pre-Roman times, Cannonau is synonymous with Sardinia. However, not everyone agrees with its Italian heritage. Some believe it to be Garnaxa or Alicante brought from Spain, also known as Grenache in France.
Whichever the case, Cannonau's controversial origins speak to Sardinia's multicultural past. Today, you can still see the lasting influence of nearly 250 years of Spanish rule (1479-1713) in viticulture and local traditions.
Today, Cannonau grows best in the middle of the island in the provinces of Nuoro and Ogliastra. The hilly areas surrounding the five peaks of the Gennargentu's mountain peaks are rich in decayed granite. Specifically, winemakers from the commune of Mamoiada make exceptional wine at 2,100 ft above sea level. Additionally, producers along the coast near Tortoli and Jerzu are making quality Cannonau red and rose wines.
Rich and bold, Cannonau exudes ripe fruit, dark chocolate, and spices. Interestingly, Cannonau also contains three times as many antioxidants as other red wines. Subsequently, it's known as a vital part of Sardinia's centenarian population. Two producers making delicious old vine Cannonau are Sedilesu and Cantine Orgosolo.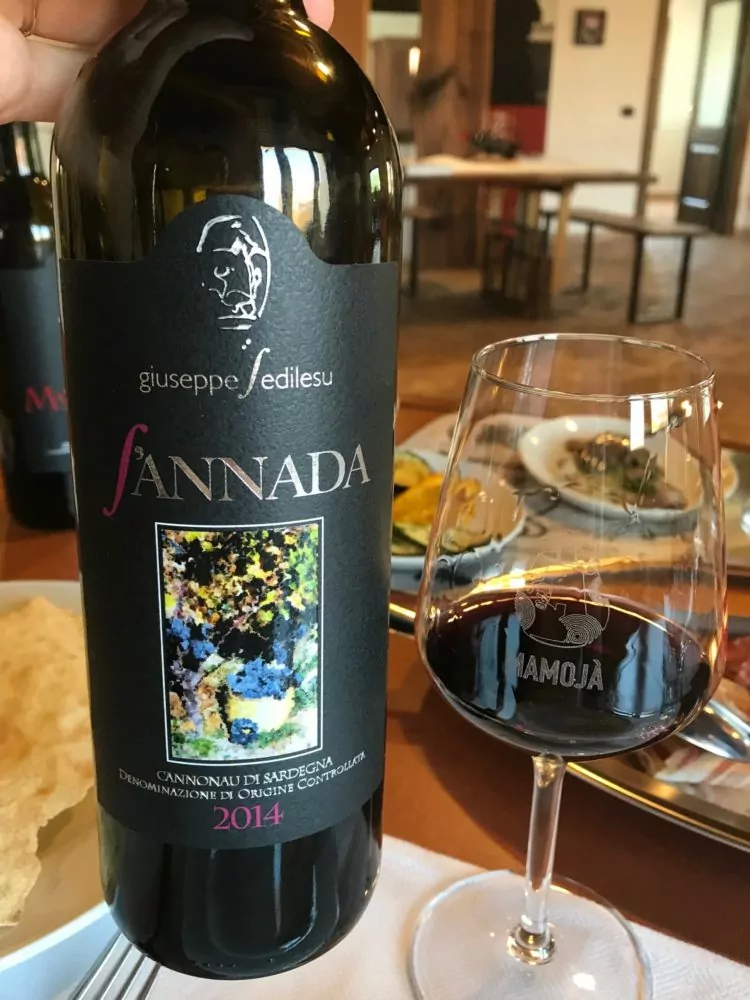 Vernaccia di Oristano DOC | Sardinia's Best Wine Regions
Sardinia showcases its Spanish heritage again with Vernaccia di Oristano, perhaps the oldest wine from the island. Made in the same style as Sherry from Spain, Vernaccia ferments in unfilled casks under a blanket of yeast. This blanket of yeas is "flor." By not refilling the casks, evaporation leads to a concentration of flavor and the protective layer of yeast.
The wine remains under this flor for at least two years, developing intense nutty flavors and aromatics. Like sherry, winemakers produce this dessert wine from dry to liquoroso or fortified styles. Top Vernaccia di Oristano producers to seek out include Contini and Fratelli Serra.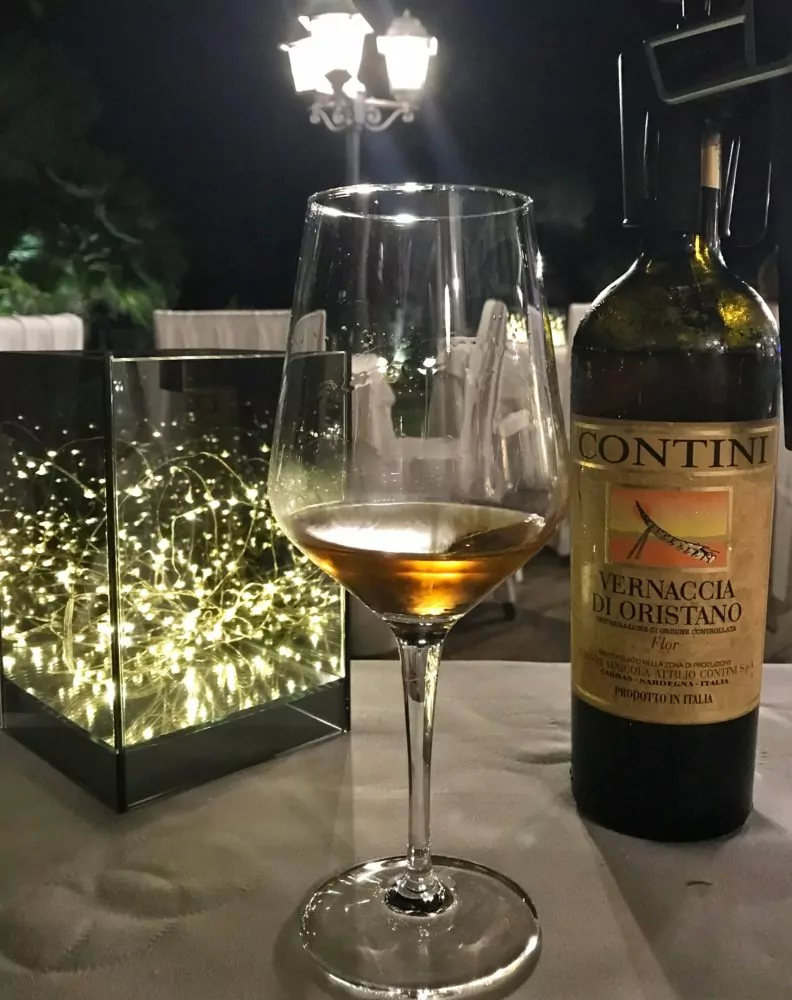 Carignano di Sulcis DOC
Southwestern Sardinia's red Carignano is yet another grape of debated origin. Purportedly from Spain, it also grows in France, where it's called Carignan. In Sardinia, Carignano grows in the region of Sulcis, an original Phoenician settlement. In particular, Carignano does well with the salty winds of the gorgeous islands of Sant Antioco and San Pietro.
High in alcohol and dark fruit character, Carignano has historically been blended with lighter wines. However, when aged, it can soften, evolve, and be a great match for aged cheese and meat.
Nuragus di Cagliari DOC
Nuragus is a white grape native to southern Sardinia. In particular, Nuragus grapes are the most productive northwest of Cagliari, in the Campidano area. This DOC zone is quite large, spanning 4,400 acres and encompassing 3 provinces. Typically, the wines are soft, herbal, and aromatic.
Also cultivated in the Cagliari zone are Malvasia and Monica. Malvasia di Cagliari is different from the other Malvasia biotypes in the rest of Italy. While similarly aromatic, Malvasia in Sardinia is more savory and warm than its counterparts.
Monica is a rare red grape, also originally from Spain. Typically a sweet wine, winemakers pick the grapes after they have dried somewhat on the vines. With a minimum aging of 9 months, the wines are intense, fragrant, and savory. Try these rare grapes and more with Audarya's portfolio of southern Sardinian wines.
Sardinia's Best Wine Regions
Sardinia's best wine regions offer exceptional wines with unique flavors and quality, making them a delight for wine enthusiasts. Taste your way through Sardinia's best wine regions with one of our Sardinia and Corsica Yacht Charter Itineraries.
Please call us today at 1 (321) 777-1707 or describe Your Vacation Vision to help you plan your fully-crewed private luxury yachting vacation! Inquire as soon as possible about your custom, crewed yacht charter.
You make the memories. We make the arrangements.