Surreal Waters! Sardinia and Corsica Charter Itineraries
Sardinia's surreal waters, cliffs, and remote islands warrant an intimate vacation experience. Only a yacht charter can provide unmatched access to the marvels along Sardinia's 1,179-mile-long coast. Explore our Sardinia and Corsica Charter itineraries, and start planning your unforgettable trip now!
Northern Sardinia
Tropical scenery awaits you in northeastern Sardinia. With vivid green waters, the Costa Smeralda (Emerald Coast) is a must on your yacht charter to Sardinia.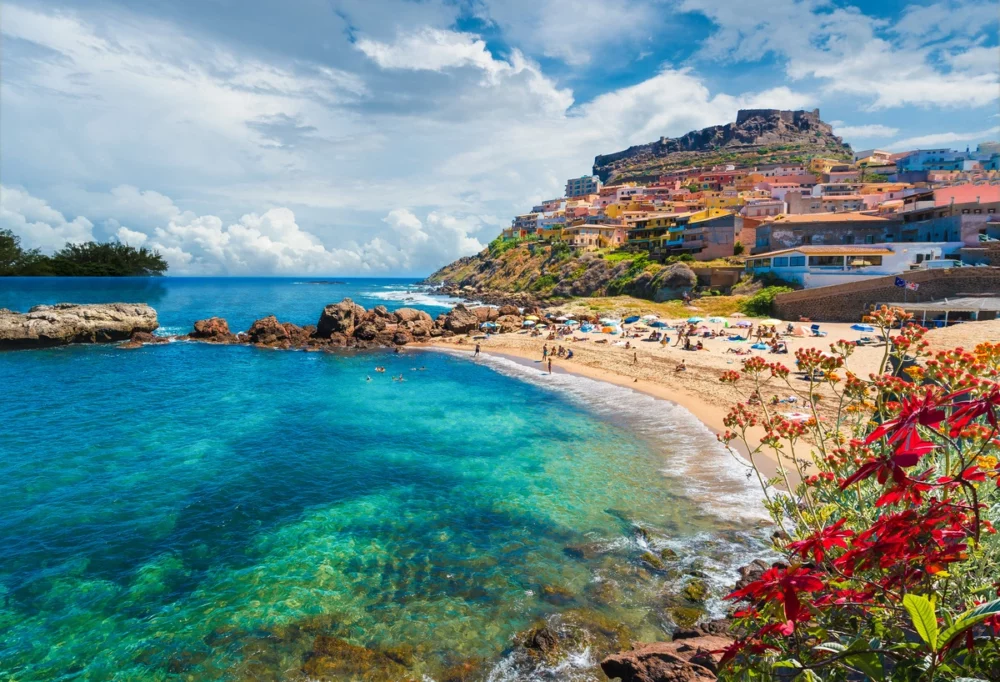 Day 1 Porto Rotundo – Porto Cervo
20 nautical miles
Embark from Porto Rotundo and set sail north towards Porto Cervo. Beautiful beaches will flank your western view while approaching Isola Soffi and Le Camere islands. Make a beach stop and swim on Mortorio Island, or try out some water toys. Drop anchor in Porto Cervo, a lively town known for shopping and dining.
Day 2 Porto Cervo & Cala di Volpe
Spend the day exploring Porto Cervo's high-end boutiques, luxury brand shops, and spa offerings. You can also head to Cala di Volpe's beautiful and expansive bay. It is a perfect spot for those wanting to indulge in water sports and relax.
You can explore the area's beaches, hike, or play golf above the serene waters. Are you interested in wine? Try the local Vermentino white wine with a wine-tasting visit to a vineyard. Nearby nightlife and more top restaurants can also be enjoyed in Baja Sardinia.
Day 3 Porto Cervo – La Maddalena Islands
15 nautical miles
Head northwest to the Emerald Coast, named for its green seas and natural beauty. The main attraction of Costa Esmerelda is, of course, the Maddalena Archipelago, a national park of 7 islands. Together, they form a paradise of pink beaches and shallow bays for swimming, snorkeling, and relaxing.
Make a stop on Caprera to ride horseback or explore the nature reserves. Be sure to visit the largest island of La Maddalena and take in the old town's historic charm. Sail around the mostly uninhabited islands of Spargi and Santo Stefano. Be sure not to miss the tremendous pink sands of Spiaggia Rosa on the island of Budelli.
Corsica
Day 4 Costa Esmeralda – Bonifacio
20 nautical miles
The journey from Sardinia across the sea to Corsica's Bonifacio. Pass the Lavezzi Archipelago and possibly stop on the exclusive island of Cavallo. Continue further and drop anchor in Bonifacio's picturesque port and clifftop town. Onshore, walk along the dramatic coast and enjoy the panoramic view from the Citadel.
Day 5 Bonifacio – Ajaccio
70 nautical miles
Sailing north up the west coast will lead you to Ajaccio, the birthplace of Napoleon Bonaparte. Moreover, you can visit one of the city's many museums or the 16th Century Genoese Tower. In addition, combine this with a visit to the nearby Sanguinaires Islands.
Day 6 Ajaccio – Girolota
48 nautical miles
While journeying north, view the Calanques of Piana, a unique geological rock formation. After sailing around the Scandola nature reserve, you will stop in Girolota.
Girolata, a medieval fishing village located 30 kilometers north of the bustling city of Porto, is truly a hidden gem. It's only accessible by boat or a strenuous hiking trail that winds through Corsica's landscape's wild and rugged beauty. Eucalyptus trees, Mediterranean scrub, and towering cliffs offer sweeping ocean views.
Day 7 Girolota – Calvi
20 nautical miles
Depart for your final stop, Calvi. The bay town boasts Baroque churches, a Cathedral, and awe-inspiring views of the Citadel. It's also the highly contested birthplace of Christopher Columbus.
If time allows, you can venture east to fishing villages like the Ile Rousse or the beautiful town of Saint Florent. Here, you can boat to Saleccia Beach, stroll the old town, or partake in the shopping, bars, restaurants, and nightlife. Nearby, you can even hike in Europe's only desert, the Agriates.
Plan to visit Sardinia and Corsica. Get inspired by browsing one of the examples of Sardinia and Corsica Charter Itineraries. Or, peruse another one of our Italy Charter Itineraries.
Sardinia and Corsica Charter Itineraries
Please note that the sample yacht charter itineraries are guides, not fixed options. These itineraries serve as a starting point to showcase the range of possibilities and destinations available for your yacht charter experience.
The beauty of a yacht charter lies in its flexibility, allowing you to tailor the itinerary to your preferences and desires. It is luxury yachting. Let our team guide you in crafting an itinerary tailored to your interests, guaranteeing a truly personalized and unforgettable journey.
Please call us today at 1 (321) 777-1707 or describe Your Vacation Vision to help you plan your fully-crewed private luxury yachting vacation! Inquire as soon as possible about your custom, crewed yacht charter.
You make the memories. We make the arrangements.