Corsica Yacht Charter
Corsica, France, is breathtaking, especially on a Corsica Yacht Charter. This French Island in the Mediterranean Sea has been a vacation destination for centuries, and it's easy to see why.
With incredible views of the sea, mountains, and the lush greenery surrounding this island's beaches, many travel experts have called Corsica one of the most beautiful islands worldwide. As there are many hidden spots and coastal curiosities, it's best to experience the area by taking a Corsica yacht charter.
Why Choose a Corsica Yacht Charter Vacation?
Corsica is an excellent place for luxury yacht vacations. Corsican beaches are some of the best in Europe, and Corsica's famous coastline features over 200 miles worth of sandy shores to explore! When it comes to outdoor activities, there are plenty of options on offer.
Including surfing, sailing, fishing, and hiking – there's something for everyone. Whether you're looking for relaxation or adventure in this French, Italian, and Corsican-speaking region of south-eastern France, it will deliver.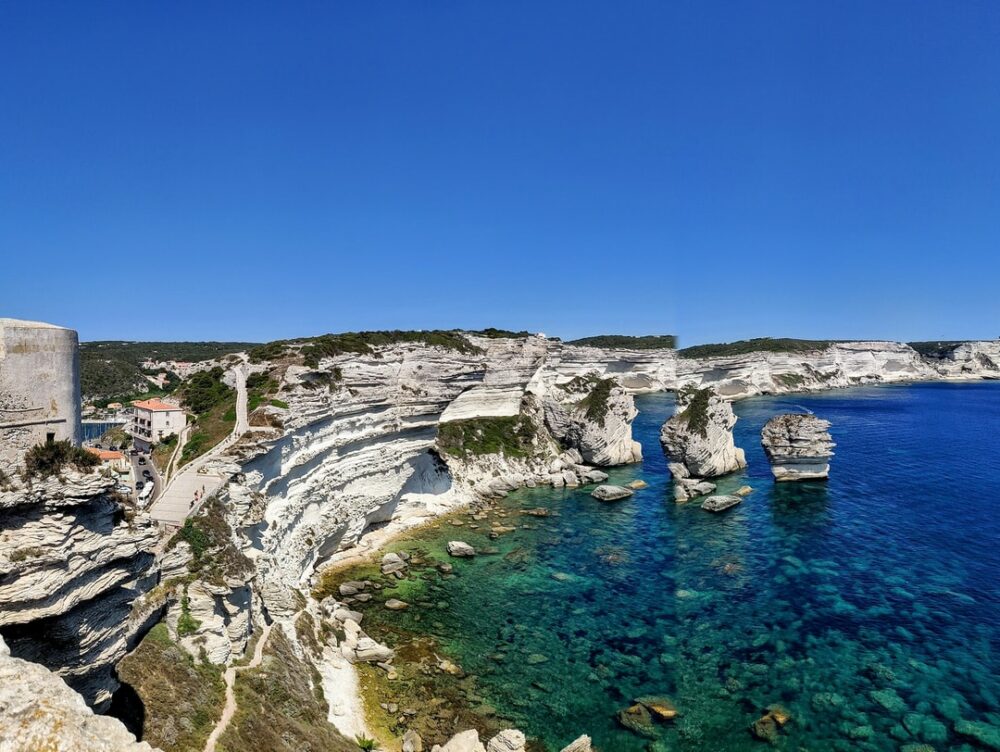 Things To Do in Corsica, France
Explore History – Visit the Citadelle de Calvi. Built in the 17th century by the people of Genoa, who invaded Corsica, this fortress was their last defense before being defeated by French troops. It is also particularly famous because of the time Christopher Columbus has said to have spent in Calvi.
See The Towers – View some of the 90 Genoese Towers built by the Republic of Genoa between 1530 and 1620 to stop attacks from Barbary Pirates. The towers sit along the island's entire perimeter, in different degrees of ruin. The basement was used for storage of ammunition and provisions, while the upper levels were for surveillance.  
Hike In Nature Preserves – Take a hike or leisurely walk amongst coastal nature preserves like the Nature Reserve of Scandola in western Corsica. With views over the gorgeous bay, and incredible flora and fauna, don't forget to bring your camera to bring these memories home. You can also visit the amazing Corsica Natural Regional Park within Corsica's rugged, mountainous interior. Keep your eyes open for rare birds and other animals.
Relax on the Beach – As mentioned, Corsica has 200 miles of beaches, so it will not be hard to find one throughout your private yacht charter vacation.
Places To See On A Corsica Yacht Charter
Bonifacio
This town is located on the west coast of Corsica and has some of the most beautiful vistas and beaches on the island. In the lower part, known as the old town, head to Iles Lavezzi, Plage de Rondinara, or Plage du Petit Sperone. Of course, while in Bonifacio, don't miss walking the Escalier du Roi d'Aragon – 187 steps carved out of the southern cliff and lead to the sea.
Bonifacio's enchanting and historically rich city sits upon a limestone peninsula, overseeing a natural harbor built centuries ago. With its beautiful scenery, gorgeous seaside views, and historic sites – it is no wonder it's a highly requested charter stop. Most iconically, your Corsica yacht charter will provide an incredible view of the Citadel of Bonifacio high atop the seaside cliff.
Bastia
It offers excellent shopping opportunities while also many historical sites. Visit the Museum of Bastia – located in the renovated Palace of the Governors of Genoa. Take time to stroll through Jardin Romieu and access the monumental staircase, Romieu built between 1871 and 1873 according to plans of a local architect, Paul-Augustin Viale. Explore Terra Vecchia & Terra Nova.
Terra Veccija takes its name from Vecchia, which means old in Italian—and it could not be more fitting. This lively neighborhood offers an organic market each Saturday morning while also home to some beautiful restaurants and cafes, including Ripalte (a winery with a coastal estate).
Porto Vecchio
Porto Vecchio is home to one of Europe's largest ports and an exciting harbor. With a long history that dates back to ancient Rome, there's no shortage of things to see. For instance, you can go horseback riding at Palombaggia or San Ciprianu beaches, in addition to many water sports. While Porto Vecchio's landscape mainly consists of sandy beaches, rocky cliffs, and serene lagoons, there are other various places worth exploring too!
Many souvenir shops, cafes, pubs, and local-flavor dining options are available for those who wish to wander through this lovely coastal village. Visit Place de la Republique (once the Roman heart of town), Porte Genoise (the town's original gate), and the 16th-century citadel.
Ajaccio
Ajaccio should be part of your Corisca yacht charter itinerary if you're looking for nightlife. The capital city on the western coast boasts a more cosmopolitan feel and a population of nearly 70,000.
Two hundred ten nautical miles away from Marseille, it is a popular tourist destination for those looking for sunshine and relaxation during their trip. Between 16 pristine beaches, which are only about 30 minutes away by boat or car – Ajaccio offers its visitors one of the most beautiful views.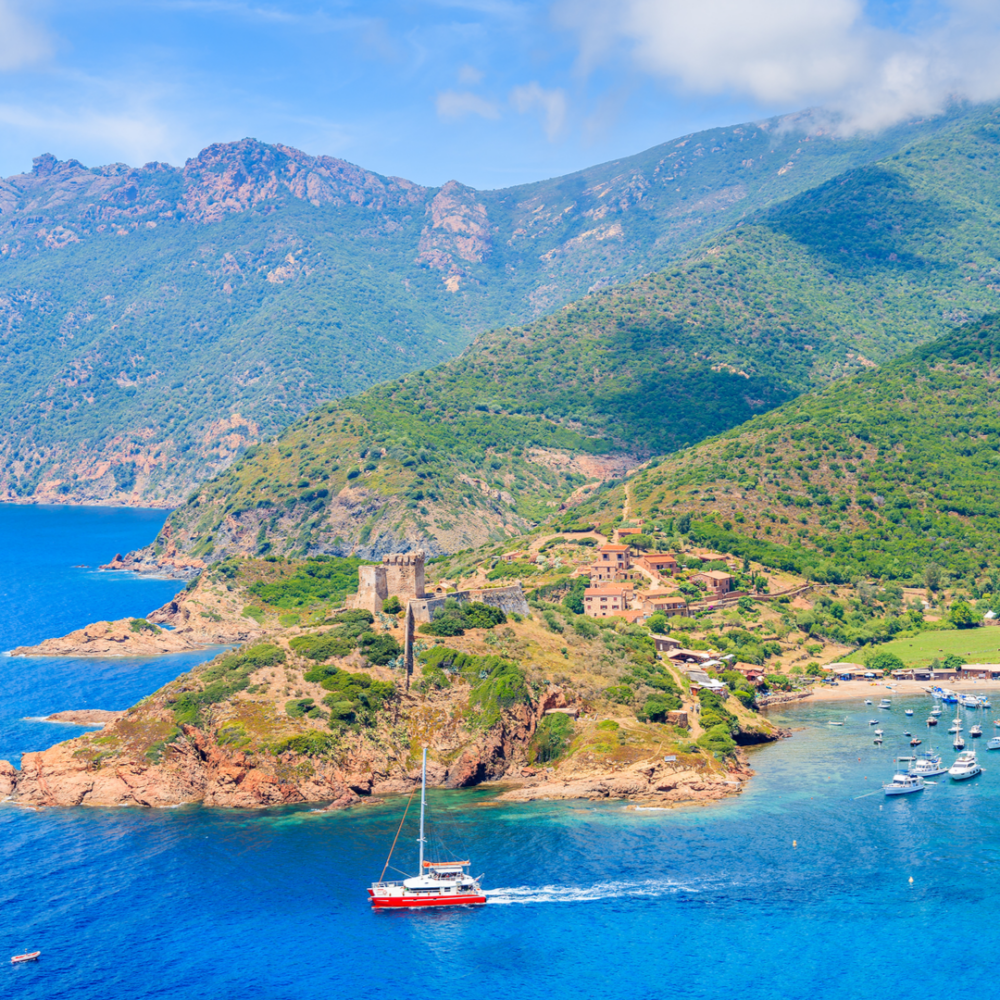 Climate
Corsica has some of the most pleasant weather in France. Like most of the Mediterranean, the summer season runs from roughly mid-June until the end of September. The hottest month is August when temperatures reach 83 F, and water temperatures reach 74 F.
Outside this timeframe, Corsica becomes less attractive due to the colder temperatures from November through April. However, the mountainous interior is suitable for winter activities. It might get hot during this period, with August being the hottest month on Corsica Island because it has an average high of 82°F and a low of 63°F.
Gastronomy on a Corsica Yacht Charter
Unsurprisingly, Corsica features a blend of Italian and French cuisine with a Mediterranean flair. A mainstay found throughout the island is Corsican Prosciutto. It is a lean ham from pigs fed on acorns or chestnuts, flavored with olive oil and herbs. While figatelli, a type of cured sausage, is also popular along with liver sausage. Prosciutto Cotto, cooked ham, and coppa-dried pork shoulder are also common.
Lighter vegetarian dishes include zucchini with sheep's cheese and eggplant Bonifacio. Blackbird pate are some of the regional dishes you can expect when visiting Corsica. If it's seafood you're after, look no further than the coastal waters where they boast rock lobster to scallops called 'aziminu.' Many vineyards produce French and Italian wines along the coast, including Vermentino at Route des Vins de Patrimonio.
Marinas
The Ajaccio Tino Rossi Marina and Fishing Port
The Port features 300 berths, 150 reserved for visiting vessels from 5 to 100 meters. The Ajaccio Tino Rossi Marina is highly committed to excellence and has a dedicated area for superyachts and smaller boats. They are also very proud of maintaining all our charms while meeting the demands of modern-day life.
St. Florent Marina
There are 920 berths available at the Marina. Boats from four to forty-eight meters long can be accommodated. A short walk away is a small night market with an array of stalls, including clothing stores and grocery stores. Saint Florent's gulf is northwest of the island, at the junction of Agriates and Cap Corse. This area is a mosaic of aquatic life with high floral and faunal diversity. Many endangered species find sanctuary here.
Please don't hesitate to contact us for a Corsica yacht charter or a charter elsewhere in France or the world.
Please contact us at 1 (321) 777-1707 or complete our contact form to start planning your yacht charter vacation! It's never too early, or too late to inquire about your bespoke private yacht charter.
You make the memories. We make the arrangements.