Greece Yacht Charters
Scenery Unparalleled in The Mediterranean. Explore the Greek Island on one of the Greece Yacht Charters. It's no secret why Greece is continuously one of the world's most magnetic destinations for luxury yacht charter vacationers. More than 3,000 years after, the country laid the foundation for civic and social refinement.
Visit the islands of Mykonos, Santorini, Kythnos, Milos, Hydra, Spetses, and many other Greek islands.
A land of incredible geographical and historical diversity, Greece yacht charters perpetually attract travelers from around the world, and it's pretty easy to see why.
With 17,000 miles of coastline, it's no surprise that the Greece yacht charter industry is one of the most vibrant in the world. Today, over 2,000 ports in Greece and many marinas offer everything from dining facilities to tennis courts. Greek island yacht charters are a popular way to see the beautiful coastline and experience some cultures firsthand.
The waters of the Aegean Sea are as beautiful as they are varied, and cruising through them on your luxury yacht charter will give you a chance to see all of their beauty firsthand, as well as all of the towns and islands that make Greece, such an idyllic tourist destination. Book your Greece luxury yacht charter now and enjoy Greece's stunning natural wonders from the water.
Greece Yacht Charters
There are an array of luxury yachts to choose from. Please browse our charter options below.
Motor Yacht Charters in Greece – these are from 65ft to 300ft +, accommodating from two guests to as many as 12 guests plus a few of your staff.
Monohull Sailboat Charters in Greece – Crewed sailboats range from 60ft sleeping two to eight guests, to 150ft, plus accommodating up to 10 guests.
Motor-Sailor Charters in Greece – generally accommodating six to 12 or more guests in three to six guest cabins. In Turkey, you can charter motor sailors sleeping with more than 12 guests visiting the Dodecanese Greek islands.
Sailing Catamaran Charters in Greece – sizes range from 45ft to 80 ft, accommodating from eight to 10 guests plus crew.
Power Catamaran Charters are becoming popular, with lower fuel consumption than regular motor yachts. Most power catamarans will accommodate up to eight guests in four cabins. Sizes are from 54ft to 80ft in length.
Contact CKIM Group to discuss the yacht types if you are unsure which type would be best for your charter plans. We would love to assist you.
Greece Yacht Charters |
Destinations and Scenery
Greece, yacht charter vacations offer views unparalleled in the Mediterranean Sea. Undoubtedly, your experience will amount to many years of future storytelling. Relax on quiet, golden beaches and swim in endless crystal blue waters. Stroll along ancient paths and see traditional whitewashed houses with iconic blue roofs.
There's so much to do and see when you embark on a Greece yacht charter. The most popular destinations surrounding the Greek peninsula are the Saronic Gulf, the Aegean Sea with the Cyclades, Sporades, and Dodecanese Islands. In the west are the Ionian Islands and Peloponissos. These can be yours on a Greece yacht charter arranged through CKIM Group.
Cyclades Islands Yacht Charters
Whether you're looking for nightlife and beaches or historical sites and quiet villages, there's a Greek island that's perfect for you. For those who prefer their boats with History attached, a visit to the Cyclades Islands will indeed please. These twelve islands in the Aegean Sea were once part of a powerful maritime empire ruled by Athens.
Of these Mykonos, Santorini and Paros are the most famous and chic of the islands. However, if you prefer an off-the-beaten-path experience, then Anti-paros, the Little Cyclades, Milos, and Sifnos are the ideal islands.
Today the Cyclades offer spectacular views and fascinating remnants of past civilizations like Mykonos Town (famous for its windmills) and Delos Island (where Apollo was born). Or, try Rhodes in the Dodecanese Islands close to Turkey if you want to relax on sun-soaked shores and soak up some culture. One of the most populated islands in Greece, Rhodes offers ancient wonders like one of the Seven Wonders of the Ancient World: The Colossus of Rhodes.
Then there's the Ionian Islands, home to Shipwreck Beach, the most photographed beach in Greece. There's so much to see and do, and you'll need to charter multiple times to see Greece from the water.
Greece Yacht Charters | Yacht Types
Yacht charters in Greece continue to evolve with boats ranging from monohull sailing yachts, sailing catamarans, power catamarans, and motor yachts. These include moderately priced boats to very high-end superyachts. Explore our Greece Summer yacht charters and start planning your escape.
Yacht Crew
Greek yacht charter boats are held to some of the highest standards in the yachting industry. Both newly built yachts and that refit are maintained yearly, paying attention to every detail inside and outside the boats. Greek crew is also some of the most experienced and hospitable people you will encounter. Moreover, many Greek yacht crews have worked together for years and have a great rapport, making charter experiences even more enjoyable.
Private Chef
From the Captain to the chef, you will be delighted by the service and warmth your Greece yacht charter crew provides. Many of the chefs have worked at prestigious restaurants and have even won numerous culinary competitions. Your private chef will surprise and delight you daily with fresh ingredients at your fingertips and your specific preferences.
Your yacht chef in Greece can prepare vegetarian dishes, vegan, plant-based, gluten-free meals, and more. You will have the opportunity to communicate your food and drink preferences before your charter. In addition, Greece has fantastic local wines, spirits, and other drinks to complement your meals. Signature cocktails will also be available to enjoy on your yacht in Greece.
Greece Yacht Charters |
History
History-minded travelers will savor a visit to Greece since it's the birthplace of democracy and philosophers like Socrates and Plato. Greece is also the home of ancient Grecian gods and mythology.
In addition, Greece has a long maritime history, ultimately leading to its current position as one of the significant hubs of yachting in the Mediterranean. The Greece yacht charter history dates back to the 1800s when yachting first became popular amongst the wealthy of Europe.
It wasn't until 1866 that the word yacht was coined by the Dutch, who combined the Swedish word Jagt (meaning hunt) with the German word Boot (meaning boat). Although hunters were using many yachts, yachting wasn't considered an activity in and of itself until wealthy individuals began using it as a mode of transportation and a way to entertain guests at social gatherings.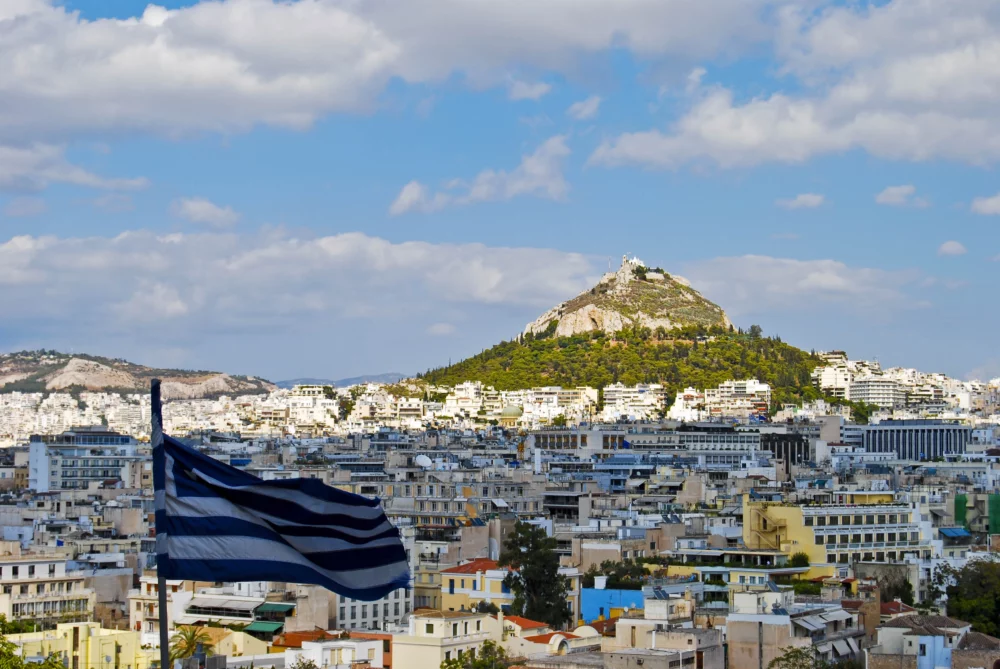 Greece Yacht Charters |
Vacations
Greece yacht charter vacationers should plan to spend additional days on land in Athens to experience more historical sites. Since there is so much to see and do, you may want to rent a villa or stay in a resort before or after your charter. There are many options within Athens and other nearby locations, and city and countryside excursions can be arranged before or after your charter. For more information on our luxury travel and transportation services, please head to ILX Travel.
Visit Athens, Crete, Mykonos, and Santorini and stay in the leading hotels. We have years of experience helping to create customized Greece experiences for our clients. Above all else, we work with our clients to create memories that best incorporate their interests and desires. Anything is possible, so please inquire about multi-week trips, combining your Greece yacht charter with stops in Turkey, or whatever else may interest you and your group.
Greece Charters
We can also arrange tandem charters if you have a large group or another family you'd like to travel with. If a private motor yacht or sailing vacation on a yacht in Greece is on your bucket list, allow Luxury Yacht Charters to help you bring your dreams to life. The earlier you get in touch, the more flexibility you will have, so don't hesitate to contact us to learn more about your next Greek yacht charter.
For more Greece information, visit our Greece General Information page. Also, see our Greece Yacht Charter Specials page for the latest specials for this incredible destination.
Please call us today at 1 (321) 777-1707 or describe Your Vacation Vision to help you plan your fully-crewed private luxury yachting vacation! Inquire as soon as possible about your custom, crewed yacht charter.
You make the memories. We make the arrangements.