Renting a yacht for a week is the ultimate way to experience a luxurious vacation. Many may assume this type of experience comes with a hefty price tag. While it can be a significant investment, it is also a unique vacation.
We will explain the costs of renting a yacht for a week so you can start planning your dream vacation.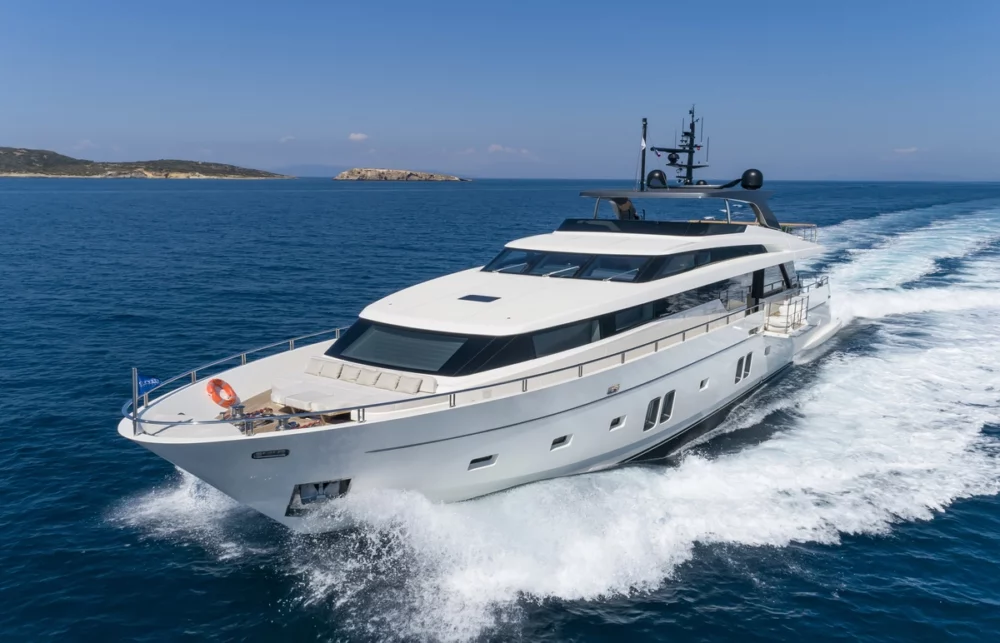 Rent a Yacht for a Week | Basics of Yacht Rental Pricing
To rent a yacht for a week, it's crucial to grasp basic pricing. The total cost depends on factors like location, yacht size, and the time of year, so consider these key elements.
Yacht Size
The size of a yacht will significantly impact the price of a week-long rental. Yachts range from compact vessels accommodating a small group to lavish superyachts that can host large parties. Naturally, larger yachts cost more to rent.
Type of Yacht
The type of yacht influences its price. For example, sailing yacht rental versus a motor yacht rental. Yachts with more luxurious amenities and advanced features generally have higher charter costs. Factors such as the yacht's age, brand, and overall condition also play a role in determining the price. High-end, modern, and well-maintained yachts typically command a premium.
Charter Location
The location of your yacht charter is another important factor in determining the cost. Popular destinations like the Mediterranean or the Caribbean often have higher rental rates. The allure of these sought-after cruising grounds increases their charter costs.
Season
The season is yet another element that affects pricing. The peak season, which usually falls during summer, commands higher prices. Summer's ideal weather conditions and increased demand increase the price.
On the other hand, booking a yacht during the offseason can result in more affordable rates. You will still have an enjoyable experience.
Rent a Yacht for a Week | Additional Expenses
Lastly, consider additional expenses not included in the initial rental price. These include fuel costs, provisioning, docking fees, and crew gratuities.
Why Rent a Yacht for a Week?
Choosing a yacht rental for a week offers better value than shorter charters. Week-long charters often provide a more economical option. A full-week charter can keep costs in check while ensuring a more extensive and enjoyable experience.
When you rent a yacht for a week, you have time to enjoy the yacht's amenities while exploring your destination.
Craving serene seclusion on a pristine island? Want to dine at Michelin-starred restaurants? Or maybe you want to indulge in adventurous activities like scuba diving. A week-long charter gives you ample time to enjoy yourself.
Unlike fixed resorts, a charter yacht adapts to your preferences. You can travel from secluded mornings to lively nightlife hot spots on the same day. Hike to a waterfall in the morning and cruise to a luxurious marina in the evening. It's all up to you and your desires.
Wander through museums and galleries in the Mediterranean and shop at local markets and designer boutiques in the Caribbean. Moreover, it is also important to have enough time to relax. After all, your vacation is the time to spend enjoying the company of your friends and family.
Can You Rent a Yacht for Less Than a Week?
Absolutely! While a seven-night yacht charter is ideal, many luxury yachts accommodate shorter rentals. However, most have a surcharge for durations less than a week.
Some destinations, like the British Virgin Islands and U.S. Virgin Islands, may offer charters starting from a minimum of three nights. Mediterranean yacht charters typically lean towards week-long experiences.
Keep in mind that opting for shorter charters may mean prioritizing activities. You may have to compromise on certain must-do experiences. So, rent a yacht for a week for the best value and a memorable holiday.
Please call us today at 1 (321) 777-1707 or describe Your Vacation Vision to help you plan your fully-crewed private luxury yachting vacation! Inquire as soon as possible about your custom, crewed yacht charter.
You make the memories. We make the arrangements.