Antigua Yacht Charter Attractions
Enjoy Antigua yacht charter attractions while sailing the Leeward Islands of Antigua, Barbuda, Dominica, St. Kitts, and St. Martin. You can enjoy it both on land and in the sea.
The rare Hawksbill sea turtle may be sighted at Pasture Bay from May to December.
An archaeological site of floor flints dating back 7000 years lies on the northeastern corner of Jumby Bay Island.
Casinos are located in St. John's, Antigua.
Once a base for the British Navy, English Harbor is home to Antigua's historic district, including Nelson's Dockyard National Park.
The tiny uninhabited islet of Great Bird Island is a bird watcher's fantasy.
Green Castle Hill on Antigua offers a spectacular three-way view of the island. The rock formations are thought to be prehistoric megaliths, rising 180 meters.
Jumby Bay offers over four miles of hiking and walking trails. There are numerous hiking trails throughout Antigua, such as Wailing's Woodland, Old Road, Falmouth, and Rendezvous.
The Museum of Antigua & Barbuda features Arawak and artifacts discovered on both islands.
Shirley's Heights in English Harbour features a partially restored fortification of the observation post. Breathtaking views from the top of the hills with Victorian gardens. Every Sunday afternoon, there is a barbeque party at Shirley Heights.
Colorful shops and local vendors in St. John's, Antigua, offer locally made products. Visit duty-free Heritage Quay or Redcliffe Quay for wares from clothing, jewelry, arts and crafts to Cuban cigars.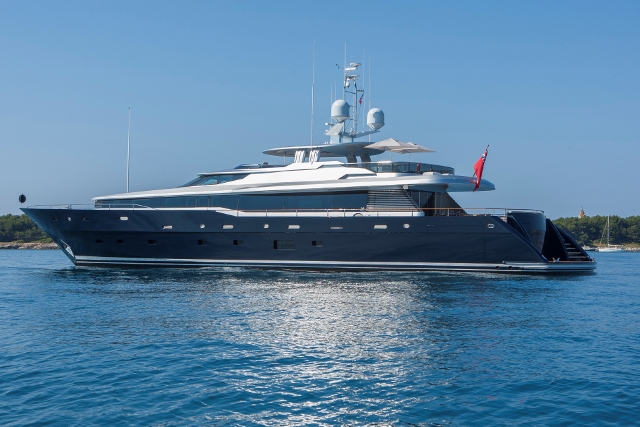 Antigua Yacht Charter Attractions | General Information
Location
Antigua and Barbuda are in the Leeward Islands in the Eastern Caribbean, roughly 17 degrees north of the equator. To the south are the islands of Montserrat and Guadeloupe. And to the north and west are the islands of Nevis, St. Kitts, St. Barths, and St. Martin.
Size
Antigua, the largest of the English-speaking Leeward Islands, is about 14 miles long and 11 miles wide. It encompasses 108 square miles. The highest point is Boggy Peak (1319 ft.), located in the island's southwestern corner. Barbuda, a flat coral island with only 68 square miles, lies approximately 30 miles due north. The nation also includes the tiny (0.6 square miles) uninhabited island of Redonda, now a nature preserve. The current population of the country is approximately 68,000. Its capital is St. John's in Antigua.
Antigua | Getting There
Many airlines, such as American, US Airways, and British Airways, provide service to Antigua's V.C. Bird International Airport. Additionally, destinations to fly in from include North America, Europe, and the Caribbean. The airport, which opened in 2015, is impressive. Taxis meet every flight to take vacationers to their chosen destination on the island. Flying is the favorite way of getting to Antigua.
Sailing and yachting are popular in Antigua because the island hosts sailing week, an international event, and a regatta. It also boasts challenging conditions on its eastern shore for the elite sailor. In addition, the historic English Harbour is a fabled destination for sailors.
Getting Around
Taxis
Rental cars
Bicycle rentals
Motorcycle rentals
Public bus service
Currency and Credit Cards
The local currency is the Eastern Caribbean dollar (EC$ or XCD). Paper money is in denominations of EC$5, EC$10, EC$20, EC$50, and EC$100 bills. Coins are in 1¢, 2¢, 5¢, 10¢, 25¢, and EC$1 pieces. To ensure hassle-free purchases during your trip, notify your credit card company of your international travel plans.
Departure Tax
Antigua & Barbuda charges a US$20/EC$50 airport departure tax.
Illegal Items
There are harsh penalties for the possession, use, or trafficking of illicit drugs. Moreover, strict regulations are for the temporary importation or export of firearms, medications, and animals. It is illegal, even for children, to import or wear camouflage material and clothing. For more information, call Customs and Excise at 268-462-0026-8.
Language
English
Antigua | Public Holidays
Jan 1 New Year's Day
Mar/Apr (varies) Good Friday
Mar/Apr (varies) Easter Monday
May (first Mon.) Labour Day
May/June (varies) Whit Monday
August Monday, the first Monday of the month, is Carnival Monday
The first Tuesday in August is Carnival Tuesday
Independence Day is November 1st
National Heroes Day is December 9th
Dec 25 Christmas Day
Dec 26 Boxing Day
When a designated holiday falls on a Sunday, the public holiday is the following Monday.
Telecommunications
The phone system in Antigua & Barbuda is modern, with cellular and Internet services available. The country code is 268. Local phone numbers have seven digits. In addition, local phone numbers begin with a 4 or 5, and cellular phone numbers start with a 7. Meanwhile, dial 411 and 0 for local directory inquiries for the international operator.
Temperatures
Temperatures vary between the mid-70s (°F) in winter to the mid-80s (°F) in summer. However, the average annual temperature is 75°F.
Time Zone
Antigua is on Atlantic Standard Time year-round, four hours behind Greenwich Mean Time (GMT). During summer, it is the same time as on the east coast of the United States. Winter is one hour ahead of the US East Coast.
Antigua | Activities | Itineraries
Please call us today at 1 (321) 777-1707 or describe Your Vacation Vision to help you plan your fully-crewed private luxury yachting vacation! Inquire as soon as possible about your custom, crewed yacht charter.
You make the memories. We make the arrangements.