What to Do in Antigua | Yacht Charter Activities
Curious about the activities to enjoy during your yacht charter in Antigua and Barbuda? You're certainly in for a delightful array of experiences on land and in crystal-clear waters. Explore historical sites, embark on thrilling mud safaris, bask in the sun at Sting Ray City's pristine beaches, dive into scuba adventures, ride the waves with kiteboarding, or unwind and savor the tranquility of this Caribbean paradise. Antigua and Barbuda have something to offer everyone.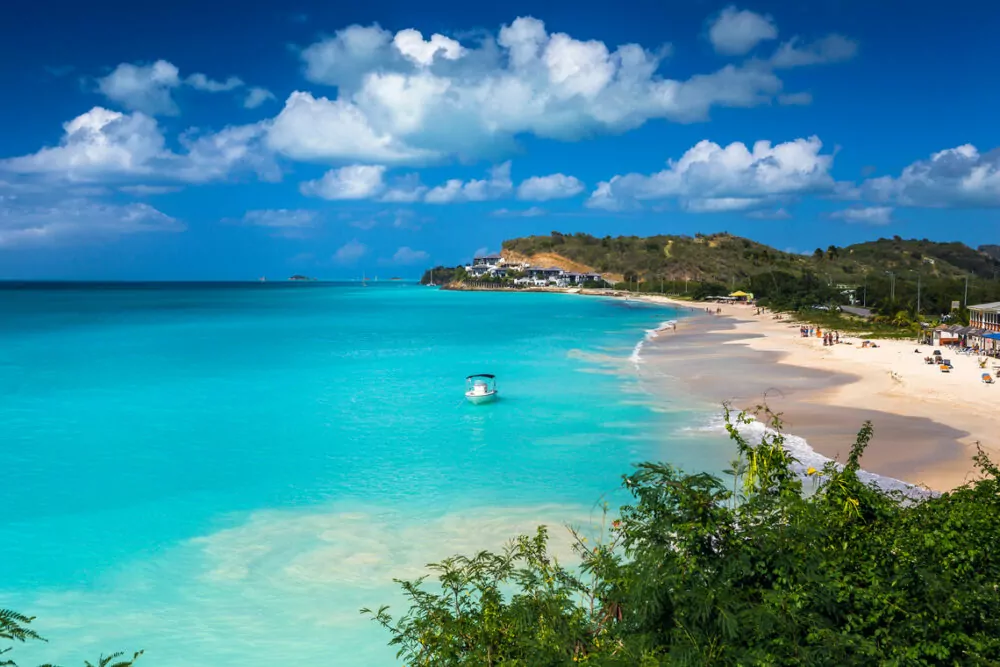 What to do in Antigua | Water Activities
Snorkeling and Diving
Since the crystal-clear waters surrounding Antigua and Barbuda provide exceptional snorkeling and diving opportunities, you will want to spend time underwater. Explore vibrant coral reefs teeming with marine life and discover the mesmerizing underwater world.
Fishing
Fishing enthusiasts will delight in the abundant opportunities here. The top catches include the Great Barracuda, Mahi Mahi (Dolphin), and King Mackerel. Charter a fishing trip and try your luck in these fertile Caribbean waters.
Kayaking and Jetskiing
Paddle through tranquil coves on a kayak or ride a jetski to explore the coastline at your own pace. It's a fantastic way to get close to nature and discover hidden gems.
Swimming with Marine Life
For a truly unique experience, swim with stingrays, nurse sharks, and other tropical marine creatures at Sting Ray City. Get up close and personal with these gentle sea creatures while creating lasting memories.
What to do in Antigua | Land Activities
Tour English Harbour
Discover the historical charm of English Harbour on Antigua's southern coast. Explore colonial-era fortifications and soak in the town's maritime history. On Sunday afternoons, join the lively barbecue, sip rum punch, and groove to reggae and steel drum music at Shirley Heights, overlooking English Harbour.
Seaview Farm Village
History and art enthusiasts will appreciate a visit to Seaview Farm Village. It's where Antiguan folk pottery from the 18th century is on display, and you can even purchase modern versions as souvenirs.
Harmony Hall Art Gallery
Located in Brown's Bay, this gallery showcases the works of Antiguan artists and local crafts. Don't miss the 18th-century tower, offering breathtaking views of the surroundings.
Museum of Antigua and Barbuda
The Museum of Antigua and Barbuda is a cultural institution in St. John's. This museum serves as a gateway to these two picturesque islands' history, culture, and heritage. Here's what you can expect when you visit the Museum of Antigua and Barbuda:
Historical Overview: The museum provides a comprehensive overview of the history and development of Antigua and Barbuda. It covers various topics from the pre-colonial period to the present day.
Exhibits and Artifacts: The museum features a diverse collection of exhibits and artifacts that showcase the rich cultural and historical heritage of Antigua and Barbuda. Explore ancient artifacts, documents, photographs, and displays related to the islands' history.
Colonial Era: Learn about the colonial period, including the impact of European colonization, the establishment of plantations, and the history of slavery in the Caribbean.
African Heritage: The museum highlights the African heritage of Antigua and Barbuda, with exhibits that celebrate the resilience and contributions of African descendants to the islands' culture and society.
Independence and Modern Era: Discover the journey to independence and the development of Antigua and Barbuda as a sovereign nation. Explore the islands' political, economic, and cultural progress in the modern era.
Educational Programs: The Museum of Antigua and Barbuda occasionally hosts educational programs, lectures, and events that delve deeper into specific aspects of the islands' history and culture. These programs enhance visitors' understanding and engagement.
Sports
Cricket: Cricket is not just a sport in Antigua; it's also a passion. The islands have produced several world-class cricketers who have represented the West Indies in international competitions. The Sir Vivian Richards Stadium in North Sound, Antigua, is a prominent venue for international cricket matches and a must-visit for cricket enthusiasts.
Football (Soccer): Football enjoys a dedicated following in Antigua and Barbuda. The islands also have a national football team that competes in regional and international competitions. Local leagues and matches provide opportunities for both players and fans to participate in the sport.
Hiking and Bird-Watching
Antigua and Barbuda offer a wealth of hiking and bird-watching opportunities thanks to their diverse terrain. Bird watchers will enjoy the islands' rich avian diversity. In fact, there are over 170 species to spot, including frigatebirds, pelicans, and herons.
Protected areas and sanctuaries make it easy to enjoy these natural wonders. Whether you're a seasoned hiker or a bird-watching enthusiast, these islands uniquely connect to nature's beauty.
Eco-Tours with ATVs
Take an eco-tour through the islands' natural beauty on all-terrain vehicles (ATVs). Explore off-the-beaten-path locations and connect with the pristine environment.
Please call us today at 1 (321) 777-1707 or describe Your Vacation Vision to help you plan your fully-crewed private luxury yachting vacation! Inquire as soon as possible about your custom, crewed yacht charter.
You make the memories. We make the arrangements.