Yacht Chartering Resources and Traveling Secrets
We have your yacht chartering resources for a vacation unlike any other vacation. Best of all, it's a vacation where your only job is to relax, unwind, and enjoy. Read on for more information about the benefits of your luxury yacht charter.
What's Your Dream?
Let us help you discover one of the world's best-kept travel secrets – yacht chartering! Why is chartering a private yacht better than a vacation at a resort? Why is chartering a private yacht better than taking a cruise?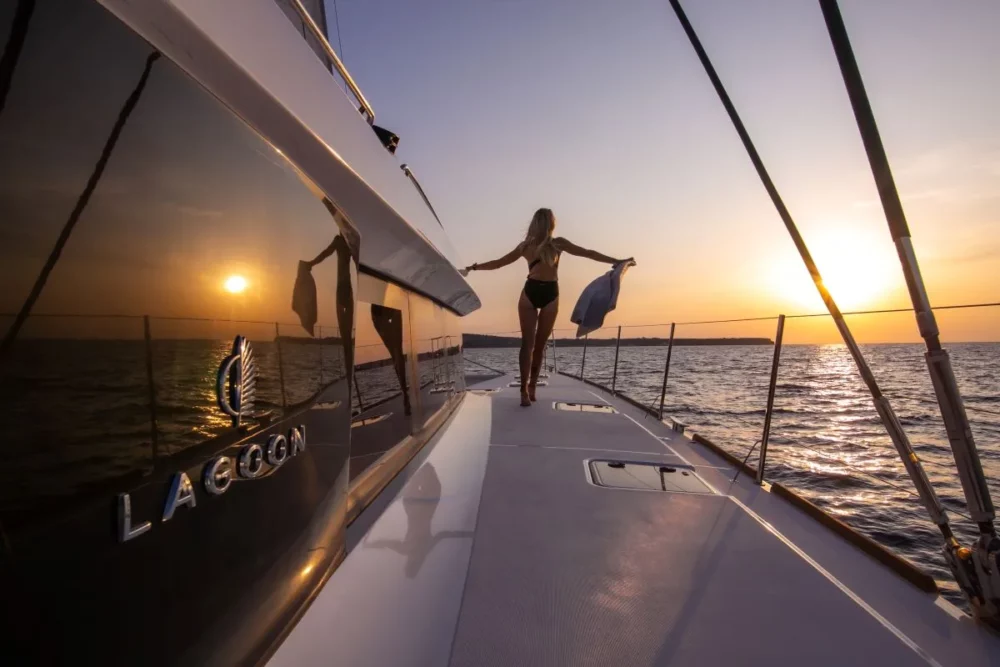 Imagine a journey where every decision is in your hands, where every aspect revolves around your preferences. This isn't just a vacation; it's an escape designed just for you.
What sets us apart is the unparalleled level of personalized service that accompanies every voyage. The attentive crew caters to your every whim from when you board the yacht. Indulge in the freedom to set your own pace with an itinerary that aligns perfectly with your desires. Whether you crave tranquil relaxation or exciting exploration, the choice is yours
The luxury doesn't stop at the stunning vessel itself; it's part of every aspect of your journey. Gourmet dining experiences crafted by master chefs tantalize your taste buds, each meal a symphony of flavors. Immerse yourself in lavish staterooms that become your private sanctuary.
Yacht Chartering Resources | Worldwide Destinations
Choose from worldwide destinations! Whether you choose the Bahamas or the Caribbean with the warm, inviting sun and crystal-clear waters; the Eastern or Western Mediterranean steeped in history and culture; the splendor of the Pacific Northwest or New England; or the beautiful destinations of Southeast Asia and Thailand, the world is your playground for yacht chartering.
You'll travel to a different, unspoiled destination each day. In addition, you'll receive pampering and personal attention you may not have previously experienced. Say goodbye to crowds, waiting in lines, and preset schedules.
This is your private yacht. It has various amenities, water sports to enjoy at will, and a tender to take you ashore whenever you please.
Yacht Chartering Resources | Luxurious Yachts
Sailing yachts, catamarans, or motor yachts — we offer them in all sizes and prices to fit any lifestyle and budget. There are hundreds of yachts to choose from. Moreover, our professional charter brokers have a wealth of first-hand information to draw upon. They will know which yachts are suitable for you.
Whether you want a snug retreat for two on a 40-foot sailboat or a spacious 300-foot superyacht for a bigger group, we can make your dream come true. We will provide suggestions, and you will choose your favorite. Then, we make all the arrangements for you: sailing itinerary, onboard preferences, flights, and hotel stay if necessary.
We can make any celebration a special occasion. Imagine a 50th birthday party or first anniversary on the deck of a luxury yacht. The possibilities are endless.
Yacht Chartering Resources | First-class Service
During your yacht charter vacation, you will enjoy first-class luxury service. Your professional crew will take care of all the details so that you can enjoy every moment. The personal chef will plan each meal based on your desires and unique needs. Your skipper knows where to find the most secluded beaches, the quietest anchorages, or the liveliest evening entertainment.
"The crew of the Matina is amazing. They all provide a high level of service, yet they manage to be very personable and friendly to the guests. The food is excellent! …

Guest on Motor Yacht Matina
Water Sports Activities
Many yachts offer a myriad of water sports activities. A few of the activities include:
snorkeling
kayaking
water skiing
wakeboarding
fishing
windsurfing
jet-skiing
Also, activities are not only limited to those found afloat. You will also have ample opportunity to go ashore and enjoy land-based activities. Explore ancient ruins, hike stunning trails, dine at fabulous restaurants, or relax on sandy beaches.
We Have Your Yacht Chartering Resources
Remember that yacht chartering is a personalized experience. Your satisfaction depends on finding the right yacht, crew, and destination for your preferences. We take the time to research and plan to ensure you have a memorable and enjoyable charter vacation.
So, if you're seeking a unique getaway, book a private yacht charter by Luxury Yacht Charters. It's your world to explore; we're here to make it a reality.
Please refer to our list of Frequently Asked Questions to learn more about yacht chartering and Yacht Chartering Resources.
Please call us today at 1 (321) 777-1707 or describe Your Vacation Vision to help you plan your fully-crewed private luxury yachting vacation! Inquire as soon as possible about your custom, crewed yacht charter.
You make the memories. We make the arrangements.