Pacific Northwest Yacht Charter
Few yacht charter destinations match the Pacific Northwest. It has an array of sensory invigoration, intriguing natural vistas, inviting local foods, and creative culture. A magnificent yachting vacation in North America can be yours when Luxury Yacht Charters makes the arrangements. Please take a look at our Pacific Northwest Charter Itineraries for ideas.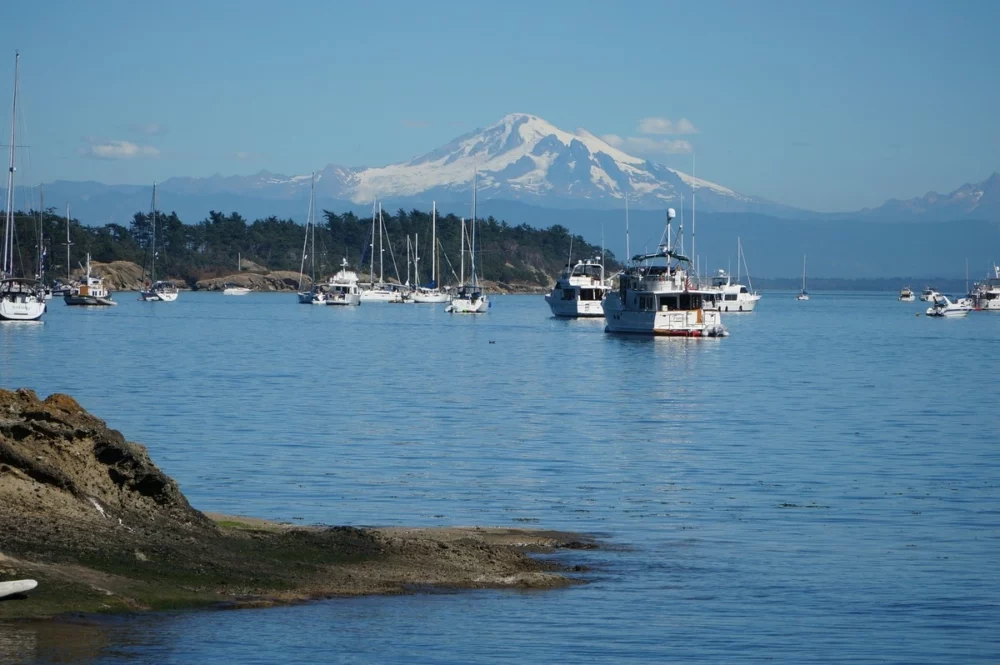 There are miles and miles of shoreline here, many islands, and of course, a lot of bays and coves. This area of North America offers beautiful scenery, hiking trails on land, and a multitude of water-based activities.
Climate
In general, the Pacific Northwest has a wet and cool climate. More inland, however, the climate can be drier, with colder winters and warmer summers. The best time to visit the Pacific Northwest is between May and October.
Places to see
The Pacific Northwest is best known for its beautiful coastline, green interior, rainy weather, and spectacular mountains. There are so many unique places on a Pacific Northwest yacht charter; it's impossible to see them all in a week. However, you can see quite a few places with an organized itinerary.
The San Juan and Gulf Islands are the most popular sailing areas. This archipelago, which consists of more than 450 islands, is the "San Juan Islands" on the US and the "Gulf Islands" on the Canadian side.
Desolation Sound and Princess Louisa Inlet. Use your yacht's water toys here and play all day.
The Vancouver Islands. These islands shield the Pacific northwest yachting area from ocean storms. The Olympic mountains create a breathtaking backdrop for your journey.
Sunshine Coast and Jervis Inlet.
Pacific Northwest Yacht Charter | Things to do
Gray whale watching is good along the coast in spring and fall during their migration.
Killer whale watching is excellent in the San Juan Islands from spring through fall.
Sea kayaking began in this region, with thousands of miles of shoreline to explore. This is especially true in the San Juan Islands and Puget Sound of Washington.
Geocaching. A popular outdoor activity for people of all ages and abilities. Using a Global Positioning System (GPS), smartphone, or other mobile device, players find hidden containers (geocaches) or designated landmarks, sign their logbooks, and then share their experiences online.
Bird watching and wildlife spotting. From starfish and limpets in tidepools to coyotes, weasels, and elk, wildlife is everywhere in the Pacific Northwest.
Scuba diving. The best time to dive in the Pacific Northwest is between the late spring and the early fall. The water is warmer at this time, and the visibility is best. With a good wetsuit, the average 45 to 55-degree F water is not uncomfortable. You will be rewarded with views of incredible underwater beauty and fascinating marine life.
Gastronomy
Pacific Northwest cuisine reflects the ethnic makeup of the region, with influences from Asian and Native American traditions. People migrating to the area from other regions brought cuisine from the Southern United States and Mexico. Seafood like Dungeness crab, salmon, oysters of several varieties, mussels, clams, and more play an essential role in the cuisine.
With Luxury Yacht Charters, we give you an assortment of sailing and motor yachts for a yachting vacation in the Pacific Northwest. Luxury Yacht Charters is ready to help you transform your dreams of sailing or cruising the Pacific Northwest into a life-enriching reality.
Alaska | California | Florida | New England
MAP – Pacific Northwest Yacht Charter
Please call us today at 1 (321) 777-1707 or describe Your Vacation Vision to help you plan your fully-crewed private luxury yachting vacation! Inquire as soon as possible about your custom, crewed yacht charter.
You make the memories. We make the arrangements.