California Yacht Charters | Pacific Delights
California yacht charters offer a journey like no other. Discover some of the most breathtaking destinations in the western United States! The California coastline is a real treasure, from San Francisco down to Newport Beach and San Diego.
California is a hot spot for travelers, boasting over 800 miles of beautiful beaches and rugged shorelines. It's a dream destination with all that natural beauty to explore.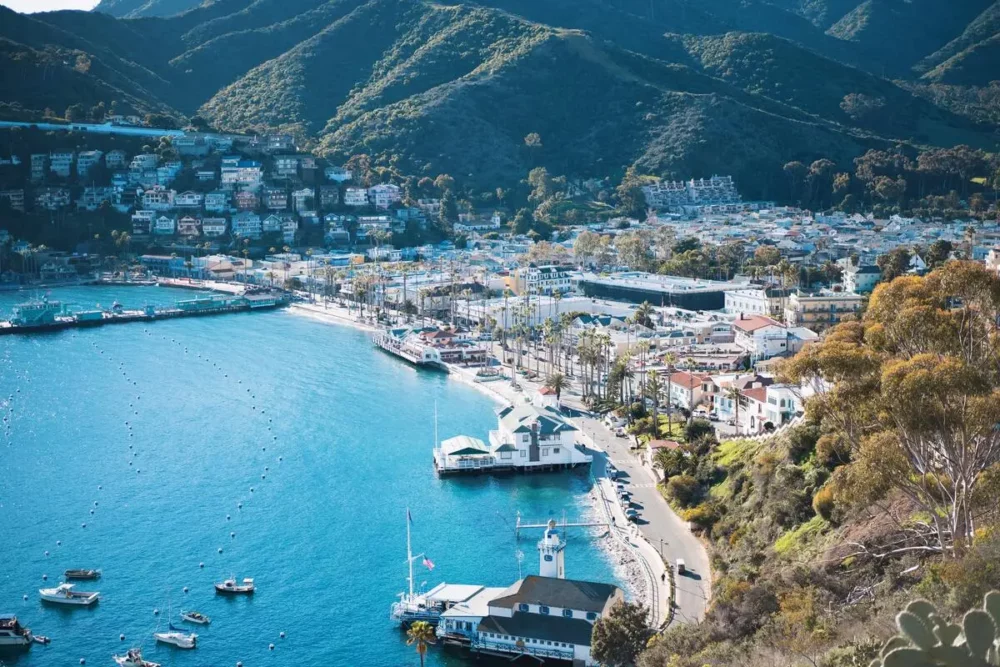 Your luxury yacht has a captain and crew who are ready to make your vacation extra special.
Catalina Island | California Yacht Charters
If you're looking to escape the hustle and make time slow down, Catalina Island is your go-to destination. Here, you can truly savor the moments. Picture yourself leisurely paddling through crystal-clear waters in the fresh morning air, starting your day on a serene note.
Afterward, indulge in some Mai Tais and beachside massages during the afternoon – pure relaxation at its finest. And don't forget those enchanting moonlight walks, a cherished pastime on the island.
For all the details on our L.A. to Catalina to L.A. trip, please take a peek. California yacht charters promise a fantastic getaway!
San Diego
San Diego has a mild climate and beautiful beaches. You'll have plenty of chances to explore and unwind here.
California yacht charters that stop in San Diego offer a variety of fantastic activities, such as:
Swimming or surfing at La Jolla beach.
Kayaking
Paddleboarding
Watching for blue whales, grey whales, humpbacks, fin whales, minke whales, and dolphins.
Windsurfing and kite surfing at Mission Bay and Coronado Beach.
You can explore the rich cultural scene, with plenty of museums, galleries, and theaters.
San Diego Zoo. Exhibits include the Monkey Trails, the Polar Bear Plunge, Elephant Odyssey, Tiger River, and the Panda Trek.
Maritime Museum of San Diego. A fascinating museum with exhibitions, model boats, educational programs, and more. There are also outdoor exhibits where you can walk the decks of historic ships.
Dining. Options are plentiful in San Diego, with some of the city's top restaurants offering waterfront dining experiences.
San Francisco
Head to the San Francisco coast for a delightful experience. Encounter various wildlife like whales, sea lions, dolphins, and a variety of birds. As you sail into the vibrant San Francisco harbor, dock at the pier, and immerse yourself in the city's distinct culture and vibrant nightlife.
California yacht charters that visit San Francisco offer many activities, such as:
Visiting the iconic Golden Gate Bridge.
Cruising around Alcatraz Island. This infamous island once housed some of the most notorious criminals in U.S. history. It also offers amazing views of San Francisco Bay.
Checking out Fisherman's Wharf, located right along the waterfront. This charming area has many great restaurants and shops, plus some unique attractions like the famous sea lions at Pier 39.
Exploring the famous Lombard Street. This world-famous street is the most crooked in America, with its eight hairpin turns and lush gardens.
Touring Chinatown. Colorful shops, bustling markets, and amazing food make Chinatown a must-see.
Shopping at Ghirardelli Square. This old chocolate factory is now a shopping and dining center with many unique stores and restaurants.
Hiking in Muir Woods National Monument. This breathtaking redwood forest is home to some of the world's most giant living trees and is just a short drive from the city.
Newport Beach | California Yacht Charters
Experience Newport Beach's beautiful coastline from the deck of your private yacht. Indeed, Newport Harbor is one of the largest boat harbors on the U.S. west coast.
Big Corona is south of the harbor entrance, a beautiful cove ideal for swimming. Further south is Emerald Bay, a popular anchorage just off the private beach of an exclusive community.
Enjoy a scenic California coast in luxury and comfort! Charter past Marina del Rey, Malibu, Santa Monica, and Venice. Then, continue to Long Beach, San Pedro, Redondo Beach, Huntington, and San Diego.
Stop wherever you like. When you charter a yacht, your schedule is entirely up to you.
Marina del Ray
Marina del Ray is the largest marina in the world, with over 6,000 slips available.
The marina offers plenty of activities. Enjoy a wide array of restaurants and shops, fishing, jet skiing, parasailing, kayaking, and stand-up paddle boarding. Nearby beaches such as Playa del Rey, Ballona Creek, and Venice Beach are great for working on your tan.
Marina del Ray is also home to the renowned Fisherman's Village, which offers various seafood restaurants. Visitors can also enjoy live music performances, public art displays, and seasonal festivals.
The marina is within easy driving distance of many of L.A.'s top attractions, like Universal Studios Hollywood.
The Channel Islands
The Channel Islands off the coast of Southern California, are a group of five rugged and scenic islands. They are Santa Catalina, San Clemente, San Nicolas, Santa Barbara, and Santa Cruz. These islands offer a wide range of outdoor activities, such as hiking, camping, snorkeling, and wildlife watching.
Exploring the Channel Islands on a yacht charter allows you to visit two or more islands in one day. A day visiting the islands can include kayaking, fishing, scuba diving, beachcombing, and whale watching.
Los Angeles
Los Angeles is one of the most popular southern California destinations for California yacht charters. The Port of Los Angeles is the primary port for many yachts traveling through the area. This bustling port is full of activity and is home to many shops, restaurants, and entertainment venues. While at the port, visit the Battleship IOWA Museum and explore the historic ships in the harbor.
The best way to experience Los Angeles on a yacht charter is to sail along the city's beautiful coastline. Cruise past iconic landmarks like the Santa Monica Pier and the Venice Canals. Stop at one of the beaches, swim in the warm water, or have a beach picnic.
Los Angeles also has a vibrant nightlife with plenty of bars and clubs to explore.
Dining in Los Angeles
Los Angeles also offers plenty of culinary delights. The city is full of diverse dining options. Visit the trendiest restaurants in Hollywood and the eclectic eateries of the downtown area.
Try the flavorful tacos and margaritas at El Tejano in Koreatown. For Italian delights, try Taverna Ristorante in West Hollywood. For an upscale experience, visit The Bazaar by José Andrés, where the innovative dishes will delight you.
Whatever your preference is, Luxury Yacht Charters will provide it!
Discover your California yacht charters for your next vacation.
MAP – California Yacht Charters
Please call us today at 1 (321) 777-1707 or describe Your Vacation Vision to help you plan your fully-crewed private luxury yachting vacation! Inquire as soon as possible about your custom, crewed yacht charter.
You make the memories. We make the arrangements.