St Croix
St Croix is one of the U.S. Virgin Islands in the Caribbean. It has lush hills, warm blue water, rich history, and a tropical climate. It's uncrowded and perfect for a stop on your yacht charter vacation.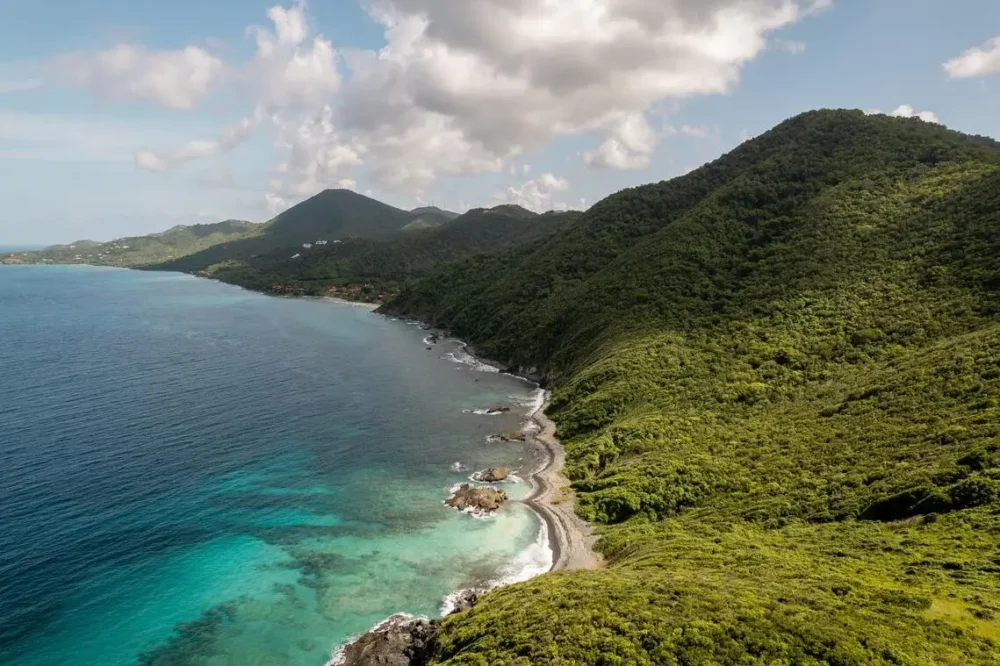 Fifty-four sugar mills still rest in the shadows of stately eighteenth-century and nineteenth-century homes. With acres of rolling green hills, St Croix's plantation estates also bore crops of okra, cabbage, corn, and other vegetables. As the sugar industry declined after the 1960s, tourism became the most important industry on the island.
St Croix Christiansted and Frederiksted
Christiansted and Frederiksted are the two main towns of St Croix. The island offers many activities, including fine dining, shopping, golf, scuba diving, and horseback riding.
Weather
St Croix's subtropical climate and weather provide primarily warm, sunny days with a slight chance of rain. The temperature typically varies from 73°F to 88°F and is rarely below 69°F or above 91°F, and it can feel much hotter when the humidity is high.
Places to see
Visit historic Fort Christiansvaern. It is one of the best-preserved colonial forts in the Caribbean and is the largest structure at the historic site. What's more, it's the oldest structure in Christiansted.
Point Udall. Located at the east end of the island, it is the easternmost point (by travel, not longitude) in the United States. The Millennium Monument, a giant sundial, marks the azimuth of the first U.S. sunrise in 2000.
Spend the day at Rainbow Beach. The calm water at this beach allows for superb snorkeling.
Carambola Tide Pools. Although there's a long and somewhat strenuous hike to get to them, it is worth the effort. Check the tide charts before you go, and wear water shoes.
Follow the St Croix Heritage Trail, a self-guided tour of the island's many historical sites, cultural attractions, and natural areas. The trail links many of St. Croix's major historical attractions, such as Whim Plantation Museum, one of the most prosperous sugar plantations of the 17th, 18th, and 19th centuries. Also on the trail are St. George Village Botanical Gardens and Christiansted National Historic Site, plantation and sugar factory ruins, churches, scenic views, and more.
Things to do in St Croix
Travel to the heart of the rainforest and visit Mt. Pellier Hut Domino Club. This unique restaurant serves home-cooked food such as roti, chicken, and ribs. Be sure to see the resident pigs. You can feed these pampered swine (non-alcoholic) beer!
Take a tour of the Cruzan Rum distillery.
Have lunch at Turtle's Deli or dinner at Rumrunners.
Pick up a sea-themed gift at Cache of the Day or visit Baci Duty-Free for fine cigars.
Dive. St Croix offers various dive sites that are easy to access by boat and, in some cases, by land. Popular locations include Cane Bay Wall, Deep Wrecks at Butler Bay, Salt River Canyon East Wall, Salt River Canyon West Wall, and Shallow Wrecks at Butler Bay.
Declare your relationship status with a classic St. Croix love bracelet. The bracelet is worn with the hook pointing toward your heart to symbolize your love is taken. When the hook is worn away from your heart, it shows you are not in a relationship. According to legend, the seafaring men's wives would make a bracelet from their fishing hooks to show their devotion while the men were at sea.
St Croix Marinas
Tamarind Reef's Green Cay Marina. A 154-slip marina located just minutes from downtown Christiansted. Green Cay's sheltered lagoon provides easy access to Buck Island and excellent protection during a storm. Guests have full access to the amenities at Tamarind Reef Resort, including a pool, tennis courts, fitness center, and restaurants.
Salt River Marina. This picturesque small marina is only minutes from many of the island's dive sites. The marina has excellent year-round protection for both residents and visiting boaters alike. Amenities include a restaurant, a kayak tour company, and a dive operation.
St Croix Marine. Offers 44 fixed slips for a maximum vessel size of 150 feet. It has a fuel dock, marine store, well-equipped onsite chandlery, full-service boatyard, haul, and launch. Additionally, there's Wi-Fthere'sstaurant, bathrooms and showers, and 12-hour security.
Please call us today at 1 (321) 777-1707 or describe Your Vacation Vision to help you plan your fully-crewed private luxury yachting vacation! Inquire as soon as possible about your custom, crewed yacht charter.
You make the memories. We make the arrangements.