USVI Scuba Diving Sites
There are lots of USVI scuba diving sites waiting for you to explore. The three main islands, St Thomas, St John, and St Croix, are all excellent starting points. All the islands have soft, white sand beaches and warm turquoise water. The USVI's diversity ensures that you will find dive sites suited to your level of expertise. What's more, diving can be done year-round.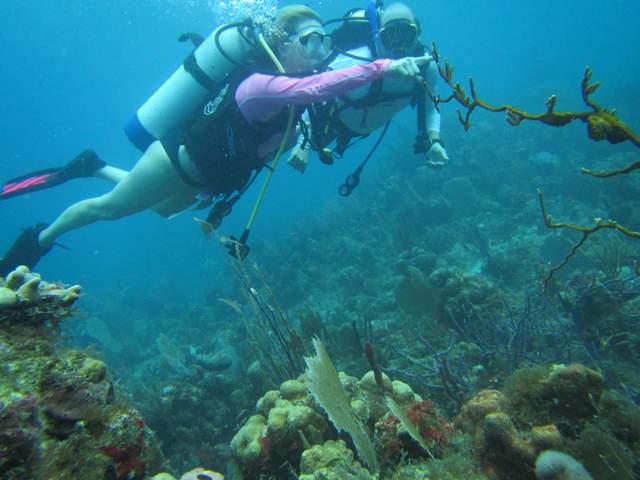 Top-Rated USVI Diving Sites
Since the USVI has so many excellent dive sites, the following suggestions are only a few more popular areas.
Cow and Calf Rocks: Popular for locals and visitors, this dive site is located off the southeast end of St Thomas. St Thomas scuba diving has shallow dive sites and is also perfect for snorkeling. There's abundant sea life and exciting nooks and crannies to explore.
Arches and Tunnels: Good for beginners and more advanced divers.
Shipwreck Cove (Buck Island): Great for scuba and snorkeling. You can see turtles, rays, and thousands of brightly colored fish. The Cartanza Senora shipwreck is an exciting artifact home to various marine life.
Congo Cay. A rocky dive site with a sandy bottom full of various species of rays. Ledges of Little St James: Bright coral in good condition, lots of fish, and giant lobsters. This location is part of a protected marine park so that the lobsters can grow to 8 – 12 pounds.
Wreck of General Rogers: General Rogers, a 50 m-long Coast Guard ship, was intentionally sunk in the 1980s to create an artificial reef. The strong current makes this site best for experienced divers.
French Cap: French Cap is great for intermediate divers and reaches a maximum depth of just 85 feet. Among the many USVI scuba diving sites, St Thomas's French Cap has six miles offshore and is close to big walls that drop off, so the fish are significant, and the current is often strong. You can see rays and schools of fish; from January through May, you may hear the visiting humpback whales singing.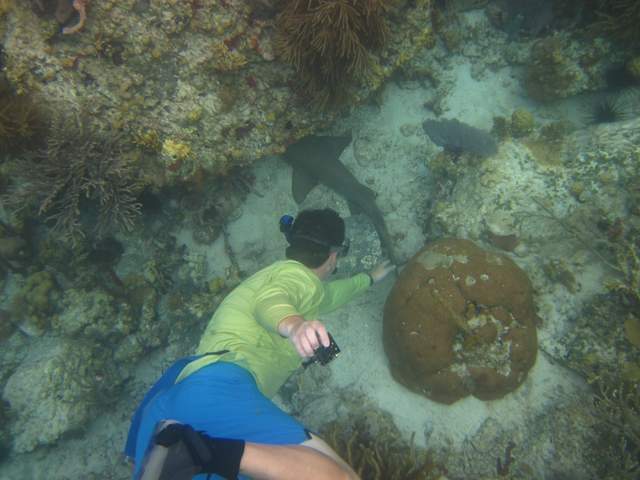 The Cane Bay Wall: You can get to the 3,000-foot vertical Wall from the beach (100-yard swim) or by boat. It's one of the most beautiful dives in the Virgin Islands.
Frederiksted Pier: The Fredriksted Pier is one of the best spots on the islands for both day and night dives. The pier structure houses much colorful fish, corals, and octopuses.
Salt River Canyon: This site, which has two walls, is teeming with reef fish, sea fans, black coral, and occasionally sharks.
Grass Cay: Grass Cay is an excellent day and night diving spot. However, after dark, creatures like lobsters, crabs, and octopuses come out searching for food.
Carval Rock: Located at the western tip of St. John, Carval Rock is an excellent dive site. It has steep rock formations that attract tropical fish, tarpon, and even sharks. Due to its strong currents, this dive is recommended for experienced divers.
Eagle Shoals: Although Eagle Shoals is a well-known dive site, few have experienced it. It is far from shore, and most dive boats prefer to stay close to their home base. However, brilliant corals and colorful sea life paired with exciting tunnels, arches, and caves make the trip to this site worthwhile. Good for beginners.
USVI Scuba Diving Sites and Centers
Diving is such a popular activity in the USVI that many dive centers offer services such as equipment, lessons and certifications, and organized dive trips.
Dive St Thomas:
St Croix:
St John
Specialized Training
For experienced divers, additional courses may help you get the most from your St Thomas diving instructors. Contact PADI for courses including Wreck Diver, Underwater Naturalist, Digital Underwater Photographer, and Drift Diver.
US Virgin Islands Catamarans with Onboard Scuba Diving
Enjoy a relaxed diving experience from your yacht in the US Virgin Islands.
US Virgin Islands Sample Sailing Itinerary
Please call us today at 1 (321) 777-1707 or describe Your Vacation Vision to help you plan your fully-crewed private luxury yachting vacation! Inquire as soon as possible about your custom, crewed yacht charter.
You make the memories. We make the arrangements.