Ultimate Italy Travel Guide
Are you dreaming of a luxury vacation to Italy? If so, you're not alone! From the canals of Venice to the winding streets of Rome, Italy is one of the top destinations in the world for a once-in-a-lifetime vacation. We know planning the perfect Italian getaway can be overwhelming, and we've created this ultimate Italy travel guide to help you quickly learn how to travel to Italy.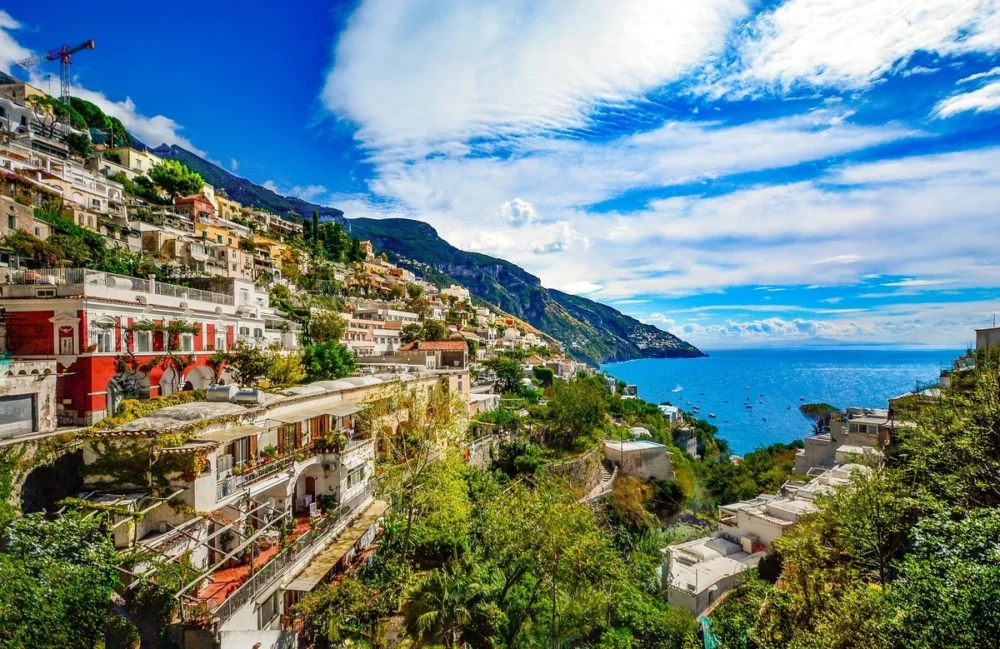 The Best Time to Visit Italy
When is the best time to go to Italy? The answer largely depends on the vacationing experience you hope for. Summer provides the best weather for water activities and exploring the gorgeous coastline islands. However, we'd avoid the scorching temperatures and crowds if you want to explore Rome, Milan, or Florence. Contact our experienced travel experts to find the best time to travel to Italy to suit your needs.
Spring and Fall
Spring and autumn are ideal for visiting Italy, with pleasant temperatures and limited rainfall. Suppose you're planning a beach holiday, head to Italy's Mediterranean coast during May, June, and September for sunny days and warm temperatures. Inland destinations, like Florence and Rome, have a warmer climate and may be more enjoyable in April or October when temperatures are cooler.
Winter
For ski enthusiasts, December to February is the ideal time to visit Italy. The Dolomites, located in the northern part of the country, are known for their ski resorts and breathtaking mountain scenery. You can also visit neighboring Austria or France for more winter adventures and diverse cultural experiences.
Summer
July and August are the busiest months in Italy, with the best weather and longest days; however, attractions tend to be very crowded. A private yacht charter will save you from the stress and hassles of public transportation, allowing you to truly enjoy every moment of your trip. For good weather and access to all Italy has to offer, summer is likely the best time of year to visit Italy.
Getting to Italy
Traveling to Italy from the USA is a popular route, and many options are available to get you to your destination. Numerous airlines offer flights from various airports in the US to major Italian airports such as Rome, Milan, Venice, Florence, and Turin. Airlines include United, Delta, American, Turkish Airlines, and many codeshare European partners.
Flight prices vary depending on the time of year, with summer months often being more expensive. You can also use low-cost airlines from major European cities, such as Ryanair, EasyJet, and Volotea. You can book tickets via Eurail or Interrail for international train travel from other cities within Europe.
Once in Italy, taking the train is an ideal way to travel between cities in Italy. The leading railway companies, Trenitalia and Italo Treno, offer a wide selection of services to get you around the country. Travel to Rome and Florence is best done via private car transfer or train. Don't hesitate to contact us for more about traveling to Italy if you can't find the answer in our ultimate Italy travel guide.
Places to Visit in Italy
Italy is one of the most beautiful places to visit in the world. With its stunning landscapes, ancient history, and delicious food, it's no wonder why vacationing in Italy is a popular choice for travelers. There are so many amazing cities and towns to explore, so choosing where to travel in Italy can be difficult.
To help you get started, here are the top places to visit in Italy if you're vacationing in Italy for the first time. For more Italy travel tips, please get in touch with us to discuss your vacation dreams.
Amalfi Coast | Ultimate Italy Travel Guide
Located on the Sorrentine Peninsula, this stretch of coastline is a fantastic place to visit and one of the most famous places in Italy. Explore small fishing villages and towns, such as Amalfi, Ravello, and Positano, while on your Amalfi Coast yacht charter. What's more, head to the famous and glamorous island of Capri for great food and incredible views. From Naples, you can also visit the beautiful island of Ischia and Procida, in the Bay of Naples.
Rome
The Eternal City is always a must-visit in Italy. Rome has something for everyone, with iconic monuments such as the Colosseum and the Pantheon, plus a wealth of art galleries and museums. Be sure to visit the Trevi Fountain and St Peter's Square too. Don't miss out on the delicious gelato and pizza while you're here! To uncover hidden secrets and get an exclusive look at the city, consider hiring a Rome travel guide to show you the best spots. Rome should be on your must-see places in Italy to visit.
Florence & Tuscany
This city is one of the cultural hubs of Italy. Take in Michelangelo's David and the Ponte Vecchio Bridge and explore some of the many Renaissance art galleries. Florence's museums and art are some of Italy's tourist attractions that make the country famous. Moreover, travel to Florence, Italy, is accessible by plane and train, as it's located in the country's center with good infrastructure.
Tuscany: Not far from Florence is Tuscany, where you can enjoy beautiful rolling hills and picturesque vineyards. You can explore some of Italy's best-known cities like Pisa and Siena or relax in one of the many lovely hilltop towns. One picturesque town, known as the Manhattan of Tuscany, is San Gimignano, given the nickname due to its unique skyline.
Venice
Venice is probably one of the most romantic places to visit in Italy. Enjoy a gondola boat ride around the canals and wander around the incredible Piazza San Marco. Visit the Doge's Palace and the Rialto Bridge before ending your day with some delicious seafood. A visit to Venice is one of the best places to visit in Italy for the first time.
Milan and the Italian Lakes
Vacationing in Italy means enjoying the endless natural beauty of the tiny Mediterranean country. One lesser-known area to visit in Italy is the Italian lakes just north of Milan and south of the Italian Alps. With clean, clear waters, majestic mountains, and quaint towns dotting the lakes, it's one of the best parts of Italy to visit. After your fair share of Italy site seeing Florence and Milan, you can easily take a train north to Lake Como, Lake Maggiore, or Lake Garda.
Coastal Italy | Ultimate Italy Travel Guide
Cinque Terre Italy
Located in the country's northwest, the Cinque Terre region boasts some of the most stunning landscapes and views you can find in Italy. This is the perfect place for a luxury vacation, from colorful villages and fishing towns to lush vineyards, mountains, and rugged coastlines. When booking a yacht charter in Cinque Terre, you can taste it all. Depending on your interests, you can customize your itinerary to include numerous stops along the Italian Riviera during your charter.
Whether you're looking to relax and take in the scenery or explore the area more actively, there are plenty of ways to enjoy the stunning coastline of Cinque Terre by yacht. If history and culture are your things, there are plenty of historical sites to explore in Cinque Terre. From castles and palaces to churches and monuments, you can spend hours exploring the many historical sites in the area.
Cinque Terre is also the perfect place to indulge in some of Italy's best dishes for those who love trying new flavors. From seafood specialties to delicious pasta, pesto, focaccia, and more, you can sample some of the finest Italian food here. Head to Portofino, known for its breathtaking views, so why not enjoy them while dining out? Whether it's a casual meal on a beachfront terrace or an elegant dinner with friends, make sure to find the perfect spot to savor the view while savoring a delicious meal.
Aeolian Islands, Sicily
The best way to explore Sicily by yacht is with a charter vacation. The Aeolian Islands are a must-see destination for an unforgettable yacht charter experience in Sicily. These seven volcanic islands are breathtakingly beautiful, and each one offers something unique to discover.
If you're looking to plan an Aeolian Islands yacht charter, the most popular starting point can be on the Amalfi Coast or Milazzo on the north coast of Sicily. From here, you can sail around Lipari, the largest island in the archipelago. As the largest island, there is plenty to explore here, including a charming fishing port and two volcanic craters.
Next on your Aeolian Islands itinerary could be Panarea and Stromboli. The stunning white beaches of Panarea offer a stunning backdrop for swimming and snorkeling. At the same time, Stromboli is best known for its active volcano, which makes for incredible nighttime viewing from the sea.
Your Aeolian Islands yacht charter should include Salina, Filicudi, Alicudi, and Vulcano Islands. Salina is known for its lush greenery and vibrant nightlife. At the same time, Filicudi and Alicudi are remote and peaceful, great for those seeking an escape from the hustle and bustle of city life.
Lastly, Vulcano is home to the volcanic thermal springs and sulfur mud baths, offering visitors a unique experience.
Exploring the Aeolian Islands by yacht is one of the best ways to experience this part of Sicily.
Sardinia and Corsica | Ultimate Italy Travel Guide
Sardinia and Corsica are the Mediterranean Sea's most stunning islands. When you charter a yacht in this area, you can easily experience both magnificent locations. If you plan on visiting Sardinia and Corsica, there are a variety of itineraries to explore the area by yacht charter.
Sardinia
The most popular Sardinia itineraries usually begin in the port of Olbia in Sardinia, home to the Costa Smeralda Yacht Club. From there, you can head south to visit some of the most popular beaches in Sardinia. These include La Maddalena and San Pietro Island. You can then head east towards the picturesque town of Palau, where you can enjoy the stunning pink beaches.
The next stop could be in the area of Porto Cervo, which is known for its chic shops and nightlife. You can also find plenty of other spots here, such as Caprera, Razzoli Island, and Cala di Volpe.
Corsica
Once you have seen all that Sardinia has to offer, it is time to take a short hop across the sea to Corsica. This spectacular island is known for its rugged landscapes and gorgeous views of the Mediterranean Sea. You can explore the Corsican coastline with stops in places like Calvi, Ajaccio, and Bonifacio.
After your excursion to Corsica, you can return to Sardinia to complete your yacht charter itinerary. With plenty of beautiful coves and secret spots to explore, a yacht charter in Sardinia and Corsica will surely be an unforgettable experience!
Ultimate Italy Travel Guide
As you can see, Italy is a country rich with places to explore by land and of course by the sea. One visit to Italy certainly isn't enough, and you can visit numerous times and have entirely different experiences.
Please call us today at 1 (321) 777-1707 or describe Your Vacation Vision to help you plan your fully-crewed private luxury yachting vacation! Inquire as soon as possible about your custom, crewed yacht charter.
You make the memories. We make the arrangements.