Best Nightlife and Bars in Italy
If you're looking for the best nightlife and bars in Italy, you've come to the right place. Italy is well-known for its rich culture, delicious cuisine, vibrant nightlife, and music. Italy's disco nightlife is sure to please, from the lively dance clubs of Rome and Milan to the trendy bars of Naples and Florence.
Italy has a lively culture, from the traditional Italian aperitivo or a night out at one of the discos Italy is famous for. In addition, we highlight some of the top annual festivals to be on the lookout for during your next visit. Please visit our Italy Travel Guide or Best Beaches in Italy pages for more on Italy.
Rome's Best Nightlife Spots
Rome is one of Italy's most popular tourist destinations, and it's no surprise why. It's a vibrant city with exciting nightlife you must experience! Rome is home to some of Italy's best bars and pubs, ranging from classic taverns to chic rooftop lounges and Italian nightclubs. Rome has something for everyone, from a casual dinner with friends to an evening of fun and cocktails.
Campo de' Fiori
The Campo de' Fiori area is an excellent starting point if you're looking for a lively night out. This popular square has bars and pubs, making it the perfect spot for post-dinner drinks.
Monti & Trastevere
For a more sophisticated experience, head to the Monti district, where you will find many trendy wine bars and cocktail lounges. In the summer months, check out the outdoor terraces in Trastevere and Ostiense, two of the hippest neighborhoods in Rome.
Aventine Hill & Testaccio
If you're looking for a classic Italian bar experience, the Aventine Hill neighborhood is known for its traditional osterias and taverns. Here you can enjoy aperitivo (happy hour) with local specialties like cheese, olives, and small bites. There are also a lot of cozy cafes and pubs throughout the city where you can grab a beer or glass of wine with friends. Rome clubbing spots can also be found in the industrial Testaccio.
Giancolo Hill
No trip to Rome would be complete without a visit to the Gianicolo Hill district. This charming area offers stunning city views and a great selection of bars and pubs. Spend an evening here soaking up the atmosphere, admiring the sights, and sampling some of Rome's best nightlife.
Best Places to Go Out in Milan | Nightlife and Bars in Italy
This vibrant Italian city is renowned for its exciting nightlife options, and it's a great place to explore and enjoy the night. Milan has lots to do day and night, from traditional wine bars to modern clubs and live music venues. This international city surely has some of Italy's best nightlife and bars.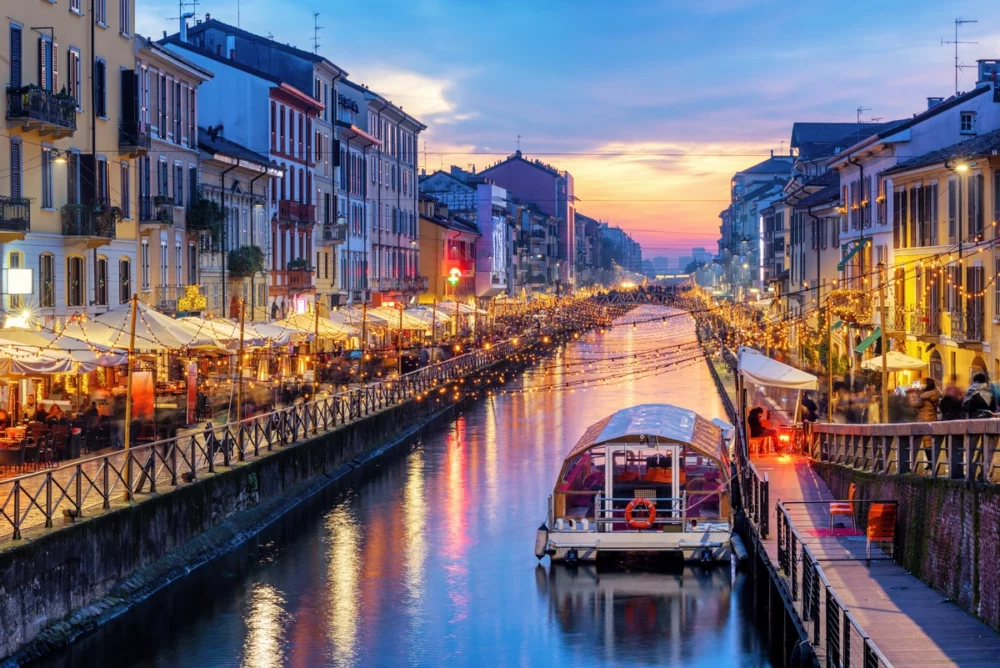 The Duomo Area
Theaters, cinemas, and nightclubs are popular among visitors in Milan. Check out the theaters around the Duomo for an evening of live music or performances. The Lirico Theater is a long-standing venue offering various genres and productions.
If you're looking for a more relaxed atmosphere, head to Piazza Vetra – an area filled with bars and pubs. Here, you can enjoy live music, cocktails, and tapas until the early morning.
Navigli District | Nightlife and Bars in Italy
In the lively area known as the Navigli, you'll find bars and clubs surrounding the picturesque canals. One great place for live music is the Nidaba Club. Nearby, you can visit the BASE cultural center, a large space that hosts many events, from live music to art.
Check out the chic wine bars around the city center if you're into something more low-key. You can find some of Italy's finest wines in these bars. Ceresio 7 Pools and Restaurant's roof terrace is a great option to enjoy stunning views while sipping your favorite drink.
The nightlife scene in Milan is truly something to behold. With all of the cultural activities and lively places to visit, it's easy to see why it's one of the best nightlife destinations in Italy.
Venice's Bars and Clubs | Nightlife and Bars in Italy
The city of Venice is the perfect destination for a nightlife vacation. From traditional Venetian bars to trendy dance clubs, there's something for everyone in the city. Enjoy sipping on a classic Aperol spritz or venture out to the less explored areas for a more local experience of Venice nightlife. Visit Campo Santa Margherita for outdoor drinking and try delicious Italian snacks from the many food stalls and restaurants.
Cannaregio
If you're looking for an upbeat nightlife atmosphere, head to Cannaregio and experience a vibrant mix of music, dancing, and drinks. The atmosphere is romantic yet lively, with views of canals and Venetian architecture. San Marco and the Lido district provide ample opportunities to party until sunrise for those looking to dance all night. Enjoy exploring the unique nightlife culture of Venice as you discover hidden gems in this unforgettable city.
Naples Bars and Clubs
Naples is the place to be if you're looking for an unforgettable nightlife experience in Italy. With a diverse range of pubs, clubs, and cocktail bars, the city of Naples is guaranteed to have something to satisfy everyone's needs. Naples also hosts many outdoor public concerts in the various piazzas through the summer months.
The waterfront district of Mergellina is full of hidden gems, including rooftop bars with stunning views of the bay. One such club to check out is Barfly Disco Restaurant for music and dancing. Plenty of cafés and wine bars stay open late into the night for a casual atmosphere. In addition to many cocktail bars, jazz clubs like Bourbon Street are found throughout the historical center.
Florence Clubbing and Nightlife | Nightlife and Bars in Italy
There are many discos and nightclubs to choose from to experience the city's nightlife. One popular disco, Space Club Disco Club, is located in the heart of Florence and has a young, energetic atmosphere. Several rock bars around the city also exist, like the Virgin Rock Club, a great spot for evening drinks and late-night dancing. For Jazz, head to Jazz Club Firenze for a lively and fun time.
Festivals In Italy
For a unique and unforgettable experience, consider attending one of Italy's many vibrant festivals. From the Venice Carnival to the Summer Jamboree in Senigallia, Italy is full of colorful, lively festivals that can be enjoyed all year round. Combining a yacht charter with a visit to any of these festivals would be an exciting and unforgettable vacation.
The Local Sagre
Sagre Festivals are held in various cities throughout Italy every summer for those who love food and wine. Locals prepare traditional dishes and offer free local wines and liqueurs tastings. If you want a more traditional Italian experience, you can attend the Palio di Siena horse race in Siena, Tuscany, or the Redeemer Feast of Rome. Many sagre festivals occur in the fall, so head to our September yacht charters post for more on-shoulder season vacations.
Carnival in Venice
One of the most popular festivals in Italy is the Venice Carnival, which takes place annually from mid-February until early March. During this time, tourists flock to the streets of Venice for a spectacular celebration featuring colorful masks, elaborate costumes, and live music.
No matter what type of experience you seek, Italy offers an incredible selection of festivals to make your honeymoon special. Moreover, Italy is the perfect destination for an unforgettable honeymoon with its stunning landscapes and unparalleled culture.
Nightlife and Bars in Italy
With great weather and many traditions, Italy's vibrant personality shines brightly at night and during the day. Contact us for more tips on beach clubs, nightlife, and bars in Italy to visit on your yacht charter vacation. In addition, we can recommend considering Greece or the French Riviera for lively nightlife experiences.
Please call us today at 1 (321) 777-1707 or describe Your Vacation Vision to help you plan your fully-crewed private luxury yachting vacation! Inquire as soon as possible about your custom, crewed yacht charter.
You make the memories. We make the arrangements.