The Best Beaches and Bays in Italy
Italy's famous beaches and bays attract millions of tourists every year. If you're looking for the best beaches in Italy, you're in the right place. Italy is home to some of the most stunning Italian beaches in the world.
In this insider's guide, we'll share the best beaches in Italy and help you plan the perfect beach getaway. From the famous Amalfi Coast to the rugged beauty of the Sardinian beaches, Italy has a beach for you. One of the best ways to visit these beaches, some accessible only by boat, is with an Italy yacht charter vacation.
Sicily's Gorgeous Beaches
Scala dei Turchi Beach
Located in western Sicily, the Scala dei Turchi beach is one of Italy's best-kept secrets. Dramatic white cliffs surround this stunning stretch of sand, blessed with incredibly clear turquoise waters.
The beach is relatively quiet, making it the perfect spot to escape from the hustle and bustle of everyday life. Head here early in the morning to catch the sunrise over the cliffs. Or, come in the evening to enjoy a beautiful sunset.
Other attractions near the beach include the remains of a 16th-century Spanish fortress and a natural archway carved into the rock. If you're looking for some of Italy's best beaches, you won't miss out on visiting Scala dei Turchi. You can also explore other nearby hotspots, such as Portofino or the nearby town of Agrigento.
Sampieri Beach
This beach is a hidden gem in the small fishing village of Sampieri, near Ragusa in Sicily. The golden sand and crystal clear waters make it one of the best beaches in Italy. Popular activities among visitors are swimming, snorkeling, and enjoying a meal on the beach.
On the southeastern coast of Sicily lies a lively beach spanning about two kilometers. It provides an excellent spot for family outings, with its sand sloping gently down to the tranquil turquoise sea. It also has many services like showers, picnic spots, volleyball courts, and a restaurant.
Pisciotto Bruciato, or La Fornace Penna, is at the far eastern end of the beach. There you'll find the remains of an old brick factory. It is a fantastic area for snorkeling and diving. The beach also features a shady pine forest ideal for picnicking and parking (fee applied).
The Best Beaches and Bays in Italy | Amalfi Coast
Positano
When it comes to choosing the best beaches on the Amalfi Coast, it's hard to top Positano. This chic seaside town is in Campania, Italy, famous for its picture-perfect coastline. From its stunning views of the Tyrrhenian Sea to its sandy beachfront, Positano has something for everyone.
One of the best beaches in Positano is Marina Grande Beach. This popular spot offers easy access to the beach, restaurants, and bars. The Marina Grande is also great for swimming, sunbathing, and boat trips.
If you want a more secluded beach experience, visit the Spiaggia Grande. It is tucked away from the hustle and bustle of the main beach.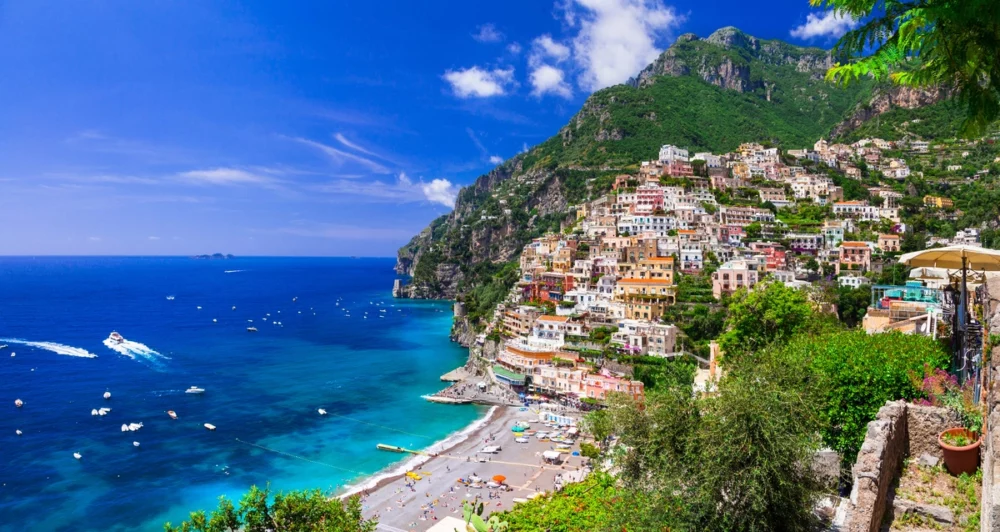 Atrani Beach
For one of the most unique beaches in Italy, visit Atrani Beach on the Amalfi Coast. Located at the base of a cliff, the stunning beach features crystalline waters and a white sand shore. Moreover, the beach is also home to various aquatic activities, including snorkeling and fishing.
In addition, stroll through the nearby town of Atrani, full of quaint shops, cafes, and restaurants. If you want something truly memorable and gorgeous, head to nearby Ravello for gardens and views.
Sperlonga Beach
Sperlonga Beach is one of the best stretches of hidden gems just north of Naples. The beach features crystal-clear waters and fine golden sand, ideal for swimming and soaking up the sun.
Aside from its beautiful shoreline, Sperlonga has impressive archaeological ruins, including the grotto of Tiberius. It is believed to have been the Roman Emperor's favorite spot for entertaining. Also, visitors can explore the town's historic cobblestone streets and shop for local handicrafts.
The Best Beaches and Bays in Italy | Sardinia
Sardinia, Italy, is Italy's second largest island, north of its more famous sister, Sicily. You can easily combine visits to Sardinia with Corsica itineraries.
Sardinia's beaches are one of a kind, as the island is vast and diverse. A Sardinia catamaran charter is a great way to see the island. You'll find unspoiled nature, an incredible coastline, and a mountainous interior there.
Poetto Beach
Located in the port city of Cagliari, Poetto Beach is one of the best beaches in Italy. It stretches for 8 kilometers, from Porto Giunco to Quartu Sant'Elena. The white sands and crystal-clear waters make it a perfect spot for swimming, sunbathing, or walking on the waterfront. The beach also offers various water sports, including windsurfing, kite-surfing, and sailing.
Poetto Beach rivals Italy's other beautiful beaches, such as Cala di Volpe in northeastern Sardinia. For a more active experience, join a snorkeling or diving tour and explore the fascinating underwater world of the Mediterranean Sea. No matter what you choose to do, Poetto Beach will leave you with some unforgettable memories. Check out our sample Sardinia itineraries for more hot spots to visit.
Cala Luna
One of the best beaches in Italy is Cala Luna Beach, located on the beautiful island of Sardinia. The sandy shoreline stretches into an enchanting turquoise bay, where visitors can enjoy sunbathing, swimming, and kayaking.
Spectacular limestone cliffs surround the beach, offering stunning views of the Mediterranean. Moreover, there are caves to explore and a nearby archeological site. Cala Luna is on the central east coast and south of La Maddalena Islands. It is a must-see destination.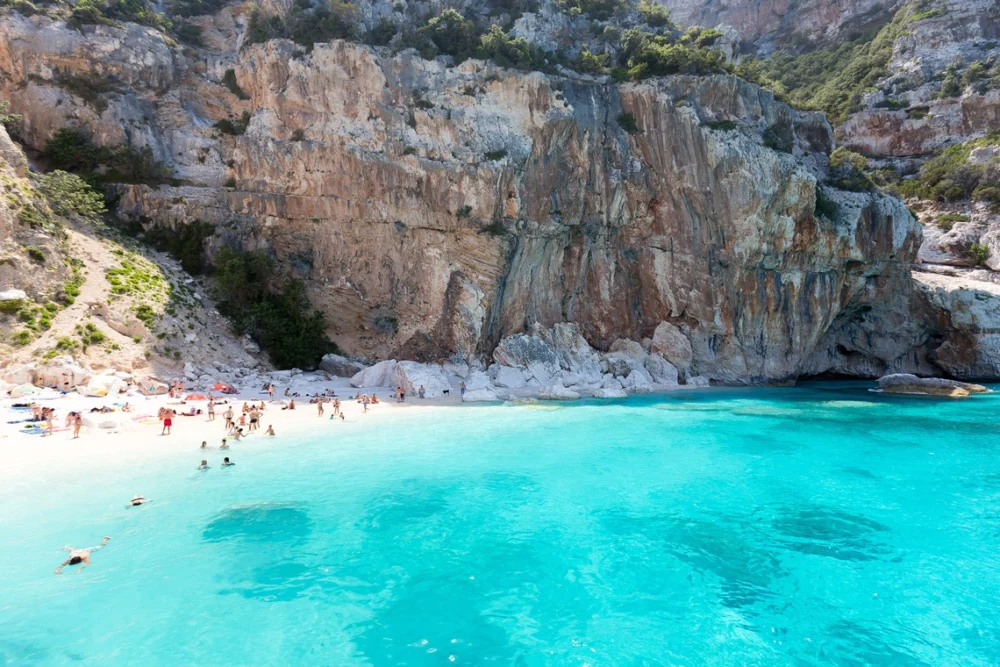 Pink Beach
One of the best beaches in Italy is the Pink Beach in La Maddalena, Sardinia. The beach is famous for its breathtaking views and captivating shades of pink sand. Pink Beach is in a secluded part of the archipelago and is only accessible by boat.
The sands of this beach have a pinkish hue due to their high iron content. This beautiful color creates a unique backdrop and makes it one of the most Instagrammable spots on the island. Visitors can also enjoy crystal-clear waters that are perfect for swimming and snorkeling.
The Best Beaches and Bays in Italy | Puglia's
Polignano a Mare Beach
Puglia is one of Italy's most beautiful regions, and its beaches are some of the best in the country. One of the top destinations in Puglia is Polignano a Mare Beach. This stunning beach is in the province of Bari and is one of the most beautiful beaches in the region.
Its crystal clear waters make it an ideal spot for swimming and snorkeling. The cliffs around the beach are perfect for exploring and admiring the stunning views of the Adriatic Sea.
Polignano a Mare Beach is also an excellent spot for sunbathing and relaxing. It has a relaxed atmosphere and plenty of places to sit back and soak up the sun. There are many restaurants, bars, and cafes nearby where you can grab a bite to eat or a cool drink.
Tuscany's Famous Bay on the Tyrrhenian Sea
Baratti Bay
Baratti Beach in Tuscany is one of the best beaches in Italy. Located on the Tyrrhenian Sea, it is ideal for sunbathers and beachgoers. The Gulf of Baratti features shallow waters perfect for swimming and snorkeling. There are also plenty of rocks for sunbathing and a stunning view of the Tuscan hills.
Baratti Bay offers numerous activities, such as windsurfing, sailing, and fishing. There are plenty of restaurants and cafes near the beach that offer excellent seafood dishes as well.
If you're looking for something more romantic, head to nearby Portofino. It's just a short drive from Baratti Beach and offers some of the best beaches in the area. The harbor is full of beautiful boats, while the town features an array of boutique shops, galleries, and restaurants.
From here, you can take a boat to the nearby islands for a romantic getaway. Or, you can explore the cobblestone streets of the old town and admire the stunning views from the cliff tops.
Best Beaches and Bays in Italy
Regarding beaches, Italy is an endless paradise with its many breathtaking locations. Whether you have one week, two weeks, or more, you'll always need more time to enjoy everything Italy offers.
Please call us today at 1 (321) 777-1707 or describe Your Vacation Vision to help you plan your fully-crewed private luxury yachting vacation! Inquire as soon as possible about your custom, crewed yacht charter.
You make the memories. We make the arrangements.