Have you ever envisioned the perfect vacation sailing along the picturesque Amalfi Coast on a private, crewed yacht? It's time to stop daydreaming and make this dream Italian getaway a reality. You might think it's a complicated process, but worry not; it's easier than you may think. Read on to learn how to charter a yacht in Italy.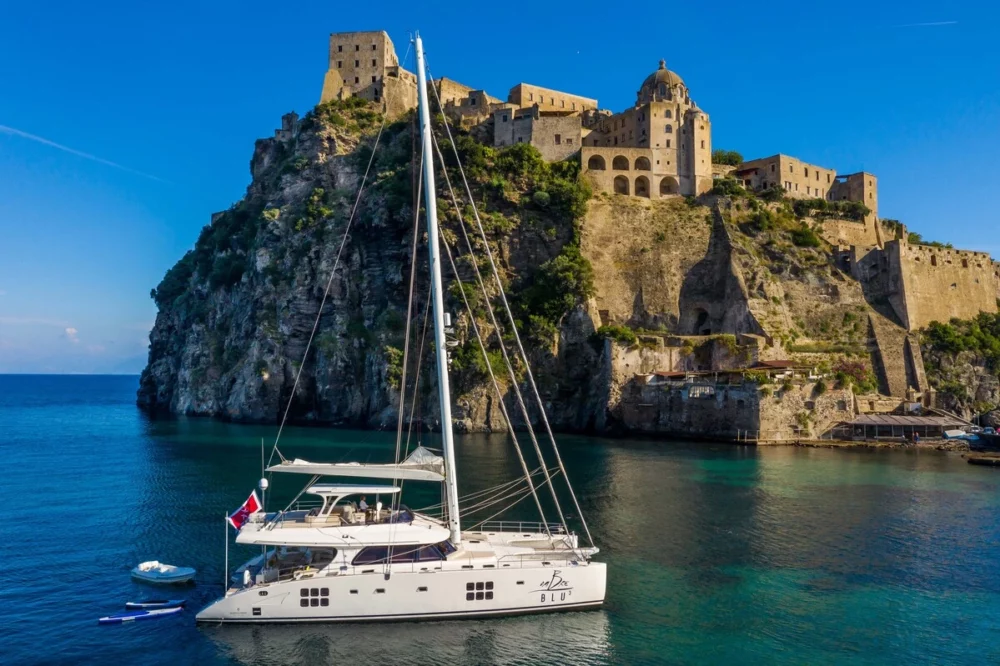 Follow our simple process to book a luxurious yacht charter for an unforgettable experience. We offer a wide range of options suitable for families and groups of different sizes and budgets.
Step 1: Determine your yacht charter vacation details
To start your search for the perfect Italian yacht vacation, it's essential to narrow down some key elements, such as:
Desired dates of charter
Group size and composition (adults, children, couples, family)
Approximate charter costs (charter fee, APA expenses, taxes, and gratuities)
Yacht preference (motor yacht, catamaran, sailboat, motor-sailer)
Occasion you may be celebrating on your trip
Type of experience and activities desired
Having a solid idea of these details will help us find the right yacht for you.
Step 2: Explore the incredible yachts sailing in Italy
Take a captivating journey through the numerous yacht charters available in Italy and shortlist the ones that catch your eye. Italy offers a wide selection of yachts. Choose from elegant motor yachts, swift power catamarans, graceful sailing catamarans, and classic sailboats.
Motor yachts. The benefits of a motor yacht include faster travel times and spacious interiors. You can cover more destinations in less time, and the luxurious amenities and spacious interiors provide unparalleled comfort during your journey.
Power catamarans. The benefits of a power catamaran include superior stability and fuel efficiency. The yacht's twin hull design provides a smoother and more comfortable ride. Additionally, power catamarans offer ample deck space and luxurious accommodations, making them perfect for extended cruising and entertaining.
Sailing Catamarans. The benefits of a sailing catamaran include excellent sailing performance and speed. Additionally, sailing catamarans offer generous deck space and spacious interiors, providing a comfortable and stable platform for relaxing at sea.
Sailboats. Sailing yacht charters in Italy offer a serene and eco-friendly sailing experience. Sailboats are also known for their simplicity. They offer a more intimate connection with nature, making them ideal for those seeking an authentic sailing journey.
Step 3: Discover the array of experiences in Italy
Countless experiences await you during your yacht charter in Italy. Italy's charm is truly unique, with its captivating seaside villages, rich historical wonders, and delectable cuisine.
However, the wonders don't end there! Italy offers even more thrilling adventures for the intrepid traveler. Embark on exhilarating hiking excursions, where your reward will be awe-inspiring Mediterranean views from breathtaking vantage points. For the adventurous souls, delve into volcanic expeditions, exploring the remnants of ancient eruptions that have shaped the landscape over millennia.
After days filled with exploration, indulge in ultimate relaxation by visiting the rejuvenating thermal baths scattered throughout the country.
During the day, venture into the picturesque countryside, where cliffside olive groves and vineyards beckon. Wander through the fragrant orchards and vine-laden hills, absorbing the natural beauty and flavors of the region.
When the sun sets, Italy's culinary delights continue to tantalize your taste buds. Savor mouthwatering local delicacies expertly prepared with fresh, regional ingredients, perfectly complemented by a crisp glass of local white wine. And to conclude your dining experience, relish in the sweetness of a delightful limoncello, the perfect ending to a perfect day.
Italy is a sensory journey like no other, where each day brings new wonders to explore and delightful surprises to savor. Whether you're an adventurer seeking exciting experiences or a connoisseur of culture and cuisine, a yacht charter in Italy promises to be unforgettable. So, set sail and let Italy's enchantment embrace you as you uncover its hidden treasures and indulge in its many pleasures.
Step 4: Contact CKIM Group and Discuss Your Italian Yacht Charter
Yacht rentals in Italy can take you to some of the most amazing destinations. The Aeolian islands, Cinque Terre, the Italian Riviera, and more.
Whether you're a seasoned yacht charter enthusiast or a first-timer, it's never too early to start planning. We are here to guide you through the process of chartering a yacht in Italy or any other extraordinary destination worldwide. Once you experience the joys of a yacht charter vacation, you'll find it irresistible not to plan your second or third.
Let us help you find out how to charter a yacht in Italy.
Please call us today at 1 (321) 777-1707 or describe Your Vacation Vision to help you plan your fully-crewed private luxury yachting vacation! Inquire as soon as possible about your custom, crewed yacht charter.
You make the memories. We make the arrangements.