Burma Yacht Charters
Still relatively undiscovered and sheltering some of Asia's most breathtaking sights is the profoundly spiritual country of Burma (Myanmar). Burma occupies a compelling region of Asia, and Burma is an ultimate escape from the western world, bordering the Andaman Sea and the Bay of Bengal. Sailing the magnificent coastline aboard one of our Burma Yacht Charters is the perfect way to explore this once-isolated nation.
On a Burma yacht charter vacation, you have many options to explore this area of the South Pacific. You will explore the Mergui Archipelago's deserted islands and tour Yangon's Buddhist shrines. You could also cruise the elegant Ayeyarwady River and visit the spiritual city of Mandalay. In addition, you'll be close to other destinations, including Thailand.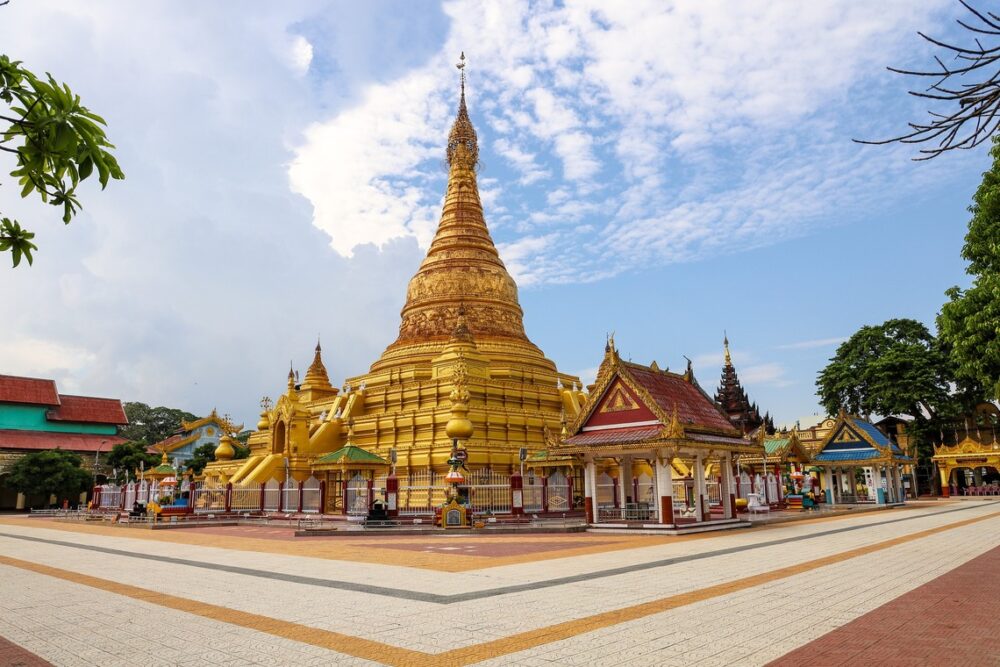 The Culture in Burma
Burma is a fascinating country with a diverse cultural heritage. The various ethnic groups that inhabit the country have profoundly influenced its culture. From their traditional festivals and dances to their unique cuisine, the people of Burma bring their distinct customs and beliefs to the table.
Burmese culture is closely tied to Buddhism, which has been practiced in the region for centuries. Every temple, pagoda, and monastery tells stories of Buddhism's influence on the people and their way of life. Every day, monks walk the streets, collecting alms and offering blessings to all who pass by.
Places to See and Things to Do | Burma Yacht Charters
There is so much to see and do while on your Burma Yacht charter vacation. The following provides a glimpse of what you'll encounter on your journey.
Buddist Shrines in Yangon
On your Burma yacht charter vacation, you may want to visit the Buddist shrines in the capital city of Yangon. Located on the southern end of Myanmar and surrounded by water on three sides, Yangon is a thriving port town buzzing with bustling energy.
Mergui Archipelago
The Mergui Archipelago is a group of 800 islands at the heart of this sailing area. Located in Burma's remote south, this sailing area is virtually unknown to the outside world. Imagine white-sand beaches lined with palm trees and dense jungles. Picture yourself swimming in warm water among colorful reef fish, spotting corals, and collecting seashells.
See eagles circling overhead, gibbons, and monitor lizards eyeing you from the brush while your chef mixes a tasty cocktail for you aboard the yacht. And best of all, you have this entire experience on your private Burma yacht charter.
The Ayeyarwady River
To experience one of Burma's greatest pleasures, your yacht will cruise the Ayeyarwady River. This journey will reveal an elegant landscape of towering monasteries between canopied trees and ruined temples. This is a great way to see the heart of Burma, all while nestled in the comfort of your private luxury yacht.
Hot-Air Balloon Ride in Bagan
Framed by this majestic river is Bagan, an amazing old city resembling a field of glowing temples. This makes an ideal setting for an unforgettable hot air balloon ride.
The City of Mandalay
A Burma yacht charter vacation must include a visit to the very spiritual city of Mandalay. This magnificent city stands alongside the banks of the Ayeyarwady River. With the intoxicating atmosphere of a sprawling bazaar, this captivating city is an enthralling shopping experience like no other.
The Food of Burma
Burma has a unique and diverse cuisine heavily influenced by neighboring countries such as India and China. Burmese food is known for its use of fresh ingredients and the combination of flavors.
The most commonly eaten foods are rice, noodles, fish, and vegetables.
Fish is a staple in Burmese cuisine and is often served grilled or steamed with various sauces and herbs. Traditional Burmese curries, such as Mohinga, combine fish, chickpea flour, and spices. Other popular dishes, such as Shan-style noodles, include pork or chicken and a variety of vegetables.
For those looking for a unique culinary experience, Burma is the perfect destination to explore the distinctive tastes of Southeast Asia. From traditional curries to fresh seafood dishes and desserts, there is something to satisfy every palate.
For your Burma yacht charter vacation, let us match you with a crewed sailing or motor yacht.
Brunei | Burma (Myanmar) | Cambodia | Indonesia | Papua New Guinea | Thailand | General Info
MAP – Burma Yacht Charters
Please call us today at 1 (321) 777-1707 or describe Your Vacation Vision to help you plan your fully-crewed private luxury yachting vacation! Inquire as soon as possible about your custom, crewed yacht charter.
You make the memories. We make the arrangements.