Exploring Marvels: Indonesia Yacht Charters
Indonesia's 17,000 islands make up the largest archipelago in the world, offering some magnificent cruising grounds. Idyllic places abound in this land of legends; some are covered in thick jungle; others spawned from fire-breathing volcanoes, home to living dragons. Indonesia yacht charters offer breathtaking views, untouched beaches, lush rainforests, genuine village traditions, endemic wildlife, and breathtaking underwater vistas.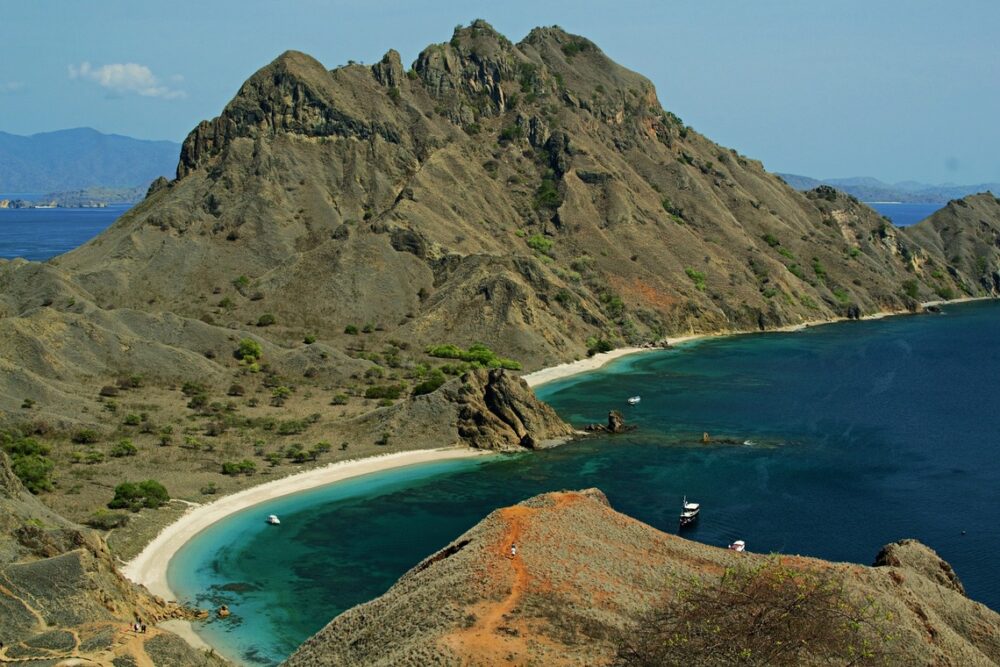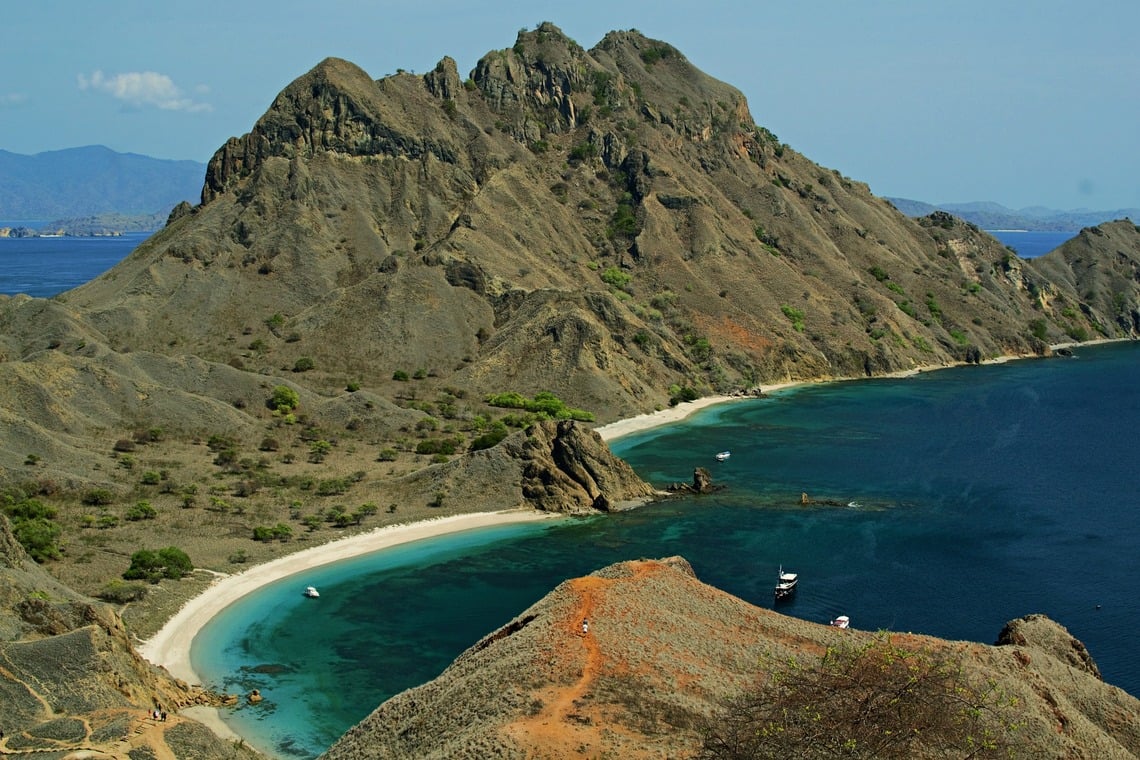 The Climate
Since Indonesia is an archipelago of thousands of islands, it should be no surprise that the climate varies from place to place. Generally speaking, Indonesia experiences tropical weather, with temperatures between 25 and 30 degrees Celsius year-round. The monsoon season lasts from October to April, bringing heavy rains in some areas of the country.
The best time to visit Indonesia depends on your preferences, as there are plenty of advantages to visiting during dry and rainy seasons. May to September is the time to visit if you're looking for sunny days and warm weather.
During this time, you'll be able to take full advantage of everything a luxury yacht charter in Indonesia offers, including swimming, snorkeling, and all sorts of water activities. If you don't mind some rain, October to April is an ideal time to visit. During these months, you can explore the lush landscape and visit some of the islands' more remote areas.
Location & Geography
The Indonesian archipelago includes Bali, Lombok, Flores, the Banda Islands, Raja Ampat, Sulawesi, and the Spice Islands. Komodo National Park and Raja Ampat are considered some of the last unspoiled areas in the world. Both have beautiful natural scenery on land and underwater.
Indonesia is the site of many volcanoes and earthquakes in Southern Asia. Indonesia has at least 150 active volcanoes, including Krakatoa and Tambora, famous for their eruptions in the 19th century.
Flora & Fauna
Lying along the equator, Indonesia has a tropical climate. Moreover, it supports the world's second-highest level of Marine Life (after Brazil). Large species such as the tiger, orangutan, elephant, and leopard were once abundant as far east as Bali. However, recently numbers and distribution have significantly reduced.
Indonesia has 80,000 kilometers of coastline surrounded by tropical seas. The seas have the world's most incredible diversity of coral reef fish. There are more than 1,650 species in eastern Indonesia alone.
Cultural Heritage
Indonesia's culture is diverse as well as colorful. About 500 languages and dialects are spoken. On your Indonesia yacht charter vacation, you will want to visit Ambon, Makassar, Jakarta, and Bali ports. If you want sanctuary, see Flores and Irian Jaya, with thousands of undisturbed islands.
The entire region has many ancient temples that are undoubtedly worth visiting. In addition, the music ranges from traditional to modern pop. Live music, dances, and rituals are the ways of daily life and vary between islands. Yet everywhere, visitors are welcomed by the warmth and friendliness of the Indonesian people.
The Food of Indonesia
Indonesia is a culinary paradise, and if you charter a yacht for your luxury holiday, you'll experience the country's unique flavors firsthand. The national dish is nasi goreng, a fried rice dish made with shallots, garlic, chilies, shrimp paste, and other seasonings. Other popular dishes include Soto Ayam (chicken soup), gado-gado (vegetable salad with peanut sauce), and rendang (coconut beef stew).
Of course, you can also find plenty of fresh seafood dishes in Indonesia, including grilled snapper, barbecued squid, and prawn satay. If you're looking for a sweet treat, try the traditional snack of kue lapis (layered cake) or the classic es campur (fruit and syrup concoction).
The untamed tropical wilderness of Indonesia is yours to explore on an Indonesia yacht charter vacation arranged by Luxury Yacht Charters.
Featured Yacht
Dunia Baru is the finest luxury yacht available for charter in Indonesia. Graceful and stylish, she accommodates 14 guests in 7 cabins. This exquisite yacht combines a traditional Indonesian design and the finest Indonesian wood craftsmanship with the latest technology.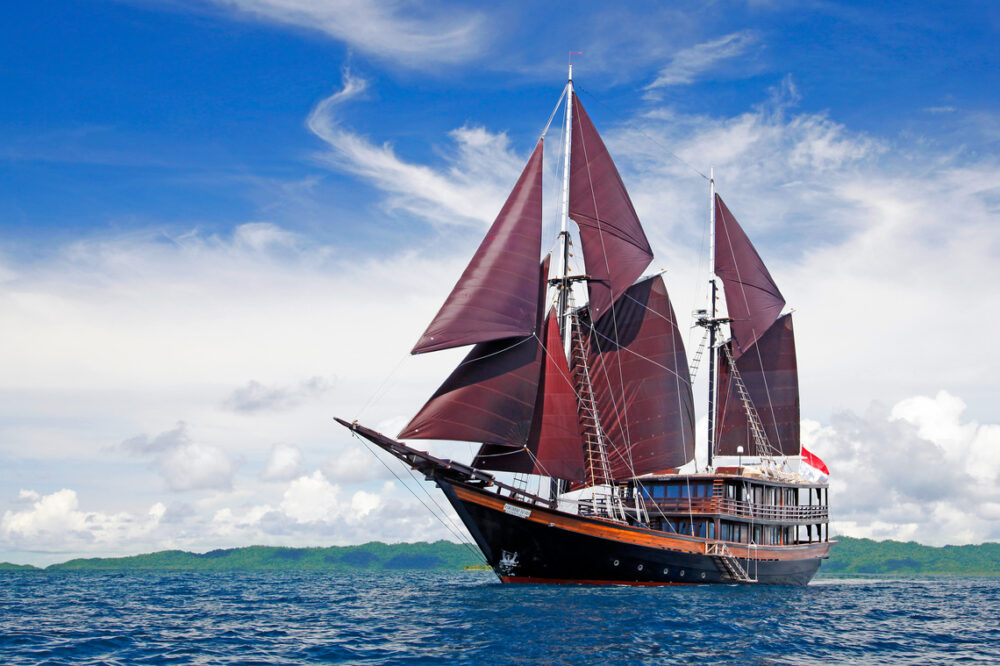 Dunia Baru's crew of 18, including an American Cruise Director, PADI Master Scuba-Diver Trainer, and talented chef, are at your service!
Brunei | Burma (Myanmar) | Cambodia | Indonesia | Papua New Guinea | Thailand | General Info
MAP – Indonesia Yacht Charters
Please call us today at 1 (321) 777-1707 or describe Your Vacation Vision to help you plan your fully-crewed private luxury yachting vacation! Inquire as soon as possible about your custom, crewed yacht charter.
You make the memories. We make the arrangements.